Attention Free AccessVegas.com Email Subscribers! Some of you are just starting to hear about the pending Union Strike that could shut down Las Vegas as early as June 1, 2023. This is not news to our Insider Vibe (Paid) Membership. They have known about it for a month, and we've been mapping out what to do if they already have a trip planned this summer, or want to visit without the uncertainty!
This information is so important, we're releasing the kind of information and experienced, helpful tips to the public for the first time in years. Normally, our sources/tips/contacts from nearly 25 years in the industry are for our paying supporters only. However, we want to get this out to our free email subscribers. Just this once.
If you find this information valuable, and don't mind helping support us with less than the price of a couple of cocktails on The Las Vegas Strip (yearly), we'd love to have you as a Member.
Also, for a limited time, you can save $7.77 on a full year of the Access Vegas Insider Vibe Membership Program using the coupon code SAVE777 Information like this, way ahead of others finding out, is just a small portion of what we do. Visit Access Vegas Insider Vibe Membership Program today, check out ALL we have to offer, click to become a member, and save TODAY with the promo code SAVE777
We'll be seeing you again soon, with the Las Vegas information you won't find anywhere else.
---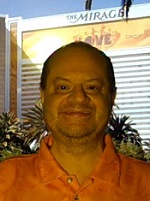 Hello From Las Vegas! – Well, well… we might have a major Las Vegas strike on our hands, and still, mum seems to be the word. Am I hoping or wanting one? Absolutely not. And a disclaimer before we begin:
While most of you will find some value in the general notes, members with trips planned between May 15 and July 15 of this year, or those who have maybe already taken the vacation time, are thinking about taking the time, have booked a flight but no hotel, and similar.
Please note that my thoughts are pragmatic, and aimed at the person who otherwise has no horse in the race. If you are very much anti-union or pro-union, please act in accordance with your thoughts and feelings. I'm simply concentrating on the regular visitor who either doesn't want their vacation turned into a mess, or wants to know what to do if (heaven forbid), they show up and a strike happens.
We'll start with a "Just The Facts, Ma'am" segment on what to do if you are booked, or if you are thinking about booking during that period. I'll get into the nuts and bolts and politics later for those so inclined.
Help! I'm Already Committed To A Trip!
If you have already booked, and are coming, are you possibly going to be in for a mess and tons of inconvenience? Will you even have a room? Will you be able to get food?!?
How Long Will It Last? – First, any strike will most likely be short-lived. And, any hotel owner or group who is prepared to deal with one will have contingency plans in place for at least basic room changeovers. But, there might be a few hours of wait to have a room ready for you. So, keep that in mind.
I'm Still Going To Get Hungry – What about eating? The reality is that most restaurants in most Las Vegas Strip hotels are owned by third-parties. And, even though the union representing most all Las Vegas hotel workers (across the board, with the exception of table games dealers) is called the Culinary Union, they actually don't represent a ton of third-party restaurants. Most will be open.
And, I'm certainly not going to starve. This is NOT a city-wide strike. No shortage of places to dine exist within a few minutes of The Strip.
I'm Staying Downtown. What About Fremont Street? – Same story on rooms. And while downtown hotel restaurants are more often run/owned by the hotel, East Fremont Street plus Container park, plus one block over on East Carson Avenue have no shortage of places to dine. (Google Maps is the visitors friend in this instance).
And, a couple of very important things to keep in mind: The union is negotiating separately with every hotel group or individual owner. MGM Resorts may come to an agreement while Caesars may have a strike. Of visa-versa. Sahara might settle and Strat may not. (These are simply examples and in no way reflect my opinion on what hotels will encounter a union strike).
And as noted, any strikes will likely be short-lived. The properties simply can't handle the losses and future loss of bookings which would come with that kind of disruption. And, the union knows this.
Is There A Way To "Hedge My Bet" To Minimize Any Issues? – There might be. Some travel insurance companies will insure and pay if you deal with certain kinds of travel strikes. Just like if you book a trip and airline issue stops it, and they pay you for the loss.
I've never used travel insurance, and thus have never done homework on that and certainly don't want to speak out of turn. When I give suggestions to our members, they are tried-and-true. So, I'll leave you to your own research, reading the fine print on what various companies cover.
One Warning: The little bit of research I did notes that strikes are NOT covered if the strike is known or a threatened date is set. As I'm sending this, the Culinary Union has not publicly stated they will strike, nor set a date. If you choose to take the travel insurance route and find one that covers hotel strikes as part of their strike coverage, I'd do so without delay.
I Have Not Booked, But I Have Time Off, Already Booked Airfare, How Can I Still Visit?
So, you are thinking of coming, have the time off, but now aren't sure? Not to worry. You actually have it pretty easy. Why? Not every hotel on or near The Strip and Fremont Street are staffed with union workers. The Culinary Union has generously provided us this map of the hotels their workers are represented at:
CULINARY UNION / FAIR HOTELS: LAS VEGAS LISTINGS
Notable hotel exceptions are:
The Venetian and Palazzo
Resorts World
Near Strip properties like Palace Station, Gold Coast, The Palms, Tuscany, Ellis Island, The Platinum, Howard Johnson's by Wyndham, Desert Rose and more. Zoom in on that map and look for lodging that has no union designation on it.
Locals properties also not noted on the map.
I'm Not That Familiar With those Properties – If I had to pick one that is right in the middle of both price range/amenities/quality just to make things easy for you? Probably Palace Station. It sits just a stones-throw from the North end of The Strip. Literally, a baseball player with a good arm could stand on their parking garage and hit the back side of The Strip with a ball toss.
Table limits are lower, slots are looser, food prices are lower than The Strip and even downtown.
And, you are in no way confined to dining on-property. If you know how to use a stoplight crosswalk button, check out Google Maps Restaurants Near Palace Station. And, if you are willing to stretch your legs and walk just up Sahara a few blocks: Google Maps Restaurants near Sahara and Valley View. Non-union, plenty to choose from, locals pricing.
Obviously, one size does not fit all. Some of you may opt for Venetian and others, for Ellis Island. Palace is literally "I'm new to Vegas, have no clue, what is a "can't go wrong" choice during a possible strike period for those not overly familiar with the listed options.
Nobody Is Talking About A Strike, Are You Sure?
So, will there be a strike? And, why is literally NOBODY else talking about this? Ted, are you sure they didn't operate on your brain instead of your tummy (abdomen) during your last hospital surgery?!?
The labor issues have been in the news. However, the TV news and newspapers rely on advertising from casino companies, depend on the health of the local economy, and don't want to see Las Vegas bookings plummet on the off-chance various strikes happen. They have bills to pay. On the other hand, we get $0.00 per month from casino companies. And, even when we do note or promote room specials, we really only get a few bucks per booking. Our MEMBERS make all of this possible. So, my top loyalty is YOU.
The Culinary has been rattling the strike saber since before last November's election. Buried deep in a Las Vegas Sun story on how hard the union was working to elect Democrats, a union leader noted that one of the reasons is because in a strike, Democrat politicians are more labor-friendly. This was a "first shot over the bow".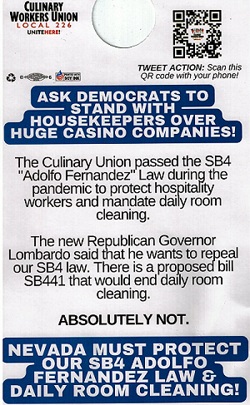 Over the past few weeks, the union has been very active in state-wide politics. Including wanting to keep COVID-era legislation in place mandating daily room cleanings and such (unless the guest opts out). Between cost-cutting and automation, local hotel employment still isn't where it was pre-pandemic. Somewhere around 1/6 of the union's employees are still not back to work.
If there is a time for the union to show it's power and muster a strike to really give their members something to get behind, and to get everyone to "rally around the flag", this might be the time. Even if it is a short strike against selected properties to show they mean business and make a huge, worldwide media splash. Especially with the mantra that "Las Vegas hotels are making huge profits while customer service suffers".
Note: Please do NOT shoot the messenger! Earlier, I noted how to avoid union hotels if needed. Now, I'm telling you the union's PR campaign which might hold water and resonate very well. I'm simply calling balls and strikes here.
Would I put the odds of at least some striking at above 50% now? YES. The union is canvasing middle-class neighborhoods which are of the demographic to contain quite a few hotel employee union members. I know, because I live fairly close to The Strip in just such an area. I'm seeing all of this first-hand.
Plus, the news is starting to have stories about the fight to keep higher levels of safety and service. Noting how fewer maids mean a less safe work environment, and how checking on rooms daily lets the maids get a feel for who is staying, the ability to keep an eye out for anything JDLR (Just Doesn't Look Right, an industry term for when a property or gaming employee is seeing something, and their gut simply tells them something is wrong), and similar.
This is a PR and news union push well above anything I remember in my 29 years in town (as of this month). Hence the legitimate concerns here.
Hopefully, all will end well and this is simply precautionary. However, now you are armed with all the info you need. Just in case.
PS Don't forget to visit Members.AccessVegas.com and use your limited-time promo code
SAVE777
and you are IN for the next year for less than the price of a couple of Las Vegas Strip cocktails. We'll see you with out next Members-Only Issue when you do.
Hope You Are Enjoying This Issue!
Ted Newkirk
Founder/Managing Editor
AccessVegas.com
---
---
---
---
---
---
---
---
---
---
---
---
---
---
---
---
---