Serving Las Vegas Visitors and Residents Since 1999
Welcome to the Insider Vibe! This is the official newsletter of AccessVegas.Com. We talk about the Las Vegas activities you really care about.
---
AccessVegas.com Quick Info Menu:
Las Vegas Essentials

Featured Shows

Photos and Wallpaper
Newkirk's Notes – comments on Las Vegas from AccessVegas.Com publisher Ted Newkirk:
Hello From Las Vegas! I swear that I was starting to wonder if we'd ever get this issue out. Every time we got ready to send, more stuff kept flowing in. Photos, news, events… just keep reading!
Last Chance To See Mamma Mia! In Las Vegas – Mamma Mia! closes its amazing run at Mandalay Bay on January 4, 2009. Although I'm going on 16 years as a Las Vegas resident, it is almost hard to remember when Mamma Mia! wasn't a part of the landscape here. Year after year, it gained raves and often landed on "Top 10 Shows In Las Vegas" lists.
The replacement? No, not another Cirque show (an idea reported to be proposed and rejected). Disney's The Lion King is shooting for a late Spring 2009 opening. Years ago, Disney resisted being associated with Las Vegas, but no longer holds this concern. The irony? Las Vegas marketed itself as a family destination in the 90's and now is aáWhat Happens Here, Stays Here getaway. Lion King tickets are not yet on sale. Of course we'll let you know when available, don't we always! In the meantime, I strongly suggest seeing Mamma Mia! before it is gone.
If you've been, you know how fun it is. If not yet seen, you are in for a treat. This show garners raves from all ages and demographics.
Wynn Shoots An Encore – Many of you may remember the original Wynn Las Vegas commercial featuring Steve Wynn high atop his new hotel. (We have it archived here:Wynn Las Vegas Commercial). This past week, he climbed high atop his Encore tower to shoot an "encore" to the original. Although details are under wraps, it is said to have Wynn's typical sense of humor. No word on when it will debut.
More Families In Las Vegas? – If you are seeing more families here on your Vegas visit, don't think that a "family oriented" Las Vegas is on the return. International tourism is way up (because of our weak dollar). The United States is an affordable family vacation for many in Europe. They'll spend a couple of weeks here in our country, seeing San Francisco, Los Angeles, Las Vegas, the Grand Canyon and similar. Given Europe's comfort level with the human form, I doubt they consider bare behind billboards too risque for their kids:
Mob Museum… What Museum – The long talked about Mob Museum (actually the Las Vegas Museum of Organized Crime and Law Enforcement) is just about under construction and should be done by 2010. The location? Next to the Lady Luck Downtown. (Please don't write and ask what is up with the Lady Luck. If we knew, I'd let you know. Last news as we reported here was that nothing would happen until the economy turned around, and yes… it is a shame they closed it. Same with Stardust. We lost a couple of fun pieces of history for no apparent reason at all at this time).
Anyway, back to the Mob Museum. The marketing campaign will focus around a pretend secrecy and t-shirts have already been printed that say "There Is No Such Thing As A Mob Museum, Nor Have I Been There." More on this story: Construction planned on a museum you can't refuse
Nevada's Recession – Unemployment here looks to stick at around 9% for the next two years, according to a recent Review-Journal article. That is not a typo. Almost 1 out of 10 people out of work. What does that mean for the visitor? Maybe not much. Tourism volume is staying pretty steady and although rumors of hotel layoffs continue to circulate, they can only cut so much staff. Rooms have to be cleaned and food has to be cooked.
Many read the "terrible" economic numbers for Nevada and fail to realize that our recession is affecting the 500,000 or so people who have moved here the past decade and don't work in a gaming associated business. Construction is way down (both residential and commercial) and the domino affect has hit the "other" (non-tourist) sectors. We don't need as many strip mall type of businesses.
My prediction? Unemployment won't stay that high through 2010 but the housing market will actually get worse next year. Why? The same people who picked up and moved here will pick up and move away just as quickly. This will keep the local housing market depressed but ease unemployment. A great situation if you are moving here to retire (or want to purchase a vacation home/condo) in the next couple of years.
Bikefest Roared Through Town – Fall brings Bikefest to downtown Las Vegas and this year's event was as big as ever. Mark went on a three day assignment shooting choppers, crowds, bands, bikinis and everything else associated. We'll feature event photos in following newsletters (always stay subscribed, even when your trip is over). The event kickoff was at Hogs and Heifers Saloon downtown. Click the photos for entire photo set:
Bikes, babes and bands not your thing? Stay tuned as future weeks will bring new casino photo features plus the latest Bellagio Gardens display.
Halloween In Las Vegas – Coming next issue. Also, a belated happy Thanksgiving to our many Canadian readers.
Enjoy This Issue!

Ted Newkirk
CEO/Managing Editor
Associate Editor: Amy Rayner-Cooley
News Researcher/Editor: Mark Jacobs
---
---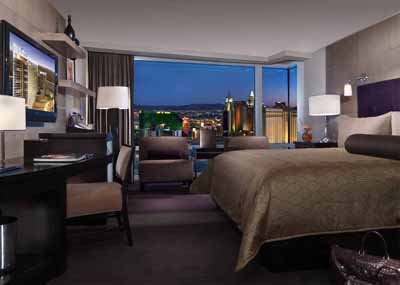 CityCenter To Deliver Most Technologically Advanced Hotels In U.S. When It Opens In Late 2009 – ARIA Resort & Casino, Mandarin Oriental, Las Vegas and The Harmon Will Be First in Country to Debut Unrivaled Custom Automation by Control4 Providing Guest Experience Unparalleled in Hospitality Industry. Upon opening in late 2009, CityCenter will debut the most advanced guestroom technology in the country at ARIA Resort & Casino, Mandarin Oriental, Las Vegas and The Harmon Hotel, Spa & Residences. Click to Read The Full Story …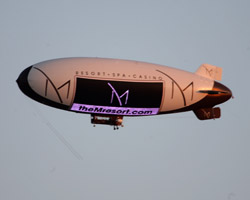 The M Resort, Spa And Casino Debuts Its Latest Innovation – The M Lightship – All eyes were toward the Las Vegas sky yesterday evening as the $1 billion M Resort, Spa and Casino debuted its 178 foot M Lightship û the resort's electronic blimp with the world's largest 70′ x 30′ aerial television screen on the side. The M Lightship will be the only airship in the world offering the public a close-up, hands-on experience. The resort intends to create a center, which will provide information about the Lightship as well as offer the public a chance to meet the captain and crew, take photos and obtain Lightship souvenirs. Click to Read The Full Story …
Wynn Las Vegas Hosts The Breeders' Cup Legends Tour Featuring Jockeys Pat Day, Angel Cordero Jr. And Laffit Pincay Jr. – Wynn Las Vegas Race & Sports Book will host The Breeders' Cup Legends Tour featuring legendary Hall of Fame jockeys Pat Day, Angel Cordero Jr. and Laffit Pincay Jr. on Thursday, October 16 from 12 p.m. to 3 p.m. The event, which is open to the public, will feature a question and answer session, meet and greet and photograph opportunities. Click to Read The Full Story …

Performances of "Raw Talent Live" to Begin at the Sahara Hotel & Casino – ND, the creator, producer and director of "Raw Talent Live" has opened the doors to the highly anticipated spectacular, "Raw Talent Live" at the Sahara Hotel & Casino. (Tickets) "'Raw Talent Live' will be a show unlike any other on the Las Vegas Strip," said ND. "With all of the intricacies involved in the shows development, 'Raw Talent Live' will pave the way for the next generation of entertainment in Las Vegas. It's raw, obviously it does not work, dare to see the show." Click to Read The Full Story …
---
Las Vegas Is On Sale!
Get Great Rates At All Hotels:

California from $39,

Fremont from $39,

Gold Coast from $35,

Main Street from $39,

Orleans from $50,

Sam's Town from $35,

Sun Coast from $60,
More Savings At All Vegas Hotels!
---
Members Mania – We Love Our Readers!
I am heading to VEGAS for my 14th time spending 4 nights with my boyfriend. We are thinking about seeing the show KA, renting a car for the day and probably getting to Valley of Fire (My boyfriend has been there I haven't) taking in the pool of course. What would you say is the place to get too outside of VEGAS as a MUST SEE? I have heard great things about ZION PARK but it's pretty far. We want to try to keep the trip under 4 hours each way if we can. Also any other must get to places?
We aren't into the clubs I we enjoy live music fun bands. I do like HARRAH's carnival area too however it can also get packed. Also must get to food places that don't cost a ton?? We don't mind buffets and we do like just about every kind of food. Keep in mind we will be at MGM Grand
Thanks,
Alisha
Ted Responds:
Everybody has different tastes, but I'll do my best:
Everyone I know who has seen KA has really enjoyed it. Zion is too far. Valley of Fire is spectacular, about an hour away.áRed Rock Canyon is 30-40 minutes from The Strip (go mid-morning to avoid traffic). Hoover Dam is amazing. Walking across it is so cool. Carnival Court, Margaritaville (later in the evening live bands) plus the Dueling Pianos inside Harrah's are fun/party atmosphere that isn't a nightclub vibe.
The nicer the hotel, the more expensive the buffet. Many hotels (MGM Grand, O Sheas, Monte Carlo and many more) have food courts where you'll find a variety of regular food chains. Since you have a car, two not-far-away places to check out:
Maryland Parkway across from UNLV (1.5 miles east of The Strip) has a bunch of cool, pretty cheap restaurants and bars. You'll find something you like.
About 3 miles south of Mandalay Bay right on LV Blvd (The Strip) at Between Warm Springs and Robindale is a big restaurant row. Everything from chains like Chili's and Chipotle to Mom and Pop type pizza and Mexican places (and tons more). Anybody can find something they like.
Town Square is 5 minutes south of MGM on The Strip (just past the golf course after Mandalay Bay) with a lot of cool shops and restaurants. Blue Martini there has 1/2 off all food from 4-8 PM.
All of the above are literally less than 10 minutes from MGM Grand and #2 and #3 are actually on "The Strip" (just a little bit past the hotel areas).
---
This was from my Vegas trip, Wayne Newton & I August 2, 2008 at the MGM Grand after Wayne's show! Please keep me posted on Wayne's appearances as soon as you hear it.
Thanks!
Donna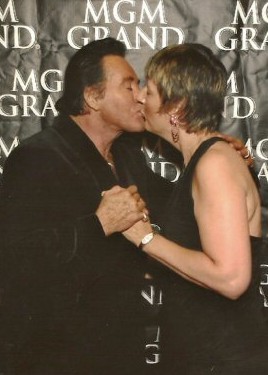 Ted Responds:
Wayne is back working for his "old boss" (and friend) Kirk Kerkorian at the MGM Grand through the end of the year after his long run at the Stardust and (more recently) Harrah's.
He's also playing in Arizona, Ohio, Indiana, and Michigan during November. For dates and tickets: Wayne Newton Tickets

---
Just wanted to drop a line, first off to thank you for the newsletter and secondly to comment on my recent stay in Vegas (August 8-10).
I am a Canadian who makes the trip at least once a year. Having been in Vegas in June of last year I knew what to expect regarding cost of eating and gambling not being quite the same as previous years… nonetheless… we decided to try it again because lets face it… you gotta love Vegas!! We (me, my husband and a friend) were so disappointed. We stayed at the Imperial Palace (because we were comped) and lets face it…its run down and grungy. The slots at all the strip casinos we went into were so tight… we lost a bundle!!!
But I must say we did get good bar service pretty much everywhere which was nice. We took your advice and went downtown (I really love the atmosphere there anyways!). Had a better time there for sure but still didn't feel like we were having as much fun as we used to! We did, however, see Jerry Seinfeld while there and boy what a good time we had so all was not lost. Next time we go back we will be staying downtown…enough of the high fallutin' hotels on the strip… we want to stay where we feel the old Vegas is alive and well.
Barb from Sherwood Park AB Canada
Ted Responds:
Thanks for the report. I'll speak more on this in a future issue, but gaming executives think that "fun" means playing blackjack where there is an Elvis impersonator dealing the cards, or "fun" is one of the new slot games that nobody even understands.
They forgot that the FUN was playing (and maybe the free cocktails) for a few hours a day. It was the experience of Las Vegas and gambling. The casinos always knew they would usually get your money at the end of the day. By letting people win some, the played longer and were actually prone to losing a little more money. If you've been up-and-down, you'll put in more hoping for another run of luck. If a machine just sucks down your money, you close your purse or wallet and walk.
In previous recessions, people still came and gambled. The downturn in Las Vegas gaming wins isn't because people are gambling more at Indian casinos. If that were the case, visitor volume would be down substantially. The bottom line is that until people are able to get back to experiencing the true fun of gambling (winning once in a while, getting on an occasional hot streak), the hotels only have themselves to blame. Spend your money on a couple of good shows and an amazing meal or two instead. Much more bang for the buck.
Thanks for reading and telling friends to subscribe!

---
We love to hear from you, and value your feedback! Here's how to participate:
Call our recorded comment line at 702-507-0055. We listen to every call.
Drop us an email at allvegastv@aol.com – We read them all!
---
More Las Vegas News – Concerts – Events
Coming Hot Holidays – The following dates are huge times to be in Las Vegas, and rooms are in high demand. Booking in advance is the best way to save. Visit our friends at Las Vegas Hotel Deals and spend one of the following hot dates having fun in Las Vegas:
Halloween October 31
Veteran's Day November 11
Thanksgiving Day November 27-30 (4 day weekend)
Hanukkah Dec. 22 – Dec. 29
Christmas December 25
New Year's Eve-Day December 31 – January 1
Martin Luther King, Jr., Day, U.S (Observed) January 19-21 (3 day weekend)
Chinese/Lunar New Year January 26
Lincoln's Birthday, U.S February 12
Valentine's Day February 14
President's Day, U.S (Observed) February 14-16 (3 day weekend)
Washington's Birthday, U.S February 22
St. Patrick's Day March 17
Easter Sunday April 12
Cinco de Mayo May 5
Mother's Day May 10
Father's Day June 21
Canada Day, Canada July 1
Independence Day July 4
Civic Holiday, Canada August 1-3 (3 day weekend)
Labor Day, U.S September 5-7 (3 day weekend)
Labour Day, Canada September 5-7 (3 day weekend)
Jewish New Year September 19
Link To Us! – Have a home page, web page, or blog? Link to us, and give yourself and your friends a quick link to find us from your site. Simply link to http://www.accessvegas.com and name the link Access Vegas!
RSS Feed – We now have an RSS/XML feed! Most RSS programs let you visit AccessVegas.com and automatically pull the feed. For those who want to enter it manually, the feed is:
http://www.accessvegas.com/xml/whats-hot.xml
Share the info: Click to Email this newsletter to a friend!
---
For comments or questions regarding our content
or this newsletter write us at
allvegastv@aol.com
.
New to the list? See our Newsletter Archives for back issues and subscription info. Don't hesitate to forward this newsletter to friends and associates.
All contents copyright 2008 Ted Newkirk. All Rights Reserved.
Hotel Rates Published Accurate At Time Of Publication


October 8, 2008 ISSN: 1529-2770 About Us Privacy Policy
No related links found