Serving Las Vegas Visitors and Residents Since 1999
Welcome to the Insider Vibe! This is the official newsletter of AccessVegas.Com. We talk about the Las Vegas activities you really care about.
---
AccessVegas.com Quick Info Menu:
Las Vegas Essentials

Featured Shows

Photos and Wallpaper
Newkirk's Notes – comments on Las Vegas from AccessVegas.Com publisher Ted Newkirk:
Hello From Las Vegas! What a strange week it has been. The weekend of October 11-12 brought record cool temperatures (highs in the 60's F). Things have rebounded nicely, but the sun is down around 6 PM and the evenings are cooling off quickly.
Las Vegas Bikefest Photos – We have the rest of the Bikefest photos from the downtown Las Vegas event a couple of weeks ago. Important: None contain anything you won't see on basic (U.S.) cable TV but they might not be considered safe for work. Click on a photo to see the associated gallery:

2008 Las Vegas Bikefest Fremont Street Exhibit

Las Vegas Bikefest 2008 Bikini Contest

Las Vegas Bikefest 2008 Custom Chopper Convention

2008 Miss Las Vegas Bikefest Contest
As noted last week, if bikes or girls aren't your cup of tea, have no fear. Coming issues will debut new photo galleries and updates on some of the great Las Vegas Strip hotels and casinos plus a new Bellagio Gardens photo set! And don't forget, below each and every photo in our vast Las Vegas Photo Gallery is a "send to a friend" link.
At Tale Of Two Plazas – A local jury has decided that the hotel that may (or may not) end up being constructed on the site of the old Frontier Hotel can use the name The Plaza. This despite the fact that downtown Las Vegas has had a hotel named Plaza since the 1970's. This because the company building the new hotel here owns New York City's Plaza hotel, which has a 100 year history.
What a huge mistake that would be! Look… I love the downtown Plaza hotel. I've easily visited it hundreds of times in my 15 years here in town. When I lived closer to downtown, I'd head down to Fremont Street 6-7 times per month, parking at The Plaza and stopping for a libation and a few hands of video poker before heading out to unwind, people watch, and grab something to eat. However, let's not mince words: The downtown Plaza isn't a luxury resort.
The New York City Plaza is known for being the crÞme de la crÞme. Top notch all the way. However, I'll bet you that over 95% of Las Vegas visitors aren't remotely familiar with it. The risk is that when people hear the name Las Vegas Plaza, they will associate it with the more modest downtown property. Visitors who visit downtown will tell friends "We went to the Plaza, it was nothing special."
An analogy: Lexus isn't about to come out with a car model called Kia. Nothing wrong with a Kia (Kia owners are laughing with every gas station they pass), but it isn't a Lexus in terms of luxury. Nothing wrong with the downtown Plaza, but risking association with it when you are going to attempt to build a world-class hotel is simply an error.
Dive-In Movies On The Beach Canceled – The 2008 Dive-In Movies at Mandalay Bay Beach, previously scheduled for Friday, Oct. 24 and Friday, Oct. 31, have been canceled. No reason was given.
Halloween In Las Vegas Event List – As promised last issue, we have started compiling a list of Las Vegas Halloween Events. More event notices are coming in every few days, so you may want to bookmark that page, tell your friends about it, and check back often.
Enjoy This Issue!

Ted Newkirk
CEO/Managing Editor
Associate Editor: Amy Rayner-Cooley
News Researcher/Editor: Mark Jacobs
---
Las Vegas Is On Sale!
Get Great Rates At All Hotels:

California from $40,

Fremont from $39,

Gold Coast from $35,

Main Street from $39,

Orleans from $50,

Sam's Town from $35,

Sun Coast from $60,
More Savings At All Vegas Hotels!
---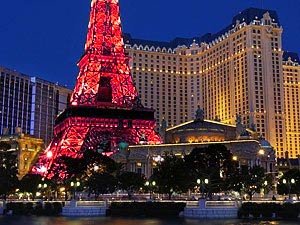 Paris Las Vegas to host 2nd Annual Beaujolais Nouveau Celebration
– Following last yearÆs inaugural celebration,
Paris Las Vegas
is proud to announce its 2nd Annual Beaujolais Nouveau Celebration set to kick-off at 12:01 Thursday, November 20, 2008.
Honoring the long tradition regulated by French law, Beaujolais Nouveau, a red wine made from Gamay grapes in the Beaujolais region of France, is released no sooner than the third Thursday of November, when it is ready for consumption just six weeks after the harvest. Thus, at one minute past midnight, huge celebrations are held all over the world to taste the latest wine. More than 65 million bottles of Beaujolais Nouveau will be consumed in the months to follow.Click to Read The Full Story …
Relax, Unwind, Save a Dime – Did you know that access to some of The StripÆs coolest nightspots is complimentary to guests? HereÆs where you can get down without needing to ante up: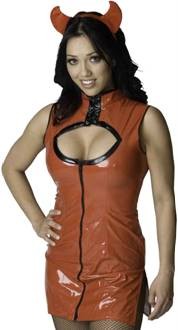 PT's And Sierra Gold Celebrate Halloween By Hosting The 2nd Annual Wicked Costume Contest – PT's and Sierra Gold invite all ghosts, goblins and zombies to join them as they host a wicked costume contest Friday, Oct. 31, with the showdown beginning at 7pm. One winner from each of the 36 tavern locations will be awarded $100 cash. In addition, guests can participate in games for other great prizes. Guests who arrive in their costumes will receive their first drink complimentary. PT's and Sierra Gold are also offering Bud, Bud Light and Bacardi specials. Click to Read The Full Story …
Roster Of Chefs Announced At Encore – December 2008 marks the debut of Encore, the new signature resort in the Wynn collection. Adjacent to Wynn Las Vegas, Encore upholds its sister hotel's mantra: the chefs have moved to Las Vegas and will be cooking in their new kitchens each night. All respected and nationally acclaimed talents in their own right, each Encore chef joins Wynn's already formidable collection of award-winning restaurants.
Joining the team are Theo Schoenegger, of four-star Patina in Los Angeles; Jet Tila, a nationally recognized chef and expert in Asian cuisine; Marc Poidevin, formerly executive chef of Le Cirque at the Bellagio and most recently Wynn's executive chef of catering and special events; Mark LoRusso, previously the executive chef of Tableau at the Tower Suites at Wynn Las Vegas; and Kim Canteenwalla, who worked with Mr. Wynn at Beau Rivage in Biloxi, Mississippi and has consulted on such projects at Ritz-Carlton Palm Beach and One&Only Palmilla. Click to Read The Full Story…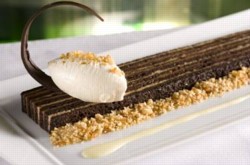 Wolfgang Puck's Chinois Pleases the Palate with the 15-Layer Mocha Cake – The perfect way to finish any meal is to savor in a mouth-watering dessert, and Wolfgang Puck's Chinois is luring in guests with its 15-Layer Mocha Cake. The flourless chocolate cake offers a sweet crunch with its candied hazelnuts and is complemented with vanilla ice cream, creating the perfect marriage. The 15-Layer Chocolate Cake is available for $15 at Wolfgang Puck's Chinois located the Forum Shops at Caesars. Click to Read The Full Story …
Destination Weddings Destined To Be Remembered Forever – Destination weddings are more popular than ever with getaway ceremonies up 400 percent in the last two years alone. The following resorts offer unique weddings for every taste and, now, brides and grooms can tie the knot in three new ways:
At Mandalay Bay, engaged couples are invited to say "I do" in the luxurious Villas Soleil of Mandalay Bay Beach. The "Sun Villa" Package features a 15-minute ceremony and full use of the indulgent cabana for the rest of the day including a $200 food and beverage credit. Additional amenities include Coconut CrÞme Pedicures at Spa Mandalay for the happy couple, a large bouquet for the bride, a boutonniÞre for the groom, one night in a honeymoon suite and a DVD of the ceremony.Couples also receive twelve 4×6 photographs presented in a beautiful album as well as two 8×10 and six 5×7 images. Priced at $4,350, the Sun Villa Package is available Sunday through Thursday only. Guests are limited to a maximum of 25 attendees. Each must be 21 years of age or older. For reservations, contact THEwedding chapel at Mandalay Bay at (877) 632-7701
The hotel that introduced the concept of the destination resort to Las Vegas invites guests to wed amidst its lush tropical beauty. The new wedding packages of The Mirage û "Simply Elegant," "Exotic Delights" and "The Sophisticate" û offer romantic ceremonies in a stunning poolside location or within a private indoor venue. Priced at $1,900, $1,950 and $2,100 respectively, packages offer brides three distinct styles of spectacular floral arrangements.An officiant, bouquet for the bride and boutonniere for the groom also are included. The talented chefs of The Mirage also are available to create delectable menus and wedding cakes for the perfect reception bash. For reservations, contact Chantay Sandoval in The Mirage Banquet Services Department at (800) 939-9389
The "Wedding a la Carte" Menu at Treasure Island offers couples a budget-friendly way to personalize their ceremony. Starting at just $200 for a 15-minute union complete with a non-denominational minister and traditional music, the "Wedding a la Carte" menu features a variety of options to create a customizable experience. Couples looking for a traditional wedding with keepsakes, bridal bouquet and a DVD of the ceremony will be just as satisfied as those seeking a more luxurious package with his and her robes, a bottle of bubbly and a suite in which to celebrate. For reservations, contact The Wedding Chapels at Treasure Island at (888) 818-0999.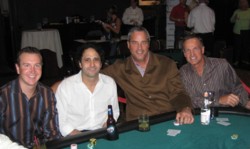 Las Vegas Native Nascar Driver Kurt Busch Charity Poker Tournament Recap – Last night poker players and NASCAR fans alike packed Sierra Gold ultra-tavern on S. Jones Blvd to participate in The Kurt Busch Charity Poker Tournament. Over $25,000 was raised to benefit The Kurt Busch Foundation. The tournament was organized to raise money for the Victory Junction Gang Camp whose mission is to enrich the lives of children with chronic medical conditions or serious illness. Guests included Kurt Busch; Lon Kruger, UNLV Men's Basketball Head Coach; Al Unser Jr., two-time Indianapolis 500 Champion; George Maloof, owner of The Palms Casino Resort; and Blake Sartini, CEO and owner of Golden Gaming. Click to Read The Full Story…
---
Members Mania – We Love Our Readers!
Amy unfortunately had to take the week off to fly home and visit two very ill family members. We wish all involved the best and they are in our thoughts and prayers.
Mark and I covered the great work Amy does that makes this newsletter what it is. However, time didn't permit me to prepare this section this week. Readers comments and questions (and my answers) should return next issue.

---
We love to hear from you, and value your feedback! Here's how to participate:
Call our recorded comment line at 702-507-0055. We listen to every call.
Drop us an email at allvegastv@aol.com – We read them all!
---
More Las Vegas News – Concerts – Events
Coming Hot Holidays – The following dates are huge times to be in Las Vegas, and rooms are in high demand. Booking in advance is the best way to save. Visit our friends at Las Vegas Hotel Deals and spend one of the following hot dates having fun in Las Vegas:
Halloween October 31
Veteran's Day November 11
Thanksgiving Day November 27-30 (4 day weekend)
Hanukkah Dec. 22 – Dec. 29
Christmas December 25
New Year's Eve-Day December 31 – January 1
Martin Luther King, Jr., Day, U.S (Observed) January 19-21 (3 day weekend)
Chinese/Lunar New Year January 26
Lincoln's Birthday, U.S February 12
Valentine's Day February 14
President's Day, U.S (Observed) February 14-16 (3 day weekend)
Washington's Birthday, U.S February 22
St. Patrick's Day March 17
Easter Sunday April 12
Cinco de Mayo May 5
Mother's Day May 10
Father's Day June 21
Canada Day, Canada July 1
Independence Day July 4
Civic Holiday, Canada August 1-3 (3 day weekend)
Labor Day, U.S September 5-7 (3 day weekend)
Labour Day, Canada September 5-7 (3 day weekend)
Jewish New Year September 19
Link To Us! – Have a home page, web page, or blog? Link to us, and give yourself and your friends a quick link to find us from your site. Simply link to http://www.accessvegas.com and name the link Access Vegas!
RSS Feed – We now have an RSS/XML feed! Most RSS programs let you visit AccessVegas.com and automatically pull the feed. For those who want to enter it manually, the feed is:
http://www.accessvegas.com/xml/whats-hot.xml
Share the info: Click to Email this newsletter to a friend!
---
For comments or questions regarding our content
or this newsletter write us at
allvegastv@aol.com
.
New to the list? See our Newsletter Archives for back issues and subscription info. Don't hesitate to forward this newsletter to friends and associates.
All contents copyright 2008 Ted Newkirk. All Rights Reserved.
Hotel Rates Published Accurate At Time Of Publication


October 15, 2008 ISSN: 1529-2770 About Us Privacy Policy
No related links found