Serving Las Vegas Visitors and Residents Since 1999
Welcome to the Insider Vibe! This is the official newsletter of AccessVegas.Com. We talk about the Las Vegas activities you really care about.
---
AccessVegas.com Quick Info Menu:
Las Vegas Essentials

Featured Shows

Photos and Wallpaper
Newkirk's Notes – comments on Las Vegas from AccessVegas.Com publisher Ted Newkirk:
Hello From Las Vegas! Well… we've escaped the triple digit temperatures. Until now. The next week or so will bring constant daily temperatures of 110 (F). Hard to complain as we've really had some pretty nice, moderate weather the past few months. However, if you are coming to town the next few weeks, two very strong words of advice:
Go nuts with the sunscreen, and I mean the 30 SPF stuff. Apply often. Las Vegas sits at 2000 feet above sea level, which makes the impact from the sun's rays stronger than where many of you live. And… you'll be in the sun more than you realize you will.
Water, water, water, water, water. Drink plenty of it. Dehydration can creep up on you. Here's what you don't realize: You perspire here just as much (if not more) than you do at home. However… our dry climate wicks it off your skin so quickly that you often don't realize it. You are losing far more moisture to the atmosphere than you realize, and if you areáboozing, you are further dehydrating yourself. Nothing wrong with asking for an ice water (with lemon slice, if you prefer) on the side when you order that cocktail, or even that beer. (Yes, beer actually will dehydrate you also).One final note: Our tap water may taste a little different than yours because of all the natural minerals in the Colorado River (our water source) but it is 100% safe to drink. For those who don't to spend the money on bottled water, better to drink some so-so tasting tap water and stay hydrated than to end up with heat stroke.
Limited Beyonce Tickets Available – Beyonce is performing a series of very intimate shows at Encore (Wynn) July 30 – August 2. Few tickets are left, and they aren't cheap. BUT… this is a very rare chance to see her take a break from the current arena tour in a special setting. Click for Beyonce at Encore Las Vegas Tickets
Although I'll comment on local politics from time-to-time, we are not a political newsletter. Having said that, you don't get to spend time with the mayor everyday and we unearthed some pretty interesting news. If the following isn't your cup-of-tea, keep scrolling. We have the usual landslide of Las Vegas announcements, deals, and news in this issue!
Governor Goodman? – We enjoyed a nice chat with Las Vegas Mayor Oscar Goodman at "Martini's With The Mayor" held about a week ago at Hemingway's Cigar Lounge here in Las Vegas.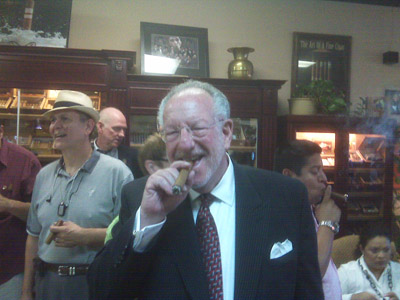 Las Vegas Mayor Oscar Goodman smoking a premium hand-rolled cigar. Clark County (Las Vegas) Commissioner Larry Brown seen over the mayors shoulder back against the display case.
When introduced to those gathered with the usual accolades, Mayor Goodman chimed in with "don't forget, hardest drinking mayor as well!"
I was fortunate enough to spend some one-on-one time and complimented Mr. Goodman on the stance he took when fellow Democrat President Obama gave a speech that pretty much killed the Las Vegas convention business for a number of months. The Mayor took time to tell me the following:
When he and his wife first moved to Las Vegas, they had been registered Republicans. He went to work in a law office that included (eventual) U.S. Senator Richard Bryan and told me that if you lived in Las Vegas and were in the legal field back then, you were a Democrat and that was that.
His (all but officially announced) run for Governor will have him running as an independent. To those who follow Nevada politics, this is politically expedient. The sitting governor is a Republican, and already has a strong primary challenge from former State Senator Dr. Joe Heck. (Disclaimer: I've had numerous contacts with Dr. Heck and have the utmost respect for him. I with he'd run for U.S. Senate instead of Governor). On the Democrat side, Rory Reid is the gubernatorial front-runner. (If that name rings a bell, yes… he's U.S. Senate Majority Leader Harry Reid's son).
Having said all of that, Mr. Goodman isn't being disingenuous by running as an independent. He's never been bound by party. If he's had to take on the unions or environmentalists, he's done so despite his official political affiliation. He's all about Nevada, not political party.
If you are in town on July 31, you can head downtown to Mayor Goodman's 70'th birthday bash (and most likely the official announcement of his run for governor). We have full details here: Help Celebrate Mayor GoodmanÆs 70th Birthday July 31 2009 At The Fremont Street Experience!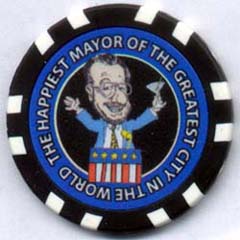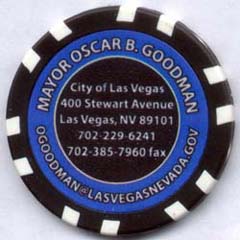 Las Vegas Mayor Oscar Goodman's "business cards" are replicas of $100 chips used in casino table games. (No… mine is NOT for sale.)
Bourbon Street West – Just a couple of years ago, breathy bloggers were claiming that the demolition of the Imperial Palace was imminent. (I'm was on record at the time laughing and saying probably not). Harrah's (the casino group, not the specific hotel) has announced plans to build a restaurant and bar complex/walk from O'Sheas to The Flamingo along the backside of the properties (think back where the monorail is).
Harrah's (the hotel) was really the first one to offer a street-type party atmosphere with their wildly successful Carnival Court. The only question: How will they draw people back to this new project? I'm sure they have something up their sleeve…
Take Me Down… To Cabo Wabo – Sammy Hagar is bringing his Cabo Wabo Cantina to the Las Vegas Strip! We've heard rumblings for a decade that a Cabo Wabo would be coming to Las Vegas, and it finally looks like the time has come! The are taking over the Trader Vic's spot at Planet Hollywood.
To be honest, I expected Trader Vic's to do much better here. Trader Vic's has locations literally around the world in some of the hottest business and tourist destinations. However, they might not have been a good fit for the current budget-conscious Las Vegas visitor. Cabo Wabo notes: Offering a blend of live music and coastal Mexican fare, Cabo Wabo Cantina will serve up an all-day and all-night party that will guarantee guests a good time at a price that won't break the budget.
What Gamblers Want – I had to love the following letter to the editor of our local paper. Well worth a read: Casinos learn gamblers want the human touch
P.S. We've chosen and emailed the winners for both our Summer of '69 and Phantom – The Las Vegas Spectacular contests. You may want to check your spam folder just to make sure you didn't miss a possible notification.
Enjoy This Issue!
Ted Newkirk
CEO/Managing Editor
Associate Editor: Amy Rayner-Cooley
News Researcher/Editor: Mark Jacobs
---
Las Vegas Is On Sale!
Get Great Rates At All Hotels:

Bally's from $39,

El Cortez from $33,

Fitzgeralds from $23,

Hooters from $20,

Orleans from $27,

Riviera from $27,

Sahara from $23,

Stratosphere from $42,

Tropicana from $28,

Tuscany from $22,
More Savings At All Vegas Hotels!
---
Crystals At CityCenter Reveals Unparalleled New Collection Of Luxury Retailers And Restaurants
– CityCenter, the spectacular multi-use development opening later this year on the Las Vegas Strip, announced today an unparalleled collection of unique luxury retailers and restaurateurs that will join the already outstanding lineup at Crystals. The 500,000 square-foot retail and dining district is certain to become Las Vegas' premier shopping experience. Opening December 3, Crystals will showcase an unprecedented array of the world's most exclusive retailers including many flagship stores.
Fremont Street Experience Hosts NASA Astronaut Scott J. Kelly – in Celebration of "One Giant Leap: 40th Anniversary of Moon Landing"
WHAT: Fremont Street Experience will host a special educational forum with NASA Astronaut Scott J. Kelly for students of the Clark County School District on Monday, July 20 and Tuesday, July 21 at the 1st Street Stage area. Kelly will conduct three, one-hour sessions each day at 10 a.m., 11:30 a.m. and 1 p.m., discussing his two Space Shuttle missions and including a Q&A portion at the end. The forum will also include items such as a NASA spacesuit and Apollo 11 replica. The public is also welcome to attend.
The schedule is as follows:
WHEN: Monday, July 20 and Tuesday, July 21 À 10 û 11 a.m. À 11:30 û 12:30 p.m. À 1 û 2 p.m. WHERE: 1st Street Stage area at Fremont Street Experience
The Alan Parsons Live Project To Perform At Cannery Casino & Hotel – The Alan Parsons Live Project will perform their hits on Saturday, August 8. The special one-night performance begins with Paramount's Original Laser Spectacular choreographed to Pink Floyd's "Dark Side Of The Moon." The band will continue the show with live performances of the hits of the Alan Parsons Project. The show starts at 8 p.m. and doors open at 7 p.m. British progressive rock band, The Alan Parsons Project, is best known for its complex compilations of instrumentals and revolving lead vocalists.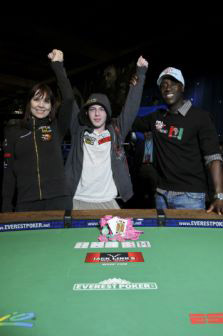 Hollywood A-Listers And Top Poker Pros Help Raise $362,000 During The 3rd Annual Ante Up For Africa – Actor Don Cheadle and poker pro Annie Duke yesterday co-hosted the third annual Ante Up For Africa tournament, which is hosted on the eve of the World Series of Poker Main Event and since 2007 has raised nearly $2.5 million to build awareness for the humanitarian crisis in Darfur, Sudan, and support those who are victimized by it. Everyone who participates in Ante Up For Africa pays a $5,000 entry fee and is encouraged to donate a portion of any winnings for the immediate benefit of ENOUGH and the International Rescue Committee. Last night's winner û Alex Bolotin of Brooklyn, NY û donated half of his winnings. In all, the third annual Ante Up For Africa raised $362,000.
Gladys Knight Returns To The Orleans Showroom August 7-9 – The legendary "Empress of Soul," Gladys Knight has had a deep influence on the music world throughout her five-decade career. From August 7-9, Knight will be bringing her one-of-a-kind performance to The Orleans Showroom. Gladys Knight made her solo singing debut at the age of four in a Baptist church in Atlanta. In 1952, shortly after winning a prize for her performance on the televised Ted Mack Amateur Hour, eight-year old Gladys formed The Pips with her brother, sister and two cousins.
Drew Carey And The Improv All Stars To Perform At The Mirage – Stand-up comic, producer and writer Drew Carey, brings his award-winning talent to The Terry Fator Theatre at The Mirage Friday, August 28 and Saturday, August 29 at 10 p.m. Carey is best known for his self-titled series "The Drew Carey Show," the innovative improv show "Whose Line is it Anyway?," and for hosting the hit CBS television show "The Price is Right." Joining Carey is the talented cast of The Improv All Stars: Ryan Stiles, Kathy Kinney, Chip Esten, Jeff Davis, Sean Masterson, Julie Larson and Laura Hall on piano. Carey will start the show with his stand-up comedy, and then the cast will join him onstage for an unscripted, unrehearsed, no-holds-barred laugh fest.
Sean Hannity Hosts Freedom Concert At Orleans Arena August 8 – Talk radio and television personality Sean Hannity will headline the Freedom Concert at the Orleans Arena on August 8, beginning at 8 p.m. All proceeds from the concert series, now in its sixth year, will go toward the Freedom Alliance Scholarship Fund for the dependents of U.S. military personnel who have been killed or permanently disabled in an operational mission or training accident. This year's concert will feature performances by country music sensations Billy Ray Cyrus and the Charlie Daniels Band, contemporary artist Michael W. Smith, and the legendary Lee Greenwood.
---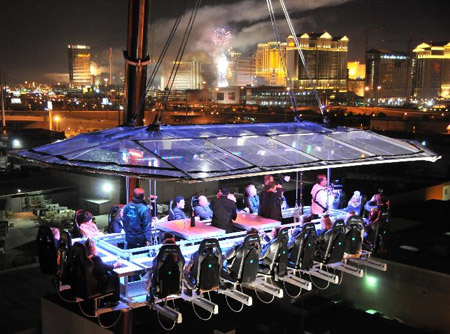 Dinner in the Sky Las Vegas is the most original fine dining adventure you'll ever experience! Seated at your dining Sky Table, you'll float gently into the air to enjoy fine food and wine, surrounded by unique views of the illuminated Las Vegas Strip. Dinner in the Sky is truly a night out in Las Vegas like no other! Click to Book Las Vegas Dinner In The Sky
---
These are only a few of the many Easy Vegas Deals we find each and every week (many of which happen too quickly for newsletter deadline). For a complete and constantly updated listing:
Bookmark and Visit EasyVegasDeals.com daily (Monday – Friday) or

Enter

http://www.easyvegasdeals.com/feed/

into your RSS feed list (for those of you who use RSS/XML feeds) or
---
Members Mania – We Love Our Readers!
First off I want to thank you again for the informative newsletter! I got back from a stay at Bellagio May 10-16, and had a great time. I read the comments from the fellow low minimum craps/blackjack player and I wanted to share with him the great help that I had gotten from you. You turned me on to the nextshooter.com website, where I learned that even though you might be staying at one of the nicer strip hotels, you can still find crap tables with a $3 minimum at the Casino Royale, which is right on the strip. They even offered $1 margaritas and $1 Bud in bottles!
Having followed you super-secret parking advice, I was able to leave Bellagio and be at a $3 minimum craps table in a matter of a few minutes! It was the most fun I've had playing craps in many years. I've been visiting Vegas two or three times a year, for a long time, but recently the fancier hotels have not been offering craps for less than $10 minimum. Maybe they'll wise up and start listening to your advice. You're right about word of mouth, I can't tell you how many folks I've told about Casino Royale since I got back two days ago!
I really appreciate the amenities that Bellagio has, such as, the great spa, pool, etc., but as for gambling, I have restricted my gambling to their blackjack machines at the sports bar. (I don't like machines, but what else could I do?)
Renting the car turned out to be a very good idea this time. I always fly in. But, sometimes I like to get out and take a drive to Red Rock Canyon and really appreciate the clear, quiet of the desert. By the way, for people who like to ride a motorcycle, but have flown in, like I always do, one of the Harley-Davidson dealers rents bikes by the day, week, etc. I thought about it, but it turned out to cost more to rent it for one day than the car rental was for a week!
Dave Durbin
Ted Responds:
Red Rock Canyon is one of the amazing desert scenery locations within 30 minutes of The Strip, and a must-see for the regular visitor. We've mapped it on Google maps: Las Vegas Strip to Red Rock Canyon. Still not sure if worth the visit? Check out our Red Rock Canyon Photo Gallery!
The parking secret tip that Dave was referring to was one I noted a few months ago: Directly behind the Casino Royale sits a four floor parking garage that always has plenty of room (except on New Years Eve).
Because the casino is so small, it is less than a 30 second walk from the parking garage to the sidewalk on The Strip. Now… there are signs that note parking is for Casino Royale patrons only. So grab a drink at the bar or drop a buck in a slot machine. They don't have people monitoring who is parking and where they go, but tossing them a couple of bucks for the ease of parking is a small price to pay. We park there when heading to Venetian (right next door). Beats the heck out of trying to navigate the Venetian garage and the walk along the front of (and into) The Venetian on foot is a true pleasure.
---
Love your newsletter! My friend and I will be coming to Vegas. We will be staying at Wynn. Unfortunately, we wanted to see Danny Gans again. I am not for sure if anyone will be in that showroom when we are there. We have seen so many of the other shows in years past. Do you have any suggestion for a new good show?
Thanks,
Sara from Houston, Texas
Ted Responds:
Various touring artists are being added to the Encore schedule (as we've noted with Beyonce), and this was already in the works before Danny died.
For the money, Larry G. Jones is an excellent "Danny Gans" style performer: http://www.larrygjones.com
Terry Fator is knocking them dead, and Lion King has opened strong. Although not new, Phantom – The Las Vegas Spectacular sounds like it may be along the lines of what you are looking for.
---
A long time ago, i used to take a free shuttle to The Rio from the Strip but last time i went (4 years ago) i couldn't find the spot. Do you have this information? i will be there next September 11th.
Monique Lavigne from Canada
Ted Responds:
Shuttle information changes from time-to-time, which is why we don't attempt to keep of list of their schedules. (If you print out a shuttle schedule, it may be out of date when you arrive here). My advice? Call The Rio when you get to town. Sam's Town, Orleans, Gold Coast and M Resort also have free shuttles to their properties and a quick phone call to the resorts in question will get you pick-up locations and times.
---
My mother turns 50 in January of 2011 and we have decided to go to Las Vegas to celebrate her birthday (what better way to take her mind off the big 5-0 than distract her with the excitement of Las Vegas). There will be 12 of us going so we will need 6 hotel rooms. Is there a way to get a cheaper rate for hotel rooms or flights when you are booking for this many at once? Just want to do as much research this far in advance cause the more we can save the more we'll have to spend when we get there! Thanks for your help.
Heather
Ted Responds:
Generally speaking, anything over 10 rooms is a group rate situation.
Regardless of how large (or not) your Vegas-bound group is, call our friends i4Vegas.com at (800) 442-4002, tell them you are an Access Vegas reader, and ask about group rates. Tell them how many rooms you need and what either your price range is or any hotels you have in mind. They should be able to do something really great for any of our readers who call! Because they contract with hotels to buy big blocks of rooms, they can provide for just about any size group and pass along the bulk rate savings to you and your party.
Hope this helps. Make sure to tell everyone coming to subscribe to our newsletter to keep up on Vegas!
---
Was in Las Vegas May 17-21, and stayed downtown at the Four Queens. I enjoyed staying downtown and not having to walk forever to get anywhere. There were some very good food deals downtown also. Getting to the strip one day was no problem (I was traveling alone and time was not an issue so I used the Sam's Town shuttle) and I realized how good downtown was after going back down that day to the strip and getting worn out from all the walking.
Sure there is not the glitz and glamor of the strip, but there are street bands and the Fremont Street experience, and no porn slappers downtown. I will definitely stay downtown again the next time I go to Las Vegas.
M. Jones from Grand Island, NE
---
We love to hear from you, and value your feedback! Here's how to participate:
Drop us an email at allvegastv@aol.com – We read them all!
Call our recorded comment line at 702-507-0055. We listen to every call.
---
More Las Vegas News – Concerts – Events
---
Coming Hot Holidays
– The following dates are huge times to be in Las Vegas, and rooms are in high demand. Booking in advance is the best way to save. Visit our friends at
Las Vegas Hotel Deals
and spend one of the following hot dates having fun in Las Vegas:
Civic Holiday, Canada August 1-3 (3 day weekend)
Labor Day, U.S September 5-7 (3 day weekend)
Labour Day, Canada September 5-7 (3 day weekend)
Jewish New Year September 19
Halloween October 31
Veteran's Day November 11
Thanksgiving Day, U.S November 26-29 (4 day weekend)
Hanukkah Dec. 2 – Dec. 9
Christmas December 25
New Year's Eve-Day December 31 – January 2 (3 day weekend)
Martin Luther King, Jr., Day, U.S (Observed) January 18-20 (3 day weekend)
Lincoln's Birthday, U.S February 12
President's Day, U.S (Observed) February 13-15 (3 day weekend)
Chinese/Lunar New Year February 14
Valentine's Day February 14
Mardi Gras February 16
Washington's Birthday, U.S February 22
St. Patrick's Day March 17
Easter Sunday April 4
Cinco de Mayo May 5
Mother's Day May 9
Memorial Day, U.S May 29-31 (3 day weekend)
Father's Day June 20
Independence Day July 4
Link To Us! – Have a home page, web page, or blog? Link to us, and give yourself and your friends a quick link to find us from your site. Simply link to http://www.accessvegas.com and name the link Access Vegas!
RSS Feed – We now have an RSS/XML feed! Most RSS programs let you visit AccessVegas.com and automatically pull the feed. For those who want to enter it manually, the feed is:
http://www.accessvegas.com/xml/whats-hot.xml
Share the info: Click to Email this newsletter to a friend!
---
For comments or questions regarding our content
or this newsletter write us at
allvegastv@aol.com
.
New to the list? See our Newsletter Archives for back issues and subscription info. Don't hesitate to forward this newsletter to friends and associates.
All contents copyright 2008 Ted Newkirk. All Rights Reserved.
Hotel Rates Published Accurate At Time Of Publication


July 15, 2009 ISSN: 1529-2770 About Us Privacy Policy