Serving Las Vegas Visitors and Residents Since 1999
Welcome to the Insider Vibe! This is the official newsletter of AccessVegas.Com. We talk about the Las Vegas activities you really care about.
---
AccessVegas.com Quick Info Menu:
| | |
| --- | --- |
| Las Vegas Essentials | Featured Shows |
Newkirk's Notes – comments on Las Vegas from AccessVegas.Com publisher Ted Newkirk:
Hello From Las Vegas! – We want to wish everybody a Merry Christmas, Happy Holidays and pleasant whatever-you-are-celebrating. Normally, we have a new photo from the Bellagio Gardens holiday display in the newsletter leading up to the 25'th, but we've been so busy, I haven't even been over to see it this year! Rest assured, I have Christmas music playing in my office here.
This will be the final issue of 2011. With many reading at work (and not at work many days until the end of the year), this issue could be read at any time over the next 10 days.
The Lion King Comes To A Close – We'd like to thank The Lion King for being a long-time sponsor and helping us keep the lights on around here. It had a fantastic run in a town where shows can be fleeting. Some fun facts they sent us over:
When THE LION KING at Mandalay Bay ends…
The cast will have performed a total of 1,078 performances.
1.4 million guests will have seen the show.
The cast will have participated in 2,000 rehearsals.
Makeup will have gone through 34,000 makeup remover wipes.
Scar will have spent more than 800 hours in the makeup chair.
Wardrobe will have spent 500 hours fitting cast members.
17,000 hours will have been spent in the puppet workshop repairing and maintaining puppets.
Rafiki will have climbed Pride Rock more than 2,000 times and walked nearly 6,400 miles up and down since the first show.
Timon and Pumbaa will have said Hakuna Matata more than 38,000 times.
Las Vegas New Years Eve Fireworks Info and Insider Party Tips – We published this last year, but we've updated it including a recent news video. You can check it out and http://x.co/bxm1 and make sure to repost the link elsewhere if you find it helpful (or feel that others will)!
Coupons – We occasionally get asked if we put out a coupon book. Not at this time. Las Vegas if full of so many deals (we publish ones we find, and tweet those that don't make deadline) and the problem with coupons is the time burn you spend chasing them. We recently noted that (on average) your time in Las Vegas is costing you over $15 per waking hour. Is it worth going out of your way for a $5-10 coupon (if that) on something that you otherwise probably wouldn't have thought about seeing or doing?
As previously noted, we do plan to do an amazing job of aggregating all the deals and specials out there once we go to a paid subscriber model (which will allow us to hire someone for that daunting task). No coupons needed!
Don't Believe It – Men's Health just ranked Las Vegas as the 10'th "saddest" city in America. (St. Petersburg, FL worst, Honolulu was best). There of the big factors used were unemployment, use of antidepressants, and suicides. No question that people in Florida and Nevada are more "pilled up" than the norm. Doctors are quick to write scripts. Also, with the number of visitors and new residents (who find out that living here isn't the pot of gold at the end of the rainbow), we're going to have higher suicide numbers. On a related note…
Another "Great" Showing – Las Vegas ranks 136'th (out of 143 cities) for having the worst credit! Why I won't toss that into the "blame the recession" basket? Las Vegan's have always had terrible credit (as a whole). When I bought my first condo in 1995, I was told "Wow, you have really good credit. That is unusual here".áThe average Las Vegan who uses credit owes just under $25,000. Best credit cities? Wausau-WI, Minneapolis-MN, and Madison-WI. Interestingly enough, all cities within 300 miles of each other.
Condo City – The median price of a condo in Las Vegas is a paltry $50,000. This will generally get you around 1000 sq. ft. and two bedrooms, two bathrooms in a decent area. (If you want to go high-rise on/near The Strip or downtown, you'll looking at low six figures for a smaller one bedroom). Bring your wallet for the cheaper places. Getting a mortgage loan for a place under $50k is almost unheard of and about 90% of the closings are cash sales.
International Traffic WAY Up – October saw a 31% increase in international traffic to McCarran (Las Vegas) airport. As usual, no surprise to me. This year, the percentage of visitors to AccessVegas.com from outside the U.S. has gone up from 25% to 29%.
We know it is a hassle flying such long distances and having to deal with security and immigration. We appreciate you reading and appreciate your patronage. Overall traffic to the airport was up 5%. Among the domestic cities showing big gains sending visitors here? My hometown of Portland, OR. All visitor numbers continue to climb.
I'm Shocked! (Not) – The company that blew up The Frontier (across from Wynn) has announced they are scrapping plans to build a hotel there. As it is, the name of the property was going to be The Plaza (as in the New York City hotel). That alone shows how brainless these people were. Las Vegas already has a Plaza and at the time plans were originally announced, the downtown Plaza wasn't a property you'd want a high-end hotel confused with. The Frontier was a dump in its latter years, but it was a fun dump. And much preferable to empty real estate with will stay that way for years to come.
Strip Clubs In Casinos – Yet another topic which I couldn't address before as it would have gotten stuck in email filters. Rumblings have been heating up again about the option of putting strip clubs inside casino resorts. Casinos hate to see their customers walk out the door, and all that time and money spend at off-strip strip clubs adds up to money not spent on site.
I believe this is a bad idea all around. A significant amount of Vegas visitorship comes from "conservative" middle America. They (perhaps this is you) will have a few drinks and cut loose and perhaps aren't a prude. But putting the "Sin City" image over the top may take the playful nature of the image one notch too far. Also, we have to think of our convention traffic. Does the wife really want the husband running off to a hotel that has a strip club in it? Let's keep the strip clubs over in the industrial area behind the hotels where they belong.
The Las Vegas Line – When you read a sports page or watch sports programs here in the US, you'll hear them say "Las Vegas likes Team A by 6 points over Team B". Believe it or not, no one here in town sits down and figures out how much a team will win by. The betting line is actually determined by the betting public. For any given game, the sports books want to get an absolutely even amount of money bet of both sides. They want to see (for example) one million dollars bet on Team A and one million on Team B. Because they make you bet $11 to win $10, they simply want to sit back and give the losers' money to the winners, pocketing that extra $1 on each $10 bet.
To get an even amount of money on each side, they set the line (which team is favored and by how much) to a point that will draw bets on both sides. If one team is perceived by the public to be better, the line will reflect that to get people betting on the underdog. Bet the "dog" on a game where the point spread is 6, and you automatically get 6 points added to that team's score at the end of the game (for betting purposes… whether you "win" or not). Bet the favorite, and you need to subtract 6 points from your teams score at the end of the game.
Using our original example, if Team A wins by 3 points, they may win the game, but the bets on Team B are actually the winning bets. Because although they lost by 3, they got to add those 6 points on for betting purposes.
A Slot Machine Ate My Midlife Crisis – This darkly funny novel describes Wendy SinclairÆs spin-crazy life in Las Vegas after she impulsively decides to not return to Houston following a bizarre girls' weekend in 2005. I'm a guy, so can't say it is my cup of tea. But some of our female readers may want to check it out for their Vegas fix. Click over to A Slot Machine Ate My Midlife Crisis
Enjoy This Issue!

Associate Editor: Amy Rayner-Cooley
News Researcher/Editor: Rick Ziegler
---
| | |
| --- | --- |
| Skip the airport taxi hassles and arrive at your hotel in style: Check out driver and limo service availability now! | |
---
PBR Rock Bar And Grill Introduces Savory New Menu Selections – Known for an extensive drink menu and an endless array of hearty American comfort food, PBR Rock Bar & Grill announces the introduction of several highly anticipated new menu items which include cocktails, breakfasts, appetizers, entrees and desserts that are sure to leave your mouth watering for more. The wide variety of new menu additions include sweet potato tater tots, a hearty chili cheeseburger and bloomin' onion sliders served inside an onion ring with sautÚed onions, Swiss cheese, bacon and tomato on a warm onion roll.
Ring in the New Year at Miracle Mile Shops With Food and Drink Deals – Miracle Mile Shops at Planet Hollywood Resort & Casino will be open from 10 a.m. to 6 p.m. on New Year's Eve (Saturday, Dec. 31) and from 10 a.m. to 11 p.m. on New Year's Day (Sunday, Jan. 1).
The Venetian and The Palazzo Give Back to HELP of Southern Nevada – In the true spirit of the season, Team Members from The Venetian and The Palazzo adopted 55 families through HELP of Southern NevadaÆs Adopt-A-Family program and donated more than 35 bikes. Please see attached photos of the Team Members with all of the donated gifts.
Old Homestead Steakhouse's Annabelle the Cow is now Welcoming Guests at Caesars Palace – Annabelle, Old Homestead Steakhouse's celebrity cow, has completed her cross-country journey and was unveiled this morning at the new Old Homestead Steakhouse at Caesars Palace. During her trek, the iconic brown and white cow visited several major U.S. landmarks including Times Square, the St. Louis Arch, the Lincoln Memorial, Mt. Rushmore and the Alamo. She also found time to visit her family in Nebraska on the farm where she grew up and do a little shopping in Chicago. Before being placed at the entrance of Old Homestead Steakhouse at Caesars Palace, she made one last stop at the "Welcome to Las Vegas" sign. Photo (L to R) Greg Sherry, Gary Selesner and Marc Sherry in front of Old Homestead Steakhouse.
Miracle Mile Shops Launches 2012 Caring, Giving, Changing Campaign With Fundraiser for Children's Miracle Network Hospitals – Miracle Mile Shops at Planet Hollywood Resort & Casino aims to raise more than $100,000 over the course of a year during its Caring, Giving, Changing campaign, which kicks off in January with a fundraiser for Children's Miracle Network Hospitals. The year of Caring, Giving, Changing begins on January 1 with a month-long fundraiser for Children's Miracle Network Hospitals. All change tossed into Miracle Mile Shops' fountain as well as the center's indoor rainstorm will be donated to the children's charity, which is dedicated to saving and improving the lives of children at its 170 member hospitals in North America.
Like And Tweet – Enjoy our information? Share it with your friends and followers (Click to Like or Tweet, hover over the share button for Email A Friend menu):
---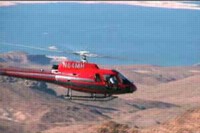 Maverick Helicopter Wind Dancer Air and Landing Tour û Landing tour with a Continental breakfast or Hors d'oeuvres on the Canyon Floor. Birds eye view of Lake Mead and Hoover Dam. Get a close look at the extinct volcano Fortification Hill. Keep an eye out for wildlife along the way. Descend deep into the Grand Canyon and land on the Hualapai Indian territory on the canyon floor for a champagne toast, beverages and hors d' oeuvres in the heart of this spectacular wonder of the world.
---
Members Mania – We Love Our Readers!
Both Members Mania and What We're Watching (two very popular segments) will return in 2012. With the attention of most focused on family, friends, and the holidays, we've decided to keep this issue more brief than most.
We love to hear from you, and value your feedback! Here's how to participate:
Want to comment on a current reader post? Use the comment box on that particular web page. Many of the stories we post also have comment boxes at the end of the story. Make your voice heard!
Drop us an email at AccessVegas@AccessVegas.com – We read them all!
Call our recorded comment line at 702-507-0055. We listen to every call.
---
More Las Vegas News – Shows – Events