Serving Las Vegas Visitors and Residents Since 1999
Welcome to the Insider Vibe! This is the official newsletter of AccessVegas.Com. We talk about the Las Vegas activities you really care about.
---
AccessVegas.com Quick Info Menu:
Las Vegas Essentials

Featured Shows

Photos and Wallpaper
Newkirk's Notes – comments on Las Vegas from AccessVegas.Com publisher Ted Newkirk:
Hello From Las Vegas! It is starting to feel like the Vegas of old around here. March Madness is in full swing, the Mint 400 race is in town, Fremont Street (downtown) is buzzing with activity and visitors in a way I haven't seen in a decade (if ever) and it is pool weather every day of the week. Leave your coat at home. The next time we'll have a downright cold overnight will be sometime in October.
He Who Laughs Last… – You guys (the long-time Las Vegas visitor) are winning! Little back-story for new visitors:
For decades, Las Vegas drew visitors with amazing sights to see coupled with unbeatable value. Even if someone came and lost a bundle, the would brag to their friends for months about the $4.99 complete prime rib dinner, $1 drinks, amazing hotel room (for next-to-nothing) and count the days until they returned.
A few years ago, the hotel casinos started going "Why are we giving all this stuff away? Let's charge New York City prices for everything. Our profits will soar!" They did and it worked for a while. The economy was booming, Vegas was at the peak of popularity, and it looked like the ride would never end.
Then the government got in on the action. Somebody got the bright idea we needed a Performing Arts Center downtown. This despite the area having more venues than I have fingers to count, ranging from a few hundred to nearly 20,000 in capacity. This despite the fact that we already have our own "culture" with amazing shows ranging from Blue Man Group to Jersey Boys and Phantom to all of the various Cirque du Soleil shows.
Still with me here? Local government decided to fund the Performing Arts Center construction through a rental car tax. (Something I spoke out against furiously here). Like you guys are made of money and just want to pay more.
Guess what? The downturn in the economy (and visitors cutting back by not renting a car) has left the performing arts center well short of the needed construction revenue. Rental car taxes were about 30% lower than projected and local government had to sell redevelopment bonds to cover (which has more of the tax burden falling on the locals).
Serves them right. We don't need visitors funding politicians pet projects. Hopefully, this will make them think twice before they go to you (our visitor) for revenue. In addition, hotels are being forced to bring room prices into line with the traditional value pricing that we're famous for here, and restaurants/bars have started getting much more aggressive with food and drink specials.
Which brings me to…
Reinventing Las Vegas – Local tourism leaders (which is a code word for "politically connected people who live off the slush fund of tourism marketing dollars but pretty much have no clue what is really going on") are now clamoring to re-invent Las Vegas!
These morons cite "studies" of this, that, and the other thing. Studies, my a@@. I'd be shocked if any of our readers (some 50-60,000 per week) have ever been part of a "Las Vegas visitor study." (If you have, drop us a line at allvegastv@aol.com and tell us about it).
How about these "leaders" get off of their well-cushioned behinds and get out and rub elbows with you guys. Get some real feedback. Go stand in line for a buffet. Pay $6 for a beer (out of their own pocket) at a casino bar and see how that feels.
At the very least, read our Members Mania section each week which is packed with true, honest and direct comments (good, bad and in-between) from you guys. The REAL Las Vegas visitor, reading this newsletter from all points on the globe and giving real-world insight and feedback about your stay.
OK… enough of my soapbox, but we'll never quit fighting for a Las Vegas where you have an amazing vacation, find tremendous value, and crave returning time and time again.
Next week, new photo sets and show reviews. We had a few bumps in the road with construction at our modest headquarters, but we've just about back to full steam ahead.
Enjoy This Issue!

Ted Newkirk
CEO/Managing Editor
Associate Editor: Amy Rayner-Cooley
News Researcher/Editor: Mark Jacobs
---
Las Vegas Is On Sale!
Get Great Rates At All Hotels:

Aliante from $30,

Boulder Stn from $30,

Fiesta H from $25,

Green Valley from $80,

Palace Stn from $25,

Red Rock from $90,

Sunset Stn from $50,

Texas Stn from $29,

Wild Wild W. from $24,
More Savings At All Vegas Hotels!
---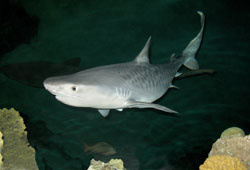 Tiger Sharks Now Lurk At Mandalay Bay – Species Ranked Second Deadliest To Great White Shark – Two female tiger sharks now rule the waters of Shark Reef Aquarium at Mandalay Bay. The only tiger sharks available for viewing in the U.S., these exciting new additions can be identified by their distinct tiger-striped markings in the 1.6-million-gallon aquarium. "We are delighted to unveil these powerful predators to our guests of Shark Reef Aquarium," said Adrienne Rowland, the facility's director. "The tiger sharks demonstrate Shark Reef's goal to raise awareness and appreciation of our world's fascinating marine life."
Jennifer Hudson And Robin Thicke To Co-Headline At The Pearl At The Palms – Grammy winning, platinum recording artist Robin Thicke and Grammy and Academy Award winner Jennifer Hudson co-headline a five-week U.S. tour including a stop in Las Vegas at The Pearl Concert Theater inside the Palms Casino Resort on Friday, May 1, 2009. The tour brings together a powerhouse of two of the most distinctive and enduring voices in the current world of R&B music. World-renowned for her astonishing live vocals, this marks the first official tour for Hudson, who recently won a Grammy Award for Best R&B Album for her self-titled debut album.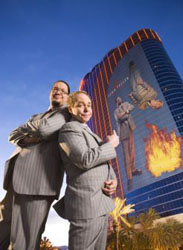 Penn & Teller Celebrate 35 Years As A Duo – The Bad Boys Of Magic Remain Larger Than Life – This month marks the 35th anniversary of Penn & Teller as a comedy-magic team and the "Bad Boys of Magic" are celebrating the occasion in a big way. The duo has spent most of their lives playing with knives, guns, livestock and fire-eating showgirls and now a 27,000 square image of them graces the side of the Rio All-Suite Hotel & Casino. The larger than life replica depicts Penn precariously dangling Teller over fire, which perhaps does not qualify as their craziest stunt but certainly the largestùstanding 26-stories high overlooking the Las Vegas Strip.
Cr³e Fest 2 Coming To The New Joint At Hard Rock Hotel & Casino Saturday, August 1 – M÷tley Cr³e, along with some of rock's top touring acts, will hit the road again this summer for Cr³e Fest 2. Cr³e Fest 2 will make its stop at The New Joint at Hard Rock Hotel & Casino on Saturday, August 1. M÷tley Cr³e will perform the entire album, Dr. Feelgood, from beginning to end at Cr³e Fest 2 in addition to their hits. This year marks the 20th anniversary of the release of Dr. Feelgood, which became the Cr³e's first #1 album on the Billboard charts. To celebrate the anniversary, the band plans to theme the second edition of their festival tour with imagery inspired by Dr. Feelgood.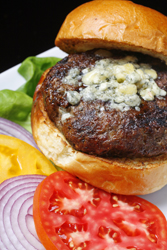 Strip House At Planet Hollywood Resort & Casino Unveils The Strip House Burger – Strip House, Las Vegas' premiere steak house, serves up the Strip House burger at the bar. Available exclusively at the bar and in the lounge for $16.50, the Strip House burger offers guests the opportunity to indulge in Executive Chef John Schenk's take on an American classic. To start, the 8-ounce burger is served with choice of cheddar, Swiss or American cheese. Diners have the freedom to customize their burger with a variety of toppings including bacon, mushrooms, grilled onions, tomato, lettuce, roasted red peppers and pickle. A side dish of steak fries, fried onions or both is also served to complement the creation.
Casting Announced For Disney's The Lion King At Mandalay Bay Theatre In Las Vegas – Casting has been announced for the Las Vegas production of Disney's THE LION KING. The eagerly awaited sit-down production will leap onto the Mandalay Bay Theatre stage with preview performances May 5, and celebrate its official opening May 15. It will join the seven other highly successful companies of THE LION KING currently running all over the world, including New York, London, Hamburg, Paris, Tokyo and Fukuoka, as well as the North American National Tour. For the Las Vegas production, Disney hand-selected an international cast of performers who have won acclaim in productions of THE LION KING around the world, including New York, Taipei, South Africa, London, Los Angeles, Australia, Toronto, Shanghai, Paris and Holland.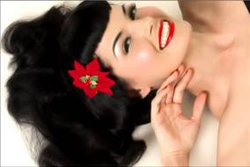 Pin-Up Superstar Bernie Dexter Visits Love Jones At Hard Rock Hotel & Casino – Pin-up model Bernie Dexter visits Love Jones inside the Hard Rock Hotel & Casino to greet fans, sign autographs, and model Lucy B lingerie on Friday, April 10 from 5 û 9 p.m. Dexter is arguably the most famous retro style pin-up model today. In addition to regularly modeling for Lucy B lingerie, Stop Staring, EC Star and Lucky 13, she is the creator of her very own rockabilly fashion for women. Dedicated to the art of seduction, sensuality, and the power of the female form, Love Jones features top-of-the-line lingerie, hosiery, jewelry, swimwear and accessories such as paddles, whips, handcuffs, lotions and candles. In true Las Vegas style, Love Jones offers a full menu of lingerie that can be ordered day or night and delivered directly to any room at the Hard Rock.
---
Members Mania – We Love Our Readers!
Hello Ted, Thanks for the newsletter and keep up the good work.
Just had another awesome visit to Vegas. TI's (Treasure Island) new rooms are gorgeous, Jay Leno was good, but Better Midler was a fantastic surprise. I will miss the MGM/Mirage partnership but think I will still be a TI guest if possible.
Also, I think I learned of the lounge at The Range at Harrah's from your newsletter. The ambiance in the restaurant is enhanced by the nice jazz and being away from the casino. Enjoyed a great meal there too. I can see why someone might want to escape to that lounge!
No long hauling this time, but since when do taxi drivers not even attempt to give you change? They expect 25 -50% tip? One walked into the cab in front of me and then didn't even open my door on his side of the car, and then berated us for not giving him 40%. Took 3 taxis and all three rounded up to the nearest $5 in their minds. That didn't make us feel like giving them more. That was our only negative thoughts.
Now it's back to reality.
Inga
---
Hi, I've just read your piece on your stay at the Palace Station. The very first time I came to Vegas that is where I stayed and found it a very enjoyable experience. I would recommend it to anybody.
I will be returning to Vegas in October for my 5th visit and I'm fetching all my family for our very first holiday together (probably the last too) there will be 7 of us plus my great grandson, so could you tell me if it's possible to hire a vehicle which can accommodate all of us as my son-in-law is the only driver and driving will be the most economic way to see the Grand Canyon.
We are staying at the Riviera, so I might try your tip for getting an upgrade (hehehe) not sure a family of Brits can carry it off though!! Still, nothing ventured, nothing gained. Hopefully the Exchange rate for the Dollar will have improved later in the year, need plenty of bucks for your great shops
Thanks for the great newsletter, I always look forward to it popping into my inbox.
Kind regards,
Ann
Ted Responds:
Rental car companies rent vans and mini-vans. If you check around, you should be able to find one that comfortably seats 8 people. You will need to provide a child seat or baby carrier depending on your great grandson's age.
Numerous Strip hotels actually have car rental counters. Dial the font desk and see if yours does. If not, Simply crack open the phone book (usually kept in the nightstand beside the bed) and see which one is closest to you.
I'd try the $20 trick ("bribing the check-in clerk with a folded, visible $20 bill placed with your credit card and ID left on the hotel desk counter) at the Riviera. There really isn't much to it. If no upgrade, they'll leave your money on the counter and you take it back. If you are all checking in at once to multiple rooms (with one person handling all the paperwork and payment), you may want to just use $50 in hopes that all rooms will be upgrades (or at least a good view or similar).
Thanks for reading and telling your friends,

---
I notice that you no longer include dining specials on your website or am I just not finding the link. I will be there later in Feb and enjoy trying new bargain places to eat !!
Linda
Ted Responds:
We've replaced that section with our new blog: http://www.easyvegasdeals.com The specials changed too often to keep up on, and we had too many complaints that our info was out-of-date (when we had no control over how long specials ran or when they changed). This way, we post info as it becomes available.

---
Love your newsletter. I had a question. Have you seen the table game limits coming down in this economy? I've been visiting Vegas for 20 years now. One of the things i used to love was the ability to walk up and down the strip and stop in at a variety of difference casinos and find $5 craps and BJ tables.
In the past 5 years or so i noticed all the minimums are $10 and your hard press to find $5 tables. I feel am an average gambler and would think I'm not the only one who would like to see the limits back down around $5.
Keep up the good work,
Randy
Ted Responds:
We had a Members Mania letter about this a few months ago. Certainly a topic that people continue to wonder about.
We have heard word of table minimums coming down on The Strip here and there but no major trend we can see as of yet.
We encourage people to gamble downtown where the minimums are still lower and rules still tend to be more favorable to the player.
It is interesting that gaming wins (what the casinos win in total) here in Nevada are plummeting. Execs are blaming it on the economy. But perhaps they are simply making games too expensive or unfavorable for the millions like yourself who will gladly risk your money for hours on end. IF you can do so at reasonable minimums.
Thanks for reading and telling your friends to subscribe. As I always note, we are a small company that relies on word-of-mouth!

---
We love to hear from you, and value your feedback! Here's how to participate:
Drop us an email at allvegastv@aol.com – We read them all!
Call our recorded comment line at 702-507-0055. We listen to every call.
---
More Las Vegas News – Concerts – Events
Coming Hot Holidays – The following dates are huge times to be in Las Vegas, and rooms are in high demand. Booking in advance is the best way to save. Visit our friends at Las Vegas Hotel Deals and spend one of the following hot dates having fun in Las Vegas:
Easter Sunday April 12
Cinco de Mayo May 5
Mother's Day May 10
Memorial Day, U.S May 23-25 (3 day weekend)
Father's Day June 21
Canada Day, Canada July 1
Independence Day July 4
Civic Holiday, Canada August 1-3 (3 day weekend)
Labor Day, U.S September 5-7 (3 day weekend)
Labour Day, Canada September 5-7 (3 day weekend)
Jewish New Year September 19
Halloween October 31
Veteran's Day November 11
Thanksgiving Day, U.S November 26-29 (4 day weekend)
Hanukkah Dec. 2 – Dec. 9
Christmas December 25
New Year's Eve-Day December 31 – January 2 (3 day weekend)
Martin Luther King, Jr., Day, U.S (Observed) January 18-20 (3 day weekend)
Lincoln's Birthday, U.S February 12
President's Day, U.S (Observed) February 13-15 (3 day weekend)
Chinese/Lunar New Year February 14
Valentine's Day February 14
Mardi Gras February 16
Washington's Birthday, U.S February 22
St. Patrick's Day March 17
Link To Us! – Have a home page, web page, or blog? Link to us, and give yourself and your friends a quick link to find us from your site. Simply link to http://www.accessvegas.com and name the link Access Vegas!
RSS Feed – We now have an RSS/XML feed! Most RSS programs let you visit AccessVegas.com and automatically pull the feed. For those who want to enter it manually, the feed is:
http://www.accessvegas.com/xml/whats-hot.xml
Share the info: Click to Email this newsletter to a friend!
---
For comments or questions regarding our content
or this newsletter write us at
allvegastv@aol.com
.
New to the list? See our Newsletter Archives for back issues and subscription info. Don't hesitate to forward this newsletter to friends and associates.
All contents copyright 2008 Ted Newkirk. All Rights Reserved.
Hotel Rates Published Accurate At Time Of Publication


March 25, 2009 ISSN: 1529-2770 About Us Privacy Policy
No related links found