Serving Las Vegas Visitors and Residents Since 1999
Welcome to the Insider Vibe! This is the official newsletter of AccessVegas.Com. We talk about the Las Vegas activities you really care about.
---
AccessVegas.com Quick Info Menu:
| | |
| --- | --- |
| Las Vegas Essentials | Featured Shows |
Newkirk's Notes – comments on Las Vegas from AccessVegas.Com publisher Ted Newkirk:
Hello From Las Vegas! – We're inching toward Winter Solstice (Dec. 22) and I'm looking forward to the days starting to get longer again. The fact that Las Vegas is sunny just about every day means nothing when the sun goes down so early! As we get toward the end of the year here, the news cycle has slowed down a little bit. The next couple of issues will be "kitchen sink" issues (everything but the kitchen sink). A mish-mash of news and thoughts that haven't made previous issues, but should be interesting to most nonetheless.
New Years Eve – Next week, we'll have all the details but expect business as usual with a nearly 9 minute fireworks show going off from The Tropicana to The Stratosphere. (Be warned that no hotels between Venetian and Strat will have displays). Let's hope for better weather than last year when midnight temps were slightly below freezing. I'm getting too old for that! Tip for locals: One of the best "up close" views of the show is from the top of Palace Station parking garage. They close off the top floor and welcome everyone up for the look-see.
Celebrating All The Holidays – We know that Las Vegas goes "boom" in a big way for New Years Eve. Memorial Day, Labor Day, and Thanksgiving Day also result in big weekends. The LVCVA (Convention and Visitors Authority) is now suggesting turning more special event days into "Vegas Holidays". As usual, the LVCVA is just sobering up and way behind what is actually already happening. I've been screaming about this for years!
Halloween has morphed into a Vegas Holiday with the nightclubs really stoking that fire. Cinco De Mayo has turned into a pretty big celebration. Not because of the LVCVA, but because of various casinos and bars doing events. Check out this video of Harrah's 2010 Cinco de Mayo outdoor celebration. I'm completely floored that we don't do Mardi Gras and Fat Tuesday here. Are you kidding me?!?!? We could out-do New Orleans (and The Strip doesn't smell like urine). Better late then never. More events for our visitors!
All Drinks $2 – Once again this year, the South Point is serving all drinks at their casino bars for $2 through December 24. I know that some of you gasp in horror at the thought of leaving The Strip, but this is quite the excuse to see how the locals eat, drink, and play at one of the city's newer properties. (South Point is known for loose slots and good payback on video poker). They have a shuttle (schedule) for $8 round trip or the 6 mile cab fare will run you about $15 each way.
Tour Helicopter Crash – I like to focus on the good news and fun involving Las Vegas. However, I'd be remiss in mentioning the helicopter crash that took the lives of two couples and the pilot. One of the couples was celebrating their 25'th wedding anniversary, the other were newlyweds, and the pilot himself was a newlywed. Without singling out any particular tour companies (including the one involved in this horrible accident), let me note that when it comes to tours, you often get what you pay for.
We've been happily associate with a certain helicopter company (which I won't name in this instance because this isn't about capitalizing on tragedy) for well over a decade now. They are pretty much the most expensive. They also fly some of the newest equipment and can afford some of the best pilots. Guess what: They have an amazing safety record.
This extends to other aspects of your visit as well. The 1/2 price ticket booths are very popular. But keep a couple things in mind: At any given time, any show can end up for sale that day. Even the top shows rarely sell out every seat, every night. BUT… some showsáend up there day in and day out, and with good reason. They aren't great shows. And since you're the last one to buy tickets, guess where you'll be sitting? Don't get me wrong, if you just want to kill 90 minutes (shows are often cheaper than gambling), what the heck. But if you want good seats to the better shows, go ahead and book well in advance.
The Defenders – For those who blinked and missed the Jim Belushi/Jerry O'Connell Vegas-based show called The Defenders, Netflix is streaming all 13 episodes.
Special Christmas Menus – Similar to Thanksgiving, many of the restaurants in the hotels will be featuring a special holiday menu (in addition to their regular menu). If spending Christmas here in town (many families do), you might inquire with the restaurants that catch your eye to check options for Christmas dining, reservations, etc. ASAP upon your arrival.
Like And Tweet – Enjoy our information? Share it with your friends and followers (Click to Like or Tweet, hover over the share button for Email A Friend menu):
Enjoy This Issue!

Associate Editor: Amy Rayner-Cooley
News Researcher/Editor: Rick Ziegler
---
---
The Venetian and the Palazzo Las Vegas First-Ever Winter in Venice Holiday Celebration Continues – The Venetian and The Palazzo Las Vegas are hosting Winter in Venice, the first true celebration of the winter season on the Las Vegas Strip. Winter in Venice is the ultimate destination for an unforgettable holiday experience through Jan. 8. The whimsical festivities features an enchanting ice skating rink above The Venetian's picturesque outdoor Grand Canal, welcoming skaters to make figure-eights or glide hand-in-hand with loved ones. Surrounded by snowflakes, strung overhead holiday lights and an awe-inspiring 65-foot LED holiday tree sitting atop the Doge's Palace fountain, guests are entertained by strolling candy cane stilt walkers, puppets, jugglers and magicians.
The Return of Upscale Living in Downtown Las Vegas with The Ogden – Renovations to Streamline Tower Reveal Premium High-Rise – Located in the heart of Las Vegas' flourishing arts and entertainment district, The Ogden offers an unparalleled experience with front-row seats to the downtown revitalization effort along with an alternative solution for residents that prefer a chic lifestyle paired with a convenient leasing option. The new Ogden will offers contemporary living without the long-term commitment.
Cabo Wabo Ups The Ante With Sammy Hagar's 'I Can't Drive 55' Dollar Nachos – Cabo Wabo Introduces its Most Extreme Menu Item – Everyone knows the Red Rocker can't drive 55, so Cabo Wabo has decided to up the ante with its newest extreme dish, Sammy Hagar's 'I Can't Drive 55' Dollar Nachos. This colossal appetizer includes Cabo Wabo's signature tortilla chips piled high with 20 tasty toppings, available for $55. And because the Red Rocker is certain that this dish will take an entire army to finish, he invites guests to take his 'I Can't Drive 55' Dollar Nacho challenge. Cabo Wabo threw just about everything in the kitchen, minus the sink, into this massive mound of nacho goodness.
The Village Lake Las Vegas Kicks off the Holidays with Skating on The Lake – Bringing back an annual tradition with the world-famous floating ice rink – It wouldn't be the Holiday season without a spin around one of Las Vegas' most celebrated attractions. The one-of-a-kind floating ice rink has become a quintessential Vegas winter experience among locals and tourists alike. Guests bundle up and head to this destination attraction to skate on the unique platform that holds up to 75 skaters at one time with the picturesque back drop of The Village Lake Las Vegas.
The Mirage Nurtures Nature – Offers Yogis One-of-a-Kind Yoga Class With Dolphin Views – The Spa at The Mirage is taking downward-facing dog to the dolphins with a new, one-of-a-kind class, Yoga Among the Dolphins, offered in a serene, underwater viewing area within Siegfried & Roy's Secret Garden and Dolphin Habitat. "Guests from all over the world cherish the dolphins at The Mirage," said The Mirage Spa Director Stephanie Doud. "When I looked at adding yoga to our spa menu, it only made sense to take advantage of the property's exotic, wondrous dolphin world and the atmosphere of relaxation provided by the animals."
---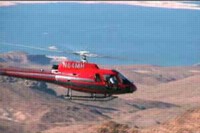 Maverick Helicopter Combo Adventure with River Rafting Tour û Our Wind Dancer Flight with an added thrill of rafting the Colorado River through Black Canyon. An adventure of a lifetime! You will begin your day with complimentary hotel pick-up and your jet helicopter tour to the Grand Canyon. Your pilot will bring you back to the Boulder City Airport to be greeted by the river rafter team for a motorized 10-mile float.
---
What We're Watching – Vegas Videos You'll Enjoy
---
Members Mania – We Love Our Readers!
Note From Ted: This week (only) we'll be featuring some of the feedback toward our decision to move to a paid subscriber newsletter model. Should you wish to chime in, you can use the contact information at the end of this segment. You know that I'm always transparent in addressing reader thoughts and concerns.
Next week, we return to the normal format for this section with lots of reader reports, tips, and questions answered!

---
We will be so sorry to lose this e-mail from you. Being retired and on a fixed income, and everything still going up, we cannot pay for anything that is not essential. I do save a bit for vacations, etc., and hope to visit once in a while. Just have to watch our pennies to do so. Perhaps we are two of your oldest subscribers as we have been long time readers. Good articles!!.
We thank you for a great newsletter and appreciate all the news about one of our favorite towns. Good luck in your new venture. Will miss you!!
Kay G
Ted Responds:
Thanks for the note. The bottom line is that we can't continue to publish with the current scope for free at the expense of properly maintaining and upgrading our website, which is capable of reaching far more people.
Just as you would not want to work for free, I certainly can't ask my small crew to put in extra hours off the clock to maintain both the site and the newsletter. Nor can I do it all by myself.
I crunched some numbers: Let's say that the average cost of a Las Vegas vacation is $1000 a couple just for room, air, and food. Let's say that it is a four day, three night stay which comes to around 60 waking hours here. That right there is $16.67 per waking HOUR while you are here. Just to be here.
If our information just saves you 1.5 hours of otherwise wasted or wandering time (because you know what is going on), it has paid for itself. Add to that deals we scour the web for that you can take advantage of on your trip, and you've more than covered the modest fee we'll be asking.
Add into that the hours and hours that someone would spend trying to look up and find all this info on their own, and a couple of bucks a month to save all those hours turns into something that actually saves you, not something that costs you.
I appreciate that you may not be able to spare $2 per month for what we do. I respect that and thank you for being a long-time reader. Understanding that the economy is bad, I purposely kept the price as low as possible. To put it in perspective, another long time Las Vegas newsletter (which I have immense respect for) only publishes monthly and charges upwards of $40 per year.
But the simple economics are to cut way back on the information in the newsletter (an option I don't find acceptable), or to ask readers who find it of value to help us out with $1.99 per month.
Thanks for your feedback,

Ted Newkirk
CEO, Managing Editor
AccessVegas.com
---
Your newsletter indicates that you are start charging in a few weeks. I can not find where to sign up. Help!!
On another note, I've returned from a trip mid November, stayed at the Aria. Used the $20.00 upgrade move and got a wonderful room. Two suggestion when staying there. One, request a room near the elevators, I need a pack mule for supplies to get from the elevator to my room. Two, be careful in the showers, the floor are polished smooth and of course, get them wet, they get slippery.
I have trouble using the electronic to operate the TV but that was probably my fault.
I agree with one of your readers in that they need to install a moving sidewalk to get the general public into the casino. And also for the guests for the Aria that want to go out and wander the Strip.
Dennis Hall
Ted Responds:
We're still getting everything prepped. Don't worry, we'll provide plenty of advance notice. I'm so excited about the great, new things we'll be able to do in 2012 once we're able to better staff our little operation here! I can't count the number of great ideas we come up with that we just don't have the manpower to implement.
We have to keep most of them under our hat, but one is video: The internet is flooded with Vegas video, but 95% of it is unprofessionally produced and you have to sift through so many videos to (for example) find a good walk-through of a hotel room or an attraction you may want to know more about. If you find the "official" video for something, it is usually a 60 second advertisement that does not help much.
We'd love to shoot a series of 3-4 minute videos covering much of what Las Vegas has to offer, well produced, no BS. This would be invaluable to our members, as you could take a nice overview of something from the comfort of your home, and then decide whether it is up your alley. As opposed to coming here, trying it, and maybe finding it wasn't for you (which wastes your time and money). As you can imagine, that takes time my present crew simply does not have.
Another example: Las Vegas is flooded with deals. I don't mean a couple of ongoing steak specials. I mean happy hours, limited time prix fixe meals, much more. We've had endless requests to make a part of the site featuring all of this and we simply don't have the resources to do so (it requires so much research to stay on top of it all as deals change weekly and even daily). Once we're able to increase staffing, we'd like to keep this updated information in (what will be) our members area. That alone will save everybody the cost of the yearly subscription!
Thanks for the feedback on Aria. I agree and we've suggested in the past that in really big properties like Aria and MGM, the rooms can be quite a hike if you are don't get put near the elevator banks. You aren't the first to struggle with the Aria features. Cutting edge, but perhaps they should come with an operations manual!
We'll keep an eye on what CityCenter does once The Harmon comes down. They'll have a second chance to make the property more friendly to those walking The Strip.

---
Love your newsletter and donÆt mind helping out with the paid subscription. This route certainly makes sense. How will it work? Will you send out e-mails to let us know the new newsletter is off and running with the address to which the check should be sent? Just want to know so that I wonÆt be left out or miss the info. Thanks again for this helpful newsletter and your attention to detail.
Edith
Ted Responds:
We'll have numerous payment options including the ability to send in a check. We're in the process of working it all out.
Thanks in advance for the support. With everyone pitching in just a little bit, we believe that we'll be able to produce the most amazing resource out there for Las Vegas visitors!

We love to hear from you, and value your feedback! Here's how to participate:
---
More Las Vegas News – Shows – Events