Serving Las Vegas Visitors and Residents Since 1999
Welcome to the Insider Vibe! This is the official newsletter of
AccessVegas.Com. We talk about the Las Vegas activities you really care about.
---
AccessVegas.com Quick Info Menu:
Las Vegas Essentials

Featured Shows

Photos and Wallpaper
Newkirk's Notes – comments on Las Vegas from AccessVegas.Com publisher Ted Newkirk:
Hello From Las Vegas! We made the "mistake" of driving the length of The Strip (instead of using I-15) about a week ago mid-Friday afternoon. Thought it would be quicker. After all, nobody is coming to town, right? (OK, we knew better but wanted the change of pace). Take a look: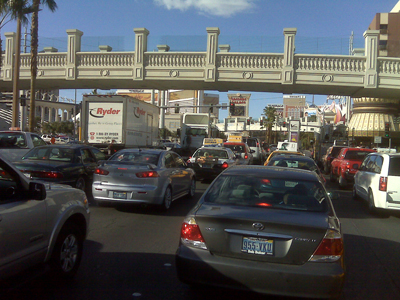 Flamingo and Las Vegas Blvd.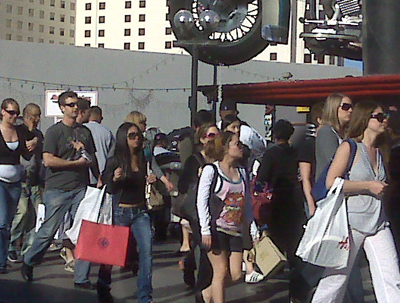 In Front Of The Harley Cafe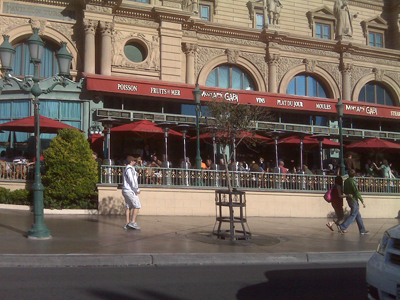 Mon Abi Gabi at Paris Las Vegas full of people-watchers. There are few better places to enjoy the Las Vegas Strip in spring and fall than with a light meal and a glass of wine on their patio.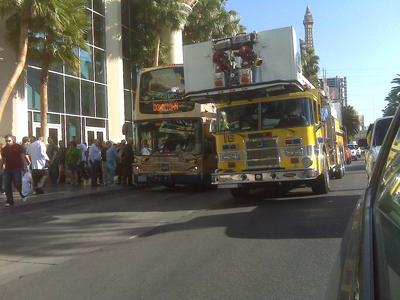 The Deuce double-decker bus next to the fire truck make an interesting contrast. However… look at all the people in line to get on the bus!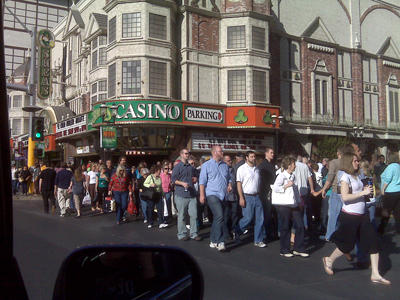 The ever-popular O' Sheas. Where you can still find cheap(er) drinks and lower limit gaming. Plus, people having fun!
Now… some may say "of course it was busy… it was a Friday." However… Friday afternoon is actually transition time here. Weekday visitors are checked out and headed for the airport. Weekend visitors (many of whom drive in from Southern California) aren't even in town yet. Las Vegas is still alive and well with people having the time of their lives!
More Pictures From Our Recent Cruise Down The Las Vegas Strip At The Bottom Of This Newsletter.
Hotels In Bankruptcy – Whenever the financial troubles of some of the local gaming companies make national news, we get people worried about booking because the hotel might go out of business. Have no fear: Even now, these monsters are much too capable of generating cold, hard cash to close.
Generally speaking, they are in financial trouble because they over-spent (too much debt) and over-anticipated future demand. Not because they lack basic cash flow. Those who hold the debt aren't in a hurry to repossess anything. If you think the current crop of MBA's is doing a lousy job running these places, what success do you think a bank would have? Many big banks can't even run their own affairs!
Bankruptcy will allow the hotels to reorganize their debt and in the long run may lead to better customer service and more competitive pricing for you (the visitor) because they don't have to pinch every penny trying to pay their mortgages.
99 Cent Shrimp Cocktail Special – is now available daily in the Players Deli at The Tropicana. The Player's Deli is open daily from 8 AM to 6 PM. Of course, if you followed our EasyVegasDeals.com or our Access Vegas Twitter feed, you'd already know that!
M Shuttle Correction – The free shuttle from The Strip to the new M Resorts leaves from Capital Grille at Fashion Show Mall. Information and photos from The M plus the phone number to verify and get the latest shuttle information is available in our March 11, 1009 Las Vegas back-issue.
Take Advantage While You Can – For years, I've been saying that the "new" (now overbuilt) Las Vegas would allow you to stay in top-quality rooms for dirt-cheap prices. That the market would be flooded with upscale rooms and not enough "rich" people to fill them.
We've hit that point. I honestly don't think we'll see rooms quite this cheap again once the economy starts humming along (which may be sooner rather than later, as some politicians and economists are now saying maybe things weren't as bad as we thought).
If you have ever wondered what it would be like to stay at Wynn, Bellagio, or Venetian, now is the time. You can get those rooms for what a mid-level hotel would have cost just a couple of years ago.
And… if you want to brag to your friends about how truly cheap you can get a Vegas room for, our friends atáLas Vegas Hotel Deals have Hooters and The Sahara for as low as $24 a night on selected weeknights (plus great rates on the top-end hotels as well).
Things are starting to get busy around here again. People have quit believing the "doom and gloom" and are headed to town. If you don't lock up your trip now, expect to be paying a bunch more in the very near future.
Enjoy This Issue!

Ted Newkirk
CEO/Managing Editor
Associate Editor: Amy Rayner-Cooley
News Researcher/Editor: Mark Jacobs
---
Las Vegas Is On Sale!
Get Great Rates At All Hotels:

Aliante from $30,

Boulder Stn from $30,

Fiesta H from $25,

Green Valley from $80,

Palace Stn from $25,

Red Rock from $90,

Sunset Stn from $50,

Texas Stn from $29,

Wild Wild W. from $24,
More Savings At All Vegas Hotels!
---
Def Leppard Announces Tour Stop In Las Vegas With Poison And Special Guest Cheap Trick Saturday, September 5
– In what will be one of the biggest rock events this summer, Britain's great arena rock band Def Leppard will join forces with Poison and special guest Cheap Trick for a 40-city North American Tour set to hit the
MGM Grand Garden Arena
Saturday, Sept. 5. The three bands have a combined sales of 100 million albums worldwide, 65 million from Def Leppard alone, fans can expect hits like "Photograph," "Rock Of Ages," "C'mon C'mon," "Pour Some Sugar On Me," "Foolin'," "Bringin' On The Heartbreak, "Nine Lives," and countless others, to create an evening of rock 'n' roll unlike any other this summer.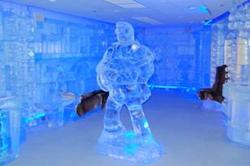 Elvis Presley Rocks a Special Appearance at Minus 5░ Ice Lounge in Mandalay Bay Hotel & Casino – The King of rock 'n' roll, Elvis Presley has entered the building. Making a special appearance at Minus 5░ Ice Lounge inside Mandalay Place, guests can pay homage to the 7-foot ice sculpture decked out in iconic garb. The King took more than two days to sculpt from two tons of ice and is able to maintain his bonafide style at a chilly temperature of 31 degrees Fahrenheit in the ice lounge. Touting the coolest experience in Vegas, 18 tons of ice were used to build and decorate the lounge from the walls and seats to the glasses that chill the famous vodka-based cocktails.
Rod Stewart 2009 North American Summer Tour MGM Grand Garden Arena, August 1 – Rod Stewart returns to Las Vegas with a stop at the MGM Grand Garden Arena Saturday, Aug. 1 as part of a limited-engagement tour this summer. The tour will provide fans with the perfect summer setting to enjoy hits from throughout Stewart's extraordinary four-decade career. The concert is scheduled to begin at 8 p.m. Rock and Roll Hall of Fame artist Rod Stewart arguably possesses one of rock's greatest and most distinctive voices. His trademark voice has successfully commanded nearly every genre of music including folk, rock, soul, R&B, blues and more, even managing to breathe a unique modernity into the classics. Spin has called him "the single greatest male singing voice of the rock era."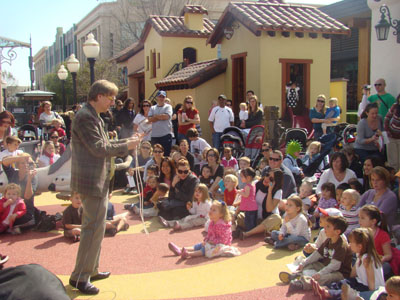 Mac King performs his infamous rope trick for a group of children and parents at the Children's Park in Town Square to help kick off his annual book drive for National Reading Month. – Mac King kicked off his annual book drive in support of National Reading Month on Wednesday, March 11 with Magic and Storytime in the Square at Town Square Las Vegas. New books are being collected now throughout April 24 at all four Las Vegas Borders locations to benefit Child Haven's Through the Eyes of a Child Foundation. All patrons will receive a two-for-one offer to The Mac King Comedy Magic Show with their book donation.
Ultimate Fighting Championship« Presents UFC 98: 'Sugar' Rashad Evans vs. Lyoto 'The Dragon' Machida Saturday, May 23 At MGM Grand – In the UFC« light heavyweight division, one of the most talented weight classes in all of mixed martial arts, every bout is a super fight. This will never be more evident than on Saturday, May 23 at the MGM Grand Garden Arena when champion 'Sugar' Rashad Evans defends his crown for the first time against fellow unbeaten Lyoto 'The Dragon' Machida in the main event of UFC 98, presented by Tequila CAZADORES. The Evans vs. Machida bout replaces the originally scheduled heavyweight championship bout between Brock Lesnar and Frank Mir, which has been postponed due to injury.
---
Members Mania – We Love Our Readers!
I'll be in Vegas in a little over a week. Where is a good place to get coupon books? And in this time of turn down economy, where is the best place to play slots???
Chuck Merica
Ted Responds:
Try the players club desk at each hotel for coupon books, plus your in-room magazines. But don't waste your time chasing coupon activities unless it is something you really want to do or see. What good is saving $10 on an activity that takes an hour for you to get to and ends up being marginally enjoyable?
As we've always said, gaming odds (both slots and table) are generally better downtown. More and more people are combining their visit downtown (something of a ritual for the seasoned Las Vegas visitor) with that one major gambling session. I'm "all in" with that idea. Head downtown in the late afternoon, stroll around and have a cocktail, then enjoy dinner at one of the great hotel restaurants (Hugo's Cellar at Four Queens is our pick).
Get into a nice, long (and hopefully profitable) gambling session. Remember that he overhead light show plays at the top of the hour from dusk until (including) midnight, which is a great excuse to take a break if your table or machine turns cold on you. Then, hit another hotel and try your luck again before finally venturing back to your hotel. It will be a night you probably don't forget!

---
I thought Cher was no longer performing in Vegas? I see Cher is still listed on your "Vegas Concerts and Headliners" section.
Calvin
Ted Responds:
Cher had canceled a few shows quite some time ago due to a health issue. She is not only going strong with her performances here, but has recently added more dates. We have them listed down the right sidebar of this newsletter. Also, you may wish to bookmark http://entertainment.accessvegas.com where we are always adding the latest available concert dates for all artists!

---
Hi Ted!
Love your newsletter! We're coming to Vegas in March for my daughter's 21st birthday and of course they want to hit the clubs. There are different packages on Ebay that offer VIP passes to most of the clubs and they say no cover, no lines. Do you know if these passes are legitimate and are worth it?
Thanks for the insight!
Sharon from LaPorte, IN
Ted Responds:
I can't vouch for packages off of Ebay and I'd be careful. The worst thing that could happen is arriving and finding out you bought something that wasn't valid. We've linked to a long-time reputable site in the newsletter for years: Nightclubs.com has VIP passes and other nightclub options for Las Vegas and a number of other top club cities.

---
My husband and I had been planning for 3 years to introduce our son to Vegas when he turned 21. However,my husband passed away a few days before our sons 21st birthday. My son and I decided to still go to Vegas for New Years. It was a great experience for our son though it was bittersweet.
Dora
Ted Responds:
What a touching story and my deepest sympathy on your loss. Hopefully, your son was able to see many of the things that his father enjoyed and I'm happy to hear that it was satisfying experience in light of the circumstances. Taking a (grown) child to Las Vegas on their 21'st birthday is an amazingly popular activity and a great way to introduce them to some of life's true pleasures.

---
We love to hear from you, and value your feedback! Here's how to participate:
Drop us an email at allvegastv@aol.com – We read them all!
Call our recorded comment line at 702-507-0055. We listen to every call.
---
More Las Vegas News – Concerts – Events
Coming Hot Holidays – The following dates are huge times to be in Las Vegas, and rooms are in high demand. Booking in advance is the best way to save. Visit our friends at I4Vegas Discount Las Vegas Reservations and spend one of the following hot dates having fun in Las Vegas:
Easter Sunday April 12
Cinco de Mayo May 5
Mother's Day May 10
Memorial Day, U.S May 23-25 (3 day weekend)
Father's Day June 21
Canada Day, Canada July 1
Independence Day July 4
Civic Holiday, Canada August 1-3 (3 day weekend)
Labor Day, U.S September 5-7 (3 day weekend)
Labour Day, Canada September 5-7 (3 day weekend)
Jewish New Year September 19
Halloween October 31
Veteran's Day November 11
Thanksgiving Day, U.S November 26-29 (4 day weekend)
Hanukkah Dec. 2 – Dec. 9
Christmas December 25
New Year's Eve-Day December 31 – January 2 (3 day weekend)
Martin Luther King, Jr., Day, U.S (Observed) January 18-20 (3 day weekend)
Lincoln's Birthday, U.S February 12
President's Day, U.S (Observed) February 13-15 (3 day weekend)
Chinese/Lunar New Year February 14
Valentine's Day February 14
Mardi Gras February 16
Washington's Birthday, U.S February 22
St. Patrick's Day March 17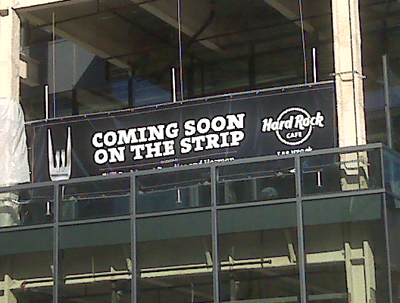 Work is coming along on the new Hard Rock Cafe (just a little bit north of MGM Grand).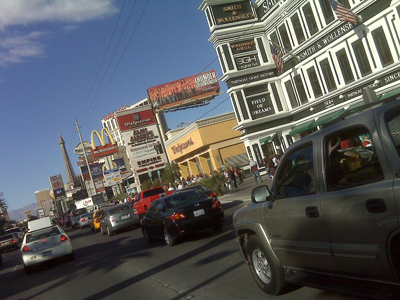 Missing some of your at-home familiar sites? Both this McDonald's and Walgreens sit just south of Planet Hollywood. Our advice? Forget the expensive mini-bar and grab what you need at Walgreens.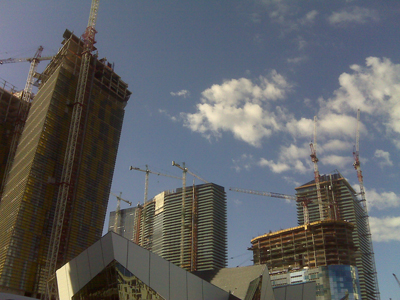 CityCenter is still up, up, and away. Maybe. They need another
$$$ billion-plus to finish it.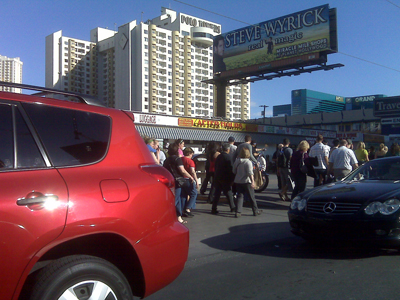 More visitors enjoying the stunning 75 degree weather.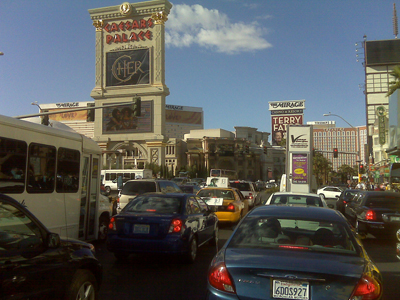 Terry Fator and Cher both lighting up The Strip with their respective marquees. Both are selling well.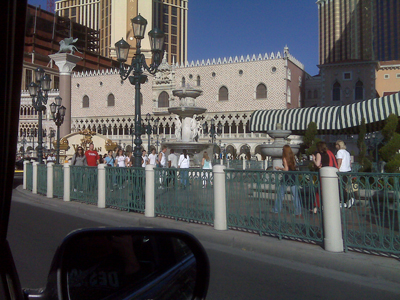 Tired of the doom and gloom on the news? Trust me… it will be far from your mind as you take a relaxing afternoon stroll in front of The Venetian.
Link To Us! – Have a home page, web page, or blog? Link to us, and give yourself and your friends a quick link to find us from your site. Simply link to http://www.accessvegas.com and name the link Access Vegas!
RSS Feed – We now have an RSS/XML feed! Most RSS programs let you visit AccessVegas.com and automatically pull the feed. For those who want to enter it manually, the feed is:
http://www.accessvegas.com/xml/whats-hot.xml
Share the info: Click to Email this newsletter to a friend!
---
For comments or questions regarding our content
or this newsletter write us at
allvegastv@aol.com
.
New to the list? See our Newsletter Archives for back issues and subscription info. Don't hesitate to forward this newsletter to friends and associates.

March 18, 2009 ISSN: 1529-2770 About Us Privacy Policy
All contents copyright 2008 Ted Newkirk. All Rights Reserved.
Hotel Rates Published Accurate At Time Of Publication
No related links found