Serving Las Vegas Visitors and Residents Since 1999
Welcome to the Insider Vibe! This is the official newsletter of AccessVegas.Com. We talk about the Las Vegas activities you really care about.
Can't see all the great photos and graphics? Click to Read This Issue Online! Need to contact us? Send feedback to AllVegasTV@aol.com

Share the info: Click to Email this newsletter to a friend! Missed an issue? Click to Read Back Issues Online.
This newsletter is published exclusively for visitors to AccessVegas.Com and can only be signed up for there. We do not buy or rent lists, and this information is only for our members and guests. If you feel you have received it in error, click the unsubscribe link at the bottom. To subscribe, visit our Newsletter Site.
---
AccessVegas.com Quick Info Menu:
Las Vegas Essentials

Featured Shows

Photos and Wallpaper
Newkirk's Notes – comments on Las Vegas from AccessVegas.Com publisher Ted Newkirk:
Hello From Las Vegas! Weird week as we say goodbye to three entertainment icons: Michael Jackson, Farrah Fawcett, and Ed McMahon. Plus, it was overcast with light rain here for a couple of days. Just a weird week. This newsletter is going to be all over the map. If a section doesn't interest you, just keep scrolling! On to some fun and winning…
Enter To Win Tickets For

Phantom – The Las Vegas Spectacular
Grand Prize Winner Will Also Enjoy Dinner at the Fabulous New FIRST Food & Bar at Palazzo Las Vegas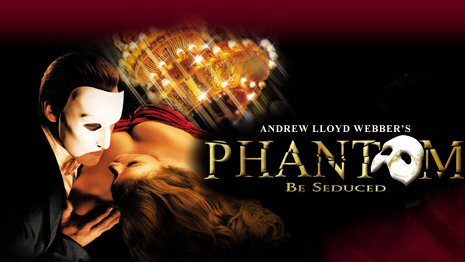 More Than Just Dinner and a Show…
Grand Prize: You and a guest will enjoy dinner at the brand new FIRST Food & Bar restaurant inside The Palazzo Hotel in Las Vegas, Nevada.
Following this unique dinner, you'll move over to Phantom – The Las Vegas Spectacular's custom theatre to be seduced by this exhilarating "Only In Vegas" rendition of this world famous, award winning show.
4'th Of July – We've continued to add quite a bit of information to our Fourth of July 2009 Las Vegas page. If you are going to be here this coming weekend (or even thinking about it), make sure you find out what is going on. It is going to be one huge weekend in Las Vegas!
New York, New York Roller Coaster – Certainly one of the wilder rides in Las Vegas, but not cheap at $14 for the first ride and $7 for each re-ride. (Co'mon guys… Every time we drive by, it is running nearly empty. Could it be the price)? However… for those who are true thrill seekers, they do offer a $25 all-day Scream Pass.
I haven't done the NY, NY ride but a few years ago bought an "all you can ride" pass for the rides atop Stratosphere Tower (currently running $33 for Tower admission and all the rides you can handle) and went on the Big Shot ten straight times. (That is the ride which shoots you straight up off the top of the tower). Once you get used to both the height and the weightlessness, the view is unmatched!
Play The Machines Loaded – Very recently, I stopped to toss a few bucks into a Megabucks slot machine (our version of the lottery). The last person to play it before me had only bet two coins instead of the maximum three one can bet on this machine. Like just about every other "progressive jackpot" machine (where there is a huge top prize), you must play Megabucks "loaded" (full coins in) to hit the top prize.
If you line up the winning symbols but are playing for a smaller bet than the maximum, you won't get the top prize. Even if you line up the highest winning symbols! If a certain progressive jackpot machine beckons you but is a little bit out of your financial league, do one of two things: 1. Plan of playing fewer hands or 2. Find a machine that is in your price range. Never, ever "try your luck" with less than the maximum bet allowed on a progressive.
New Las Vegas Deals TV Show – Our friend Alan Mendelson (long time Southern California newscaster) is bringing a new type of TV infomercial program is coming to Las Vegas TV called Vegas Best Buys. Unlike traditional TV infomercials that have advertising from one company, Vegas Best Buys will feature "mini infomercials" from ten to twelve advertisers with each advertiser getting a segment of several minutes on the program.
Alan has been producing the "Best Buys TV Show" in Los Angeles. The shows — both the Los Angeles and the Las Vegas versions — follow a "news format" that Mendelson developed while doing bargain shopping news reports for the CBS TV stations in Los Angeles. Interested businesses should contact him through his web site www.AlanBestBuys.com. Alan has told us that there will be no charge to the businesses that are picked to participate in the pilot. So pass this along to any local business owners you know.
Airfare Hitting Bottom – A very recent Associated Press story noted that airfare prices are at the bottom. The price of oil is starting to rise and people who cut back spending during the recession (but never lost their jobs) are starting to loosen up their spending a bit. They suggest that if thinking about a trip, book your airfare now.
If coming to Vegas, don't forget to compare hotel prices with our friends at Las Vegas Hotel Deals. How do they keep their prices so low? They buy rooms in bulk, at wholesale prices from the hotels (who are willing to do so because it guarantees that the rooms are sold). They then pass the savings along to you.
Lowest Graduation Rate – Nevada has the lowest high school graduation rate in the country, with less than 50% of students grabbing that diploma. In the past, this was attributed to the ease of getting a good paying job in hospitality or construction (or on a stripper pole) without an education. Given the 11% unemployment rate and the end of the "gravy train" of high paying, low skill jobs because of the economy, let's hope we see that number start creeping up a bit.
Summer Of '69 Contest – If you missed our last issue (or just forgot to enter), you only have a few more days to take a shot at our Summer Of '69 giveaway of lots of cool and unique Vegas stuff. Details are in the archives of our June 17, 2009 Access Vegas Insider Vibe.
More Members Mania – I've had to skip doing our very popular Members Mania section of the newsletter (scroll down about 2/3 of the way) a couple times in the past two months. So… we did a double-dose for you this week.
Enjoy This Issue!
Ted Newkirk
CEO/Managing Editor
Associate Editor: Amy Rayner-Cooley
News Researcher/Editor: Mark Jacobs
---
Las Vegas Is On Sale!
Get Great Rates At All Hotels:

Bally's from $49,

El Cortez from $23,

Fitzgeralds from $23,

Hooters from $20,

Orleans from $28,

Riviera from $27,

Sahara from $23,

Stratosphere from $25,

Tropicana from $28,

Tuscany from $31,
More Savings At All Vegas Hotels!
---
Barbra & Frank, The Concert That Never Wasà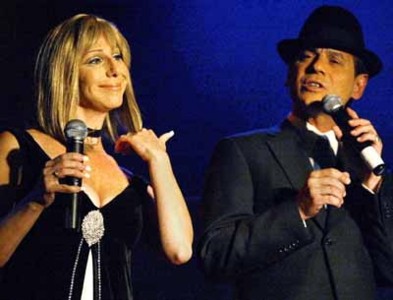 "Barbra & Frank, The Concert That Never Wasà" at the Riviera Hotel & Casino is pure Vegas entertainment. Imagine if you will, an evening with two of the greatest musical icons of the 20th Century û Barbra Streisand and Frank Sinatra, together on the same stage. It never happened. It never could have happened. But Sharon Owens and Sebastian Anzaldo will make you feel as if it did, with you right there in the audience. Frankie starts the night off with the classic "I've Got A Crush On You."
Anzaldo is dapper and debonair as Sinatra and quickly pulls you into the illusion. He's got Frankie down. The voice and the physicality is unmistakably Sinatra. Owens' Streisand has all the mannerisms of the real Streisand û the long nails, the hair. But it's when she opens her mouth that she becomes Barbra. Her nasally speaking voice is true to character. She delivers the songs like a pro.
---
Penn & TellerÆs Magic Keeps Las Vegas Mesmerized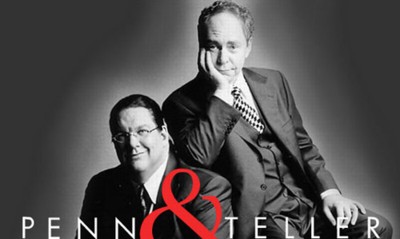 In terms of upholding their reputations, the two do not disappoint here at The Rio. Employing a variety of standard magic bits from a simple Cups & Balls illusion to the more dramatic Sawing a Lady in Halves, Penn & Teller manage to inject their unique take and unexpected punchline every time. Other parts of the act incorporate totally unusual devices, such as an Airport Metal Detector. And PennÆs romantic fire-eating interlude is in a category all its own, as is his nail-biting nail gun routine. Teller, despite his trademark staunch silence, shines every bit as brightly in many acts highlighting his deft sleight of hand skills.
---
"Sgt. Pepper Live" Featuring Cheap Trick Exclusive Las Vegas Hilton Engagement – "Sgt. Pepper Live," featuring Cheap Trick, will be presented at the Las Vegas Hilton September 13-15, 17-19 and 21-23. The performances, with special musical guests to be announced, will feature a full symphony orchestra, audio production by Geoff Emerick and set design by Rene Lagler. "One of America's greatest bands ever, doing their live interpretation of this classic rock album, an album nobody believed could be performed outside the recording studio, sets a new standard for rock and entertainment in Las Vegas," said Ken Ciancimino, executive vice president of the Las Vegas Hilton.
---
One Less Timeshare Company?
This past week, the company that probably was THE major timeshare company in Las Vegas (and one of the biggest in the U.S.) declared bankruptcy. These are my thoughts:
The economy has forced Consolidated Resorts into bankruptcy this past week. You might know then as the people behind Tahiti Village, the timeshare resort on the very, very, very south end of The Strip (2 miles south of Mandalay Bay). This may mean less people stopping you along The Strip at various hotels and asking you if you want free show tickets in return for listening to a timeshare pitch.
What remains to be seen will be the impact on the various shows which they promoted. They would actually buy the show tickets (presumably at some discount) then give them away. Various shows over the years continued to soldier on largely in part due to this guaranteed revenue.
Believe it or not, their preferred method of getting people to take timeshare tours was NOT stopping people on The Strip. It is costly to rent the space, put up the incentives, etc. Consolidated had an widespread radio campaign (featuring celebrities like Rosanne Barr and Tanya Roberts) and were in the process of developing a very aggressive internet presence in order to target regular Las Vegas visitors who would be interested in a dedicated place here.
How do I know all of this? We had discussions a few years ago regarding working with them on this effort, and again last fall a few more informal discussions regarding their internet marketing strategy.
The great thing about the internet is the ability to target those who might be interested in a product without the "in your face" presentation you (as a visitor) get from the sales people while you walk down The Strip. Final Note: At this time, Access Vegas own the undeveloped properties FreeStayVegas.com and FreeStayLasVegas.com. They are currently for sale or lease. Interested parties should email allvegastv@aol.com
---
These are only a few of the many Easy Vegas Deals we find each and every week (many of which happen too quickly for newsletter deadline). For a complete and constantly updated listing:
Bookmark and Visit EasyVegasDeals.com daily (Monday – Friday) or

Enter

http://www.easyvegasdeals.com/feed/

into your RSS feed list (for those of you who use RSS/XML feeds) or
---
Members Mania – We Love Our Readers!
I am bringing my grown up family to America in June/July – (3 nights San Francisco, 2 nights Lake Tahoe, 7 nights Las Vegas and 3 nights LA). The last time I visited Las Vegas for a few days was pre-Wynn hotels. Our week in Vegas commences 30'th June. Apart from the Grand Canyon, what are the top five places I should show them whilst there?
Graham
Ted Responds:
That sounds like quite the trip, and you are sure to enjoy yourself!
Las Vegas has so much to do and see, and everyone has different tastes. Hence, a "Top 5" would be impossible to come up with.
If you go to our newsletter archives site at https://las-vegas-news-reviews.com and scroll down the right sidebar, you will see links to years worth of archives. You may wish to scroll though them and see what catches your eye!
---
I have read that the M resort shuttle to and from Fashion Show Mall is only available to residents of the hotel, is this fact ? We would like to visit M on our next trip but the thought of return cab fares from Wynn would be prohibitive for a lunch outing at Studio B. (This may sound strange but I am happy to gamble say $500 on our visit there but reluctant to pay a return cab fare! More to play with I suppose).
Regards,
Annette & Bill from the UK
Ted Responds:
Nothing wrong with saving your money for playing the machines or taking in some great shows!
I personally called M not long ago was told that anyone can use their to come on down and visit the hotel. My advice? Call M when you are in town to double check. Tell them you are staying on The Strip and want to come down to eat and do a little playing. And, ask the M shuttle driver when you get in the shuttle to confirm.
P.S. Many don't know this, but it is a proper courtesy to give a shuttle drive $1 per person tip upon exiting the shuttle.
---
I first visited Vegas in 1960, on my way to being sworn-in as a new Navy Medical Officer. Over the years, my wife and I have visited Vegas many times. Over the past 20+ years we've averaged visiting once a year (our most recent visit was in January) and what a change we've noted over the years.
I enjoy Blackjack but I couldn't find a decent game anywhere on the Strip what with hardly a $10 minimum, 3:2 Blackjack payoffs, Dealer hitting Soft 17, No Late Surrenders, etc.. And, hardly anyone at the tables. Vegas is going down the tubes & it's not just because of the economy. The MBA bean counters are ruining it for everyone. I think things were a lot better during the Bugsy Siegel era (from a gaming standpoint).
Ham
Ted Responds:
Thanks for reading and thanks for your input. Surrender (a blackjack rule that lets you save part of your bet) went away years ago. It made the game too advantageous for card counters. Having said that, downtown still has plenty of lower limit blackjack with a full 3:2 payoff for a blackjack.
We've been talking about downtown quite a bit the past few months because downtown is still very much run the old way. Smaller operators (or single casino owners), food deals, cheaper drinks, looser slots, and better table game rules.
You can win or lose anywhere on a given day, but we continue to encourage people who want to do some serious gambling without breaking the bank to plan a session or two downtown. Fremont Street downtown is no longer as far removed from The Strip as it once was. The Deuce bus runs every few minutes, 24/7 and you can hop off at The Sahara and catch the monorail to most parts of The Strip in a matter of minutes.
The only way the casinos on The Strip will get the message to bring back decent rules and lower limits is if more and more people take their gambling downtown.
---
I am planning a trip to Vegas sometime this year and I would like to bring my 17 year old niece with me. She has a great interest in singing and I would love to take her to see some of the shows. Are there any age restrictions for the shows? I know there are age restrictions for the casinos and of course, the X-rated shows, but, is there anything else I need to know?
Thanks for your help.
Heather Rhind
Ted Responds:
Except for any show that features some form of nudity (or some of the comedy shows because of content and/or a bar setting), shows generally don't have age restrictions.
I say this generally, because some may not encourage (or actually have a ban on) young children.
However, a teenager won't have any issues. Especially a 17 year old girl. You won't see or hear anything at most Las Vegas shows that they already see or hear on MTV.
---
Thank you for your continued excellent newsletter. Being from the UK itÆs a great way to stay in touch with all the latest gossip from your wonderful city. We are planning a trip in the summer with our 3 kids and their partners, 2 of whom are vegetarian. Can you suggest the best places to go for good 'veggie' food at reasonable prices, credit crunch problems here in UK means we donÆt have as many US$ as we would like to spend!!
CanÆt wait to see Vegas again soon. Keep up the great work we really appreciate it!
Kind Regards,
Kim from Essex U.K.
Ted Responds:
As you can imagine, Las Vegas isn't exactly a bastion of vegetarian dining. Your best bet for a variety of non-meat items would be the various hotel buffets. Buffet prices vary widely and you get what you pay for.
If renting a car, you'll find major grocery stores just a couple minutes east of The Strip at Flamingo/Maryland Pkwy. (Albertson's) and Tropicana/Maryland Pkwy. (Vons) where you will be able to find plenty of food that should suit your needs. Plus, you can buy a cheap, disposable cooler to keep in your room and keep it filled with ice from the hotel ice machine.
---
Any word on the Lady Luck Casino???
We visit Vegas about once a year and have stayed there a couple of times. We thought it was a lot of fun (we prefer the smaller casinos) and the food was great! Hope it returns.
Judy from Minnesota
Ted Responds:
Nothing will happen to it until the economy improves. Sadly, it probably won't be the same when it re-opens. Different owners, etc.
I miss it, too. Really enjoyed it. Over the years when heading downtown alone (strictly for research purposes, or course), I'd usually park at the Gold Spike for some $1 blackjack (back when the Gold Spike was a dive), and hit the Lady Luck for a couple of cocktails and 25 cent video poker before moving on to dinner somewhere on Fremont Street.
---
My dad & I returned from an 8 day stay at the Flamingo earlier this year. The closet was broke in the room and I don't think the maid vacuumed the whole time we were there. One day, she never even left any towels! We will not be staying there again.
Did get to Fremont Street this trip. it was wonderful, just wish we would have eaten in the Golden Nugget sooner. Best buffet we ever had! Marvelous time at the Wayne Newton show at the MGM. Had fun at the meet and greet after the show. Wayne is soooo gracious and really gives everything hes got at every show. Cant wait till next time!
Donna
Ted Responds:
A word to the hotels who have been cutting staff to the bone in an effort to save money: This is what you are getting. Unhappy customers.
Never be afraid to call (or visit) the front desk if service is lacking. Something as simple as "It doesn't appear that our towels were changed out nor was our room vacuumed today. Can you send someone up to take care of this" should suffice.
---
We love to hear from you, and value your feedback! Here's how to participate:
Drop us an email at allvegastv@aol.com – We read them all!
Call our recorded comment line at 702-507-0055. We listen to every call.
---
More Las Vegas News – Concerts – Events
---
Coming Hot Holidays
– The following dates are huge times to be in Las Vegas, and rooms are in high demand. Booking in advance is the best way to save. Visit our friends at
I4Vegas Discount Las Vegas Reservations
and spend one of the following hot dates having fun in Las Vegas:
Civic Holiday, Canada August 1-3 (3 day weekend)
Labor Day, U.S September 5-7 (3 day weekend)
Labour Day, Canada September 5-7 (3 day weekend)
Jewish New Year September 19
Halloween October 31
Veteran's Day November 11
Thanksgiving Day, U.S November 26-29 (4 day weekend)
Hanukkah Dec. 2 – Dec. 9
Christmas December 25
New Year's Eve-Day December 31 – January 2 (3 day weekend)
Martin Luther King, Jr., Day, U.S (Observed) January 18-20 (3 day weekend)
Lincoln's Birthday, U.S February 12
President's Day, U.S (Observed) February 13-15 (3 day weekend)
Chinese/Lunar New Year February 14
Valentine's Day February 14
Mardi Gras February 16
Washington's Birthday, U.S February 22
St. Patrick's Day March 17
Easter Sunday April 4
Cinco de Mayo May 5
Mother's Day May 9
Memorial Day, U.S May 29-31 (3 day weekend)
Father's Day June 20
Link To Us! – Have a home page, web page, or blog? Link to us, and give yourself and your friends a quick link to find us from your site. Simply link to http://www.accessvegas.com and name the link Access Vegas!
RSS Feed – We now have an RSS/XML feed! Most RSS programs let you visit AccessVegas.com and automatically pull the feed. For those who want to enter it manually, the feed is:
http://www.accessvegas.com/xml/whats-hot.xml
Share the info: Click to Email this newsletter to a friend!
---
For comments or questions regarding our content
or this newsletter write us at
allvegastv@aol.com
.
New to the list? See our Newsletter Archives for back issues and subscription info. Don't hesitate to forward this newsletter to friends and associates.
All contents copyright 2008 Ted Newkirk. All Rights Reserved.
Hotel Rates Published Accurate At Time Of Publication


June 24, 2009 ISSN: 1529-2770 About Us Privacy Policy