Serving Las Vegas Visitors and Residents Since 1999
Welcome to the Insider Vibe! This is the official newsletter of AccessVegas.Com. We talk about the Las Vegas activities you really care about.
---
AccessVegas.com Quick Info Menu:
Las Vegas Essentials

Featured Shows

Photos and Wallpaper
Newkirk's Notes – comments on Las Vegas from AccessVegas.Com publisher Ted Newkirk:
Hello From Las Vegas! It is Memorial Day weekend here in the U.S. and I'm going keep things a little shorter than usual. So I can take the weekend off? Not exactly (as the Hertz rental car ad says). Although the beautiful 95 degree weather does beckon.
This is technically our 10'th Anniversary issue of doing this newsletter! However… it kind of crept up on us (time flies when you are having fun). We're working hard on the next two newsletters which will be jammed with photos, new show reviews, and a couple of nice giveaways if we can get it all to come through in time. Stay tuned.
Best Memorial Day Ever In Las Vegas? – It may just be in terms of hotel rates. No one can (literally) ever remember seeing these kind of prices over a major holiday. One guy in the paper was quoted as noting that he's getting a good room here for what he paid for a roadside "roach" motel (very sub-par motel) room in Florida recently.
Is it going to last? No. Las Vegas has been busy again the past couple of months and things are bouncing back to normal. IF you (especially) are pondering coming to town over the July 4 weekend or Labor Day Weekend (US), I'd check with our friends at Las Vegas Hotel Deals and grab the room now. Prices for holidays and the fall season in general are expected to climb over the summer. If you used to complain that Vegas is too expensive, these room rates leave you plenty of money to see a couple of shows and enjoy some fine dining.
Danny Gans Memorial – Took place this past week. Still no word on cause of death. Couple of related stories this week:
Enjoy This Issue!

Ted Newkirk
CEO/Managing Editor
Associate Editor: Amy Rayner-Cooley
News Researcher/Editor: Mark Jacobs
---
Las Vegas Is On Sale!
Get Great Rates At All Hotels:

Bally's from $49,

El Cortez from $33,

Fitzgeralds from $33,

Hooters from $20,

Orleans from $40,

Riviera from $54,

Sahara from $33,

Stratosphere from $44,

Tropicana from $30,

Tuscany from $47,
More Savings At All Vegas Hotels!
---
Tickets For Mayweather vs. Marquez Super-Fight – MGM Grand To Host Event Saturday, July 18 – Floyd "Money" Mayweather has returned to the sport of boxing and will put his undefeated record on the line when he faces the dangerous and highly touted five-time world champion Juan Manuel "Dinamita" Marquez in MAYWEATHER vs. MARQUEZ "Number One/Numero Uno" Saturday, July 18 at the MGM Grand Garden Arena.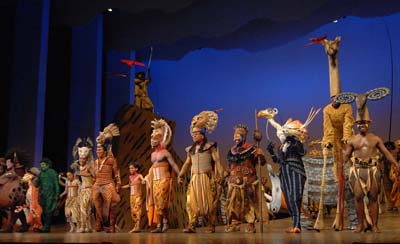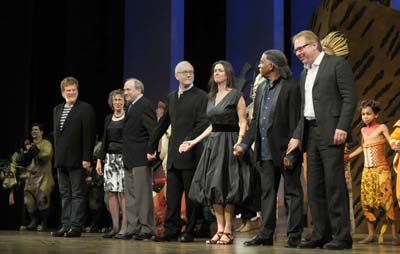 Disney's The Lion King Celebrates Las Vegas Premiere At Mandalay Bay – Disney's award-winning Broadway phenomenon, THE LION KING, celebrated its Las Vegas premiere at Mandalay Bay Theatre Friday evening. Several members of the original creative team were in attendance to launch the show, including director/creator Julie Taymor; book writers Roger Allers and Irene Mecchi; choreographer Garth Fagan; scene designer Richard Hudson; and Thomas Schumacher, producer and president of Disney Theatrical Group.
Engelbert Humperdinck Returns To The Orleans Showroom June 11-14 – Dubbed music's "King of Romance," Engelbert Humperdinck has sold over 150 million records worldwide, including 64 gold and 24 platinum albums. The multiple Grammy-nominated artist will charm hearts once again June 11, 12, 13 and 14 at 8 p.m. each evening at The Orleans Showroom. Although born Arnold George Dorsey in Madras, India, it was over four decades ago that Engelbert Humperdinck emerged as one of the foremost entertainers in the world.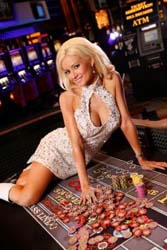 Starlet Holly Madison Prepares To Tease In Peepshow At Planet Hollywood Resort & Casino – PEEPSHOW, Las Vegas' newest hit production and only striptease spectacular is pleased to announce blonde bombshell Holly Madison as the newest addition to the PEEPSHOW cast at Planet Hollywood Resort & Casino beginning June 22. Madison, star of the TV Series', "The Girls Next Door" and "Dancing with the Stars," is strapping on her dancing stilettos once again to take over the role of "Bo Peep," a modern woman who has yet to find her own confidence and sexuality, currently played by "General Hospital's," Kelly Monaco, a "Dancing with the Stars" champion.
Steely Dan To Perform At The Pearl At The Palms Friday, August 28, 2009 – Rock and Roll Hall of Famers, Walter Becker and Donald Fagen, return to the intimate The Pearl Concert Theater inside the Palms Casino Resort as part of the Steely Dan Rent Party '09 US tour on Friday, August 28, 2009. Concertgoers can expect a hefty draft of the incomparable Steely Dan experience this year. Supported by their renowned 11-piece band Becker and Fagen will draw from their deep catalog and showcase Steely Dan's signature slinky grooves, sleek subversive lyrics, impeccable musicianship, and infectious hits.
Pussycat Dolls To Perform At The Pearl At The Palms – Sexy pop sensations The Pussycat Dolls, perform their energetic stage show at The Pearl Concert Theater inside the Palms Casino Resort on Saturday, June 27, 2009. After forming in 1995 as a burlesque troupe under the direction of famed choreographer Robin Antin, The Pussycat Dolls burst on to the pop scene as an all-girl pop group and dance ensemble in 2005.
MGM Grand's Crazy Horse Paris Welcomes Silver Screen Siren Carmen Electra To The Cabaret Stage – MGM Grand's Crazy Horse Paris is proud to announce a week-long guest-star engagement by actress, model and international sex symbol Carmen Electra. Electra will be the second celebrity to perform with the ensemble on the Crazy Horse Paris stage in Las Vegas, following only Dita Von Teese. Electra is set to kick off her guest-star appearance Wednesday, July 8 and will appear nightly through Monday, July 13 in both the 8 p.m. and 10:30 p.m. performances.
Comedian And Musician Rodney Carrington Will Perform At MGM Grand July 30 – August 12 – Comedian Rodney Carrington returns to the Hollywood Theater at MGM Grand July 30 û August 12. Carrington is scheduled to perform at 10 p.m. nightly. For more than 15 years, Carrington has blazed comedy trails with his stand-up comedy tour across America and multitude of chart-topping albums. In addition to recording six country music albums and performing stand-up comedy, Carrington has made several television appearances demonstrating his exceptional talents.
Kylie Minogue To Perform At The Pearl During First-Ever U.S. Tour – For more than 20 years pop sensation Kylie Minogue has fascinated fans with her studio releases and live tours. Kylie stops at The Pearl Concert Theater inside the Palms Casino Resort as part of her six city, first-ever U.S. tour on Saturday, October 3, 2009. In July 1987 Kylie released her first single; a remake of the 1962 Little Eva hit "Locomotion." The song hit #1 in Australia and remained in the top spot for seven weeks, becoming the biggest Australian single of the '80s.
Grand Poker Series Returns To Golden Nugget – The Golden Nugget Hotel and Casino will host its second annual Grand Poker Series June 6 û July 5. This month-long event will feature daily tournaments at noon in The Grand, the property's luxurious events center, as well as hold cash games and much more, including special tournaments for seniors and ladies.
---
Easy Vegas Deals
Bookmark and Visit EasyVegasDeals.com daily (Monday – Friday) or

Enter

http://www.easyvegasdeals.com/feed/

into your RSS feed list (for those of you who use RSS/XML feeds) or
---
Members Mania – We Love Our Readers!
Just got back from another fine trip to Vegas. Stayed at Flamingo, food has gone up alot since last trip and we laid out at pool. I can't understand why they don't have a waitress working the pool area, after all there was at least 80 people laying out.
Rented a car and traveled the STRIP alot, you can not be in a hurry to travel the STRIP. Also visited Red Rock Canyon a must see!! Service in the casino was very good, drinks were delivered regularly with tip regularly!! Got home Thur. night, the next morning after calling in to unemployment I booked a 4 night to Laughlin, Nevada. I enjoy reading you letters.
Larryáfrom Wayne, Michigan
Ted Responds:
We're sorry to hear about your employment situation, but since you have time on your hands and with Las Vegas (and Laughlin) being so cheap right now, I can't think of a better way to kill the time!
On a first visit with so much to do and see on The Strip, no need to rent a car. But for the regular visitor, so much more you can get out to (and in much less time) with a car. A few cab rides and you've paid what a rental car will cost.
Driving Tip: Remember that Interstate 15 parallels The Strip. Even during rush hour (and yes, Las Vegas has rush hour), you can often move more quickly on the freeway.

---
Your newsletter has been a fantastic guide to me over the years — you and your staff are doing a fabulous job!! I also agree that the media is giving Vegas a bad rap on the amount of people visiting the town. Every time I am there, it is wall to wall people.
My mother and I were in Las Vegas the week before Easter and we were both absolutely amazed at how many kids were walking in the casinos as well as on the streets. From toddlers and strollers to teenagers, we were dodging them all over the place. We have been coming to Vegas once or twice a year for the past 8 years and neither of us were very happy that this seems to be a trend, as this is not the first time we have noticed children running amok.
While we will still plan another trip to the Strip, why does Las Vegas suddenly seem to be the "new" Disney World?? One of the main reasons we return year after year is that Vegas caters to the adult world. What happened to the old days when you had to be 21 to enter a casino??
C. Cessna from Cumberland, MD
Ted Responds:
You happened to be here during Spring Break, which I'm sure compounded matters. Plus, with Las Vegas being such a value right now, I'm sure that many families chose Las Vegas as a value Spring Break destination.
You did bring up a good point for families to keep in mind: Las Vegas hasn't been overly child-friendly since the 90's. Kids have never been able to do more than pass through casino gaming area and outside of Adventuredome, there really isn't a place for a family to go enjoy an extended activity. I'm sure we'll get a couple of letters about how someone had a great Vegas vacation with their family. But the truth of the matter is this: When you see parents with kids on The Strip, it rarely looks like they are having much fun.

---
Love all your info. We were just at The Rio. Blackjack at most tables 6/5. (Editor Note: Blackjack should pay 3/2 which would be $15 for a $10 bet, not $12 for a $10 bet). Now at craps they changed the odds.
If they can change the payouts where you can clearly see it, what do you think they would do to a slot machine payout where you cannot see it. The casino execs think all gamblers are idiots. I told my friends that The Rio does not deserve our business and went next door to the Gold Coast. All blackjack was 3/2 and all craps were the right odds.
Thank you,
Leonard
Ted Responds:
Leonard brings up a great point that I've been harping on for as long as I've been doing this newsletter: Too many gamblers act like there is a seat belt on their chair. They will lose and lose, complain about the lack of drink service, the odds, you name it… but just continue to sit there and play.
Pretty much only in Las Vegas are so many casinos so close together. If you aren't happy, get up and walk your wallet to another one. (Especially downtown where you can be at another table or slot game in another casino in under a minute).
Also, a good tip: The Rio is no farther from Caesars than the Monte Carlo is. Rio, Gold Coast, and Palms all sit right next to each other. (Plus, there is a free shuttle from Bill's Gambling Hall to Gold Coast which leaves from the side entrance to Bill's on Flamingo). The Palms is a world famous property, the Gold Coast is a typical niceálocals casino (with traditionally better table game rules and looser slots), and The Rio is still one of Las Vegas' most fun (and famous) properties. You won't be sorry if you include them in your visit.

---
We love to hear from you, and value your feedback! Here's how to participate:
---
More Las Vegas News – Concerts – Events
Coming Hot Holidays – The following dates are huge times to be in Las Vegas, and rooms are in high demand. Booking in advance is the best way to save. Visit our friends at I4Vegas Discount Las Vegas Reservations and spend one of the following hot dates having fun in Las Vegas:
Father's Day June 21
Canada Day, Canada July 1
Independence Day July 4
Civic Holiday, Canada August 1-3 (3 day weekend)
Labor Day, U.S September 5-7 (3 day weekend)
Labour Day, Canada September 5-7 (3 day weekend)
Jewish New Year September 19
Halloween October 31
Veteran's Day November 11
Thanksgiving Day, U.S November 26-29 (4 day weekend)
Hanukkah Dec. 2 – Dec. 9
Christmas December 25
New Year's Eve-Day December 31 – January 2 (3 day weekend)
Martin Luther King, Jr., Day, U.S (Observed) January 18-20 (3 day weekend)
Lincoln's Birthday, U.S February 12
President's Day, U.S (Observed) February 13-15 (3 day weekend)
Chinese/Lunar New Year February 14
Valentine's Day February 14
Mardi Gras February 16
Washington's Birthday, U.S February 22
St. Patrick's Day March 17
Easter Sunday April 4
Cinco de Mayo May 5
Mother's Day May 9
Link To Us! – Have a home page, web page, or blog? Link to us, and give yourself and your friends a quick link to find us from your site. Simply link to http://www.accessvegas.com and name the link Access Vegas!
RSS Feed – We now have an RSS/XML feed! Most RSS programs let you visit AccessVegas.com and automatically pull the feed. For those who want to enter it manually, the feed is:
http://www.accessvegas.com/xml/whats-hot.xml
Share the info: Click to Email this newsletter to a friend!
---
For comments or questions regarding our content or this newsletter write us at allvegastv@aol.com.
New to the list? See our Newsletter Archives for back issues and subscription info. Don't hesitate to forward this newsletter to friends and associates.
All contents copyright 2008 Ted Newkirk. All Rights Reserved.
Hotel Rates Published Accurate At Time Of Publication


May 20, 2009 ISSN: 1529-2770 About Us Privacy Policy
No related links found