Serving Las Vegas Visitors and Residents Since 1999
Welcome to the Insider Vibe! This is the official newsletter of AccessVegas.Com. We talk about the Las Vegas activities you really care about.
Need to contact us? Send feedback to
AccessVegas@AccessVegas.com
Missed an issue? Click to Read Back Issues Online.
---
AccessVegas.com Quick Info Menu:
| | |
| --- | --- |
| Las Vegas Essentials | Featured Shows |
---
Las Vegas Art And Attractions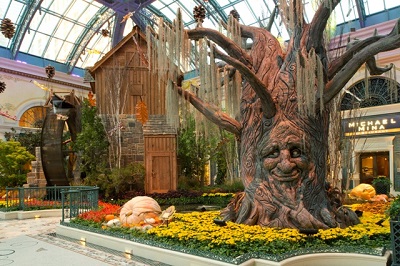 Fall Into Autumn At Bellagio's Conservatory And Botanical Gardens – With outdoor temperatures cooling off, foliage across the country taking on majestic tones and the holidays just around the corner, autumn is the favorite season of the year for many. BellagioÆs Conservatory & Botanical Gardens invites guests to experience the seasonÆs splendor with vibrant shades of fall, comforting aromas and angelic sounds from live musicians now through Nov. 29.
Fall flourishes throughout the Gardens with more than 8,500 chrysanthemums in 10 color variations bedded among ivy, birdÆs-nest fern, plum and magnolia trees. A symbol of the autumn harvest, the Conservatory boasts up to 2,500 pumpkins of all shapes and sizes with the largest weighing up to 1,200 pounds. Hand-sculpted maple, chestnut, birch and oak leaves along with oversized pinecones hang overhead.
---
Las Vegas Shows, Headliners, And Concerts
---
Dinner And Drinks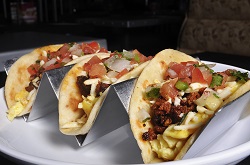 Rockhouse Las Vegas Introduces New Breakfast And Cocktail Menus – Guests can cheer for delicious new breakfast and cocktail selections available now at Rockhouse located at Grand Canal Shoppes at The Venetian | The Palazzo.
Early-risers can now nosh on mouthwatering breakfast items available every Saturday and Sunday from 8:30 a.m. until 1 p.m. The morning menu includes the Breakfast Classic Scrambled Eggs, topped with cheddar cheese and paired with home-style potatoes and pico de gallo; the Chorizo and Egg breakfast tacos, covered with pepper jack cheese and pico de gallo, served on flour tortillas; and Three Mini Hot Dogs, made with scrambled eggs, Swiss cheese, bacon crumbles and chipotle oil.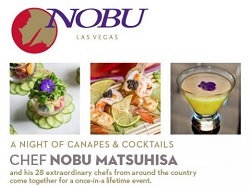 Nobu At Hard Rock Hotel Las Vegas Welcomes Chef Nobu Matsuhisa For A Night Of CanapÚs And Cocktails – Nobu at Hard Rock Hotel & Casino Las Vegas will host A Night of CanapÚs and Cocktails on Tuesday, Oct. 8 from 7 to 10 p.m. During the special event, Nobu Matsuhisa and 28 of his executive chefs from across the country will come together to present patrons with a once-in-a-lifetime culinary affair.
A Night of CanapÚs and Cocktails will kick off at the famed chefÆs premier Las Vegas location inside Hard Rock Hotel. For the first time, talent representing Chef NobuÆs original dining concept, Matsuhisa and chefs from Nobu locations including Malibu, San Diego, Los Angeles, Dallas, Miami, New York, Next Door, Fifty Seven, Lana'i, Waikiki, Caesars Palace Las Vegas and Hard Rock Hotel Las Vegas will come together to showcase the finest of Nobu cuisine.
---
Sports And Gambling
Hard Rock Hotel Football Season Sizzling Game-Day Specials Throughout The Professional Football Season – Hard Rock Hotel & Casino Las Vegas invites pigskin enthusiasts to tackle the football season with game-day specials at The Ainsworth, Culinary Dropout and Pink Taco. The property is the go-to hot spot with appetizers and specialty cocktails designed to complement the season. Read the story for all specials.
---
Las Vegas Nightlife And Daylife
---
Las Vegas Economy And Real Estate
---
Downtown Las Vegas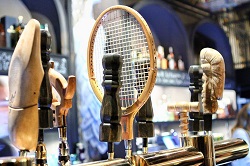 Commonwealth In Downtown Las Vegas Launches Happy Hour Drink Specials – Partygoers can start a night of Fremont Street fun with Happy Hour specials now available at Commonwealth. Every Wednesday through Friday, the Downtown venue serves-up drink specials from 6 until 9 p.m.
The swanky cocktail bar now offers $3 domestic drafts, $3 well cocktails, $5 craft beer drafts, $5 Ketel One vodka cocktails and Crown Royal Whisky cocktails, priced at $5. Guests can sip on refreshing cocktails while mingling in the hot spotÆs pre-Prohibition era inspired bar and breathtaking rooftop.
---
More Las Vegas News
---
The Eagle Airplane Tour û Soar into the sky aboard a Cessna Grand Caravan for the ideal Grand Canyon airplane tour. The Cessna offers large windows and individual leather seating to create the perfect atmosphere to enjoy spectacular views. Flying in the Cessna you will enjoy aerial highlights including Hoover Dam, Lake Mead, Fortification Hill, Temple Rock, historic Boulder City and the Colorado River in transit to the Grand Canyon. Experience views of the Grand Canyon from a unique perspective capturing the depth and magnitude of this national treasure.
---
Upcoming Las Vegas Events And Holidays
---
Newkirk's Notes: The Boss Speaks…
Newkirk's Notes are comments and insight from AccessVegas.Com publisher and 20+ year Las Vegas resident Ted Newkirk:
Hello From Las Vegas! – October is already here, and generally is the very nicest month of the year in the our Las Vegas. Never too hot, never too cold, plenty of sunshine, very little wind, and it just so happens to be my birthday month to boot. (Not that I look forward to them as much as I once did). If you have a trip planned for the next few weeks, lucky you!
Smile For The Camera – Our Metro police department has recently installed 37 high-tech cameras up and down The Strip. Surveillance will be used to look for any potential problems, or be used to go back to in helping solve crimes. Footage will be kept for 14 days. While a few are worried about invasion of privacy, the reality is that in a public area all bets are off. You've probably been captured completely by accident in quite few photos and videos just taken by visitors on a previous visit.
Bruno Mars Residency – Hot on the heels of the big Britney Spears announcement, pop superstar Bruno Mars is taking up a residency show at the Cosmopolitan. Although not quite as ambitious as Britney's two-year run, it is part of a trend to see if acts appealing to a younger demographic can have the draw like Elton, Celine, and similar have had in Las Vegas over the years. Tickets for the New Years shows are now available and we'll let you know when the next set of shows are planned:
Correction? – We recently noted that many sources were claiming poor sales of Britney Spears tickets for her two year engagement. Caesars Entertainment and Britney Spears' manager have both noted that tickets for her upcoming run are better-than-expected. Time will tell!
Screwing Up A Good Thing – I'm thinking of starting a regular feature called "Management Mishaps" or similar. Over the years, I've rolled my eyes countless times at decisions hotel casino upper management make that seem to show how completely out-of-touch they are with the rank-and-file patron.
The most recent "oops" was Heraea at The Palms. For years and years, The Palms had a very popular Mexican restaurant called Gardunos. Everyone love it. By all accounts, it did well. Obviously, we can't have any of that going on! So, someone came up with the bright idea to gut the space and put in a female-friendly sports bar called Heraea which morphed into a lounge/nightclub space later in the evening. Huh?
This was wrong on so many levels:
While more and more women are watching (and betting on) football, sports viewing still skews heavily male.
Straight men are not particularly fond of more feminine spaces. In fact, the entire "man cave" phenomenon has sprung up as everything around us has become more feminized. (The notion being that women tend to make the purchasing decisions and thus need to be properly targeted). Men want to watch sports in a manly setting and by golly, if the little ladies want to watch it to, they can deal with a manly setting. Like in most sports bars.
Pursuant to the above, your average guy who wants to watch football in Las Vegas is more towards middle-age, has a few extra pounds, and is probably wearing a sports jersey. This isn't exactly the kind of person who will stick around as a "sports bar" turns into a nightlife setting. And the younger guys? They are going to go hit a real club.
Heraea lasted only 7 months and in fact closed just a month into football season. No word on the fate of the brain trust that put this one together.
Hope you are enjoying this issue!

Associate Editor / News Researcher: Rick Ziegler
Concerts and Headliners: Amy Rayner-Cooley
---
What We're Watching – Vegas Videos You'll Enjoy
Vegas Video Networks's Living in Las Vegas #200: To Catch a Thief

– Join Scott and Melissa Whitney on Living In Las Vegas on the Vegas Video Network as they talk about their recent adventures with Aria Buffet, Ellis Island, Absinthe, Boat rentals on Lake Mead, $20 Trick a success, and MGM Grand staycation.

Finding Nevada – Nevada Heartland Trip

– While many visitors only think of Las Vegas when they hear "Nevada", our area is full of stunningly scenic desert. Enjoy this short video with highlights from Matt Hufman and Mike Smith of the Las Vegas Sun during their first tour of the Finding Nevada project. Highlights include Valley Of Fire, The Road to St. Thomas, Hot Creek Valley, and Morey Canyon
---
Members Mania – We Love Our Readers!
So, I'm turning 40 Nov 20 and am coming to Vegas for the 1st time. I can't wait and am making plans that I have been reviewing for months, & am hoping you can assist with some things I wish to complete!
First, I want champagne experience on a beer budget!
I need a great hair salon. Not that I'm High Maintenance, but nobody has cut my hair except mom since 1983. She passed in 2011, So I'm kinda timid, & also want to donate my Hair to a charity that makes wigs for people who need them. So a great stylist would be awesome!
We (my significant other and I) aren't big gamblers and really want to see the city and historical places.
Any suggestions, contacts or thoughts (& just your time to read this) are appreciated!
Living Thankfully,
Heather from Detroit
Ted Responds:
Your first trip… wow! Just don't be too overwhelmed once you get here, and realize from day one that it would take 30 days to do and see everything. Hence, try to get to what you really want to do, allow plenty of time to just go with the flow (casinos don't have clocks), and realize that you'll be back plenty of times to have new experiences.
Also, don't worry. 40 isn't the end of the world. I celebrated my 40'th in Las Vegas also (duh) and that was nearly 8 years ago. The average visitor is 49 but we get visitors from kids to seasoned seniors!
For a champagne experience on a beer budget, make sure you've been keeping an eye on the various food and drink specials we list in most every issue of this newsletter. Call ahead to make sure they are still valid. If there is a restaurant that catches your eye, walk up and ask if they have any current specials or any prix fixe dinners.
Also, MANY restaurants in the hotels have some kind of happy hour. Not all, but many. (We'd list them all, but they are subject to change and keeping up would be next-to-impossible). If you are thinking of dinner around 5-6 PM, start hitting a few of them and ask them if they have a happy hour and what is offered.
You may find that a very nice restaurant is doing some great 1/2 price appetizers and drinks (or similar). If you are willing to sit at the bar, you can order 2-3 appetizers (for a couple of people) and each have a drink and experience a very nice environment without busting your budget.
Champagne experience on the beer budget!
Also, a great rule of thumb that we learned from our friends at Pub Crawl áis when you go to a restaurant or bar here — like if you absolutely want to do Margaritaville or Cabo Wabo or Mesa or Spago — do not be afraid to ask your server or bartender if there are any food or drink specials going on. They don't always advertise them with flashing lights!
As you are finding out, it never hurts to ask. What do you care? You are on vacation!
And for cheap-to-reasonably priced drinks 24/7, Casino Royale is right in the center of The Strip.
If you are OK splurging on the salon, you can't go wrong with Color at Caesars. It is a Michael Boychuck salon and counts entertainers and movers and shakers as clientele. Boychuck came to fame as a colorist for celebrities back in the day, including doing Paris Hilton's hair pretty much forever.
You can call them at (866) 730-7791 for details on pricing, services, and an appointment. In fact, if you are shedding long locks for a good cause, here's what I would do: Call them ahead of time, tell them that you are coming in for your 40'th birthday, and tell them your story and intentions. One never knows as they may do something to make it a special experience. Honestly, sounds like a good PR story to me.
Gambling is no longer the top reason that everybody comes to town. You'll want to try your luck, but there is so much to do and see and enjoy. So, don't worry about that. Besides, if you really want to gamble, you can do that where you (in particular) live now.
Since you are interested in the historical:
1. Go downtown for an evening (preferably not a weekend evening when it is really crowded). Walk the entire Fremont Street Experience and keep walking a couple of extra blocks to the El Cortez, a great working hotel casino on the national registration of historic places. This whole area was the "original" Las Vegas before The Strip existed.
2. Go enjoy the mob museum, but give yourself a couple of hours if you really want to absorb it. Three floors of very interactive exhibits. If you do, go downtown mid-afternoon to do it. Then eat dinner downtown and enjoy Fremont Street.
3. Take a morning and take a tour to Hoover Dam. You can find them on our tours page: http://www.accessvegas.com/tours Look for Hoover Dam and the Dam Bridge under Ground Tours.
áábyá
á
eGuide Travel
á
Nothing much happens mornings here anyway (unless you want to gamble your brains out or sleep off a hangover). Hoover Dam is spectacular. Pictures simply don't even come close to doing it justice. And, it is incredibly historic. The tour takes you through the 1930's architecture and the photo opportunities (both of the dam and surrounding areas) are limitless.
áábyá
á
Northfielder
á
While at this time we're unfortunately able to offer this much in-depth help to each and ever reader at this time (we will for paid subscribers down the road), we're always excited to hear someone planning their very first trip!

We love to hear from you, and value your feedback! Here's how to participate:
Want to comment on a current reader post? Use the comment box on that particular web page. Many of the stories we post also have comment boxes at the end of the story. Make your voice heard!
Drop us an email at AccessVegas@AccessVegas.com – We read them all!
Call our recorded comment line at 702-507-0055. We listen to every call.
---
No related links found