Serving Las Vegas Visitors and Residents Since 1999
Welcome to the Insider Vibe! This is the official newsletter of AccessVegas.Com. We talk about the Las Vegas activities you really care about.
Need to contact us? Send feedback to
AccessVegas@AccessVegas.com
Did someone forward this to you and you'd like to be on our list? Sign up at AccessVegas.com
Missed an issue? Click to Read Back Issues Online.
---
AccessVegas.com Quick Info Menu:
| | |
| --- | --- |
| Las Vegas Essentials | Featured Shows |
---

---
Hot Hotel Happenings – Save Big Now!

Las Vegas Buffet of Buffets Deal! Stay 2 Nights From $52/Night & Get 2 All-Day, All Access Buffet Passes to 8 Buffets in Sin City!

Caesars Palace Las Vegas Buffet of Buffets Deal! Stay 2 Nights From $134/Night & Get 2 All-Day, All Access Buffet Passes to 8 Buffets in Sin City!

The Quad – Best Rate Guarantee – Rates low as $30 a night, Center Strip right at LINQ!
Click To View ALL Las Vegas Hotel Deals
Print Too Small? (Deals – Large Print)
---
Latest Las Vegas Concerts Added This Week!
There is no better place to see your favorite acts then in Las Vegas! You're relaxed, can enjoy a fine meal, have some cocktails without the worry of driving, and no alarm is going to jar you awake all too early the next morning.
August 2014
Carrot Top

July 30-August 4 Click for Tickets

Josh Abbott Band & The Railers

July 31 Click for Tickets

The Budos Band

August 1 Click for Tickets

Herman's Hermits with Peter Noone

August 1-3 Click for Tickets

David Copperfield

August 1-Sept 8 Click for Tickets

Kix Brooks

August 2 Click for Tickets

Deer Tick

August 5 Click for Tickets

Kumukahi Ukelele & Hula Festival

August 8-9 Click for Tickets

Los Tucanes de Tijuana

August 9 Click for Tickets

Foxygen

August 12 Click for Tickets

Lake Street Drive

August 13 Click for Tickets

Carrot Top

August 13-18 Click for Tickets

BoDeans

August 22 Click for Tickets

Rickey Smiley

August 22-23 Click for Tickets

Blackberry Smoke

August 29 Click for Tickets

Bill Medley with McKenna Medley

August 29-31 Click for Tickets

Charlie Wilson

August 30 Click for Tickets

Bachman & Turner

August 30 Click for Tickets

King of the Cage

August 30 Click for Tickets
September 2014
Atmosphere

September 3 Click for Tickets

Susie Essman

September 5-6 Click for Tickets

Dr. Mehmet Oz

September 6 Click for Tickets

Neil Sedaka

September 6-7 Click for Tickets

Bob Saget

September 13 Click for Tickets

Mr. Olympia Fitness & Performance

September 19 Click for Tickets

REO Speedwagon

September 19-20 Click for Tickets

David Copperfield

Sept 23û30 Click for Tickets

Paula Poundstone

September 26-27 Click for Tickets
October 2014
Disney Live MickeyÆs Music Festival

October 3-5 Click for Tickets

Jimmy Buffett And The Coral Reefer Band

October 18 Click for Tickets

Laura Pausini

October 19 Click for Tickets

NBA Preseason: Los Angeles Lakers vs. Sacramento Kings

October 24 Click for Tickets

Jimmy Buffett And The Coral Reefer Band

October 25 Click for Tickets
November – December 2014
Kiss

November 5-23 Click for Tickets

Judas Priest & Steel Panther

November 14 Click for Tickets

Alabama

December 11-12 Click for Tickets
Click To View ALL Concerts, Headliners, And Events In Las Vegas
Top Tickets For All United States Events
Did you know that we not only sell premium concert and event tickets for Las Vegas, but also for the entire United States as well? If you can't make it to Vegas, treat yourself to some great seats for something near you:
| | |
| --- | --- |
| NFL Tickets | Aerosmith Tickets |
| – Denver Broncos Tickets | Beyonce + Jay Z Tickets |
| – Seattle Seahawks Tickets | Billy Joel Tickets |
| – Chicago Bears Tickets | Drake Tickets |
| – New Orleans Saints Tickets | Enrique Iglesias + Pitbull |
| – Dallas Cowboys Tickets | Garth Brooks Tickets |
| – Green Bay Packers Tickets | Jason Aldean Tickets |
| – Arizona Cardinals Tickets | Justin Timberlake Tickets |
| – Baltimore Ravens Tickets | Katy Perry Tickets |
| – San Francisco 49ers Tickets | Lollapalooza Tickets |
| Baseball Tickets | Luke Bryan Tickets |
| – New York Yankees Tickets | Motley Crue Tickets |
| – Los Angeles Angels Tickets | One Direction Tickets |
| College Football Tickets | Paul McCartney Tickets |
| US Open Tennis Tickets | Kiss + Def Leppard Tickets |
---
This Week's Top Tours
| | |
| --- | --- |
| | Visit Grand Canyon, Mojave Desert, Black Mountains, Eagle Point, Hoover Dam photo op, more. Day tour from Vegas! |
| | See the Grand Canyon, Route 66, Mojave Desert, and more direct from Las Vegas. The Full day tour is only $229 including snacks, lunch, and fees! |
| | Stunning Valley Of Fire buggy tour: See the sights guides, then explore on your own! (Friends will be jealous). |
Featured Tour Video From Las Vegas
You can book this amazing flight now and save $21! Neon Nights Air Tour
ALL tours listed on our AccessVegas.com tour page (link above) have been hand-selected. We only work with the top, most professional companies and operators who vow to give our readers a great experience! Because of this, we can not recommend nor vouch for tours not listed on here in the newsletter or on our tour page. Questions? Our tour page lists phone contacts where tour experts are available for live help!
---
Great Casino Destinations
Gaming expert Victor H. Royer is back with more tips on winning at the casino!
---
Las Vegas Shows, Concerts, And Headliners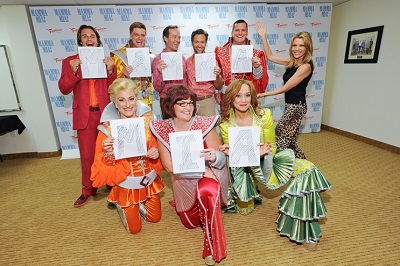 Vanna White Attends MAMMA MIA! At The New Tropicana Las Vegas – Wheel of Fortune" hostess Vanna White attended the smash-hit musical MAMMA MIA!
at The New Tropicana Las Vegas. Vanna went backstage to meet the cast and was greeted with a fun surprise by the company-they had created "Wheel of Fortune"-type letters spelled out as M-A-M-M-A-M-I-A (pictured in attached photo). Vanna and the cast had a fun time posing with the letters as she expressed her excitement for their performance.
PS Yes, we know that Mamma Mia! is unfortunately closing on August 3. You only have a couple more days left to check it out!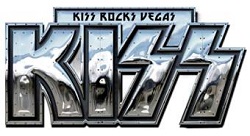 KISS Rocks Las Vegas November 5 – 23, 2014 – Rock æn' roll legends KISS celebrate 40 years as music icons with their first-ever residency, KISS Rocks Vegas, at The Joint inside Hard Rock Hotel & Casino Las Vegas starting Wednesday, Nov. 5 through Sunday, Nov. 23. Show time is 8 p.m.
ôWhat happens in Vegas will not stay in Vegas, not if we have anything to do with it. We intend to blow the roof off the Hard Rock Hotel & Casino,ö said Gene Simmons, founding member of KISS.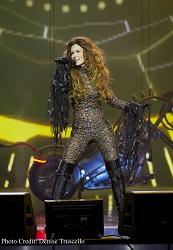 Shania Twain Announces Final Shows Of "Shania: Still The One" At The Colosseum At Caesars Palace – Not many performers have impacted Las Vegas quite like Shania Twain, including a ride down the famed Las Vegas Strip with a stampede of horses to bringing her legendary country-glamour to fans around the world, but today Shania announced the end of her two-year residency SHANIA: STILL THE ONE at The Colosseum at Caesars Palace with the final show set for Saturday, Dec. 13, 2014.
Shania will have performed close to 110 shows during the course of her two years at The Colosseum which began on Dec. 1, 2012. Shania was also recently named ôBest Resident Performerö in the Las Vegas WeeklyÆs annual ôBest of Vegas 2014? issue.

Book Absinthe Las Vegas Tickets Now

Book MAMMA MIA! Las Vegas Tickets Now

Book Jersey Boys Las Vegas Tickets Now
---
Las Vegas Sports And Stadiums
---
Las Vegas Tours And Attractions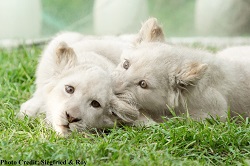 Siegfried And Roy Introduce Three White Lion Cubs To Their New Home At The Mirage – Three new white lion cubs, the latest additions to the Siegfried & Roy animal family, appeared for the first time in public on July 18, 2014 at Siegfried & Roy's Secret Garden and Dolphin Habitat at The Mirage.
The cubs – Freedom, Timba-Masai, and Madiba – are brothers and were born just over 12 weeks ago in Johannesburg, South Africa. They join more than 30 other endangered and majestic animals at the Secret Garden at The Mirage.

Book Your Valley Of Fire Buggy Tour Today
---
Dining In Las Vegas
Showgoers Can Now Dine Like A Boss With The New Pre-Theater Menu At Buddy V's Ristorante – Showgoers can now rejoice in a hearty Italian meal sure to keep their stomachs from growling all the way through curtain call with the new Pre-Theater nightly menu at Buddy V's Ristorante inside Grand Canal Shoppes at Venetian|Palazzo. The Pre Theater menu is available nightly from 5 p.m. until 7 p.m. for $38 per person (not including tax and gratuity) and includes:
---
Las Vegas Economy And Real Estate
---
Las Vegas Beers, Bars, And Cocktails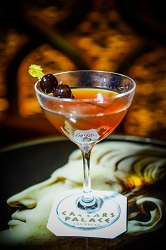 Out With The Old, In With The Classics: The All-New Lobby Bar Is Now Open At Caesars Palace – The newest addition to the Caesars Palace bar and lounge scene, Lobby Bar is a premiere cocktail destination. The former Galleria Bar, Lobby Bar features expansive lounge seating, enwrapping the front-desk reception area to the Palace Court Baccarat tables, and a highly curated beverage menu with classic concoctions and exclusive creations.
The extensive cocktail menu designed by The Modern Mixologist, Tony Abou-Ganim, offers an eclectic selection of classic libations and contemporary specialties. Bringing with him more than 20 years of experience, Tony collaborated on the menu development as well as assisted with training bar staff, stressing both quality ingredients and proper technique. Developing eight specialty drinks on the menu, Tony was able to showcase his immaculate talent for mixology with the Just for Mary cocktail.
---
More Las Vegas News
---
Newkirk's Notes: The Boss Speaks…
Newkirk's Notes are comments and insight from AccessVegas.Com publisher and 20+ year Las Vegas resident Ted Newkirk:
Hello From Las Vegas! – Monsoon season is upon us and we saw some pretty intense rain a few days ago, with flooding that nearly wiped out one of the villages up on Mt. Charleston. Now, I know the roof on my back patio leaks in a terrible deluge! (Knock on wood, the roof of my house is fine). Highs are right around statistical average (104 F / 40c), but the humidity is up. If you are coming the next few days, expect it to be a little more sticky. We do have a "cold snap" this weekend with Sunday only projected to be 89 F (32c) and thundery! But, that is the exception for the next couple of weeks.
No, You Are Not Imagining It – Room rates for Las Vegas are creeping up. In June, The Strip average was $123 and downtown was $72. And yes, I was myself surprised at that average for downtown myself. Did you know when the SLS (former Sahara) comes online toward the end of August, Las Vegas will top 150,000 rooms? What is more impressive is that weekend occupancy is nearly 95%. A little math means weekends have around 142,000 full rooms, which means around 300,000+ people in town!
Weekdays tend to have around 10,000 fewer occupied rooms. So, for those of you who want to avoid the weekend party crowd from California and have more elbow room and save a few bucks, hit us up here on the weeknights. Use your weekend at home to recover and get back into the swing of things!
Another tip which I like to remind everyone of from time-to-time is to avoid the three day weekends. Yes, at first it seems like a great situation because you use one less vacation day. But between the much higher room prices and extreme crowds, you are much better off visiting either the weekend before or after a major holiday weekend if you are sandwiching a weekend into a longer stay. The week before and after a major holiday are less crowded and less expensive here, completely making up for the extra vacation day you end up using!
McCarran Medical Clinic and Pharmacy – If you have the very unfortunate need of medical care or medicine while at the Las Vegas airport, a new a full-service pharmacy with licensed medical providers on staff has opened. Unfortunately, pharmacy and medical provider hours are only 9 AM to 6 PM, although the store is open until 9 PM selling TSA-approved sundries.
The Flame Goes Out – The much-loved steakhouse at the El Cortez is getting a makeover into a 24 hour restaurant, which will be called Siegel's 1941. The name reflects the part- ownership in the property that Bugsy Siegel had in the 1940's. On one hand, I'm sorry to see the change. I'd take dates there in the 1990's because it was a great steakhouse (named Roberta's at the time) while still very affordable as far as steakhouses go. Same with the old Center Stage at The Plaza. On the other hand, after years of Las Vegas cutting the hours of operation of their coffee shops (or getting rid of them altogether), it is nice to see a property bucking the trend.
Vegas Myths And Misconceptions – In this business, I do a ton of homework. I read various blogs and Las Vegas forums on big travel websites for trip reports, watch tons of Vegas YouTube videos, and more. I am constantly astounded by the myths and misinformation about Las Vegas that continues to be spread! I call it "the blind leading the blind".
Some of it is honest mistakes, I get it. People get home and remember something wrong (like suggesting that MGM Resorts owns Cosmo or Caesars, which does matter if you are using players cards). Some of it is crazy stuff from the past, like the myth that hotels pump oxygen into the casino (a myth that won't seem to die), and some of it are misconceptions that people have who have never visited. (They don't drink or gamble, so they would not enjoy Vegas).
So, we wanted to ask you: What are some of the "sure fire" tips you heard which turned out to be bogus (perhaps they were valid in 1993 when I moved here)? What are the worst or most crazy notions people you know think about Las Vegas when you tell them you enjoy visiting here? What about Las Vegas is out there that people are noting and repeating that simply isn't true? Are you the "black sheep" in your office or organization because you enjoy spending time in our city? Send them to AccessVegas@AccessVegas.com and we'll share as many of them as possible!
P.S. Pumping oxygen into a casino would not only be prohibitively expensive, but create a higher probability of any fire getting out of hand. The reason you feel all jacked up when you are here because all the noise/music/excitement has your adrenalin going and also because you are walking a couple miles per day, which has your blood moving. In fact, if you are thinking about taking on an exercise program that involves walking or jogging, start it a couple of days after you get home from here! You're body will already be conditioned to get moving.
Rio Voodoo ZipLine – Is open from noon to midnight, and costs $24.95 (Both price and hours have been reduced from when they opened a few weeks ago). We'll have a report on it soon!
Fremont Street Experience Downtown Las Vegas New Liquor Restrictions – A couple of weeks ago, we noted that when on the Fremont Street Experience downtown, you must now 1. Only buy liquor for mall consumption from a casino and 2. It must be in a plastic cup when you are outdoors.
Now, the restrictions have tightened still. If/when you buy any booze from one of the convenience stores on the mall, they must put it in a bag, and close the bag with the receipt visible. If you walkáout of the store, stop on the mall, and pull the liquor out of the bag to pour it in a plastic cup, you are in violation of the law. The only place you can consume the convenience store liquor is in your hotel room (or back at your house if you are a local, although we locals can obviously buy their liquor at the local grocery store).
What is the bottom line? You MUST buy your liquor at the casinos on Fremont Street if you choose to drink it on the mall. You MUST put it in a plastic cup. (IE, you can't walk a bottle or can of beer from casino to casino). You can NOT purchase liquor at a convenience store and pour it in a plastic cup for consumption. Except and unless you take the liquor to your room and consume it there or pour it in a plastic up up there. By the way, pouring it into a plastic cup in your room and bringing it back to the mall is also technically a violation. But obviously, not prosecutable.
None of this applies to The Strip. Speaking of The Strip…
99 Cent Shrimp Cocktail Returns – Back in the "good old days" of Las Vegas, the Golden Gate had a 99 cent shrimp cocktail. That went bye-bye with their remodel which removed their famed deli. (Which we still dearly miss). Fortunately, the Haute Doggery in Linq has returned the tradition, and you don't even have to go downtown! For the rest of the summer, they are offering 99 cent shrimp cocktails (a practice that we hope will be continued longer).
Farewell For Now – August 2014 starts a new era with this newsletter. We'll continue to offer a free version of it, but without Newkirk's Notes and Members Mania with all of the insider tips that help you have a great vacation and save you time and money. The free version will continue to have the news and story links, but will contain more advertising over time to help cover costs.
Note to family, close friends, business associates, media (print/blog/podcast): Yes, we will comp you a subscription. Hit the reply button and let us know.
I'll be over there every issue with the premium subscribers with more tips and advice than ever, more ways to save money, guaranteed answers to questions, and our new Vegas Super Secret Specials Spreadsheet (list) with will easily help premium members save more than the cost of the membership!
Hope You Are Enjoying This Issue!

Associate Editor / News Researcher: Rick Ziegler
Concerts, Headliners, Special Events: Puneet Adobe
---
What We're Watching!
Vegas Videos You'll Enjoy
Rock Of Ages At The Venetian

– Watch show star, Mark Shunock, get into character and talk about his role in this good-time, party concert revival of the 80's!

Book Rock Of Ages Las Vegas Tickets Now
"Las Vegas Playground USA" 1964 Tourism Movie

– Fantastic color shots of Vegas in its swinging heyday! See the old McCarran airport, casinos like the Stardust and Thunderbird, fun in the sun at the pools, recreation on Lake Mead, golf, horseback riding in the surrounding mountains (you can still do this, see the tour link below), and finish with a vintage look at old Fremont Street and Strip shows.

Book Your Maverick Breakfast Horseback Ride Tour Today

Book Your Wild West Horseback Sunset BBQ Dinner Ride Today
---
Members Mania – We Love Our Readers!
I know you have had many comments and questions regarding the ôlong haulingö that taxi drivers do in Vegas.
I no longer allow myself to be long hauled as I give specific instruction on how I want to be taken to the hotel and ask the cab driver before I get in it if he is going to argue with the way I tell them how to get there.
I have, however, had them charging extra at the end of the ride like $3.75 or something like that saying that it is some sort of fee that does not show up on the meter. Not every cab driver does this so I have become suspicious of whether or not this is a legitimate charge. My guess is that it is not. I have always been a generous tipper so IÆm not sure of the need to always get ripped off my the drivers.
I have now heard of a new scam going on regarding hotel lines for cabs. The employees are offering for $20 to let you cut to the front of the line and they are pocketing the money and allowing you to cut in front of people who have been waiting their turn.
All of this overcharging and scamming people is becoming a real turn off. I understand people make a living from their tips, but cheating people is not the way to obtain more money. I hope they remember what goes around comes around.
Have you heard of any of this? Thanks.
Rose
Ted Responds:
Note: Rose is a paid subscriber, and one of the benefits of being a paid subscriber is that we guarantee to answer your Las Vegas questions (within reason). We live here. We either know, know who to call, what to check with, or can actually walk our our front door and find out. (I live about 5 minutes from The Strip and Rick lives within walking distance).
If you still have not signed up, we'll let you in at the introductory price for just a few more days. Then, the offer is gone until September when you have to pay full price to get in:
Hi Rose,
Good questions:
* There is a $3.30 charge on the meter at activation. You are essentially paying $3.30 to start your trip. Unless you are starting from the airport, which adds another $2.00 surcharge. Hence, when you first step into a cab at the airport, you have already shelled out the approximate price of an airport shuttle!
Shuttles have their pros and cons. You know the price, but depending on how many hotels they have to drop off, you could be in for a 45 or even 60 minute ride.
* The ONLY fee they are allowed to add at the end of a trip (above what is on the meter) is a credit card fee. Note: Not all Las Vegas cabs take credit cards yet. Hence, if you were hit with the fee and using your credit card, now you know what it was (although the driver should have been very specific about it).
* If the driver otherwise demands money above what is on the meter, he is lying. At that point, I would get your bags, only pay what is on the meter, and not tip him. Yes, you can report him, but it will be your word against his and he will claim you misunderstood him.
* The taxi authority has recently put out a very, very helpful pamphlet which you can print off here
It has approximate fares to many hotels, the best routes, a place to write down info if you feel that you were wronged, and both the phone number and website where you can file a complaint!
While unfortunate, I would not trust much of anything a cabbie says. I've been long-hauled, told incorrect information, you name it. (I just act like a tourist so I can see how they treat real visitors). They act all chummy and helpful in a quest for a bigger tip, not because they know what they are talking about.
* If you are going to pay an unscrupulous taxi loader to skip the line, first ask how much a limo to your destination is. They will probably get a kickback, which means that you can give them a couple of bucks, spend the $20 you were going to give them on the limo, you'll find that may be about the same fare as taxi vs. limo. Past that, hotels that find their taxi loaders are doing this are not pleased. Those guys are already making a nice living just by getting a tip every time they open a cab door for guests!
Hope this helps!

We love to hear from you, and value your feedback! Here's how to participate:
Want to comment on a current reader post? Use the comment box on that particular web page. Many of the stories we post also have comment boxes at the end of the story. Make your voice heard!
Drop us an email at AccessVegas@AccessVegas.com – We read them all!
Call our recorded comment line at 702-507-0055. We listen to every call.
---