Serving Las Vegas Visitors and Residents Since 1999
Welcome to the Insider Vibe! This is the official newsletter of AccessVegas.Com. We talk about the Las Vegas activities you really care about.
Need to contact us? Send feedback to
AccessVegas@AccessVegas.com
Missed an issue? Click to Read Back Issues Online.
---
AccessVegas.com Quick Info Menu:
| | |
| --- | --- |
| Las Vegas Essentials | Featured Shows |
---
Shows, Concerts, And Headliners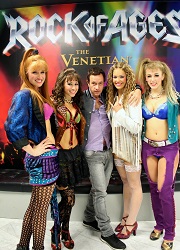 Film And Television Star Pauly Shore Enjoys Rock Of Ages – Film and Television star, Pauly Shore, attended Rock of Ages December 13, 2013 at The Venetian. Following the performance, Shore headed backstage for a photo with the cast and to share words of enthusiasm for the show.
Set in L.A.'s infamous Sunset Strip in 1987, ROCK OF AGES tells the story of Drew, a boy from South Detroit and Sherrie, a small-town girl, both in L.A. to chase their dreams of making it big and falling in love. ROCK OF AGES takes you back to the times of big bands with big egos playing big guitar solos and sporting even bigger hair!
---
Downtown Las Vegas
---
Football Specials And Super Bowl Sunday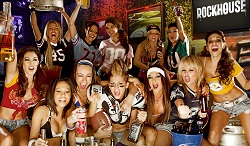 Rockhouse Tackles Open Bar Specials During The Super Bowl – The hot spot will offer game day specials running one hour before kickoff until final whistle. Priced at $100 per person, guests will receive access to an open bar of well cocktails and domestic drafts. Priced at $175 per person, guests will have access to a premium open bar and guaranteed seating.
---
Gambling And Gaming
---
Dining, Drinking, And Dancing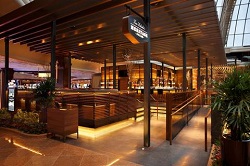 Tom Colicchio's Heritage Steak Recognized By Zagat Among "25 Most Important Restaurants Of 2013" – "In a short period of time, Heritage Steak has become a destination restaurant in Las Vegas and the response from our guests has been overwhelmingly positive," said Vice President of Food & Beverage Julian Griffiths. "Tom and his team have done a great job of creating a unique culinary experience at The Mirage and we are humbled to be acknowledged as one of the most important restaurants of the year." Photo: Biondo Photo.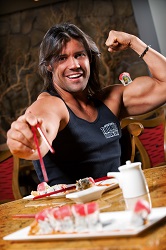 Rice And Company Inside Luxor Celebrates Australia Day With Thunder Roll – Rice & Company at Luxor Hotel and Casino will celebrate Australia Day Sunday, Jan. 26, by offering the Thunder Roll, a sushi roll created in honor of the handsome blokes of Australia's Thunder From Down Under, the top male revue show in Las Vegas performed at Excalibur Hotel & Casino.
The Thunder Roll, priced at $18, is made with a blend of soft shell crab, tuna, avocado and cucumber, wrapped in seaweed and topped with spicy mayo and kabayaki sauce. The specialty roll will be available throughout January and in celebration of Australia Day, will be half price Sunday, Jan. 26.
---
Arts, Attractions, And Activities
---
More Las Vegas News
---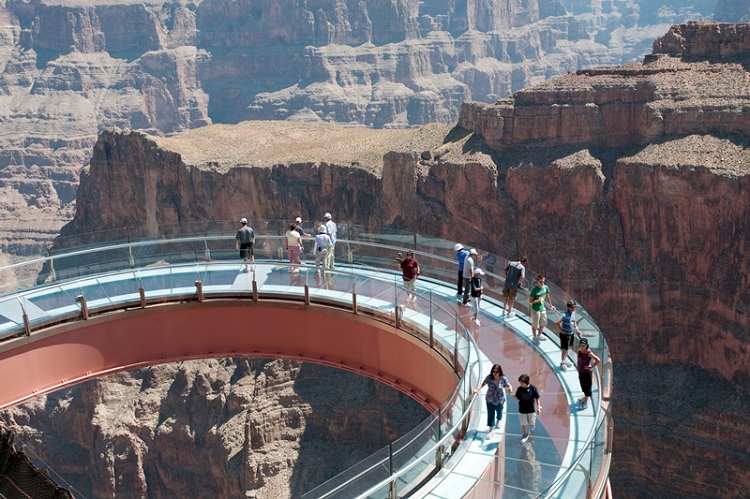 VIP Skywalk Sky High Fun Tour – The Skywalk glass-bottomed observation deck allows you to venture beyond the ledge of Grand Canyon West and walk along the skyline. After 45 minutes of ground time at Grand Canyon West, you will board your return flight back to Las Vegas with views of the downtown and Strip. This Skywalk Grand Canyon experience only comes along once in a lifetime don't forget to bring your camera!
---
Upcoming Las Vegas Events And Holidays
---
Latest Las Vegas Concerts Added This Week!
There is no better place to see your favorite acts then in Las Vegas! You're relaxed, can enjoy a fine meal, have some cocktails without the worry of driving, and no alarm is going to jar you awake all too early the next morning.
Top Tickets For All United States Events
Did you know that we not only sell premium concert and event tickets for Las Vegas, but also for the entire United States as well? If you can't make it to Vegas, treat yourself to some great seats for something near you:
---
Newkirk's Notes: The Boss Speaks…
Newkirk's Notes are comments and insight from AccessVegas.Com publisher and 20+ year Las Vegas resident Ted Newkirk:
Hello From Las Vegas! – Normally, we'd tell you how great the weather is and while much of the nation was suffering, we were very fortunate to be having short-sleeve weather. However, our thoughts have been with those of you in large swaths of North America who have been facing bitter cold that many areas have not experienced in at least 20 years. We hope that you've all made it through as good as could be expected and will be seeing more seasonal weather.
Coming Changes – We asked for some recent feedback regarding the direction we want to take the newsletter in 2014 and it appears everyone is pretty happy. In response to reader input, we are going to increase emphasis in some of the following areas:
* Detailed Event Information – We do make pages for Super Bowl, New Years, Memorial Day, Cinco De Mayo and similar. However, they have been poorly organized and don't contain any of our first-hand tips for enjoying such events.
Side Note: To our credit, we've provided our readers detailed advice and tips for Thanksgiving, New Years Eve, and Super Bowl in previous issues. However, we really need to make organized sections with articles, making this easy to find. Specifically because you simply won't find some of these "been there, done that" tips elsewhere.
Why not? You may not realize this, but the majority of Las Vegas travel information online (sites, podcasts, blogs, etc,) does not come from Las Vegas! I'm not saying that makes it bad, and I know some of the people who produce Las Vegas information from other places who do good work. However, we've DONE New Years Eve, July 4'th, Super Bowl Sunday, Cinco De Mayo, Mardi Gras and all of the other big events on The Strip and/or Fremont Street.
Often many, many times. I notice (for example) that many of these out-of-town Vegas sites get very, very quiet around new years, not even burping about our biggest, most-visited time of year. Perhaps because they've never done New Years Eve here? Just asking. Don't get me wrong, that doesn't make them bad sources of information. But someone has to give you "boots on the ground" first-hand tips about the most popular times to be in Las Vegas!
* Hotel Reviews – We get lots of questions about hotels. Which is the better tower to stay in, what parts of a certain hotel may be more recently remodeled, etc. Tracking all of that info is really, really tough and takes a lot of time and effort (which is probably why nobody we know of is doing it). I don't think the job can every be fully done, but when we introduce our paid-subscriber model (for those who choose a higher level of information from us), we're going to put someone on it and see what we can do.
"But Ted, haven't you heard of Yelp and other rating sites?" Yes, and guess what: Two guests can stay in the same property the very same night, but be in two different towers (remodeled at two different times) with two different views and have two totally different experiences.
No promises on this one as we'll have to see how many people pitch in as paid subscribers and thus what our budget is going to be. But, it is something I'd certainly like to do.
* Tours, Tours, Tours – I've touched on this before but if you are a regular visitor and you have yet to experience the Grand Canyon, Valley Of Fire, or even shorter excursions like Red Rock, Hoover Dam, or a Night Flight over The Strip, you simply have no clue how much you are missing out! I realize some say "Well, I've seen pictures of them". That is like looking at a picture of the most amazing steak ever grilled and telling yourself that you just had it as a meal.
by
big-ashb
We're going to start to be doing some ride-alongs to show you what the tour experience is like. We're also going to debunk some popular myths. Many think of taking a tour as being on par with being in a cramped old Greyhound bus 20 years ago and have no idea of the luxury of modern equipment which lets you really enjoy yourself.
Others worry that they will have to go back to McCarran and go through TSA and that whole thing to take an air tour. Nothing could be farther from the truth (at least when it comes to the companies we select and suggest to you). When you enjoy an air tour, you go to a private air terminal (in the same area of the airports as the private jet terminals), nice surroundings, comfy chairs, no lines, no 2 hour wait, no TSA!
P.S. Like in the second picture, there are tours that actually land you in the bottom of the Grand Canyon, putting you in a select group who have touched the canyon floor along the rugged Colorado River. All tours are available at AccessVegas.com/Tours
* Gambling – We've had lots of requests for gambling information, and the gambling story links we've been providing have been very popular. We're going to dust off some "oldie but goodie" articles by our gaming author Victor H. Royer that may be new to you (games like craps, and money management strategies have not changed that much) as well as work on some fresh content about the latest you'll find on the casino floor. Victor has written more gaming books than I have fingers and toes to count them on. He knows his stuff! (Go to Amazon and do a search for Victor H. Royer and you'll not only see what I mean, but want to grab a few of his books while you are there).
* Talking About Laughlin – We get regular inquiries about whether the day trip is worth it, are there bus tours to take down there, renting a car for the day when you are on The Strip or downtown, and similar. For now, we have a brief overview of this casino oasis sitting just 90 miles south of Las Vegas:
by
jdnx
About Laughlin – We know that some of you enjoy taking a day trip down to Laughlin, or actually spending a few days there every year. A bit more laid back then Las Vegas (and a bit cheaper), Laughlin has taken a hit from Indian gaming in California. But, it has a couple of things that Indian gaming can't match:
1. The beautiful Colorado River and riverwalk, backing all but one casino.
2. The Vegas/Atlantic City-like ability to walk from casino to casino to casino. A great way to try to change your luck, ore when you need a change of surroundings.
Laughlin is named after Don Laughlin, a fascinating gentleman who bought an old hotel on the Colorado River and spurred the area in to what it is today. You can read more at Don Laughlin feels right at home and more about Laughlin in general (as a casino destination) at River Walk links casinos on tourist corridor
Have no worries, we're still going to continue to bring you all the great information you've come to expect from us. We'd just like to cover more of the information you've been requesting over the past year.
Hope you are enjoying this issue!

Associate Editor / News Researcher: Rick Ziegler
Concerts and Headliners: Amy Rayner-Cooley
---
What We're Watching – Vegas Videos You'll Enjoy
Elvis Impersonator Trent Carlini: The Dream King

– Trent Carlini, a nationally recognized Elvis tribute artist and winner of ABC's "The Next Best Thing", is now performing at the LVH (the original Las Vegas home of Elvis). This show features unbelievable visual media, multiple costume changes and more than 25 different Elvis hits, in which Trent Carlini truly showcases the King's life in entertainment.

Behind The Scenes At Estiatorio Milos Restaurant Inside The Cosmopolitan

– Estiatorio Milos at the Cosmopolitan of Las Vegas is just one of dozens of Strip restaurants literally going to great lengths to bring the freshest, most authentic ingredients to their customers. From seafood to beef to greens, the practice of "sourcing" — culling ingredients from their naturally-occurring locales — has become increasingly common at Strip restaurants over the past decade as the city's dining profile has risen to be competitive with Los Angeles and New York.
---
Members Mania – We Love Our Readers!
Normally, this is where we print your responses, thoughts, and questions. However, we're going to turn the tables just a little bit this time. We'd like you to tell us about your Vegas plans for 2014:
How many times do you plan to visit (if you are going to at all)? Are you planning to gamble more or less? Do you plan to visit the new Linq outdoor shopping/dining mall and/or ride the new High Roller wheel? Do you plan to stay downtown or spend more (or less) time downtown? Are you much for hitting the locals casinos and why? Are you going to stay in the same hotels as usual, or perhaps try something new? Anything else when you think about regarding visiting Las Vegas in 2014?
We'll read them all (as we always do), print some selected ones, AND everyone who drops us a note in response to this will be entered into a giveaway for something cool from our prize closet. You'll have your choice of a Mac King Trunk-Of-Tricks magic trick set (great for a kid or kid-at-heart), a brand new Sahara collectible spoon (still in its wrapper), or a promotional poster from the opening day of KISS Mini-Golf (surely a collectors item already).
Dropping us a note to enter is simple:
* Send an email to AccessVegas@AccessVegas.com with the subject line: Vegas 2014
* Put a little effort into telling us your plans and thoughts. At least a few lines. Entries that are just an attempt to win and don't tell us anything will be disqualified.
* We would appreciate your city/state/country but no info will be made public and all personal information will be deleted.
* Must be 21.
* We reserve all rights.
* Winner will be chosen at random among eligible entries and notified by email at the end of January, 2014.
Good Luck!

We love to hear from you, and value your feedback! Here's how to participate:
Want to comment on a current reader post? Use the comment box on that particular web page. Many of the stories we post also have comment boxes at the end of the story. Make your voice heard!
Drop us an email at AccessVegas@AccessVegas.com – We read them all!
Call our recorded comment line at 702-507-0055. We listen to every call.
---
No related links found