Serving Las Vegas Visitors and Residents Since 1999
Welcome to the Insider Vibe! This is the official newsletter of AccessVegas.Com. We talk about the Las Vegas activities you really care about.
Need to contact us? Send feedback to
AccessVegas@AccessVegas.com
Missed an issue? Click to Read Back Issues Online.
---
AccessVegas.com Quick Info Menu:
| | |
| --- | --- |
| Las Vegas Essentials | Featured Shows |
---
Shows, Concerts, And Headliners
Sammy Hagar, Alice Cooper, And Vince Neil Join Chefs Jean-Georges Vongerichten, Daniel Boulud, Charlie Palmer, Wylie Dufresne And More To Fight MSA – A masterful list of superstars comes together for a spectacular fundraiser to support MSA (multiple system atrophy) awareness. The evening finds world-renowned chefs preparing a rock 'n roll dine-around that reflects the spirit of Chef Kerry Simon and his passion for food, music and imagination. While the culinary team provides the bites, Kerry's musician friends will band together onstage for the performance of a lifetime as guests rock, chow and mingle for a great cause.
---
Valentine's Day Las Vegas 2014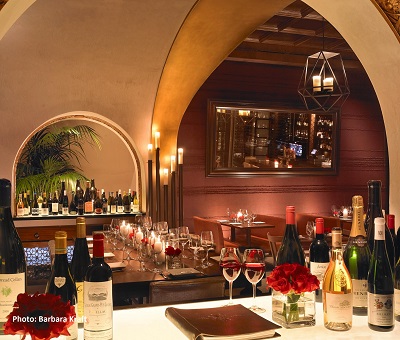 Dine And Unwind At La Cave Wine And Food Hideaway This Valentine's Day – La Cave Wine and Food Hideaway at Wynn Las Vegas will seduce taste buds with a Valentine's Day prix fixe menu inspired from cities around the world on Friday, February 14. Priced at $49 per person, the restaurant will offer a five-course menu with optional wine pairings for an additional $25 per person.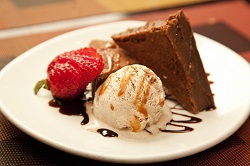 Specialty Menu For Two This Valentine's Day At Tacos & Tequila – Tacos & Tequila (T&T) at Luxor Hotel and Casino will spice up Valentine's Day with a specialty prix fixe menu, priced at $58 per couple, available exclusively on Friday, February 14.
Prepared by Corporate Executive Chef Saul Ortiz, guests will fall in love with T&T's irresistible Valentine's Day menu.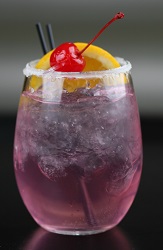 Cupid Gets Ditched at Rockhouse On Valentine's Day – Ladies wishing to commiserate, rather than celebrate, on Friday, February 14, are welcome to attend Rockhouse's annual "Don't Bring Your Boyfriend to This Bar" party. Located at the Grand Canal Shoppes at The Venetian | The Palazzo, the ultra-dive bar will offer lovelorn females half-priced "Chick Drinks," available all day.
The discounted "Chick Drinks" include selections such as Pink Cadillac, a mixture of Ketel One, Sweet Revenge, Watermelon Pucker and Sprite, with a sugar rim; and Rock Me Like a Hurricane, a combination of Bacardi O, Bacardi Rock Coconut, Amaretto, grenadine, orange juice and lime.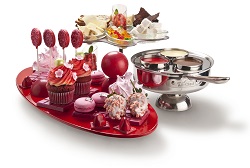 Sugar Factory American Brasserie To Serve Romantic Prix Fixe Menu On Valentine's Day – Couples can celebrate their love with a romantic Valentine's Day dinner at Sugar Factory American Brasserie at Town Square Las Vegas on Friday, February 14.
Lovebirds will begin their night of passion with heart-shaped bruschetta, topped with ripened tomatoes, basil and extra virgin olive oil or baked brie wrapped in puff pastry served with apricot jam.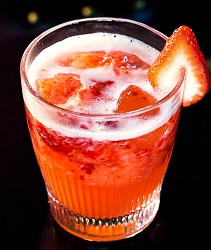 Commonwealth Gives A Toast To True Love And Broken Hearts With Special Valentine's Day Cocktails – Downtown drinkers will toast to true love or unrequited love with Commonwealth's featured Valentine's Day cocktails on Friday, February 14.
The select lovely libations, include the "Little Hot Mess," mixing Bacardi Dragon Berry Rum, fresh lime juice, simple syrup and strawberry puree; the "She's My Ride Home," combining Ketel One Vodka, fresh lime juice, simple syrup, Angostura Aromatic Bitters and Gosling's ginger beer; and the "Birthday Sex," made with Ciroc Peach Vodka and Rhum Clement Creole. Created by the cocktail bar's Boozeologist, Dan Marohnic, the flirtatious concoctions are priced at $10.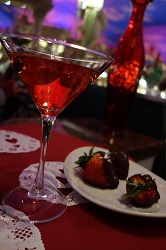 TREVI Sets The Valentine's Mood With Its Three-Course 'That's Amore' Menu – Celebrate your love this Valentine's Day with Chef Peter Scaturro's special 'That's Amore' three-course couples menu exclusively on Friday, February 14, at TREVI inside The Forum Shops at Caesars.
Priced at $70 per couple, the prix fixe menu will feature a light starter, the option to choose between three classic Italian entrÚes and a delectable dessert to share. Guests will enjoy the option of pairing their meal with a bottle of Dark Horse Wine, priced at $30 per bottle, or TREVI's signature Valentine's Day cocktail, Love Potion Number 9, priced at $9 per person. The Love Potion Number 9 will be available exclusively on Friday, Feb. 14.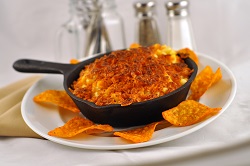 PBR Rock Bar & Grill Gets Love Drunk on Valentine's Day – PBR Rock Bar & Grill, located inside Miracle Mile Shops at Planet Hollywood Resort & Casino, invites Valentine's Day lovers to revel in romance as they enjoy a tasty meal for two.
On Friday, February 14, the Strip-side restaurant will offer some downright delectable dishes, including the "Smokin' Hot BBQ Chicken" while encouraging admirers to "Get Some Mac On" with its mouthwatering Dorito Crusted Mac n' Cheese.
---
Super Bowl Las Vegas 2014
---
Dining And Drinking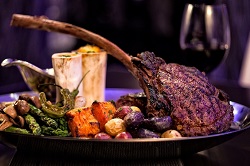 N9NE Steakhouse At Palms Reveals Revamped Look And Menu Following A Stylish Remodel – The iconic N9NE Steakhouse at Palms Casino Resort, Las Vegas? The premier celebrity dining hot-spot, has reopened following a chic makeover. Since the remodel, N9NE has attracted numerous celebrities to experience the steakhouse's alluring vibe and top-notch cuisine including Matthew Perry, Robin Thicke, Paula Patton, Brody Jenner, Holly Madison, Floyd Mayweather and Pharrell Williams.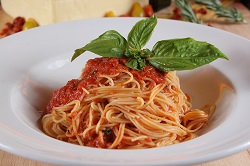 Trevi At Caesars Palace Offers Linguine Pomodoro As February $10 Special – TREVI Italian Restaurant inside The Forum Shops at Caesars Palace will offer linguine pomodoro with chicken specially priced at $10 for the entire month of February 2014. Executive Chef Peter Scaturro's delightful dish consists of linguine pasta, fresh marinara sauce and extra virgin olive oil.
---
More Las Vegas News
---
Upcoming Las Vegas Events And Holidays
---
Latest Las Vegas Concerts Added This Week!
There is no better place to see your favorite acts then in Las Vegas! You're relaxed, can enjoy a fine meal, have some cocktails without the worry of driving, and no alarm is going to jar you awake all too early the next morning.
Top Tickets For All United States Events
Did you know that we not only sell premium concert and event tickets for Las Vegas, but also for the entire United States as well? If you can't make it to Vegas, treat yourself to some great seats for something near you:
---
Newkirk's Notes: The Boss Speaks…
Newkirk's Notes are comments and insight from AccessVegas.Com publisher and 20+ year Las Vegas resident Ted Newkirk:
Hello From Las Vegas! – If you're humming Baby, It's Cold Outside then you surely aren't in Las Vegas, where we've been in the 60's F and pushing 70 pretty much all of January. In the summer, I've heard visitors grumble "How can anybody live here" and I'll simply note that I have no snow shovel in my garage and I run to the grocery store in the evening in shorts. Plus (and some may find this hard to believe), myself and many I know who have lived here for some time really don't mind the summer heat. We simply don't like to feel a chill. I probably own more flip-flops than I do shoes!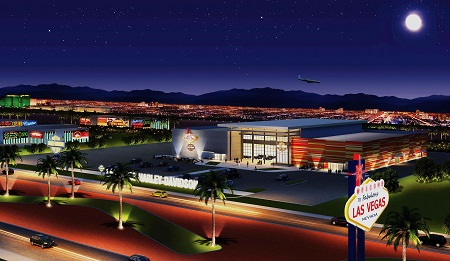 Rev It Up! – Harley-Davidson has announced a full-line store on The Strip, about halfway between Mandalay Bay and Town Square and just up from the Welcome to Las Vegas sign. During the boom, all kinds of big plans from condos to rollercoasters were announced for the far South Strip area. For now, most of that is still dirt lots. However, as the economy stabilizes, expect that area to start getting filled in over the next few years.
My guess is that because of the depressed land prices, Harley-Davidson and/or the investors were able to pick up the dirt for a pretty good price. No word on the eventual availability of motorcycle rentals yet, but one assumes they will be part of the plan. Friends who ride two-wheels through our surrounding scenic desert say there is nothing else like it!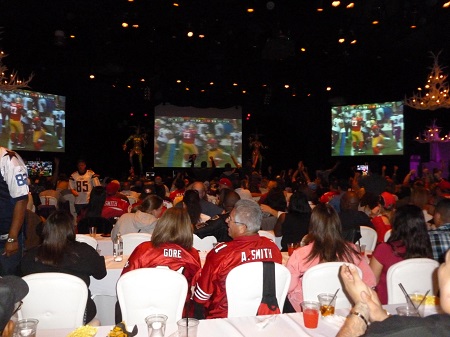 2013 Game Watching Party At Silverton
New Jersey Bowl – The Big Super Game is just about upon us. The forecast for the game is looking better than expected (mid-40's at kick-off) and if you what to go on a whim, re-sale tickets for this game are lower than in previous years. (All available tickets are re-sale as the event is sold out). Because we're hooked into a nationwide ticket database, you CAN get actual tickets through the game through us at Access Vegas Big Game Tickets.
Of course, if you are coming to Las Vegas, there is no bad place to see the game. The key is to get situated early. We'd skip the sports books unless you want to set your alarm for way-too-early to get there and get some seats. Instead, we'd suggest checking out some of the popular bar/grill type restaurants the day before the game to see if they are offering any food/drink VIP package which will guarantee you get in.
BTW, I recently noted that after an NFL crack-down, the famed parties of the past had dwindled. We're happy to see that trend changed this year and hope the NFL just lets people have fun. They got very upset a few years ago that various venues were "charging" people to watch the game. The reality is that you basically pay for a food and drink package for a "Big Game" party. We'll have our roving reporter D.W. Grant out mid-strip with a full report and photos. If you missed it this year, you'll have an idea what to expect for next year. Las Vegas is THE place to be for Super Bowl Sunday, and many argue that it is more fun and festive than the host city usually is!
Roving Reporter – As noted, DW Grant is going to start doing some pretty regular reporting from The Strip and Downtown. He's going to focus on all the cool happenings and updates that may not make big news, but that visitors care about. We look forward to many great reports over the next few months.
Hope you are enjoying this issue!

Associate Editor / News Researcher: Rick Ziegler
Concerts and Headliners: Amy Rayner-Cooley
---
This Week's Top Tours
---
What We're Watching – Vegas Videos You'll Enjoy
Las Vegas Hotel (Former Las Vegas Hilton) Regal Suite

– See what a two-bedroom showcase consisting of 2,600 square feet of space in Las Vegas looks like. Created with an atmosphere of elegant herringbone wooden floors and furniture reminiscent of European castles. The suite features a butler's kitchen, a luminous sunroom, a Jacuzzi tub, and panoramic vistas of the mountains, downtown Las Vegas and the historic Las Vegas Country Club golf course.

Wynn Las Vegas Carousel Floral Design Unveiling

– See a time-lapse of the construction of this beautiful new display at Wynn Las Vegas and enjoy seeing the completed project: An entire carousel done in flowers.

Camera Video Of The Buffet At Circus Circus From Summer 1992

– Great Historical footage of Circus Circus from over 25 years ago. Check out the prices, and how crowded they are for breakfast!
---
Members Mania – We Love Our Readers!
I was just wondering when resort fees will be higher than room rates. Give them a dime and now they want dollars. No end to their greed now, not only did they tighten the slot machines up but now they jack up the resort fees. I know they can`t say they pay their employees more or cost have gone up. It`s the profit they want up.
kandmmacgrandles
Ted Responds:
I'm no defender of resort fees. Having said that, part of the issue is that Nevada gaming properties have lost money (overall) for five straight years. Don't get me wrong: much of it is their own damn fault. They got too leveraged, got too ambition during the boom. In fact, in the face of everybody else saying that Las Vegas could grow forever, I famously predicted right here that there would not be enough visitors (and especially higher-end visitors) to fill all those new rooms and you (the visitor) would be able to get some amazing rates in new (or nearly new) properties. Which is exactly what happened.
I do believe properties are being penny-wise and pound-foolish in the struggle to manage their debt. Many of these guys have absolutely no background in running gambling joints and need to understand that they will get their money from you, but it isn't a crime to let you actually get some good, long play off of it!
I'd also like to see more food and drink specials return. There used to be a day when the hotel coffee shop perhaps barely broke even, but the food was such a value that you'd almost feel guilty if you didn't lose a $20 bill on the way out. I remember countless late-night breakfast specials in the 90's and even early 2000's where the breakfast cost me $22.99 ($2.99 plus my losses)!
There does almost seem to be an unspoken agreement among most Strip operators to not get into a "loose slots" war. Really guys? Does it matter if someone takes 3 hours instead of 2 hours to lose $80 and they have a little more fun along the way (riding the ups and downs of winning streaks)?
I understand that the comped booze is a concern. If someone plays longer, they are going to take more away from you in liquor consumption. Which of course is going to mean they are drunk and a LOT more likely to chase their losses! Hello!!! Back when gamblers were running the casinos, they knew that because they'd experienced it. (I think most of us have experienced opening our wallet one more time under the influence of the comped drinks, when better judgment suggested we don't).
Finally, The Casino Royale right across from The Mirage has held out against resort fees (at least thus far). So, one way to make your voice heard is to book there. For those wondering, it is a Best Western chain hotel and the rooms are in really good shape according to recent reports. Plus, you get a refrigerator at no charge, which allows you to walk around the corner to Walgreens and stock up on this and that. And, it appears they have in-room coffee makers (many Las Vegas properties don't). Downside of the mid-strip location is a very tiny pool and the general mid-strip noise.
Doesn't hurt to go to our Best Western Casino Royale page and punch in your dates on the left-hand side. Add up the location, resort fee, and similar with where you usually stay and see if Casino Royale is a good fit for you!

We love to hear from you, and value your feedback! Here's how to participate:
Want to comment on a current reader post? Use the comment box on that particular web page. Many of the stories we post also have comment boxes at the end of the story. Make your voice heard!
Drop us an email at AccessVegas@AccessVegas.com – We read them all!
Call our recorded comment line at 702-507-0055. We listen to every call.
---