Serving Las Vegas Visitors and Residents Since 1999
Welcome to the Insider Vibe! This is the official newsletter of AccessVegas.Com. We talk about the Las Vegas activities you really care about.
Need to contact us? Send feedback to
AccessVegas@AccessVegas.com
Missed an issue? Click to Read Back Issues Online.
---
AccessVegas.com Quick Info Menu:
| | |
| --- | --- |
| Las Vegas Essentials | Featured Shows |
---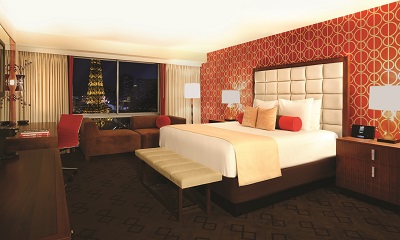 Jubilee Tower At Bally's Las Vegas Officially Opens, Kicking Off The 2014 Revitalization Efforts For The Center-Strip Resort – It is shaping up to be a great year for Bally's Las Vegas with an abundance of revitalization efforts currently underway. The center-strip resort officially celebrated the opening of its renovated 756-room Jubilee Tower, with Regional President David Hoenemeyer and Jubilee! showgirls taking part in a ribbon-cutting ceremony. Following the event, the Jubilee! showgirls made themselves at home in the one of the new Jubilee Tower Celebrity Suites.
"It's a new year and a great time to kick off this series of significant milestones," said Hoenemeyer. "Bally's is a key piece of real estate on the Las Vegas Strip and we are very excited for what's in store this year."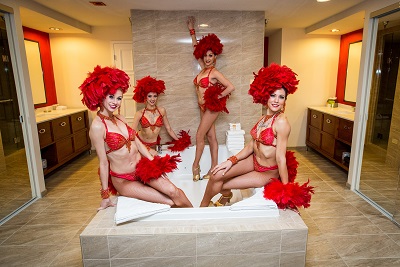 The Jubilee Tower rooms and suites, situated right in the heart of the Las Vegas Strip, encompass 450 square feet and offer unrivaled views of iconic Vegas landmarks, including the Paris Eiffel Tower and Bellagio fountains. Modern designs meet stylish and contemporary furniture and fixtures, at a fraction of the price of comparable Strip accommodations. Rates start at just $79 per night. Photo Credit: Erik Kabik
---
Shows, Concerts, And Headliners
---
Las Vegas Hotels
---
Attractions And Events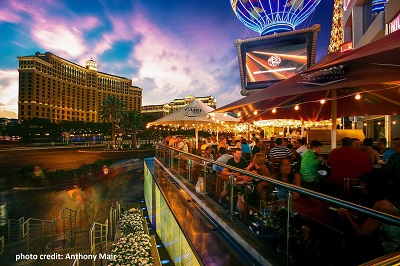 Cabo Wabo Cantina Hosts Knockout UFC Viewing Parties From January Through March – Cabo Wabo Cantina inside Miracle Mile Shops at Planet Hollywood will host action-packed UFC viewing parties from January through March.
The rockin' restaurant will serve drink specials including $21 buckets of Budweiser and Bud Light. Killer margaritas made with Cabo Wabo Tequila and specialty cocktails made with Sammy's Beach Bar Rum will also be available. Patrons may catch all the action on multiple high-definition televisions downstairs.
---
Dining And Drinking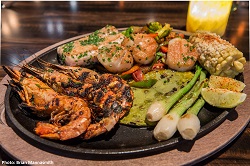 Chayo Mexican Kitchen + Tequila Bar Blends Party Atmosphere And Innovative Mexican Fare At The Linq – Chayo Mexican Kitchen + Tequila Bar opened on Wednesday, Jan. 1, as one of the first venues at the much-anticipated Caesars Entertainment development, The LINQ. The high-energy retail, dining and entertainment district introduces a new concept in Mexican dining, combining a DJ, mechanical bull, a vast tequila and cocktail selection and a blend of authentic and innovative Mexican fare by Executive Chef Ernesto Zendejas. Photo: Brian Mannasmith
---
More Las Vegas News
---
| | |
| --- | --- |
| | Neon Dream Vegas helicopter tour, soar out to and over Hoover Dam/Lake Mead, Fremont Experience and entire Strip! |
| | Experience Grand Canyon via Plane, 'Copter, Hike (optional), BBQ, true Southwest experience! |
| | Drive your dream car (Ferrari, Lambo, more) around the Las Vegas Motor Speedway NASCAR track starting only $199! |
| | VIP Grand Canyon Skywalk Tour via chopper trip to/from Skywalk, stunning views, expedited/exclusive arrangements. |
| | Grand Canyon, Route 66, Mojave Desert, more, direct from Vegas. Full day tour only $229 includes snacks/lunch/fees! |
---
Upcoming Las Vegas Events And Holidays
---
Latest Las Vegas Concerts Added This Week!
There is no better place to see your favorite acts then in Las Vegas! You're relaxed, can enjoy a fine meal, have some cocktails without the worry of driving, and no alarm is going to jar you awake all too early the next morning.
Top Tickets For All United States Events
Did you know that we not only sell premium concert and event tickets for Las Vegas, but also for the entire United States as well? If you can't make it to Vegas, treat yourself to some great seats for something near you:
---
Newkirk's Notes: The Boss Speaks…
Newkirk's Notes are comments and insight from AccessVegas.Com publisher and 20+ year Las Vegas resident Ted Newkirk:
Hello From Las Vegas! – Through an error, Newkirk's Notes was not included in the newsletter last week until about 24 hours after we sent. You can go catch up at Access Vegas Insider Vibe Jan. 13, 2014. It was brief, but I reminded everybody that you only have until the end of this month to write us about your Vegas plans for 2014 and be entered into a random drawing to win some cool Vegas stuff!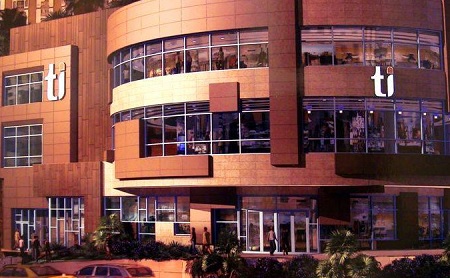 Announcing The Sedona, Arizona International Airport – Or maybe not. What you see above is the rendering of what the corner of Treasure Island is going to look like once they turn it into dining and shopping. (It looks like part of an airport to me, hence the section title). Gone will be the tropical palm trees and pirate motif which has adorned that corner for the past two decades.
Let's Linq Up – As promised, here are a number of photos of the 1/2 (if that) opened Linq project. We'll reserve judgment until it is fully up an running. I still believe that a big challenge will be to get people off The Strip and down what looks like a side-street. The High Roller wheel (which should be taking passengers in a few weeks from what we understand) is supposed to be the big draw, but it is actually tough to see from right there on The Strip until you look straight down The Linq mall.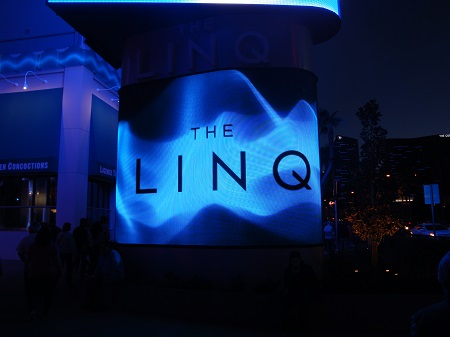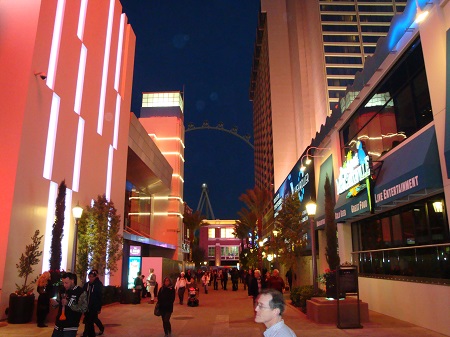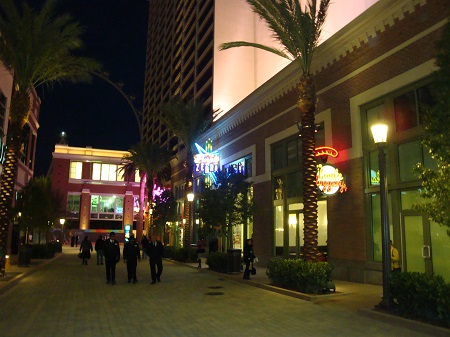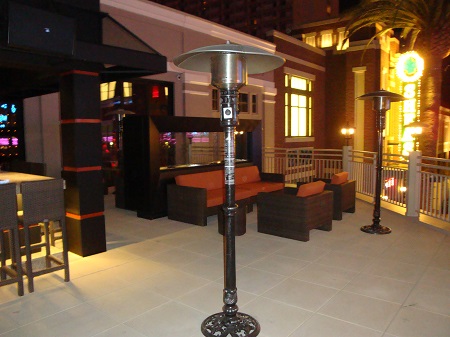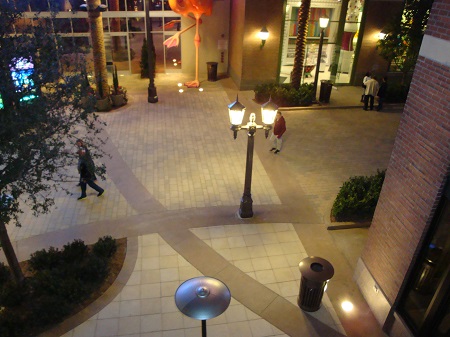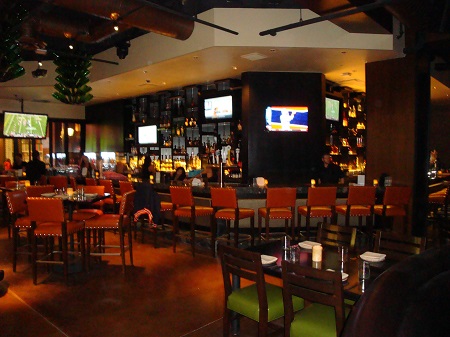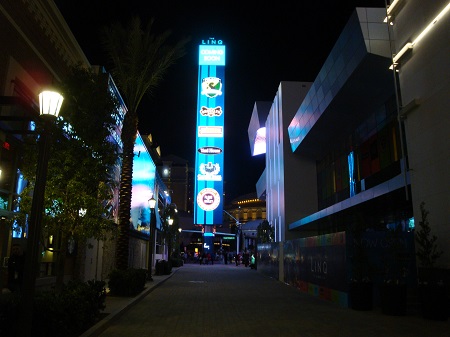 Will this be the next big thing, or just another mall like the ones in your town (granted, without a 550 foot tall wheel), and will it draw? Time will tell. Give us your thoughts after your next visit.
Hope you are enjoying this issue!

Associate Editor / News Researcher: Rick Ziegler
Concerts and Headliners: Amy Rayner-Cooley
---
What We're Watching – Vegas Videos You'll Enjoy
Wynn Resort Tour 2014

– The man who reinvented modern-day luxury Las Vegas, Steve Wynn, takes you on an up-to-date tour of his stunning property.

Forever Grand Wedding Chapel At MGM Grand

– Ever wondered what a wedding inside a Las Vegas resort can be like? Take a peek!

Piers Morgan Las Vegas Special

– This bust-era (2010) look at Las Vegas, shot while Piers was still a British television presenter. He interviews the movers and shakers and provides an insightful look at the city and what makes it tick.
---
Members Mania – We Love Our Readers!
Visited in November and had brunch at the Sterling Brunch Buffet on Sunday and heard from some people there that the steakhouse was closing and being replaced by a burger place.
Are you kidding me? Vegas doesn't need another burger place. There are so many new ones that have already just come in on the strip in the casinos.
The steakhouse is one of the few "retro" Vegas restaurants left to eat it at. I know the Sunday brunch is extremely popular and I asked if that would be going away too and they couldn't answer that question. Do you know anything about this? What have you heard.
Thanks,
Rose from Colorado
Ted Responds:
All is not lost. The steakhouse has been replaced by BLT Steakhouse, which is a sister restaurant to BLT Burger at The Mirage. Hence, the confusion when you were there. The remodeled restaurant space is about twice the size. We've also heard rumors about the Sterling Buffet, but for now it appears to be marching on.
By replacing in-house (owned and managed) restaurants in this manner, the casino gains a good restaurant ownership/management team while shedding the risk and marketing pressures.
Having said that, I think one has to be very careful when replacing the "tried and true" classics that have such a loyal following.
My advice? The Circus Circus Steakhouse is by far the top-of-the-heap when it comes to old-school, casino-run steakhouses. It continues to be incredible and we've never, ever had a negative comment about it. The only downside is that you have to get up to the north Strip and deal with Circus Circus. But, you won't be disappointed.

---
Since you say that you read every email…
We used to be visitors from the Pacific NW until October 23, 2012, then we became Permanent Residents of Las Vegas. I personally still love this newsletter and read it every time a new issue comes out.
This is truly a great community of people no matter how you look at it. Yes, sometimes it can seem to be expensive, but shop around there are good deals to be found everywhere here. At times, there are too good to be true offers and makes you think.. did I read that right?
As far as having unpleasant workers in hotels/casinos. Every one can have a bad day, but there are many more good days than bad around here. I find that most of my encounters are pleasant. For the most part, people who live here, love it and are happy.
Thank you for taking the time to defend this great city as you do.
Alan & Lisa
Ted Responds:
Yes, we read them all and reply back as able. What we usually don't have time to do is help people with specific research or detailed itineraries. Although, that will be offered when we (finally) roll out a paid membership option around the end of the year.
I realize that times are tough for some visitors, but I still can't figure out a similar vacation place they can enjoy for the same amount of money. Plus, you don't always have to be spending, spending, spending.
If lady luck is not in your favor, you can take your drink and people watch on The Strip, catch the fountains or volcano, journey to the top of the Eiffel Tower (for about the price of a few minutes of losing), window shop while gondolas filled with love-birds row by… I could go on, but you get the idea.
There is still no place on earth like our fair city.
Thanks for reading and telling your friends!

We love to hear from you, and value your feedback! Here's how to participate:
Want to comment on a current reader post? Use the comment box on that particular web page. Many of the stories we post also have comment boxes at the end of the story. Make your voice heard!
Drop us an email at AccessVegas@AccessVegas.com – We read them all!
Call our recorded comment line at 702-507-0055. We listen to every call.
---
No related links found