Serving Las Vegas Visitors and Residents Since 1999
Welcome to the Insider Vibe! This is the official newsletter of AccessVegas.Com. We talk about the Las Vegas activities you really care about.
Need to contact us? Send feedback to
AccessVegas@AccessVegas.com
Missed an issue? Click to Read Back Issues Online.
---
AccessVegas.com Quick Info Menu:
| | |
| --- | --- |
| Las Vegas Essentials | Featured Shows |
---

---
Hot Hotel Happenings – Save Big Now!
Click To View ALL Las Vegas Hotel Deals
Print Too Small? (Deals – Large Print)
---
This Week's Top Tours
---
Shows, Concerts, And Headliners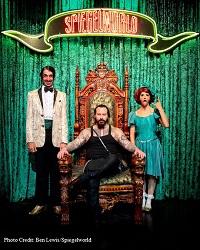 Special Effects Makeup Artist/Designer & "Faceoff" Celebrity Judge Glenn Hetrick Attends Absinthe – Glenn Hetrick, special effects makeup artist/designer and celebrity judge of the Syfy hit reality TV series "FaceOff," was spotted attending ABSINTHE at Caesars Palace on May 2, 2014. Following the show, The Gazillionaire and his assistant Penny Pibbets welcomed Hetrick backstage where he shared words of enthusiasm for the show and took photos with the outlandish duo. Photo Credit: Ben Lewis/Spiegelworld.
---
Las Vegas Attractions
---
Dining and Dancing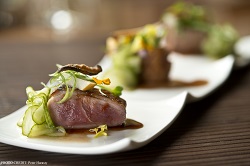 La Cave Wine & Food Hideaway At Wynn Hotel Springs In New Menu Items To Complement Summer – La Cave Wine & Food Hideaway at Wynn Las Vegas has welcomed the warmer weather with new seasonal menu items as well as refreshing spring cocktails.
Michael and Jenna Morton bring spring to their guests by integrating a new crop of fresh ingredients into lighter seasonal selections. New items include the ahi tuna made with pickled cucumber and soy glaze, priced at $16; tableside smoked salmon with Dijon caper sauce and onion confit, priced at $16; Moroccan chicken skewers with pear chutney and Tzatziki sauce served with pita, priced at $16; and duck breast with crispy Shiitake and Bourbon molasses, priced at $23.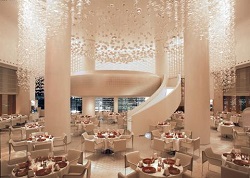 Mandalay Bay To Host Beer Vs. Wine Pairing Dinner At MiX – Mandalay Bay will set the stage for a fun and interactive culinary competition between two of the leading beverage experts in Las Vegas Wednesday, May 21 at 7:30 p.m. at miX Restaurant.
Hosted by Mandalay Bay's Director of Food and Beverage and Certified Cicerone Sarah Johnson and Director of Wine Harley Carbery, the exclusive dinner menu, created by miX Executive Chef Bruno Riou, will pair each course with a beer and wine selection. Carbery will explain to guests why his wine pairing is the best choice followed by Johnson, who will entice guests to select beer as the ideal pairing for a specific course. The two will go head-to-head throughout the culinary experience with the assistance of Winemaker Russell From of Herman Story Wines and Brewmaster Matthew Brynildson of Firestone Walker Brewing Co.
---
Las Vegas Hotels & Casinos
---
More Las Vegas News
---
Upcoming Las Vegas Events And Holidays
---
Newkirk's Notes: The Boss Speaks…
Newkirk's Notes are comments and insight from AccessVegas.Com publisher and 20+ year Las Vegas resident Ted Newkirk:
Hello From Las Vegas! – We're just a couple weeks away from the 15'th Anniversary of this newsletter (yeah for us) and I think this is one of the longest yet. If you printed both the newsletter and all the stories we link to out, you'd be holding a magazine in your hand!
We have been exploring putting out a tablet-compatible version that would read like a magazine and trust me, we're seriously exploring it. If we do, it will be towards the fall when we revamp our main AccessVegas.com site to be more compatible with mobile devices. First however, we want to do a great launch with our new paid membership program and really super-serve those willing to pitch in and help us keep the great content coming.
MAMMA MIA! Back To Take Las Vegas By Storm – Long time visitors will remember that Mamma Mia! had a great run for years and years at Mandalay Bay. This hit show is now back in town at The Tropicana, freshened up, and ready for all to enjoy! Check out the video below and then grab your official tickets by clicking on the MAMMA MIA! button in the left sidebar.
Great Minds Think Alike – About a day after we punched "send" on our last newsletter — an issue where I noted that Las Vegas is indeed back (or pretty close) — Steve Wynn said the same thing:
Stop the presses. Steve Wynn declared Las Vegas is on the road to recovery Thursday.

At the outset of a first-quarter conference call with analysts, the Wynn Resorts Ltd. chairman and CEO said he was "feeling good about Las Vegas, better than I had in the past." (Full Article)
We were obviously having the same thought during the same week, and it honestly appears we're the first two who are really singing this out so far. (Obviously, I'm not comparing myself to Wynn. He's a mogul, responsible for modern-day Las Vegas, and someone that I generally greatly admire).
However, when other outlets start touting in a few weeks that Las Vegas is back, you'll remember where you heard it first!
Ben Affleck And The Hard Rock – Those who follow celebrity gossip (or are way too attentive about all things Vegas) know that actor Ben Affleck was allegedly asked to no longer play blackjack at the Hard Rock Casino here after allegations of card counting. First of all, I commend him for his skill. I did plenty of card counting in the 90's (profitably) and it is not easy to learn nor execute.
However, the Afflek issue has been blown out of proportion as card counting is not illegal. Can a casino ask anyone to quit playing at anytime for any reason? Yes. As they did with Afflek. It doesn't make you a criminal.
Why did I not continue my career? It can be a tough way to grind out a profit unless you have a bankroll in the hundreds of thousands to bet big enough to both make the big bucks and withstand the statistical swings. The same amount of time and effort as an entrepreneur proved to pay the bills with less stress.
Rock In Vegas In Rio – May 2015 will bring a version of the famed three-decade running Rock In Rio festival to Las Vegas. 80,000 people per day will enjoy an entertainment "city" with live music by major artists on five different stages. The location? The big empty lot across from SLS (former Sahara) which was slated to be the location for MGM's CityCenter II back when everyone was foolish enough to think that Las Vegas was well on its way to 60 million visitors per year.
The cool thing? Once the festival is gone, much of the infrastructure will stay in place, creating a new "festival" ground right on the Las Vegas Strip. Who is salivating right about now? SLS owner Sam Nazarian will have ready-made events outside his front door on a somewhat regular basis. The monorail, which will be the transportation of choice for many who are staying farther down The Strip. The Riviera, Stratosphere, Artisan, and Palace Station for being the other nearest properties not owned by The MGM. If enough regular events happen, it might even spur the completion of Fontainebleau.
Festival dates are May 8-9 and May 15-16 in 2015. Unless you are planning to attend, these will be "must avoid" dates for a Vegas stay. We'll keep you posted down the road. Locals will need to also remember to steer very clear of Sahara and The Blvd. during this time. (Desert Inn Arterial and Oakey/Western will make good alternates).
Dial All 10 Digits – This only applies to locals and/or those of you with 702 phone numbers, either with a cell phone or one of those internet phone devices that let you pick any area code: You must now dial all 10 digits in a phone number when calling any number in Clark County. We're about out of numbers, so they added the 725 area code. Hence, the call needs all 10 digits to get to the right place.
I'm not exactly pleased with this. In most states, an area code is split up, with a certain geographic region getting the new code. An area code is an identity. Fortunately, between home phone, cell phone, and some MagicJack devices, I have enough 702's to keep me happy.
Here's why this matters: In a month when the 725 starts to get issued (they plan to quit issuing 702's), anybody new to the area will be branded by the new area code. And… Las Vegas is a town that does not particularly trust newcomers (dirty little secret). Especially when it comes to business and hiring. Because so many people move here and leave within a year, new residents can be judged (fairly or otherwise) as being flighty. Nothing will say "new" like 725. If this all matters to you, scoop up a 702 while you can. Probably by finding one of those internet phone numbers that can be transferred to another phone once you move here.
Ladies… And… Gentlemen… Cast Your "Best Hotel In Las Vegas" Votes! – The preliminary "play-in" round is done. The Four Queens and Quad were play-in co-champions and move into the main round of the top 64 Las Vegas hotels, all vying to be crowned the AccessVegas.com Best Hotel In Las Vegas. Now… this is a readers poll. No phony "expert" choices. No unexplained nominations. You readers are the ones who will vote in each match-up every week until we crown YOUR winner!
First take a peek at the match-ups, and see how things are stacking up, and maybe conjecture who could end up being that Cinderella team that surprises early on:
Now… Get busy and vote! Voting is super-easy. You'll click on the First Round playoff choice, then you'll be presented with two hotels. Pick the one you feel is the better Las Vegas property, and you'll be presented with two more. Quick and easy, work your way through and YOUR vote will automatically be tabulated and your voice heard!
Next issue, we'll tabulate current results and present the next round.
Hope you are enjoying this issue!

Associate Editor / News Researcher: Rick Ziegler
Concerts, Headliners, Special Events: Amy Rayner-Cooley
---
What We're Watching!
Vegas Videos You'll Enjoy
Las Vegas Turf Wars: Casinos Gamble on Thrill Rides

– For decades, Las Vegas casinos have been trying to one-up each other with high-end restaurants, mega clubs, and even thrill rides — all in a bid to lure gamblers. But the latest attraction, built by Caesars, is part of a bigger strategy to win the Vegas turf war, once and for all. Bloomberg's Trish Regan took a spin on the appropriately-named "High Roller" with CEO Gary Loveman to get his strategy.

Delano Las Vegas Offers First Look At Transformation

– THEhotel at Mandalay Bay is in the process of a re-branding and make-over. Delano is an existing Miami-based hotel brand in the process of expanding to Las Vegas, Cesme, Moscow and Cartagena. (No, we had not heard of them either, but it looks really nice!)

Las Vegas In The 1940's With Bugsy Siegel

– Las Vegas, 1940's, appearing Ben "Bugsy" Siegel, Bruce Cabot and Michael Romanoff. Filmed by Pedro Serramalera OlivÚ. An amazing look at the origins of the Las Vegas Strip and old Highway 91 as it stretches to Los Angeles outside of Las Vegas.
---
Members Mania – We Love Our Readers!
I live in the UK and visited Vegas for the first time in 1997 with my mum as part of a tour and loved it so much that I have been back every other year since 2005, with a mixture of friends and family. I had planned to visit with my husband Neil last year, but unfortunately our boiler packed up and we had to buy a new one so that put paid to our plans. The good news is that we are back on track to visit this year… hurrah!
We normally visit for a week but this year we are coming for two weeks in (Neil's) hopes that it will be a bit more relaxed. We have been saving and ebaying and have a tidy amount to spend so we intend to go for it.
Our plan is to visit around mid to late September and have alternate days out doing stuff and days around the pool to recover. The flights from the UK are horrendously expensive but fortunately the hotel rates are good and we are likely going to stay at the Orleans, which is where we have stayed the last three times we have visited. Great hotel and the shuttle to the strip makes it very easy to get about.
Looks like they have remodeled some rooms there and we will shell out the extra bit for one of those. I still can't get my head round the daily resort charges $10 a day on top …ouch…
I am lucky enough to have visited the Grand Canyon twice before but Neil has never been and so we plan to do a helicopter trip there. I also want to visit Laughlin and have seen that you can do a free day trip there which is great.
The things on the agenda that we haven't done before are Mob Museum, New Wheel –- I have been on the London Eye and it is an amazing experience — and Stratosphere 107 Lounge. We will go back to see Big Elvis….great show
Going to take Neil to see Human Nature who I saw with a group of girlies on my last trip and I know he will love and also Donny & Marie are on the agenda (for me at least) Will go back to visit all the hotels as usual and will look to do other shows as well. (Hoping Rod Stewart might be there)
I am also going to check out some different restaurants to eat in…..last visit we booked what should have been a special meal for my mums 75th birthday at Mon Ami Gabi and we were so dreadfully disappointed. Such poor service and average food. It's not true that you always get what you pay for. Roulette – blackjack and slots also on the agenda…….
Blimey, I feel exhausted just thinking about it but so excited and sitting here on a dreary wet London day typing this has really cheered me up
See you in September!!
Best Wishes
Cheryl
PS When I am working and need cheering up I set my computer to pick up Earth Cam at the Welcome To Vegas sign….where else could you see Elvis posing for photos at 9.30 in the morning ..Viva Las Vegas
Ted Responds:
Sorry to hear about your boiler, but with the winter the UK gets, that has to be a priority! As a native of the Portland, Oregon area, I understand chilly temperatures and clouds and rain that seem to last for weeks.
Yes, you'll find that a two week visit is much more relaxed. To combat the higher airfares, I suggest people come a little less often but stay a bit longer. You get more days here for the same amount of airfare price. You'll find yourself not so rushed to fit everything in or attempt to go day after day with limited sleep.
You can go full out for a few days, then not feel like you are missing out if you take a day and just relax, rest, go to the pool, etc. You have plenty of time for those tours and attractions and activities that you know you really, really want to do, but often seem to get pushed away until "next time".
You'll really enjoy that Grand Canyon helicopter tour. There is no better way to see it up close and personally as you fly down into the Canyon. For readers looking for this great experience, click on over to our AccessVegas.com Tours Page where you'll find descriptions plus phone numbers and live online chat where you can ask the tour experts any questions. We stand behind all the tours there, and know you'll have a great time!
Everybody loves the Mob Museum! Make sure to plan a good couple of hours there. Time will fly as you visit three floors of absolutely incredible displays and exhibits that will fascinate and entertain at the same time. Highly recommended for an afternoon, then stay downtown for an evening on Fremont Street. (Many who stay on The Strip single out a particular evening to do downtown). We have more info and advance ticket purchase here: Las Vegas Mob Museum
Rod Stewart just announced a whole bunch of new dates. If you look in the sidebar of the newsletter here, you can see if he'll be here when you are here! He's also touring both the US, Canada,and has a couple of UK stops this year. For details on all his 2014 performances, check out our Rod Stewart Tour Ticket Details page.
For those going through Vegas depression (aka, that time you can't be with us here), the cam she's talking about is the Las Vegas Sign Webcam.

We love to hear from you, and value your feedback! Here's how to participate:
Want to comment on a current reader post? Use the comment box on that particular web page. Many of the stories we post also have comment boxes at the end of the story. Make your voice heard!
Drop us an email at AccessVegas@AccessVegas.com – We read them all!
Call our recorded comment line at 702-507-0055. We listen to every call.
---
No related links found