Serving Las Vegas Visitors and Residents Since 1999
Welcome to the Insider Vibe! This is the official newsletter of AccessVegas.Com. We talk about the Las Vegas activities you really care about.
Need to contact us? Send feedback to
AccessVegas@AccessVegas.com
Missed an issue? Click to Read Back Issues Online.
---
AccessVegas.com Quick Info Menu:
| | |
| --- | --- |
| Las Vegas Essentials | Featured Shows |
---

---
Hot Hotel Happenings – Save Big Now!
Click To View ALL Las Vegas Hotel Deals
Print Too Small? (Deals – Large Print)
---
This Week's Top Tours
---
Shows, Concerts, And Headliners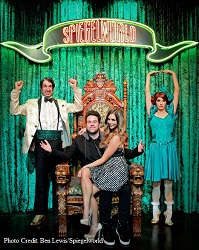 Reality Star Scheana Marie Of Bravo's "Vanderpump Rules" Joins The Raucous Fun Of Absinthe – Reality TV star Scheana Marie from Bravo TV's "Vanderpump Rules" was spotted in Las Vegas enjoying various activities on the Las Vegas Strip. Her selection in entertainment included a stop at the Strip's "Best Adult Show" ABSINTHE at Caesars Palace March 2014. Following, she gracefully accepted The Gazillionaire's desire to immortalize her experience and agreed to snap a photo with him and Penny Pibbets in the Spiegeltent. Talk about a way to remember ABSINTHE forever!
---
Las Vegas Hotels & Casinos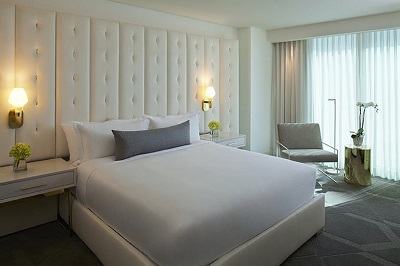 Delano Offers First Look At Elevated Hotel Experience – Fusing the chic style of the iconic South Beach brand with the vibrant energy of the Las Vegas Strip, Delano Las Vegas will come to life at Mandalay Bay Resort and Casino later this year.
Anchored by intimate yet energetic public spaces and sophisticated accommodations, the non-smoking, all-suite boutique hotel will appeal to the most discerning travelers from around the globe. At Delano Las Vegas, guests will discover a blend of personalized service and effortless luxury coupled with unexpected elements of individuality and high-concept design.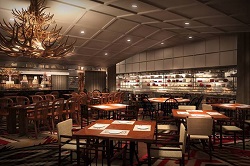 SLS Hotel Enhances Culinary Offerings With The SLS Buffet And The Perq And Announces Collaboration With Lamill Coffee – SLS Hotel & Casino adds to its impressive selection of culinary experiences on property with two original food and beverage concepts by global hospitality leader sbe, The SLS Buffet and The Perq coffee bar. The modern buffet is an original design by Gensler architects in collaboration with renowned design consultant Philippe Starck, and The Perq marks the partnership between sbe and LAMILL Coffee. Opening with the property this Labor Day weekend, The SLS Buffet and The Perq provide standout, approachable dining experiences at SLS.
---
Las Vegas Dining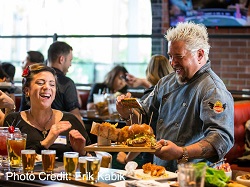 Guy Fieri's Kitchen & Bar Now Open At The Quad Resort & Casino – The highly anticipated Guy Fieri's Vegas Kitchen & Bar is now open at the Quad Resort & Casino. The restaurant opened its doors to customers for the first time on April 17, 2014 with Fieri at the helm welcoming guests to his new digs.
As the first diners entered, Fieri was at the door greeting guests, thanking them for coming, signing autographs and taking pictures before jumping back into the kitchen for dinner service. Photo credit: Erik Kabik.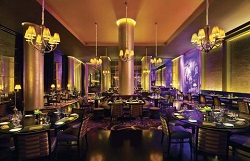 Aria And Hundred Acre Unite For Exclusive Wine Pairing Dinner At Sage – Celebrity Chef Shawn McClain's Sage at Aria Resort & Casino will partner with Hundred Acre for a one-in-a-lifetime wine pairing dinner Saturday, May 24 at 7:30 p.m. The event will delight palates with a five-course menu, created by McClain and Sage Chef de Cuisine Richard Camarota. Each course will be paired with elegant selections from the winery, as selected by Sage Master Sommelier Nick Hetzel and the evening's hosts, Hundred Acre Owner and Vintner Jayson Woodbridge and ARIA Director of Wine Kim Wood.
Fukuburger To Park At Fame (Food•Art•Music•Entertainment) In Linq – Fukuburger, the wildly popular food truck serving all-American burgers with a Japanese twist, will be the first to occupy the food truck station in the Asian market at FAME FoodÀArtÀMusicÀEntertainment, when it opens at The LINQ in May.
---
Memorial Day Weekend Las Vegas 2014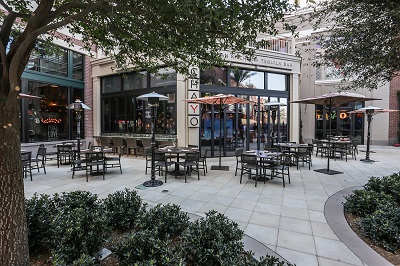 Chayo Mexican Kitchen + Tequila Bar At Linq Las Vegas Hosts Memorial Day Weekend Patio Party – Chayo Mexican Kitchen + Tequila Bar at The LINQ will celebrate Memorial Day Weekend with a party on the bustling patio complete with a walk-up tequila bar and festive frozen drinks specials.
As Vegas is heating up, fiesta-goers can cool down with Chayo's refreshing frozen drinks served in a 32-ounce souvenir cup, priced at $15. An extra shot of tequila can be added to the pi±a colada, mango strawberry or margarita concoction for an additional $5. Live DJs will bring high-energy beats and sexy bull riders will take a ride on the wild side with Chayo, the mechanical bull.
Salsa Over To Tacos & Tequila And Celebrate Memorial Day Weekend With A Mexican Fiesta – Tacos & Tequila (T&T) at Luxor Hotel and Casino will raise glasses to those who served our country this Memorial Day weekend with food and drink specials from Friday, May 23 through Monday, May 26.
---
More Las Vegas News
---
Upcoming Las Vegas Events And Holidays
---
Newkirk's Notes: The Boss Speaks…
Newkirk's Notes are comments and insight from AccessVegas.Com publisher and 20+ year Las Vegas resident Ted Newkirk:
Hello From Las Vegas! – We hit our first 100 F (38C) degree day, and it feels good. All is right with the world again. For those of you going "Oh, that is way too hot", keep in mind that with 15% humidity, it really is no big deal. How many of you who went through some of the brutal winter cold in the US and Canada this past year would have just about killed to feel the Las Vegas version of 100 degrees on some of those bitter days!
Stay Hydrated, And I Mean It! – As usual, my summer warning: Stay hydrated when you visit. It will lessen your hangover, help with your sunburn, and generally make you feel better. With our low humidity, you aren't noticing the moisture loss from sweat. (It dries off your skin instantly). When you buy a drink, there is no crime in asking for ice water in a pint glass back with it. (I tell them to go easy on the ice so I get a decent amount of water in me).
Contrary to some of the crazy rumors out there, our tap water is 100% safe to drink. (I hope so, or I'd be dead). It does have a high mineral content, thus a taste that some of you may not be used to. When you get back to your room for that afternoon rest and at the end of the night, have a glass (or two) right out of the tap. Just get it down. Do that a couple times a day and you'll thank me later.
by
Justin in SD
Cosmo Sold – The Cosmopolitan Of Las Vegas — a foreclosed upon, bank-owned property — has been sold to the Blackstone Group. Deutsche Bank never made a profit while they held it. Blackstone seems to like distressed properties, as they were known for buying up single family homes in our area during the bust. (BTW, just about anybody who did made off like a bandit).
What does that mean for the future of the property? I wouldn't expect any big changes anytime soon. Despite being a popular property with some of the best standard rooms in town (as they were slated to be condos), and known for their amazing mixology at their bars, the property has struggled to attract gamblers. However, the price the sale went off at bodes well for Las Vegas Strip casino valuation. Confidence in Las Vegas is getting very strong again (as I already was the first to report on a couple of weeks ago). Speaking of…
by
airlines470
Up, Up, And Away – March set a record for the most people passing through Las Vegas' McCarran airport since 2008. International traffic looks particularly good, which works for us! While the Las Vegas Convention and Visitors Authority hopes to attract a full 25-30% of our visitors from outside the United States within the next few years, that is already around the percentage of international visitors who make up our readers! You are spending a significant amount of time and money to visit here, and we appreciate the trust you put in us to help guide you to a better Vegas experience!
In related news, Spirit Airlines has launched Kansas City to Las Vegas service with a red-eye that arrives here around 11:00 PM and turns around to depart on the return journey at 1:00 AM. (Spirit is the discount airline that pretty much charges you for everything except using the airplane bathroom and breathing the air on the plane).
So, why is this important news? Many of you may remember a decade ago when Las Vegas was a hotbed of red-eye service. As an America West hub, countless flights arrived prior to midnight, to be turned around and sent all over the country. Some visitors enjoyed being able to squeeze every last minute possible out of their vacation, then sleep it off on the way home. Lack of demand and airline mergers put an end to this.
We're hoping Spirit's move triggers a resurgence. If they can fill the seats, the airlines love it because they make more out of each jet during a 24 hour period. Planes don't make money when they sit on the ground!
by
jonashaffer
Living Up To Their Name – Hooters has bikini contests Saturdays 1-3 PM at their pool. Combine it with their "$4 Any Beer" and it might not be a bad way for a group of guys to enjoy a couple of hours. Hooters pool is open 24/7 and open to the public. Admission is free. We have local friends who live over that way and will pop over there just to stick their feet in the water and have a drink.
Uber Users Rejoice – Uber, a company that hooks up willing drivers (and their cars) with passengers who need rides, is coming to Las Vegas this month. Uber demands that drivers have clean, 4 door sedans and transactions are electronic. You "hail" an Uber car via a smart phone app. Passengers rate drivers, and visa-versa for quality control. For those of you in other cities who use and appreciate not having to deal with cab companies, you may soon enjoy this as another option to perhaps get to and from the airport.
Probably not so much of a good option hotel-to-hotel. Too much hassle for the locals who drive to fight Strip traffic and come get you. But it is a great way to get back at the long-hauling taxi drivers. Another option which we used to note often (and which we'll return to reminding you of in the future) is to book a town car or limo. It isn't that much more expensive than a cab, you pay a set fee, and you arrive in style!
Paging Burton Cohen – Those who vaguely remember the old TV series Vega$ with Robert Urich might remember the constant paging of a guy named Burton Cohen at the Desert Inn shooting location. Cohen, a long time casino manager for many of our city's historic properties, recently passed away at 90. Stories: Las Vegas casino icon Burton Cohen dies and Burton Cohen: A legend and genuine to the core
Best Of Update – If you have not voted in this round of our Best Las Vegas Hotels poll, you need to do so ASAP. We're pitting the top 64 Las Vegas properties head-to-head in a unique playoff structure and your vote matters:
Hope you are enjoying this issue!

Associate Editor / News Researcher: Rick Ziegler
Concerts, Headliners, Special Events: Amy Rayner-Cooley
---
What We're Watching!
Vegas Videos You'll Enjoy
Mike on a Monday #51: Jersey Boys

– After having a great run in the Las Vegas Half, I got the chance to relax and see some shows, including the smash Broadway show, "Jersey Boys". Critically acclaimed, I take you behind the scenes of this one-of-a-kind production based on the true story of Frankie Valli and The Four Seasons.

Las Vegas New Years Eve 2013-2014 Fireworks

– Why are we running this now? If you want to knock New Years Eve Las Vegas off of your bucket list (and, it should be on everyone's bucket list), you want to start thinking about it strongly during the next couple months to get the time off and start watching air and room prices. Unsure it would be worth it? Watch this video and see for yourself. Imagine yourself on the Las Vegas Strip with blazing, thundering fireworks going off in just about every direction!

Street Performers Peeved Over Downtown Las Vegas Bathroom Ban

– Street performers bring a lot of entertainment to the Fremont Street Experience, but some of them say they are being forced out of the area when it comes to taking a bathroom break. Numerous downtown street performers told 8 News NOW that the casinos aren't letting them use the restrooms and they feel they are being unfairly targeted.

I-15 Las Vegas, Nevada Time Lapse Video 2014

– You are on I-15 headed north just before topping the hill that lets you down into the Las Vegas Valley. The Strip is in the distance and M Resort is on your right (at the St. Rose Parkway exit). For the many of you who fly in, this is your chance to experience the end of the journey for the tens of millions of people who drive in from California each year. YouÆll proceed along The Strip then onto downtown. 20 years ago, this was a two lane highway in each direction.
---
Members Mania – We Love Our Readers!
I have just returned from Vegas and, after reading Vegas Pete's letter in the latest Newsletter, I must say I agree with him regarding the confusion of some of the Hotels now and also agree with you that Vegas is still a great place; it is one of my favourite destinations. I am from the U.K. and have a fear of flying, so wouldn't travel the distance every year if I didn't love the place.
However, I hate the City Center; it looks so out of place amongst the beautiful themed hotels. Also, when walking from the South End to the North End of the Strip, we have to go into the City Center to get to Monte Carlo & Beyond, instead of being able to walk along the Strip. The other side of the Strip is the same, having to enter Walgreens to get to Planet Hollywood & Beyond and this we find annoying as we use to love to walk on the Strip and it takes us where we don't wish to go.
Also, many 1-cent slot machines are now a minimum of 30-40 cents a play and don't seem to pay out as often. Slowly, it is destroying my yearning to return. I don't wish to be a moaning misery but the things we enjoyed that took us there every year are slowly disappearing.
Kind Regards,
Marlene
Ted Responds:
I'm going to ask their parent company not to shoot the messenger here, but CityCenter is probably a Top-5 complaint in our mailbag since they have opened. Don't get me wrong: People who stay there absolutely adore the property. Everyone else seems really not like the design and color (noting it looks out-of-place on our skyline) and/or hates the maze created if you walk that area. There has always been something so awesome about walking The Strip… right on the sidewalk.
Keep in mind the tram from Bellagio to Monte Carlo is available. However, even that is a bit of a pain. Instead of the old tram station next to the Bellagio Gardens, you have to walk way towards the back of the hotel to catch it.
The concept of the walkovers were created as The Strip got more and more jammed with traffic, which was further hampered by pedestrians crossing the streets. However, our county commissioners, who probably couldn't find their way around The Strip if their life depended on it (hey guys, The Sands isn't there anymore) rubber-stamp the new pedestrian traffic patterns without regard to the visitor experience.
I understand wanting to route visitors through shopping. This trend got started way back when Harrah's was allowed to revamp their entrance and loop people around through the Carnival Court area. However, if the frustration starts to get on the list of reasons that pile up to keep people from visiting as often, you are defeating the purpose.
As we've noted in the past, penny slots are the tightest of any denomination. And, you need to play a whole lot more than one cent at a time to win anything of value. The only way to make money at penny slot is to kill time at them playing slow and low, and see how many free drinks you can down versus how little you can get away playing. If you want decent payouts, move over the the quarter slots. Playing pennies loaded (full credits) is going to cost as much or more than quarter slots.

We love to hear from you, and value your feedback! Here's how to participate:
Want to comment on a current reader post? Use the comment box on that particular web page. Many of the stories we post also have comment boxes at the end of the story. Make your voice heard!
Drop us an email at AccessVegas@AccessVegas.com – We read them all!
Call our recorded comment line at 702-507-0055. We listen to every call.
---
No related links found