Serving Las Vegas Visitors and Residents Since 1999
Welcome to the Insider Vibe! This is the official newsletter of AccessVegas.Com. We talk about the Las Vegas activities you really care about.
Need to contact us? Send feedback to
AccessVegas@AccessVegas.com
Missed an issue? Click to Read Back Issues Online.
---
AccessVegas.com Quick Info Menu:
| | |
| --- | --- |
| Las Vegas Essentials | Featured Shows |
---

---
Hot Hotel Happenings – Save Big Now!
Click To View ALL Las Vegas Hotel Deals
Print Too Small? (Deals – Large Print)
---
This Week's Top Tours
| | |
| --- | --- |
| | Explore the REAL West: Lake Mead, Hoover Dam, Grand Canyon Skywalk, Native American Points, Western Ranch, and More! |
| | Time is precious in Vegas: See The Grand Canyon, Hoover Dam, Lake Mead, and much more by air. Four hours of lifetime memories at a great price! |
| | Stunning Valley Of Fire buggy tour: See the sights guides, then explore on your own! (Friends will be jealous). |
| | Vegas Sunrise Hot Air Balloon ride. Unforgettable views and memories. An experience your friends can't top! |
| | Just 45 minutes from The Strip, the wild west lives with majestic views on a breakfast horseback ride! |
---
Las Vegas Art And Attractions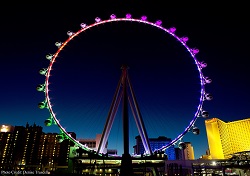 Las Vegas High Roller Receives Guinness Record For World's Tallest Observation Wheel – The Las Vegas High Roller is officially the World's Tallest Observation Wheel after being recognized by Guinness World Records Adjudicator Michael Empric at a special reception honoring the team who designed and constructed the wheel on April 17, 2014 in Las Vegas.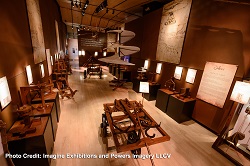 Imagine Exhibitions Gallery Presents 'Da Vinci The Exhibition' Now Open At The Venetian – Imagine Exhibitions Gallery presents Da Vinci The Exhibition, a comprehensive and interactive look at the brilliance of the original Renaissance man, Leonardo da Vinci at The Venetian Las Vegas«. Featuring more than 65 fully built, life-size inventions, more than 20 fine art studies and dozens of stunning displays, guests will learn the complex beginnings and lifetime achievements of da Vinci through his discoveries in art, engineering, flight, hydraulics, music, light, anatomy and more.
---
Shows, Concerts, And Headliners
---
Las Vegas Dining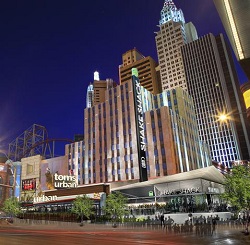 New York-New York Brings Tom's Urban And Shake Shack To New Pedestrian Plaza – New York-New York Hotel & Casino is turning up the flavor on its dynamic new plaza experience with the addition of fan-favorite restaurants Tom's Urban and Shake Shack, opening December 2014.
The restaurants will take the space currently occupied by The Sporting House (closing June 3), and join recently opened retail outlets Swatch, Stupidiotic, I Love NYNY and Starbucks, as well as Hershey's Chocolate World, which is opening this spring. The plaza is anchored by the property's famed Brooklyn Bridge.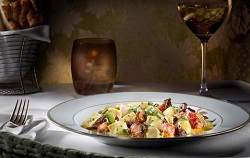 Portofino At The Mirage Captures The Traditional Flavors Of Italian Coastal Cuisine With New Menu Items – Onda Ristorante and Wine Lounge at The Mirage Hotel & Casino has changed its name to Portofino and added a selection of new menu items inspired by land and sea as well as varieties of fresh pasta made in-house daily. Named in honor of the quaint Italian fishing village, Portofino's dishes boast the flavors of Italian coastal cuisine with an emphasis on using the highest-quality ingredients.
---
May 2014 Las Vegas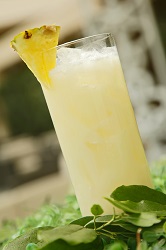 Rhumbar At The Mirage Serves Up Special In May 2014 For National Military Appreciation Month – The Mirage will salute the troops in honor of National Military Appreciation Month with buy-one-get-one cocktails throughout the month of May.
RHUMBAR will welcome service members over 21 years of age with valid military identification to relax on their patio with classic Caribbean libations. signature cocktail include the Old Cuban, a refreshing mix of Champagne, rum, fresh lime and mint; the Zombie, a smooth and subtle combination of rum and apricot, pineapple, passion fruit and lime juices; and the crowd-pleasing Pi±a Colada and many more.
---
Las Vegas Hotels & Casinos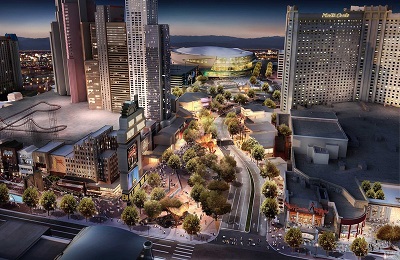 MGM Resorts Unveils Expanded Plans And Programming For "The Park" In Las Vegas – MGM Resorts International has unveiled expanded plans and the first look at programming for its dynamic park, dining and entertainment district taking shape on the west side of The Strip. Creating an interactive neighborhood environment, The Park will connect New York-New York and Monte Carlo resorts and the new 20,000-seat world-class Las Vegas arena currently in development by MGM and AEG.
New York-New York and Monte Carlo both are undergoing significant transformations of their Strip-facing experiences into robust plaza environments featuring casual eateries, bars, restaurants and retail destinations that will ultimately lead to The Park.
---
More Las Vegas News
---
Upcoming Las Vegas Events And Holidays
---
Newkirk's Notes: The Boss Speaks…
Newkirk's Notes are comments and insight from AccessVegas.Com publisher and 20+ year Las Vegas resident Ted Newkirk:
Hello From Las Vegas! – I don't want to be too presumptive, but it looks like Las Vegas is well on its way back after years of getting battered by the recession. March set a visitor record (see below), airport numbers are great (see next issue), The Linq and Linq-Mobile High Roller are open and exciting people to come check out. MGM just broke ground on their new arena (see next issue) and unveiled detailed plans/videos/renderings for The Park. (Photo in the stories area and video below in What We're Watching). Add to that the present mostly flawless weather — with only a handful of extra hot or cool days interrupting highs in the 80's — and Las Vegas is just amazing.
I'd like to say something to the Las Vegas haters who bashed the tar out of us during the recession all over the internet and had glee in the fact that we're having tough times: We're back, and there is nothing you can do about it. Not our problem that you are miserable humans who can't stand that others enjoy life and like to have fun.
We're going to continue to offer amazing new experiences, more good times than the law should allow, and continue to be a vacation destination that offers more variety of things to do than pretty much anywhere else on earth.
Where else can you see the Grand Canyon in the morning, enjoy watching a sports event you bet on or taking in a world-class spa experience in the afternoon, dine in one of many restaurants run by world-renowned chefs, then have your choice of nearly 100 shows, concerts, and headliners on any given night to round out your evening? Only in Vegas!
Record-Setting Month – Las Vegas hit an all-time record of 3.7 million visitors in March of 2014. While a huge convention didn't hurt, it wasn't the only cause by a long-shot. People are visiting more often, and visiting in droves. If all of the people who were stomping their feet and saying that they weren't going to visit anymore and stayed away, we've had no problem finding people who want to enjoy our fine city.
Yes, oil prices make airfare unpleasant. And, the $2 steak dinners are a thing of the past. However, Las Vegas is still an incredibly reasonable travel destination and I challenge you to find a city you can do more in.
Why MGM's "The Park" Will Work – We all know that I'm not the biggest proponent of the proliferation of all the shopping/dining springing up on The Strip. We have a limited number of visitors willing to spend a (pretty much) set amount of money. However, those who are detractors of The Park are overlooking the fact that this is attached to a major arena which will be busy many days/night of the year.
With the announcement of Park, I've seen internet notions ranging from the thought that only locals will be attending arena events (suggesting that locals won't be interested in the mall, and ignoring that visitors make up a large percentage of concerts stages here) to wondering why MGM is willing to pour so much money to spruce up a couple of their basic properties.
It's the arena, folks! In city after city around the US, new arenas (attended almost exclusively by locals) have spurred economic development and profit in the arena area. If MGM does NOT build Park, they lose the 20,000 people per event to other properties up and down The Strip. This way, they build and arena and scoop up tons of extra profit from people who will pass that way both before and after events. Both locals and tourists alike.
Will it lead to a pro sports team here? I hope not. Do we want to be the umpteenth city that the Clippers move to? Are locals going to care? (Probably not as Las Vegas has limitless entertainment options and most people living here already have an allegiance to a team). Plus, we already ARE Las Vegas. We don't need a team that will all-of-a-sudden brand us as a "big league" city. Besides, how well would a team perform when half (or more) of the audience each night was a visitor rooting for the opponent?!?
We don't tend to cover the "business" side of Las Vegas much, although I'm plenty capable and will note the following: I truly believe that The Linq and the High Roller wheel were built to work in tandem with the arena that Caesars Entertainment was planning for the space they own behind that part of The Strip.
Being in slightly better financial shape (and seeing good numbers as of late), I believe that the new arena MGM is building behind New York-New York — which will connect to The Strip via this Park project — was a way to cut financially ailing Caesars Entertainment off. Few believe that The Strip can absorb another arena once MGM is finished with this one. MGM will own/control MGM Grand Gardens (16,800), Mandalay Bay Events Center (12,000) and this new 20,000 seat arena. Add to that the Thomas and Mack (18,776) and we're pretty set.
"Best Of" Voting Continues! – We're getting near the end of the preliminary (second tier hotels) Play-In round in our "Best Of" Las Vegas voting! Here is the latest updated bracket:
No huge surprises. Quad beat Sam's Town. Gold Coast beat Silver Sevens., and location/amenities certainly played a part, although some of the food deals at Sevens are tough to beat! Four Queens beat Wild Wild West (which is essentially a glorified truck stop). The iconic Riviera moves on in a win over Boulder Station. I could see The Riv being somewhat of a spoiler, as it would face Luxor if it makes it to the main round of 64 hotels.
So… time to vote again. Note: Due to a glitch in our initial rankings, BOTH winners in this semi-final round will move on to next week's start of the main event where 64 hotels square off against each other, and only one will win!
Want to see what the main bracket looks like? Click over to our Access Vegas Best Hotels Main Voting Bracket
All That Swing – We're often asked where one can find casino lounge entertainment that does not consist of a 21 year old "DJ" playing music that goes "thump, thump, thump". Top Frank Sinatra impressionist Peter Pavone does a multi-faceted show (he sings, tells jokes, you know… an actual entertainer) at El Cortez's Parlour Lounge & Bar every Wednesday from 8-Midnight and Thursday from 6-10 PM. Admission is complimentary.
Membership Update – If all goes well, we're about a week from being able to take credit card payments for our upcoming membership program. Rest assured, we will maintain the $14.95 pre-enrollment plan long enough for everyone to have a shot at it before we go to the regular early-enrollment price of $19.95.
If you are just tuning in and catching up in back issues in preparation for your trip and going "What is this all about", please click over to our April 2, 2014 Access Vegas Insider Vibe, scroll down to Members Mania, and you'll see the details and still be able to take full advantage.
Hope you are enjoying this issue!

Associate Editor / News Researcher: Rick Ziegler
Concerts, Headliners, Special Events: Amy Rayner-Cooley
---
What We're Watching!
Vegas Videos You'll Enjoy
---
Members Mania – We Love Our Readers!
I am a huge fan of your newsletter and a long term Vegas visitor. I like to stay at the north end of the strip @ Circus Circus. Although there are better hotels to stay at I just like the vibe of Circus Circus. I feel like Vegas is my second home as I visit each year and have done for the past 10 years.
I too have noticed the changes in hotels and atmosphere when visiting them. They seem confused as to what they are trying to be. Some say we are hotel/casinos but in fact they feel more like shopping malls. The Quad is just terrible it has no atmosphere at all and the casino is all over the place, you have small parts of a casino here and there it's poorly planned out and a complete waste of someone's money in my opinion.
I visited recently and even the ticket slappers on the strip were few and far between and the street entertainers were all but gone too. I visited Fremont and that too looked like a building site, LOL. I am sure it will look great when it's finished but the Golden Nugget was full of atmosphere and I enjoyed my time in there.
Don't get me wrong there are of course still casinos worth visiting and will leave you amazed by there beauty, like the Venetian, Bellagio, etc. I will continue to visit Vegas for as long as I am able, but as each year passes, the vibe of the town get more and more confused!
Vegas Pete
Ted Responds:
Thanks for reading and we're happy to hear that we play a part in helping you have a more enjoyable Vegas vacation. I agree that to-date, The Quad isn't exactly giving me goose bumps. Down on Fremont, Slotzilla is all but done, as is the new outdoor bar at Binion's. So, it should get back to being construction free.
Fremont East has taken shape nicely and I strongly encourage people visiting downtown to make their way east on Fremont Street — where it goes from being a pedestrian mall to being and actual street — though the bars and restaurants, into and past the El Cortez and on down to Container Park before turning around. Otherwise, you are NOT seeing all of the fun area of Downtown!
However, you bring up a great point: Nothing stops you from personalizing your Las Vegas experience. You don't mind staying at Circus, and I'm sure you get across the street to Riviera as well. Classic places like The Mirage, Tropicana, and Mandalay still maintain much of their original vibe, taking you to a distant island. Bellagio and Venetian still take you to Italy.
But yes, it is very unfortunate that you can no longer go to Asia (Imperial Palace) or Egypt (de-theming of Luxor). Hold on, though: As we've reported, the massive Asian-Themed Resorts World is set to take the old Stardust spot. With any luck, that will re-teach the people responsible for CityCenter, Quad, de-themed Luxor, and others that themed resorts still rule. They mentally take us away to to another place of relaxation and excitement outside our normal world. Even for those of us whose normal world is Las Vegas!

We love to hear from you, and value your feedback! Here's how to participate:
Want to comment on a current reader post? Use the comment box on that particular web page. Many of the stories we post also have comment boxes at the end of the story. Make your voice heard!
Drop us an email at AccessVegas@AccessVegas.com – We read them all!
Call our recorded comment line at 702-507-0055. We listen to every call.
---
No related links found