Serving Las Vegas Visitors and Residents Since 1999
Welcome to the Insider Vibe! This is the official newsletter of AccessVegas.Com. We talk about the Las Vegas activities you really care about.
Need to contact us? Send feedback to
AccessVegas@AccessVegas.com
Missed an issue? Click to Read Back Issues Online.
---
AccessVegas.com Quick Info Menu:
| | |
| --- | --- |
| Las Vegas Essentials | Featured Shows |
---
Hot Hotel Happenings – Save Big Now!
Click To View ALL Las Vegas Hotel Deals
Print Too Small? (Deals – Large Print)
---
This Week's Top Tours
---
The Bellagion Gallery Of Fine Art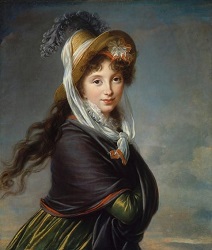 Bellagio Gallery Of Fine Art Presents "Painting Women" – Bellagio Gallery of Fine Art (BGFA), the premier cultural destination on the Las Vegas Strip recognized for presenting world-class exhibitions in an unrivaled setting, today debuted its newest exhibition "Painting Women: Works from the Museum of Fine Arts, Boston." Culture-seekers and art-lovers can view the exhibit through Oct. 26, 2014.
Organized in partnership with the Museum of Fine Arts, Boston (MFA), the exhibition showcases 34 paintings spanning the 18th, 19th and 20th centuries, revealing the story of women artists, their activism and artistic achievements. The works represent the increased opportunities for education, domestic independence and artistic training that allowed many women to pursue their dreams of becoming professional painters, dating back to the late 18th century.
---
Events And Specials During March 2014
---
THE LINQ
---
Shows, Concerts, And Headliners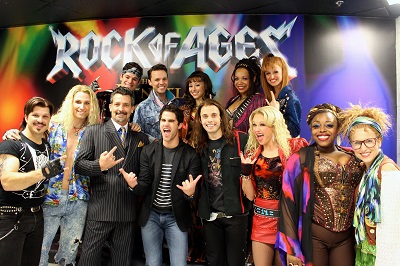 Sighting: GLEE Star Darren Criss with Cast of Rock of Ages – GLEE star, Darren Criss, attended Rock of Ages Saturday evening, February 15, 2014 at The Venetian Las Vegas. Following the performance, Criss headed backstage to share words of enthusiasm with Rock of Ages star and former GLEE cast member, Jon Robert Hall, and to take a photo with the cast. Criss also shared his sentiments in a tweet saying, "Thanks again to my ol' warbler buddy @JonHall28 for a rockin time- he killed it as Stacee Jaxx in RockofAgesVegas this weekend!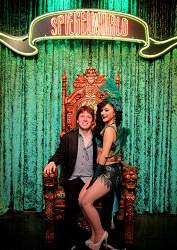 Grammy Award Winning Violinist Joshua Bell And NFL Stars Vince Young And Zach Ertz Attend Absinthe – On February 9, 2014, Grammy Award«-winning violinist Joshua Bell attended Absinthe. Following the performance, Bell shared his enthusiasm for the show while posing for a photo with The Green Fairy Melody Sweets.
On February 15-16, Former NFL Quarterback Vince Young and Philadelphia Eagles Tight End Zach Ertz attended Absinthe at Caesars Palace with his girlfriend. Following the performance, Ertz expressed his enjoyment for the performance while he met with The Gazillionaire and Penny Pibbets for a photo.
---
Las Vegas Tours And Attractions
---
The Cromwell Hotel & Casino
---
Drinking, Dining, And Dancing In Las Vegas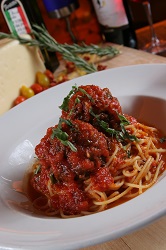 Celebrate National Meatball Day With Meat-Loving Specials At Trevi At Caesars Palace – Trevi Italian Restaurant inside The Forum Shops at Caesars Palace will honor National Meatball Day by offering several specially-priced menu favorites exclusively on Sunday, March 9.
Executive Chef Peter Scaturro's classic spaghetti and meatballs entrÚe is made with a hearty serving of pasta served with two homemade meatballs in a zesty marinara sauce and will be priced at $15 to celebrate the holiday. Additional specials include a wood oven-fired meatball pizza for $10, an appetizer featuring two jumbo five-ounce meatballs for $5 and a lunchtime meatball sub on focaccia bread served with patate fritte, priced at $15.
---
Gambling And Gaming
---
Las Vegas Economy And Real Estate
---
More Las Vegas News
---
Upcoming Las Vegas Events And Holidays
---
Newkirk's Notes: The Boss Speaks…
Newkirk's Notes are comments and insight from AccessVegas.Com publisher and 20+ year Las Vegas resident Ted Newkirk:
Hello From Las Vegas! – No polar vortex here, although we're watching it on TV and hoping that all of our US and Canadian readers getting slammed once again with winterly weather are staying safe and warm. Our 10 day forecast ranges from 72 – 81 F (22 – 27 C) for the highs and we're going to have flawless weather for our NASCAR race this weekend.
Monorail vs. Light Rail (Part 2) – Last week, we discussed why the monorail has not been extended to the airport and why the SLS (Sahara) may be the last hope of turning it into a success. This week we'll talk about a new idea for light rail and question why the airport does not have better bus service for visitors.
Unlike many other cities in the U.S. (and around the world), your options for getting from McCarran Airport to The Strip or Fremont Street are limited to renting a car, taking a cab/limousine, or using a shuttle. When you consider the sheer volume of visitors who move through our airport, this is simply not acceptable (unless you own a cab company).
Citizens Area Transit (aka CAT, our local bus service) is making inroads to serving the airport, but still not specifically in a way that benefits tourist. We have two bus lines running the length of The Strip (a limited-stop express and a the regular double-deck Deuce). I have yet to hear why one of them doesn't operate a split route and circle though the airport. Instead, both continue south on The Strip (Las Vegas Blvd.) down to the Outlet Mall and transit center.
Two bus routes designed for locals cross The Strip and are usable under the right conditions. If you are going to the vicinity of Treasure Island/Wynn/Venetian, you can hop the Centennial Express (CX) right from the airport. BUT… only from Terminal 3. So, keep that in mind. The Westcliff Airport Express (WAX) services both Terminal 1 & 3 and crosses The Strip on Tropicana for those who are staying in that area.
BOTH of these routes provide service into the heart of Fremont Street. The fare is only $2 and the WAX is quicker. Information on both is available at http://www.rtcsnv.com/wp-content/uploads/2014/02/AirportBrochure_0114_24x11.pdf
However, we're still talking a bus ride when other cities have forms of rail serving their airports. Unfortunately, some kind of rail down The Strip is a near impossibility. As congested as things are, just the construction would be nightmarish. Running with the traffic would cause all kinds of accidents, and creating a designated lane would make an already crowded street come to a permanent standstill.
The latest push is to run light rail from the airport to downtown, and it is gaining some decent momentum. While aimed at locals, this could be a boon to some visitors if done properly. They know that they want to run it down Maryland Avenue because of the density of housing, UNLV, and similar. They could follow this route http://goo.gl/maps/XJeMJ and zig-zag it over to meet up with the north end of the monorail as well.
However, I'll be the first to agree that all of the above represents a patchwork at best. And probably only palatable to those who really enjoy mass transit or want to save a buck and stick it to the cabbies!
Terry Fator Video Now Working – Our Terry Fator on David Letterman video was down for a few hours last week. If you tried to view it and couldn't, you can enjoy it now!
Getting An End To Resort Fees – The move to outlaw resort fees (or make them a LOT more transparent like the airlines now must) is gaining steam.
I would suggest that ALL of you who are concerned about this issue take 5 minutes out of your life and write a snail mail (postal service mail) to Senator Harry Ried and let him know that you disapprove and it is making you — the Vegas visitor — have a negative opinion. You don't have to live in Nevada to write him. In fact, hearing from those of you around the U.S. and around the world who visit and provide a positive economic impact to our state would be very powerful.
Write him at:
The Honorable Harry Reid
333 Las Vegas Boulevard South
Suite 8016
Lloyd D. George Building
Las Vegas, NV 89101
P.S. Even if you don't like his politics, be polite and to-the-point. This isn't about Obamacare or the minimum wage. He needs to be aware that the resort fee issue bothers you.
To the hotel properties who want to continue the fees, I can only say "don't shoot the messenger" here. It is by far and away the #1 complaint among our readers. I'd love to see a gentleman's agreement among resort properties to kill the fee and simply bump up the room rates. You'll get the same amount for the room without pissing off every visitor who looks at their final hotel bill and feels like they were robbed.
I never hear people citing room rates as a reason for visiting here less. Whether to take a trip or not usually comes down to getting decent airfare. We'd still have some of the cheapest rooms in the nation for what you are getting.
Hope you are enjoying this issue!

Associate Editor / News Researcher: Rick Ziegler
Concerts, Headliners, Special Events: Amy Rayner-Cooley
---
What We're Watching!
Vegas Videos You'll Enjoy
Video – Fremont Street Experience 2013

– Still have that football beer holder you bought on your last visit to Fremont Street? Dig it out, pour your favorite frosty beverage in it, and turn up this video. You'll almost feel like you are back down there!

Piers Morgan On Las Vegas

– Before Piers got hired and (evidently) let go at CNN, he did this special on Las Vegas for British TV. Shot during the bust, they did a pretty good job of capturing a nice snapshot of that era.
---
Members Mania – We Love Our Readers!
We love to hear from you, and value your feedback! Here's how to participate:
Want to comment on a current reader post? Use the comment box on that particular web page. Many of the stories we post also have comment boxes at the end of the story. Make your voice heard!
Drop us an email at AccessVegas@AccessVegas.com – We read them all!
Call our recorded comment line at 702-507-0055. We listen to every call.
---
No related links found