Serving Las Vegas Visitors and Residents Since 1999
Welcome to the Insider Vibe! This is the official newsletter of AccessVegas.Com. We talk about the Las Vegas activities you really care about.
Need to contact us? Send feedback to
AccessVegas@AccessVegas.com
Missed an issue? Click to Read Back Issues Online.
---
AccessVegas.com Quick Info Menu:
| | |
| --- | --- |
| Las Vegas Essentials | Featured Shows |
---
Hot Hotel Happenings – Save Big Now!
Palms – Tired of the cold? Escape to beautiful Las Vegas with rates starting at $59 + complimentary bottle of alcohol!

Palms Resort & Casino – Plan your Vegas trip ahead and secure the best rate! Make your plans now!

Palms Resort & Casino – 20% off Rates & Starting at $35/NT!

Palms Place Resort – 20% off Rates. Stay in Contemporary Luxury!

Palms Casino Resort – Rates from $59 and complimentary bottle

Palms Casino Resort Stay 4 nights and get 25% off your stay. Stay More, Save More – Play, Dine & Dance a little more…on us.

Special Offers at The Palms – Entertainment Packages and Resort Packages
---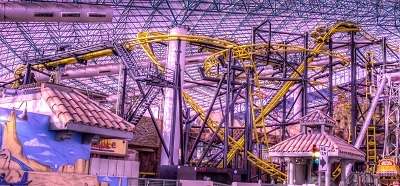 El Loco Opens At The Adventuredome Introducing Drops, Twists & Turns For Thrill Seekers Of All Ages – The Adventuredome at Circus Circus has gone "loco" – El Loco, that is! Only the second of its kind in the United States, the new world-class roller coaster is now open and invites thrill seekers of all ages to experience a 72-second, adrenaline-pumping adventure complete with G drops, gravity-defying turns and over-the-edge twists.
Designed by S&S Worldwide, Inc., the world's leading manufacturer of vertical and family thrill rides, El Loco's soaring eye-catching structure offers a unique and exhilarating ride experience in a small footprint. Reaching a maximum speed of 45 mph, El Loco pushes the limits with unique coaster elements that drop, turn and twist riders around 1,300 feet of electric yellow track for a thrill-a-second adventure, including…
---
Latest Las Vegas Concerts Added This Week!
There is no better place to see your favorite acts then in Las Vegas! You're relaxed, can enjoy a fine meal, have some cocktails without the worry of driving, and no alarm is going to jar you awake all too early the next morning.
Top Tickets For All United States Events
Did you know that we not only sell premium concert and event tickets for Las Vegas, but also for the entire United States as well? If you can't make it to Vegas, treat yourself to some great seats for something near you:
---
Shows, Concerts, And Headliners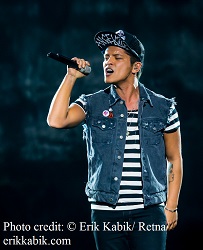 Bruno Mars Performed At The Chelsea Inside The Cosmopolitan – Grammy Award-winning recording artist Bruno Mars celebrated Valentine's Day weekend by rocking the Mophie Stage inside The Chelsea at The Cosmopolitan of Las Vegas for two consecutive nights on Saturday, Feb. 15 and Sunday, Feb. 16.
Both nights Australian DJ Havana Brown, known for her hit "We Run the Night" warmed up sold-out crowds with electric sets featuring popular remixes such as Avicii's "Wake Me Up." Following, one of People Magazine's sexiest men alive, Bruno Mars, took the stage with his eight-piece band The Hooligans. Photo credit: ® Erik Kabik/ Retna/ erikkabik.com
---
Downtown Las Vegas / Fremont Street Experience
---
Las Vegas Hotels
---
Celebrate Spring Break And Mardi Gras In Las Vegas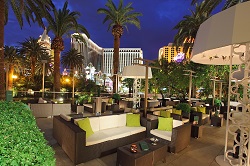 Rhumbar Welcomes Spring Break With Specials – RHUMBAR will turn its Caribbean-themed patio into the ultimate spring break getaway for those aged 21 and over with all-day music and daily specials from 1 – 6 p.m. The array of $5 drink specials include Rum Punch, Coors Light bottles and vodka mixed drinks. Buckets of domestic beer also will be available for $20. Revelers can savor $8 house cigars, a variety of hookah flavors and The Chonga, a 32-ounce margarita with two upside down 7-ounce Sol beers, for $18.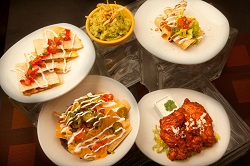 Join The Fiesta At Tacos & Tequila For Spring Break – Spring Breakers may also enjoy a $5 menu offered daily from 11 a.m. to 6 p.m., featuring Fiesta Nachos, Haba±ero Wings, Chicken Quesadillas, Flautas, Guacamole, Dos Equis bottles, Jose Cuervo shots, well drinks, house red or white wine and sangria. The party never stops with T&T's Fiesta Weekends complete with a resident DJ spinning high-energy sets and $5 Dos Equis and Jose Cuervo shots every Friday and Saturday from 8 p.m. to 11 p.m.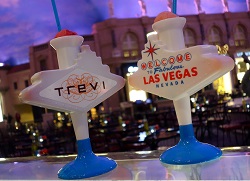 Trevi Offers Food And Drink Specials For Spring Breakers – College students celebrating their week off from school will enjoy $6 TREVI Bites including tomato bruschetta, fresh stuffed mushrooms, fried calamari, eggplant crisps, homemade meatballs and mini stuffed cheeseburgers.
The Italian restaurant will offer an array of drink specials including $3 classic frozen bellinis made with a refreshing blend of peach nectar, sparkling wine, light rum and peach purÚe; $4 bottled beers including Bud Light, Budweiser, Coors Light, Corona, Miller Lite and Peroni; $6 wines by the glass such as chardonnay, pinot grigio, cabernet sauvignon, Chianti and merlot; and $6 signature martinis including the pomegranate cosmo, Italian marga-tini, blue-tini and limone martini.
---
Dining In Las Vegas
---
Las Vegas Attractions
---
Gambling And Gaming
---
This Week's Top Tours
---
Upcoming Las Vegas Events And Holidays
---
Newkirk's Notes: The Boss Speaks…
Newkirk's Notes are comments and insight from AccessVegas.Com publisher and 20+ year Las Vegas resident Ted Newkirk:
Hello From Las Vegas! – March is staring us squarely in the face and spring has sprung here in Las Vegas. This means Spring Break, St. Patrick's Day, March Madness and the end of what most of you would consider chilly weather. Do pack a light jacket, but leave the heavy stuff at home where you've been giving it a wear-out all winter.
Monorail vs. Light Rail (Part 1) – With no end in sight for the regulation of taxi long-hauling (the cab taking you the long way from the airport), people continue to ask why the monorail simply can't be run to the airport. The issue: The monorail is a private company and because of past failures financially, it simply isn't able to raise the necessary capital. The good citizens of Clark County, NV have heard so much bad news about the monorail over the years that there is no public (taxpayer) push to get involved by taking the company over. This would be the first necessary step in using tax dollars to fund the expansion.
The hotel properties have no interest in stepping in. It only realistically serves a few of them and frankly isn't that convenient of a way to casino-hop due to the location of the stations.
As recently pointed out by our friend Mark over at the 360 Vegas Podcast*, The new SLS (former Sahara, opening Labor Day weekend) could prove to be somewhat of a saving grace for the monorail. The younger crowd they are looking to draw might find it a great way to get down The Strip to other restaurants and clubs. AND… if the SLS brings a decent draw the way Cosmopolitan did, people from the south and mid-Strip will find the monorail an easy way to get to SLS.
* 360 Vegas Podcast is NOT for those with timid ears. They do a great job giving their opinions on Las Vegas but also spend time on off-color jokes and pop-culture tangents. This is not for those of you looking for 60 Minutes.
Why didn't this happen when The Sahara was operating? The Sahara's prices, location and (lack of) amenities drew a drive-in, budget crowd from California who were not as likely to spend the $5 per person for the ride. A young group of drinking clubbers will gladly pay that to be whisked from SLS to Hakasan (MGM's big club) in 15 minutes of air conditioned, partying comfort. Similar, the younger trendy clubbers will do the same to experience the clubs SLS is set to offer. A budget, light-drinking party of four with a car? Not so much.
In Part 2, we'll talk about why bus service to the airport is so non-existent for visitors, and the concept of light rail currently being floated. In other cities, mass transit generally does a solid job of serving their airport, and in cities such as Atlanta and Portland, you can hop a train from the airport straight into downtown!
Linq Me Up – As many of you are reading this, the Big Wheel, er Linq-Mobile, er High Roller Ferris Wheel — sitting dead in the center of the Strip and lit up as to be seen from 20 miles away — is just about to open. Rumor pegs it as March 1 with an average ride price of $30. Obviously, we'll be down there as soon as they give everyone the green light with photos, a story, and perhaps some video
Driving home from grocery shopping recently, I just about drove off the road, distracted by how brightly the pods were lit up. They're making sure it gets noticed!
Terry Fator and MAMMA MIA! – We'd like to welcome two great new sponsors! MAMMA MIA! returns to Las Vegas, this time at The Tropicana in the old Folies Bergere showroom. (Which has been upgraded and received a makeover). Long time visitors may remember it running for many years at Mandalay Bay, and everyone (literally) loved it. Click For Tickets: MAMMA MIA! Las Vegas
Terry Fator continues his extremely talented, hilarious show at The Mirage. He's hot on the heels of a new DVD release. However, if you've caught his previous work on TV or Netflix, don't assume that you've seen it all. He's constantly adding new acts, characters and bits to his show. You could go once per year and not see the same show again. We've included a clip of his recent David Letterman performance in our What We're Watching area. Click For Tickets: Terry Fator Las Vegas
Hope you are enjoying this issue!

Associate Editor / News Researcher: Rick Ziegler
Concerts and Headliners: Amy Rayner-Cooley
---
What We're Watching!
Vegas Videos You'll Enjoy
Terry Fator 2014 On David Letterman

– America's Got Talent ventriloquist/singer/comedian Terry Fator continuous to wow audiences in his Mirage Las Vegas Theater. Enjoy this recent David Letterman performance.

Take A Ride On The New Circus Circus Adventuredome El Loco Rollercoaster

– Allowing the vehicle to make tighter and faster turns, El Loco's small four-person cars feature an innovative open-carriage design giving riders the feeling of flying as they twist around every turn. With a surround-sound system built into each seat of the coaster cars, riders also will enjoy a custom soundtrack featuring the sounds of Latin, Hip Hop and Rock.

Las Vegas 1969

– Travel up Interstate 15 to Las Vegas August 1969. A view of old Las Vegas driving down the famous "strip". Drive by the "new" Landmark Hotel which opened on July 1, 1969.

Advice From A Barber: Wynn Edition

– A tourist at the Wynn resort and casino in Las Vegas and got a luxury shave at their salon. With Wynn's permission he recorded the shave, asking the barber to explain what he was doing and answer some questions.
---
Members Mania – We Love Our Readers!
In January 2014, we asked you to send us your 2014 Vegas plans. We were swamped and enjoyed reading them all. We'll be printing selected choices over the next few months so that you can hear what others are up to and share in the excitement that anticipation of a Vegas vacation brings!

How lovely for someone to ask about your holiday plans and actually really want to know rather than just being polite!
I live in the UK and visited Vegas for the first time in 1997 with my mum as part of a tour and loved it so much that I have been back every other year since 2005, with a mixture of friends and family I had planned to visit with my husband Neil last year but unfortunately our boiler packed up and we had to buy a new one so that put paid to our plans. The good news is that we are back on track to visit this year… hurrah. We normally visit for a week but this year we are coming for two weeks in (Neil's) hopes that it will be a bit more relaxed.
We have been saving and ebaying and have a tidy amount to spend so we intend to go for it.
Our plan is to visit around mid to late September and have alternate days out doing stuff and days around the pool to recover.
The flights from the UK are horrendously expensive but fortunately the hotel rates are good and we are likely going to stay at the Orleans which is where we have stayed the last three times we have visited. Great hotel and the shuttle to the strip makes it very easy to get about. Looks like they have remodeled some rooms there and we will shell out the extra bit for one of those. I still can't get my head round the daily resort charges $10 a day on top …ouch…
I am lucky enough to have visited the Grand Canyon twice before but Neil has never been and so we plan to do a helicopter trip there. I also want to visit Laughlin and have seen that you can do a free day trip there which is great. Other things on the agenda that we haven't done before are Mob Museum, New Wheel (hopefully it will be open by then) – I have been on the London Eye and it is an amazing experience.Plus, Stratosphere 107 Lounge.
We will go back to see Big Elvis….great show! Going to take Neil to see Human Nature who I saw with a group of girlies on my last trip and I know he will love and also Donny & Marie are on the agenda (for me at least) Will go back to visit all the hotels as usual and will look to do other shows as well (Hoping Rod Stewart might be there)
I am also going to check out some different restaurants to eat in…..last visit we booked what should have been a special meal for my mums 75th birthday at Mon Ami Gabi and we were so dreadfully disappointed. Such poor service and average food. It's not true that you always get what you pay for. Roulette – blackjack and slots also on the agenda…….
Blimey I feel exhausted just thinking about it but so excited and sitting here on a dreary wet London day typing this has really cheered me up See you in September!!
Best Wishes.
Cheryl
PS When I am working and need cheering up I set my computer to pick up Earth Cam at the Welcome To Vegas sign….where else could you see Elvis posing for photos at 9.30 in the morning ..Viva Las Vegas
&nbps;
Ted Responds:
That sounds like a full trip, and no question that when you are traveling that far, you need to make the most of it!
* If staying off-Strip, The Orleans is a good choice. Big casino, plenty of food options, prices and gambling that cater to locals (IE, your money will go farther), and a very short shuttle ride from The Strip.
* Those who do Vegas for short stretches and go non-stop often wonder how someone can visit for a week or two (or longer). The simply do what you plan to do. Spend one day going heavy, and the next day kicking back. Also when you are here longer, you don't quite feel so overwhelmed with so much to do and so little time.
* Make sure to check out our Access Vegas Tours Page to book that Grand Canyon trip. There is NOTHING like seeing it from a helicopter where you can get an in-depth trip into the Canyon and see so much of it. Keep in mind that we only work with the best, most safe companies for these tours.
Visiting the Stratosphere 107 lounge is well worth the trip. Just keep in mind to pay attention to when sunset is. For the best experience, get up there 45 minutes before sunset and enjoy cocktails while The Strip lights up and the sun sets in an orange glow over our spectacular desert mountains!
* For those wondering, they can check out the Las Vegas sign live at EarthCam Las Vegas. If you visit the sign during the day, let your friends know and make sure to wave to them.
Sounds like a very full trip and we'll be eager to hear how it went toward the end of the year!

We love to hear from you, and value your feedback! Here's how to participate:
Want to comment on a current reader post? Use the comment box on that particular web page. Many of the stories we post also have comment boxes at the end of the story. Make your voice heard!
Drop us an email at AccessVegas@AccessVegas.com – We read them all!
Call our recorded comment line at 702-507-0055. We listen to every call.
---
No related links found