Serving Las Vegas Visitors and Residents Since 1999
Welcome to the Insider Vibe! This is the official newsletter of AccessVegas.Com. We talk about the Las Vegas activities you really care about.
Need to contact us? Send feedback to
AccessVegas@AccessVegas.com
Missed an issue? Click to Read Back Issues Online.
---
AccessVegas.com Quick Info Menu:
| | |
| --- | --- |
| Las Vegas Essentials | Featured Shows |
---
Hot Hotel Happenings – Save Big Now!
Palms Resort & Casino – 20% off Rates & Starting at $35/NT!

Palms Place Resort – 20% off Rates. Stay in Contemporary Luxury!

Rock of Ages Suite Package at The Palazzo – From $249/Night (Promo Code: PPROAPU)

Rock of Ages Suite Package at The Venetian – From $249/Night (Promo Code: PVROAPU)

Luxury Suite Package from $149 at The Palazzo (promo code: PPSUTLF)

Luxury Suite Package from $149 at The Venetian (promo code PVSUTLF)

Suite Value Offer Get a big suite. Pay a tiny price. – Rates from $149/Night at Venetian (Promo Code: EVHOMQ1)

Suite Value Offer Get a big suite. Pay a tiny price. – Rates from $149/Night at Palazzo (Promo Code: EPHOMQ1)

Palms Casino Resort – Rates from $59 and complimentary bottle

Palms Casino Resort Stay 4 nights and get 25% off your stay. Stay More, Save More – Play, Dine & Dance a little more…on us.

Special Offers at The Palms – Entertainment Packages and Resort Packages
---
Latest Las Vegas Concerts Added This Week!
There is no better place to see your favorite acts then in Las Vegas! You're relaxed, can enjoy a fine meal, have some cocktails without the worry of driving, and no alarm is going to jar you awake all too early the next morning.
Top Tickets For All United States Events
Did you know that we not only sell premium concert and event tickets for Las Vegas, but also for the entire United States as well? If you can't make it to Vegas, treat yourself to some great seats for something near you:
---
Sports And Olympics
Caesars Entertainment Las Vegas Shows Feature International Olympic-Caliber Athletes and Performers – Hundreds of athletes from around the world gather to compete in the 2014 Winter Olympics in Sochi, Russia. In Las Vegas, Olympic-caliber athletes and entertainers from across the globe take the stage nightly at Caesars Entertainment's Total Vegas Resorts. Go behind the curtains and find out how these international entertainers stay in shape and maintain their athletic physique.
---
Las Vegas Attractions
---
Shows, Concerts, And Headliners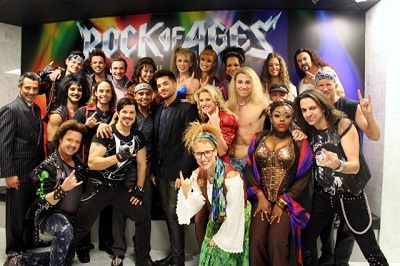 Celebrity Sighting: Adam Lambert Attends Rock of Ages At The Venetian – Singer and American Idol alumni Adam Lambert attended Rock of Ages at The Venetian Las Vegas in order to rock out and cheer on cast member and close friend Terrance Spencer (Mayor/Ja'Keith). The two first met when they performed in WICKED together and then later, Terrance performed as a dancer on Lambert's Glam Nation tour.
After the performance, Lambert went backstage to pose for photos with the cast, including Terrance, and to congratulate them on a great performance.
---
Downtown Las Vegas And Fremont Street
---
Dining, Drinking, And Dancing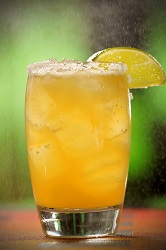 Celebrate National Margarita And Tortilla Chip Day With Specials At Tacos & Tequila Inside Luxor – Celebrate National Margarita Day with two-for-one Top Shelf Margaritas February 22 and National Tortilla Chip Day with $5 Fiesta Nachos on February 24.
T&T's signature Top Shelf Margarita is made with Jose Cuervo Tradicional Reposado Tequila, organic agave nectar, Grand Marnier and a margarita mix prepared in-house daily from fresh squeezed limes, and is served on the rocks with a salted rim.
The south of the border party will continue with $5 Fiesta Nachos, in honor of National Tortilla Chip Day. The nachos are topped with black beans, jalape±os, chipotle cheese sauce, guacamole, pico de gallo and crema fresca. Diners may add chicken for an additional $3 or grilled steak for $4.
---
Gambling And Gaming
---
More Las Vegas News
---
This Week's Top Tours
---
Upcoming Las Vegas Events And Holidays
---
Newkirk's Notes: The Boss Speaks…
Newkirk's Notes are comments and insight from AccessVegas.Com publisher and 20+ year Las Vegas resident Ted Newkirk:
Hello From Las Vegas! – Temps are in the 70's F this week (as we noted they would be a couple of weeks ago), birds are chirping, the sun is shining… it looks like our two months of winter (Dec. and Jan.) are officially over! Now, if we can just get daylight savings time to kick in and give us some sunshine in the evening to enjoy, life will be perfect. Nothing beats a warm evening walk on the Las Vegas Strip with the Bellagio fountains going off next to you.
by
prud_de
Average Visitor Age Declines – For quite a few years, the average age of the Las Vegas visitor hovered right around 50. That number has recently taken a dramatic drop to around 45. What gives?
EDC and EDM, which stand for Electric Daisy Carnival and Electronic Dance Music. Electronic dance music is the "thump thump" music that you pretty much hear everywhere now, and many of the DJ's who create and or mix the tracks are superstars among EDM fans. This has culminated in a yearly event called Electric Daisy Carnival which draws around 300,000 mostly young people to attend the multi-night festival held at the Las Vegas Motor Speedway. That alone really drags down the average.
We do have the "chicken or the egg" issue working. Are more seasoned visitors chased away because of the trends toward the clubs and EDM music replacing the lounge acts? Or have the casinos tightened up their slot machines one notch too tight, leaving gamblers to figure that if they are going to get robbed, they don't need to fly all the way to Las Vegas to do so?
One thing is for sure: Las Vegas better work on making gambling more appealing to those twenty-somethings if they want a life-long shot at those customers revenue. Shopping just isn't going to cut it when it comes to financing the multi-decade debt load on some of the gaming properties. once these younger people hit 30 and settle down and start having kids, spending big bucks for a night of clubbing is no longer going to appeal to them until they are 50 and divorced. And… this "shopping" gimmick won't be filling the financial gap.
Make gambling an affordable pastime for all ages and you'll get people to gamble. Set slots and table game rules too tight, and then don't be shocked when people spend their money on other activities. AND… when these 20-somethings vanish as Vegas visitors when they hit 30.
Drinking And Gambling At 18 – Longshot GOP candidate for the Nevada governor's office Eddie Hamilton wants to spur tourism by lowering the legal age to drink and gamble in Nevada to 18. While the valid argument exists that if one can go to war and die for your country, one is old enough to enjoy adult vices.
On the flip side, the ideas has too many roadblocks to count:
The 21 and over drinking age is just short of a federal law. States can lower it, but they lose their highway money from Washington, DC. This is also why we have the uniform .08 "drunk" threshold, and Nevada was one of the last states to bow down to that (with a gun to our head). However, we still have an "aggravated" DUI at .18 which is where you are no longer just a tiny bit buzzed, but are pretty good and tipsy.
I can't imagine many of the hotel properties wanting to rent to anyone under 21.
Kids that age aren't exactly loaded with cash. It is one thing to be a budget tourist. It is entirely another thing to come to Las Vegas and end up drinking yourself silly on The Strip (from beer and liquor bought at the grocery store) all day and night because you literally can't afford to do much else.
While I don't applaud the federal government telling states how to set laws like these, I can't see a change like this benefiting tourism here.
The Next "Locals" Best Kept Dining Secret – Every couple of years, regular visitors who spend way too much time on way too many Las Vegas message boards (you know who you are!) get all excited about a restaurant tucked away somewhere off The Strip that is getting tons of local love and buzz. Lotus Of Siam Thai just a few blocks east of The Sahara (953 E. Sahara) was one such for a long time, and still holds up as a can't miss place for Thai.
Just about a block away, Fat Choy inside the Eureka Casino is now getting rave reviews for their Asian-American food. One wouldn't expect to find such a restaurant inside a decidedly mid-market property in an older neighborhood that caters to locals, but then Las Vegas has never been short on surprises. An important note: We do not suggest starting to venture to some of the locals treasures during your first few visits. Just enjoy The Strip and downtown.
However, if you drive in or rent a car and are on your 10'th, 20'th or 40'th visit and enjoy getting out and seeing the various locals casinos or some of the surrounding scenery and attractions here in Clark County, both Lotus and Fat Choy are worth a visit if you enjoy that type of cuisine. You can read more about Fat Choy here: Fat Choy chef knows what he is doing with signature dishes
Hope you are enjoying this issue!

Associate Editor / News Researcher: Rick Ziegler
Concerts and Headliners: Amy Rayner-Cooley
---
What We're Watching –
Vegas Videos You'll Enjoy
Las Vegas Magic Carpet Ride

– Flying all over Las Vegas on our very own Magic Carpet. We had a blast filming our "Magic Carpet Ride"! It's in a booth across from the King Tut Museum on the second level of Luxor Hotel Pyramid. (Description by video author). A fun trip down Las Vegas Blvd and Fremont Street including a few backdrops of the pre-City Center Las Vegas Strip.

A Rebirth Of The Social Club: Rose. Rabbit. Lie.

– Rose. Rabbit. Lie. at The Cosmopolitan of Las Vegas is a modern twist on clubs of the night – a truly communal venue, where the experience lies not only with the power of production, but within the excitement of improvisation. The result is a new genre that blurs the lines between restaurant, bar, club and show to create a grand social experiment; one that arrives in spontaneous moments throughout the evening. This unique venue delivers an unexpected mash-up of experiences that typically live detached from one another.

Video – Andre Agassi Image Is Everything, Canon (1990)

– One of the most successful ad campaigns by Canon. This commercial became the target of the sports media's criticism in the early 90s – often accusing Andre of endorsing style over substance. Shot against some awesome vintage images of Las Vegas.
---
Members Mania – We Love Our Readers!
I want to thank everyone who sent us an email telling us about their 2014 Vegas plans and thoughts. I was overwhelmed, but read every single one (which took a few hours)! The winner of the random drawing for a choice of various Vegas prizes was Rick Hoirch from Canada. He chose the limited-edition KISS Monster Mini-Golf poster. He's in town in just a couple of weeks, so we're going to drop it by his hotel!
Here are some quick take-aways from what many of you were saying. While this does not represent every single email (our readers have pretty diverse interests), there were some themes:
* Most of our readership is 40+, which is something we already had a pretty good handle on. You'll notice that we concentrate on the more traditional Las Vegas activities like fine dining, great shows, and spectacular tours. Very little in the way of nightclubs.
* In the same vein, most of you showed a great affinity for fine dining. More so than I suspected. In the future, we'll be diving into that side of things more. (When you are spending that kind of money, you really want the inside scoop).
* Lots of concert fans, which makes sense. No better place to see a concert than here in Vegas. You get out, you are all jacked up and happy, the night is still young, and you don't have to get in your car and go home! Keep in mind that we have plenty of premium seats to most Las Vegas concerts at our ticketing section: Tickets.AccessVegas.com
* Many of you have surprisingly not visited downtown in years! Some have little interest, others are just so busy on The Strip that they don't take the time. Still others noted that they do all of the gambling downtown because the odds are better and machines are loser (which is a fact). I do encourage those of you who have not been for a long time to check out all of the changes downtown. Hint: Avoid Friday and Saturday nights. The crowds are crazy. You'll enjoy the weeknights so much more.
* Customer service needs to step it up a notch. That was a pretty significant thread, and something that some of the properties really need to work on. Attention locals (in the industry), how about you be thankful that you've had a job through this terrible recession and treat our guests like gold so they enjoy coming back time and time again.
* Many more of you are embracing the "new" Vegas than we had previously thought. Las Vegas is always changing and those changes bring renewed interest. In the same vein…
* Many, many of you are looking forward to the full opening of Linq and the Linq-Mobile (er, High Roller). Which for a while will be the tallest in the world. Hence, we'll make sure we keep you up-to-date and get some live reports in.
* Quite a few of you enjoy having a car, either by driving in or renting one and really getting out to see both the local's casinos (where the food prices and gaming odds are really good), or some of our amazing desert scenery.
* Quite a few of you specifically mentioned wanting to go on a night flight over the Las Vegas Strip via helicopter. I've done it and can't recommend it enough. It is awesome and a view like no other.
BTW, for those wanting to do so or check out some of the other scenic attractions in our area, we only work with the very best tour providers and stand behind them. When you book a tour on our Access Vegas Tours Page, you are getting great rates AND the top companies to assure you have a "memory of a lifetime" experience.

We love to hear from you, and value your feedback! Here's how to participate:
Want to comment on a current reader post? Use the comment box on that particular web page. Many of the stories we post also have comment boxes at the end of the story. Make your voice heard!
Drop us an email at AccessVegas@AccessVegas.com – We read them all!
Call our recorded comment line at 702-507-0055. We listen to every call.
---
No related links found