Serving Las Vegas Visitors and Residents Since 1999
Welcome to the Insider Vibe! This is the official newsletter of AccessVegas.Com. We talk about the Las Vegas activities you really care about.
Need to contact us? Send feedback to
AccessVegas@AccessVegas.com
Missed an issue? Click to Read Back Issues Online.
---
AccessVegas.com Quick Info Menu:
| | |
| --- | --- |
| Las Vegas Essentials | Featured Shows |
---
Hot Hotel Happenings – Save Big Now!
Palms Resort & Casino – 20% off Rates & Starting at $35/NT!

Palms Place Resort – 20% off Rates. Stay in Contemporary Luxury!

Rock of Ages Suite Package at The Palazzo – From $249/Night (Promo Code: PPROAPU)

Rock of Ages Suite Package at The Venetian – From $249/Night (Promo Code: PVROAPU)

Luxury Suite Package from $149 at The Palazzo (promo code: PPSUTLF)

Luxury Suite Package from $149 at The Venetian (promo code PVSUTLF)

Suite Value Offer Get a big suite. Pay a tiny price. – Rates from $149/Night at Venetian (Promo Code: EVHOMQ1)

Suite Value Offer Get a big suite. Pay a tiny price. – Rates from $149/Night at Palazzo (Promo Code: EPHOMQ1)

Palms Casino Resort – Rates from $59 and complimentary bottle

Palms Casino Resort Stay 4 nights and get 25% off your stay. Stay More, Save More – Play, Dine & Dance a little more…on us.

Special Offers at The Palms – Entertainment Packages and Resort Packages
---
DW Grant Vegas Report
Super Bowl Sunday In Las Vegas – What It Felt Like – Vegas is the most exciting place to watch the Super Bowl, outside the hosting stadium, of course. When you hear a cheer go up while walking through a casino during the game, it's hard to know if someone is celebrating a touchdown or a jackpot.
You just have to be in Vegas to feel it. AccessVegas.com wanted words and pictures to give you some idea what Las Vegas feels like on Super Bowl Sunday, so this year it sent me out on to the Strip to find out.
First, the weather was calm, and at kick off time, about 3:35 pm, it was a crisp 50 degrees. In a lot of places this would be sweater weather. Along South Las Vegas Boulevard, however, hundreds of outdoor heaters were blazing in front of almost every bar and casino, while hot parties heated up revelers inside.
Record betting numbers were expected in every sports book, and Super Bowl XLVIII did not disappoint Las Vegas bookmakers this year. Last year's record $98.9 million till netted Las Vegas casinos $15.4 million in profit. The 2014 mark was well over $119 million, it was reported later.
Continue Reading What Super Bowl Sunday In Las Vegas Felt Like
---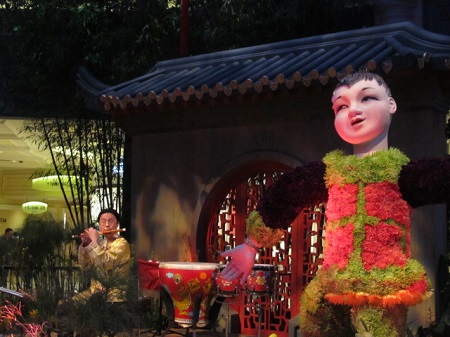 Bellagio Presents Stunning Botanical Chinese New Years Display – The Bellagio is celebrating the New Year as the Year of the Horse in its Conservatory & Botanical Gardens, turning its garden it's a festive sanctuary, boasting cultural meaning, while honoring the stallion that symbolized happiness and luck.
The Bellagio is known for adapting his garden to cultural events, and this time it has turned the usually colorful atrium into a tranquil temple, guided by the ancient practice of Feng Shui. They've done this well, producing a space of harmony, balance, and positive life energy, right smack in the middle of Vegas glitz and glam.
The moment a visitor walks in they are greeted by the sights, smells, and sounds of Chinese culture, and tranquility. Each garden within the Chinese New Year display incorporates water, ensuring a positive flow of energy; and the three friends of winter – pine, bamboo and plum, symbolizing perseverance, integrity and modesty, respectively. Clusters of red silk lanterns and red firecrackers, believed to ward off evil as they represent happiness and prosperity, hang dramatically from the Conservatory's ceiling.
Continue Reading Bellagio Presents Stunning Botanical Chinese New Years Display
---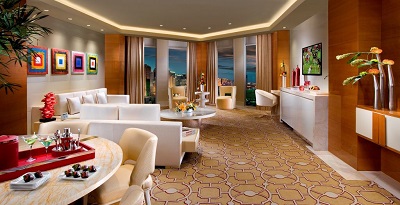 Luxurious Sky Villa Suites Unveiled At The New Tropicana Resort – The New Tropicana resort in unveils the Sky Villa Suites, which offer an entirely new level of luxury accommodations for guests. Located on the 20th floor of the Paradise tower, the suites offer breathtaking views of the Las Vegas Strip with floor-to-ceiling windows in an elegant and glamorous atmosphere. The Sky Villa Suites are a key part of the resort's approximate $200 million transformation that has touched every corner of the property including all 1,467 guestrooms, the casino floor and restaurants, and the Tropicana Theater.
---
Latest Las Vegas Concerts Added This Week!
There is no better place to see your favorite acts then in Las Vegas! You're relaxed, can enjoy a fine meal, have some cocktails without the worry of driving, and no alarm is going to jar you awake all too early the next morning.
Top Tickets For All United States Events
Did you know that we not only sell premium concert and event tickets for Las Vegas, but also for the entire United States as well? If you can't make it to Vegas, treat yourself to some great seats for something near you:
---
Shows, Concerts, And Headliners
---
Super Bowl Las Vegas 2014
---
Las Vegas Then And Now
---
Dining, Drinking, And Dancing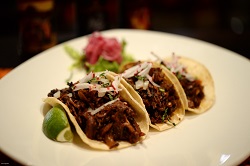 Tacos And Tequila Inside Luxor Introduces New Fiesta-Worthy Menu Items – Corporate Executive Chef Saul Ortiz has developed mouthwatering new appetizers and entrÚes, available now at Tacos & Tequila (T&T) at Luxor Hotel and Casino. The popular Mexican restaurant has also introduced a few flavorful new cocktails selections to the drink menu.
---
Living In Las Vegas
---
Las Vegas Attractions
---
Las Vegas Economy
Las Vegas Welcomes Nearly 40 Million Visitors In 2013 – Meetings and Convention Industry Reaches Five-Year High – Las Vegas welcomed nearly 40 million visitors in 2013 and reached a five-year high in two key indicators for the meetings and convention industry.
The 2013 year-end statistics, released today by the Las Vegas Convention and Visitors Authority (LVCVA), point to continued recovery and steady growth for the industry. Las Vegas tourism generates $45 billion in economic impact for the local economy and supports more than 380,000 local jobs.
Despite one fewer day last year due to 2012 being a leap year and less room inventory for the majority of the year, visitor volume was just 58,802 visitors shy of setting a new record in 2013. Las Vegas hosted 39.67 million annual visitors last year, the second highest visitation total ever.
---
Gambling And Gaming
---
Rose.Rabbit.Lie
---
More Las Vegas News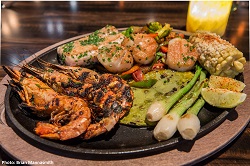 Say Hola This Valentine's Day At Chayo Mexican Kitchen + Tequila Bar – Chayo Mexican Kitchen + Tequila Bar, now open at The LINQ, will offer a specialty menu for two, priced at $75 per couple, to celebrate Valentine's Day on Friday, February 14.
The dining experience will begin with the choice of Red Sangria made with brandy, fresh fruit juices, strawberry and orange; or the Chayo Margarita, complete with Sauza Gold tequila, orange liqueur and fresh lime.
---
This Week's Top Tours
| | |
| --- | --- |
| | Explore the REAL West: Lake Mead, Hoover Dam, Grand Canyon Skywalk, Native American Points, Western Ranch, More! |
| | Ultimate Grand Canyon South Rim tour, extensive views, lunch at historic lodge, more! |
| | Zoom around Las Vegas Speedway NASCAR track at 160 mph with pro driver, thrill of lifetime! |
| | Soar over the desert at 60 mph, seeing scenic wildlife from ziplines (close to Vegas)! |
| | Spectacular views of Dam/Lake Mead plus memorable guided interior tour. Stunning photo opps! |
---
Upcoming Las Vegas Events And Holidays
---
Newkirk's Notes: The Boss Speaks…
Newkirk's Notes are comments and insight from AccessVegas.Com publisher and 20+ year Las Vegas resident Ted Newkirk:
Hello From Las Vegas! – We're getting a few sprinkles (something the desert Southwest dearly needs), but they won't last long. As things stand right now, the forecast high for Valentines Day is 79 (F) degrees! That should make for a really nice evening for couples who want to walk The Strip hand-in-hand, marveling at the extremely romantic Bellagio fountains.
For those pondering a spring visit, average highs for coming months are March/70, April/78, and May/89. For many of you who have suffered a brutally cold winter in much of the U.S., we strongly suggest you get out here, thaw out, and regain a feel of what nice weather feels like.
Somewhat Super Bowl – If you are a Denver Broncos fan, you obviously didn't see anything remotely "super" in this years game. However, it set the record for the highest number of viewers of any TV show ever, and the Nevada betting handle (amount bet legally here on the game) was a whopping $119 million dollars! For the pragmatic (those who didn't have a favorite team playing), it was unfortunate that it was a blowout so early. However, those who chose to enjoy it here in Las Vegas had a weekend of excitement nonetheless. If you've ever wanted a taste of what Las Vegas is like on Super Sunday, I'm sure you've already seen the story by our own DW Grant earlier in this issue.
Some may ask how "Vegas" got the betting line on the game so "wrong"? Denver was a 2.5 point favorite but fell badly. Here's the deal: The guys running the sports books don't set the line as their own personal prediction on who will win. They set that line to get even money on both teams. For every dollar bet on Denver, they wanted to see another dollar bet on Seattle. Since they charge 11 to win 10, they simply hand the losers money to the winners and collect their commission (also known as the vigorish, or "vig" for short).
The reality is that while the general public (average Joe's) were betting Denver like crazy, much of the "smart money" (professional gamblers) was coming down solidly on Seattle. The Seattle win did not surprise the pros in the least (although the margin did surprise nearly everyone).
If you follow us on our AccessVegas.com Twitter account or like us on our VegasFacebook.com page, we posted the story a few days before the game regarding where the smart money was going. Me? I have no allegiance to either team, but cashed a nice ticket on Seattle, who went off at +115 on the money line. (I was paid $1.15 for every dollar I bet for Seattle to win the game outright).
Welcome Dave! – Some of you may know DW Grant from the great show reviews he's written for us over the years. We've decided to bring him on as a pretty regular feature writer in an effort to continue to really capture Las Vegas for you, beyond some of the basic write-ups and information we pass along. If you have anything you are curious about that we should send him out on, write us at AccessVegas@AccessVegas.com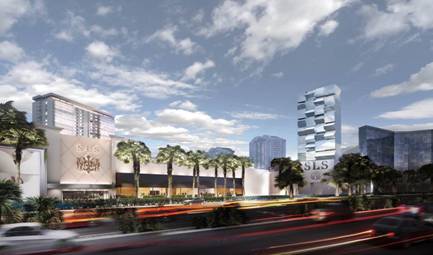 The Sahara Reborn – The new owners of The Sahara — rebranding it SLS Las Vegas — have announced a Labor Day weekend opening for the re-built property. I live a scant 5 minute drive from the property, so I'm hoping for the best. Given the challenging location, the thought that they are not marketing to your typical Circus Circus/Riviera budget crowd, and their stated desire to attract locals, it will be interesting to see where the dust settles.
Hope you are enjoying this issue!

Associate Editor / News Researcher: Rick Ziegler
Concerts and Headliners: Amy Rayner-Cooley
---
What We're Watching – Vegas Videos You'll Enjoy
The Cromwell First Look

– Las Vegas' first standalone boutique hotel and casino, coming Spring 2014. Say goodbye to Barbary Coast/Bills Gambling Hall. Say hello to Cosmopolitan, Jr.

More Las Vegas Footage From The Summer Of 1992 Part 3!

– Here is more footage of Las Vegas from the Summer of 1992! We begin driving up Convention Center Dr. toward the Strip, with rare footage of the Paddlewheel…..followed by footage of my wife in our Stardust hotel room…..followed by the Stardust with their new "Enter the Night" sign that replaced the long-running "Lido" show….then a store called "Condomania"….the Royal Hotel on Convention Center Dr…….and we wrap up with shots of the newly opened Forum Shops at Caesars Palace, which was open for only 7 months!! (Description is the videographers, not ours).

Wynn Las Vegas Chinese New Year 2014 Horse Sculpture

– Wynn Las Vegas and Encore have unveiled three 800-pound Tang Dynasty horse sculptures in celebration of Chinese New Year. The 9-foot-tall, 10-foot-long horses were created by master sculptor Sillipachai "Mod" Toonrud of FORTE Specialty Contractors in Las Vegas and are painted red and gilded in gold leaf.
---
Members Mania – We Love Our Readers!
I want to thank so many of our amazing readers for submitting emails about their Vegas plans for 2014 and general opionons on the state of things for the visitor.
We'll be randamly drawing a winner from one who will be contacted very soon, and starting next week, we'll begin printing some of them and taking about the general trends in the feedback!

We love to hear from you, and value your feedback! Here's how to participate:
Want to comment on a current reader post? Use the comment box on that particular web page. Many of the stories we post also have comment boxes at the end of the story. Make your voice heard!
Drop us an email at AccessVegas@AccessVegas.com – We read them all!
Call our recorded comment line at 702-507-0055. We listen to every call.
---
No related links found