Serving Las Vegas Visitors and Residents Since 1999
Welcome to the Insider Vibe! This is the official newsletter of AccessVegas.Com. We talk about the Las Vegas activities you really care about.
Need to contact us? Send feedback to
AccessVegas@AccessVegas.com
Missed an issue? Click to Read Back Issues Online.
---
AccessVegas.com Quick Info Menu:
| | |
| --- | --- |
| Las Vegas Essentials | Featured Shows |
---
Hot Hotel Happenings – Save Big Now!
Click To View ALL Las Vegas Hotel Deals
Print Too Small? (Deals – Large Print)
---
This Week's Top Tours
| | |
| --- | --- |
| | Neon Dream Vegas helicopter tour, soar out to and over Hoover Dam/Lake Mead, Fremont Experience and entire Strip! |
| | Ultimate Grand Canyon South Rim tour, extensive views, lunch at historic lodge, more! |
| | Zoom around Las Vegas Speedway NASCAR track at 160 mph with pro driver, thrill of lifetime! |
| | Soar over the desert at 60 mph, seeing scenic wildlife from ziplines (close to Vegas)! |
| | Visit Grand Canyon, Mojave Desert, Black Mountains, Eagle Point, Hoover Dam photo op, more. Day tour from Vegas! |
---
St. Patrick's Day Las Vegas 2014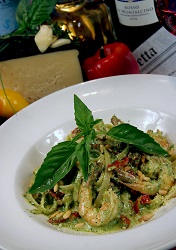 Trevi At Caesars Palace Celebrates The Luck Of The Italians With Food And Drink Specials On St. Patrick's Day – TREVI Italian Restaurant, located at the heart of The Forum Shops inside Caesars, will celebrate St. Patrick's Day with food and drink specials exclusively on Monday, Mar. 17.
Executive Chef Peter Scaturro will serve the fettuccine al pesto con gamberi for a lucky price of $24.95. The delectable dish consists of fettuccine tossed with sautÚed shrimp, sun-dried tomatoes, pine nuts and basil in a green pesto cream sauce.
Pastry Chef Hank Sbraccia will go green with a creamy pistachio gelato accompanied by a Pirouette cookie, priced at $4.50 per scoop. The 'Kiss Me, I'm Italian' sour apple cocktail will also be offered as a holiday special for $9.
---
Drinking, Dining, And Dancing In Las Vegas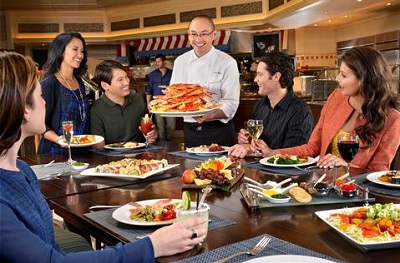 Exclusive Chef's Table At Bellagio Buffet Elevates Las Vegas Buffet Experience – With the introduction of the first Chef's Table within a buffet, Bellagio once again raises the bar in buffet dining. This unique V.I.P. table experience includes a skilled chef team that pampers guests from beginning to end, preparing the finest culinary dishes tableside. Upon arrival to Bellagio Buffet, guests will bypass the main line and go to the front entrance of the restaurant where they are greeted and escorted to the Chef's Table. Bellagio Buffet chefs welcome the group as they are seated and describe the assorted seasonal fruits, varieties of fresh house-baked breads and selections of canapÚs displayed on the luxurious table.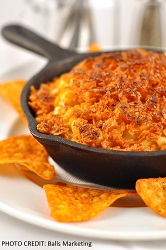 PBR Rock Bar Inside Planet Hollywood Rolls Out New Happy Hour Specials – Strip-side visitors can revel in new happy hour specials, now available at PBR Rock Bar & Grill inside Miracle Mile Shops at Planet Hollywood Resort & Casino, the party destination offers food and drink specials every Monday through Friday from 2 until 6 p.m.
Hungry patrons can enjoy delicious small plates, priced at $5 each, including French bread margherita pizza, strawberries with balsamic and goat cheese, guacamole with flour tortilla chips and onion rings. Priced at $7 each, additional menu selections include fried pickles, pork sliders, tomato soup with grilled cheese dippers and PBR Rock Bar's famous Dorito mac 'n' cheese.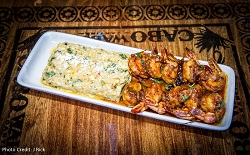 Cabo Wabo Cantina Inside Planet Hollywood Introduces New Flavorful Dishes – Cabo Wabo Cantina has introduced five new menu items with more of a Baja twist inspired by the flagship restaurant and bar in Cabo San Lucas, Mexico. The savory selections are created and prepared by Executive Chef Tacho Kneeland. Queso fundido con chorizo is a new starter and is cooked with three kinds of Mexican cheeses melted on a skillet with the restaurant's house chorizo and is accompanied by fresh warm tortillas and salsa, priced at $10.95.
---
Las Vegas Art And Attractions
---
Shows, Concerts, And Headliners
---
Las Vegas Hotels
---
Of Interest To The Las Vegas Tourist
---
March Madness Las Vegas 2014
---
March Madness AND St. Paddy's AND Spring Break AND More March Events & Specials
---
More Las Vegas News
---
Upcoming Las Vegas Events And Holidays
---
Newkirk's Notes: The Boss Speaks…
Newkirk's Notes are comments and insight from AccessVegas.Com publisher and 20+ year Las Vegas resident Ted Newkirk:
Hello From Las Vegas! – I'm proud to announce that we're about two weeks away from launching our "Best Of Vegas" readers poll. No doubt you have been walking around various hotels or flipping through the in-room magazines and have seen various touts of something being the "Best In Las Vegas". We're not the first people to do awards. However…
I've always been concerned with some of the flaws in the voting for various awards. The newspaper has been doing their awards for (seemingly) forever. However, you have a group of locals voting who rarely get near The Strip. An L.A. based Vegas site recently did a best of, and best hotel winner ended up being a downtown hotel they are cozy with, but that half of you are probably unfamiliar with. Huh?
Various other publications have the writers and editors pick the awards. A nice concept in theory (IE, they know the subject matter), but that leaves out the most important people: You, the reader!
With March Madness around the corner, a light-bulb went off in my head: How about throwing everybody in the pool (every hotel in this case), letting them face off in playoff rounds, and seeing who the winner turns out to be!
We're going to do hotels first, then we'll move on to other categories over the course of the year. Since "March Madness" involves 64 teams and Las Vegas has more than 64 hotels, we will start with a 16 hotel preliminary round. The winner will advance to the main round where 64 hotels will face off. We actually even have a bracket system, and ranked hotels by midweek price in order to determine bracket order (in the very same vein that the NCAA does with the basketball teams.
To those of you not interested in sports and who didn't understand a word I just said, I'll make it simple: Each week, you are going to vote in a bunch of match-ups. We'll sort out the rest and announce the weekly winners, which will move on to the next round!
Downtown Loses An Icon – We just lost a pioneer of Las Vegas gambling. Jackie Gaughan has passed away at the age of 93. At one time he owned The Plaza, Las Vegas Club, Gold Spike, and El Cortez. All at the same time. He still lived in the penthouse apartment of the El Cortez up until the time of his death, being well ahead of the current trend to move and live downtown.
He was old school. He knew that he'd get your money sooner or later, so he kept the slots loose, table games fair, food inexpensive and the drinks cheap and cold. (The Gold Spike was know for 50 cent well drinks well into the 90's). You video poker players will appreciate the fact that ALL the original video poker machines at The Plaza were 9/6 Jacks or Better with a $1199 royal! ($1 less than the amount that triggers IRS reporting, and into the territory of being a full-pay game).
Those wanting to know more about the life and times of Jackie Gaughan can read the article Las Vegas gambling pioneer Jackie Gaughan dies at 93
First Look At The Linq – Just a couple of days after the entire Linq project opened to the public, we did a full walk-though at night so you can get a true feel for it. Check out the video at Linq Las Vegas Opening Walk-Through and don't forget to leave comments and subscribe to our YouTube channel while you are there.
The Riv Brings Back Old-School Vegas Deals – $4 breakfast, $3 call drinks, $2 beers and $1 blackjack. Must be 1997 on the Las Vegas Strip, right? No, we're firmly in 2014 but The Riviera believes that old-school casino marketing still works and they are willing to give it a try! Read all the details here: Riviera March 2014 Food, Beverage, And Gaming Promotions

Associate Editor / News Researcher: Rick Ziegler
Concerts, Headliners, Special Events: Amy Rayner-Cooley
---
What We're Watching!
Vegas Videos You'll Enjoy
---
Members Mania – We Love Our Readers!
I'm super-busy (and excited) working on our "Best Of" readers poll. Members Mania will return next week. In the meantime, if you want to suggest a snappy name for our readers poll, drop us an email at AccessVegas@AccessVegas.com
Keep in mind that we are Access Vegas, and the name of the newsletter is Insider Vibe. However, anything involving "readers" or "members" or anything that sounds catchy or rhymes is all welcome. Of course, having Vegas in the name does not hurt (but isn't mandatory).
If we use a reader suggestion, we'll send you something cool from our prize closet!

We love to hear from you, and value your feedback! Here's how to participate:
Want to comment on a current reader post? Use the comment box on that particular web page. Many of the stories we post also have comment boxes at the end of the story. Make your voice heard!
Drop us an email at AccessVegas@AccessVegas.com – We read them all!
Call our recorded comment line at 702-507-0055. We listen to every call.
---
No related links found