Serving Las Vegas Visitors and Residents Since 1999
Welcome to the Insider Vibe! This is the official newsletter of AccessVegas.Com. We talk about the Las Vegas activities you really care about.
Need to contact us? Send feedback to
AccessVegas@AccessVegas.com
Missed an issue? Click to Read Back Issues Online.
---
AccessVegas.com Quick Info Menu:
| | |
| --- | --- |
| Las Vegas Essentials | Featured Shows |
---
Hot Hotel Happenings – Save Big Now!
Click To View ALL Las Vegas Hotel Deals
Print Too Small? (Deals – Large Print)
---
This Week's Top Tours
| | |
| --- | --- |
| | Explore the REAL West: Lake Mead, Hoover Dam, Grand Canyon Skywalk, Native American Points, Western Ranch, More! |
| | Experience Grand Canyon, Hoover Dam, Lake Mead, all of Vegas by helicopter, save 30%! |
| | Richard Petty Rookie Tour: YOU drive the Vegas Motor Speedway in a V-8 NASCAR style car! |
| | Vegas Indoor Skydiving, right on Vegas Strip, winds up to 120 mph, just like the real thing |
| | Spectacular views of Dam/Lake Mead plus memorable guided interior tour. Stunning photo opps! |
---
Shows, Concerts, And Headliners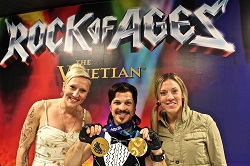 Canadian Gold Medalists Kaillie Humphries And Meghan Agosta-Marciano Attend Rock Of Ages – 2014 Olympic Gold Medalists Kaillie Humphries of the Canadian bobsleigh team and Meghan Agosta-Marciano of the Canadian hockey team attended Rock of Ages Thursday evening, March 13 at The Venetian. Following the performance, Humphries and Agosta-Marciano joined Rock of Ages cast member Mark Shunock -formerly of Sault Ste. Marie, Ontario, Canada – backstage for a photo and to share their enthusiasm for the show. Agosta-Marciano also shared her sentiments in a tweet saying, "Had an amazing night tn with Bobsled Kaillie at Rock of Ages thanks cast for taking the time to meet us."
---
March Madness Las Vegas 2014
---
Drinking, Dining, And Dancing In Las Vegas
Celebrate 40 Fabulous Years Of UNLVino With Celebrity Chefs And Cocktail Pairings – Time to celebrate 40 fabulous years! UNLVino returns April 9-12, 2014 with four days of fantastic functions to celebrate its 40th anniversary as Nevada's original wine event. The 40th UNLVino will be a demonstration in gastronomic excellence as four main events take place across the famed Las Vegas Strip and Downtown Las Vegas. Beverage enthusiasts and foodies alike will sample wines, spirits, craft beers and cuisine prepared by some of the city's most beloved chefs and mixologists. This year's events will elevate guests' experiences, including:
---
Las Vegas Fun And Attractions
---
More Las Vegas News
---
Upcoming Las Vegas Events And Holidays
---
Newkirk's Notes: The Boss Speaks…
Newkirk's Notes are comments and insight from AccessVegas.Com publisher and 20+ year Las Vegas resident Ted Newkirk:
Hello From Las Vegas! – As I write this, Las Vegas is buzzing from March Madness. Four days of (mostly) testosterone-fueled, morning-until-night college basketball viewing and betting has been complimented by incredible high-70's F (25C +/-) weather and perfect, cool evenings. Next weekend looks to be almost as much fun as the college basketball playoffs get into the "Sweet 16" and the 10 day weather outlook calls for more of out same flawless spring weather!
Best Of Update – We were hoping to launch our March Madness inspired Best Of Las Vegas voting today, but are ironing out a couple of glitches. We're working them out and excited to get this going!
Don't Visit During The Big Holidays – That is, if you want to save money and have some elbow room. The long Memorial Day and Labor Day weekends make them a very tempting time to visit for many, because you are using one fewer vacation day while spending the same amount of time here. The problem is that so is everyone else. In addition, those times are very popular among Californians who drive over.
The end result? You are paying higher rates for room and airfare, AND standing in longer lines and dealing with bigger crowds, which wastes valuable "Vegas Time". If you are going to wrap your stay around a weekend and have some flexibility, the rule of thumb is to simply check rates to find the less busy weekends. You'll enjoy lower room rates and a little more elbow room. Really want elbow room and low rates? Visit the week leading up to Christmas!
Innovative Check-Out – I've always been frustrated by hotel check-in/check-out times. I tend to arrive at my destinations later in the evening and schedule late departures so that I can get the most out of the last day. The Palms is now offering a true 24 hour day for each stay booked in the Premier King and Queen, Superior King and Queen, or Ivory Suite rooms. IE, if you check in at 10 PM, the room is yours until 10 PM on the day of your check-out. This is only available at The Palms official website, available here: Palms Las Vegas – Enjoy 24-hour checkout times only when you book online
Note: If you do book through that link, we get a modest commission. However, I'm talking about it because I simply really like the idea and hope it catches on!
Trains To Nowhere Updates – We've reported off-and-on about two attempts to link Southern California with Las Vegas by rail. Updates:
The X-Train is a conventional style train which would run on existing tracks from Fullerton, CA (where it hooks up with operating Amtrak and Metrolink lines serving all of Southern California). This "party train" concept would have comfortable seats, wi-fi, two lounge cars showing sporting events and similar. Unfortunately for now, they can't seem to get the final permission needed to run the train on Burlington Northern Santa Fe tracks that help link the two areas.
Desert Express is a high-speed rail project from Las Vegas to Victorville and Palmdale, CA. From where it is supposed to link up into Los Angeles via a proposed high-speed train from Los Angeles to San Francisco. No ground has been broken, and the latest report that I head noted that scheduled completion for the LA-San Fran line is 2029 (15 long years from now). Don't hold your breath.
Silver Sevens $7.77 Specials – We talk quite a bit about high end and theme dining. However, we know a dedicated segment of our readers rent a car and/or aren't afraid to venture off The Strip for specials. Currently, Silver Sevens (formerly Terribles, exactly 1 mile east of The Strip on Flamingo) currently offers some really great dining specials.
$7.77 will get you any of the following:
Half-Rack of Baby Back Ribs, 12 chicken wings, and Fries
South-of-the Boarder Sampler Platter featuring Nachos, Flautas, Quesadillas & Taquitos
Chinese Chicken Salad
Bucket of 4 Domestic Beers

Pitcher of Long Island Ice Tea
To put the distance in perspective, it is the same distance as Bally's to MGM Grand. A cheap cab ride, and walkable for anyone in decent health. Hint: If you walk it, detour into Ellis Island at Koval and Tuscany a few blocks shy of Silver Sevens. Might as well make a three-fer out of it! As always, we encourage you to call ahead to check availably of any specials.

Associate Editor / News Researcher: Rick Ziegler
Concerts, Headliners, Special Events: Amy Rayner-Cooley
---
What We're Watching!
Vegas Videos You'll Enjoy
High Roller Lights Up – The LINQ

– The LINQ features 30 retail, dining and entertainment venues. Phase one opened at the end of 2013 with six outlets including O'Sheas Casino and Purple Zebra. Phase two is now open. Thousands of crews are hard at work to get everything done as the April deadline draws near for the planned opening of the High Roller observation wheel.

X-Scream Ride On Las Vegas Stratosphere

– See the ride that dares takes you over the edge of the side of the Stratosphere Tower and dares to "nearly" drop you into infinity. Beautiful shot of Las Vegas at dusk.

Las Vegas Footage From Summer 1992

– Notes by video producer: Here is some beautiful footage I shot of Las Vegas in the summer of 1992, while there for my first VSDA show. This first segment has video shot from our room at the Stardust, 31 floors up, looking down on the Strip and beyond! This was shot on Hi-8.
---
Members Mania – We Love Our Readers!
Note: Today we're sharing a couple of the many great emails we received when we asked people to tell us about their 2014 Vegas plans!
Our plans for Las Vegas this year is to try and get there twice! My husband and I meet up with friends from Minnesota (we are from Albany, Ohio) in June. This will be our fourth year to do so if all goes as planned – and the budget works out for all of us.
We usually stay 5 nights and we always make time for the newbie things to do/go see. So we hope to see the "new" downtown Grand and also visit the Linq shops and the big wheel on the strip if they are open when we get there. We have tried the zip line and hope the newer version is up and running when we return as well! We don't always stay in the same place, though we do prefer the strip so we don't have to drive around at night (in case we want to relax and not get a DUI) and can casino hop if one place gets too stale.
The energy is awesome in Las Vegas, so we try to casino hop as much as we can. We have also visited the Gold and Silver Pawn Shop, Rick's Restoration and Danny Koker's auto shop (which is a must see if you like autos!!!) which is something to do out of the norm of regular tours/casinos/shopping.
I usually get to go a second time when the Girls Only trip happens in July. Yea, it's a hot time to be there, but we laugh in spite of ourselves and have a wonderful time just the same! Hey, it's Vegas Baby!!
We really enjoy the newsletter, so keep up the good work!
Best in 2014,
Sharon from Ohio
Ted Responds:
Last week, we posted a walk-through of the Linq project in our What We're Watching area. Next week we will have a quick 2 minute walk-through of Downtown Grand for everyone.
For those missing the old Lady Luck, don't hold your breath. The new DTG has more of an urban, boutique property feel to it, and things are not overly cheap. So, it is worth the look but don't expect to be overly wowed.
As usual, our advice on visiting Gold and Silver Pawn is to go later to avoid the lines. The public is welcome until 9 PM.
I have not done Count's Kustoms yet and keep telling myself we need to get over and take a look-see and get some photos for everyone! I almost have no excuse as the shop is less than 2 miles from my house!
After the winter that much of the nation is having, you may just learn a new appreciation for our hot summers here. The second winter I was here, we had a terrible cold snap and I was down on Fremont Street about about 2 AM in 24 degree weather with strong winds. And I owned a heavy coat at that time! I swore that I would never, ever complain about the summer heat again. And, I never have. 110 doesn't make your body numb and bite at our skin.

---
Our sixth visit to Vegas will be the 1st to 15th May 2014 but this will be a bit special. My wife (Rayah) and I are both English but we live in Spain (for 10 years) so have to make the trip back to UK in order to get a decent price flight with Virgin Atlantic—-flights from Spain cost a fortune.
Anyway it will be our 3rd stay at the Flamingo, mainly because it is very central and two 60+ year olds need all the help they can when walking around is involved!!!
This year will be very special as my wife will meet up with her 2 sisters and they will be together for the very first time. Both her sisters were born and live in Canada and were unknown to us until 2 years ago, we have met one in Toronto and one in Winnipeg but never have they been together in the same place and as it our favourite place in the world we chose Vegas for this very special event.
She can't wait until May for this emotional meeting and what a great place to do it!!!!
Thanks for your excellent newsletter, I look forward to it and use the information a great deal.
Regards
Bob & Rayah from Malaga, Spain
Ted Responds:
I appreciate all of our visitors, but especially those of you who come from such long distances and put in the time and expense to come visit our little slice of fantasy that we call home.
Thanks for sharing the heartwarming story of the pending reunion. Las Vegas is a great place for families to get together because there is so much to do, see, and enjoy. Thanksgiving in Las Vegas has grown extremely popular as far-flung families all gather together and no one has to cook or clean up the mess. My brother is sneaking down here for a few days this week and I'm looking forward to it!

We love to hear from you, and value your feedback! Here's how to participate:
Want to comment on a current reader post? Use the comment box on that particular web page. Many of the stories we post also have comment boxes at the end of the story. Make your voice heard!
Drop us an email at AccessVegas@AccessVegas.com – We read them all!
Call our recorded comment line at 702-507-0055. We listen to every call.
---
No related links found