Serving Las Vegas Visitors and Residents Since 1999
Welcome to the Insider Vibe! This is the official newsletter of AccessVegas.Com. We talk about the Las Vegas activities you really care about.
Need to contact us? Send feedback to
AccessVegas@AccessVegas.com
Missed an issue? Click to Read Back Issues Online.
---
AccessVegas.com Quick Info Menu:
| | |
| --- | --- |
| Las Vegas Essentials | Featured Shows |
---
Hot Hotel Happenings – Save Big Now!

Stay at Bally's Las Vegas and get choice of One Day SPA Treatments

Save up to 15% Off at Harrah's Palace Las Vegas

Caesars Palace Las Vegas Buffet of Buffets Deal! Stay 2 Nights From $134/Night & Get 2 All-Day, All Access Buffet Passes to 8 Buffets in Sin City!

Special Offers at The Palms – Entertainment Packages and Resort Packages
Click To View ALL Las Vegas Hotel Deals
Print Too Small? (Deals – Large Print)
---
This Week's Top Tours
| | |
| --- | --- |
| | Experience Grand Canyon, Hoover Dam, Lake Mead, all of Vegas by helicopter, save 30%! |
| | Experience Grand Canyon via Plane, Helicopter, Hike (optional), BBQ, true Southwest experience! |
| | Drive your dream car (Ferrari, Lambo, more) around the Las Vegas Motor Speedway NASCAR track starting only $199! |
| | VIP Grand Canyon Skywalk Tour via chopper trip to/from Skywalk, stunning views, expedited/exclusive arrangements. |
| | Visit the Mob Museum in Vegas, downtown block from famous Fremont Street! |
---
Shows, Concerts, And Headliners

Book Absinthe Las Vegas Tickets Now

Book Jersey Boys Las Vegas Tickets Now

Book George Wallace Las Vegas Tickets Now

Book Jubilee Las Vegas Tickets Now

Book Divorce Party Las Vegas Tickets Now

Book Thunder From Down Under Las Vegas Tickets Now
---
Dining In Las Vegas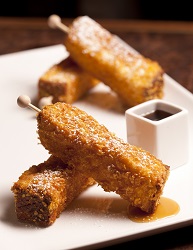 Hop Into La Cave Wine & Food Hideaway Wynn Las Vegas For Brunch This Easter – No egg hunting will be necessary this Easter. La Cave Wine & Food Hideaway at Wynn Las Vegas will offer a delicious butler-style all-you-can-eat brunch on Sunday, April 20 from 10:30 a.m. to 2:30 p.m.
Priced at $48 per adult and $28 per child, guests will celebrate the holiday with an unlimited amount of Easter favorites prepared by Corporate Executive Chef Billy DeMarco. The brunch menu includes: corn flake crusted brioche French toast, New York style egg sandwiches, angus mini burgers, baked potato loaded tater tots with brown gravy, eggs benedict with chorizo, Canadian bacon or filet, veal short rib hash, pancakes with berry compote, and bacon and chorizo sausage cups. For an additional $20, guests may enjoy bottomless beverages including mimosas, sangria, sparkling wine, Bloody MaryÆs with TitoÆs vodka, build-your-own mojitos with SammyÆs Beach Bar Rum or Caipirinhas with Leblon Cachaþa.
---
Downtown / Fremont Street Experience
---
Las Vegas Attractions
---
Linq Las Vegas

Click to see concerts and headliners performing at Brooklyn Bowl At Linq Las Vegas
---
Las Vegas Economy And Real Estate
---
Duuuuude!
---
Party Party Party
---
More Las Vegas News
---
Upcoming Las Vegas Events And Holidays
---
Newkirk's Notes: The Boss Speaks…
Newkirk's Notes are comments and insight from AccessVegas.Com publisher and 20+ year Las Vegas resident Ted Newkirk:
Hello From Las Vegas! – I always tell you about all the great weather we have, so I must also confess that this week is chilly with plenty of wind and some recent light drizzle. Average high here for April is 78 degrees (26C), and we've been 20 degrees below that (14C) for a couple of days. Fortunately, we're bouncing back into the 70's F (20's C) over the weekend and we may hit 90 later next week. (If I had my way, it would be 90 [32C] for a high and 60 [16C] for a low all year long).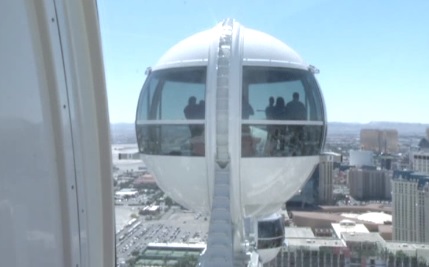 The Linq-Mobile Is Open! – Over the weekend, Caesars Entertainment tested the ride by giving employees and press a free spin. We usually get all the great invites. I wonder if we were looked over because of our insistence of calling it the Linq-Mobile!
Officially now open to the public, the "High Roller Observation Wheel" is currently the tallest in the world and quite striking on the skyline. As we anticipated, views are limited during the beginning and end of the ride (you are looking at the back of hotels, although if you turn around you can enjoy our stunning Sunrise Mountains). However, once you are up, you have a mid-strip view that The Stratosphere can't beat.
Tickets are $25 until 6PM and $35 for night rides. I would expect that 6 PM price increase to float depending on the time of year. They can't charge for a night flight at 6 PM with a 9 PM summer sunset here.
The biggest complaint so far doesn't happen to be that each pod holds 40 people. These things are a lot bigger than they look. The problem is having 40 people wanting what amounts to a handful of amazing window areas (once again, unless you are a super-big fan of East Las Vegas and Sunrise Mountain, a view you'll likely have to yourself).
Unlike most attractions just about anywhere, you can booze on the ride. How Vegas! You must buy it at the adjacent bar before boarding (can't bring it from elsewhere). And, there are no restrooms up there at 550 feet. So, go before you board, and don't be having a beer chugging contest. We have a linq link to some great video in our What We're Watching section.
Real Estate – About once per year, I do a real-estate rundown for those of you thinking (or dreaming) about buying a house in Las Vegas. I do this because a serious amount of Las Vegas information on the internet is produced by people NOT actually in Las Vegas. As a 21-year resident, whose family was in home construction many moons ago, I keep up on it. If this isn't your cup of tea, you know how to scroll on a webpage. Here you go:
Living On The Strip? The recent article Veer Towers releases condos caught my eye. The Veer Towers are those towers at CityCenter that look like they are tipping over. My advice? If you are looking to live the "Las Vegas Strip" lifestyle, either as a permanent or semi-permanent (staying long stretches at a time) resident, then hop across the freeway from CityCenter and check out Panorama Towers, where around 1/2 million dollars will get you upwards of 1500 sq. ft.: http://goo.gl/maps/KHCpW
You won't have to fight CityCenter, Strip traffic, and noise. You are more likely to have permanent residents as your neighbors (including a few big-name pro poker players), and have easy back-door access to all of the locals' necessities (groceries, shops, dry cleaners, restaurants, fast food, liquor stores, etc) located along Tropicana Avenue. You also actually have a view of The Strip, instead of being engulfed in it.
Where To Live In Las Vegas? – It's been quite a while since we talked about moving here, and we know that we always have a fair slice of readers at least dreaming about it! Now that the economy here is finally picking up a little bit, this is a good time to think about it before more people become eligible to buy homes again, which will have an upward pressure on prices.
I do want to dispel a popular myth: The notion that since Las Vegas is the place you "escape" to, living here will kind of ruin it for you. Nothing could be farther from the truth. If you are happily married, do you want your spouse living far away from you so that each time you see them, you'll be enjoying an escape? Provided you know how to enjoy yourself in moderation with the booze and gambling, having the "escape" right outside your back door is really, really nice. And living here, you actually aren't as compelled to go nuts on the vices.
The Las Vegas Valley is 25 miles long and 20 miles wide. And, every Realtor who moved here during the boom will attempt to tell you that their little slice of a foreclosure-laden, distant suburb is where you want to be. Which may be true if you are raising a family and life revolves around grilling on your back patio (something you can generally enjoy mid-March through mid-October).
However, we're seeing a striking mix of both younger and active-mature people really gravitate towards areas closer into downtown and/or stretching along the east side of the Maryland Parkway area all the way down toward UNLV. The revitalization of downtown has happened, and the smart money says that the general UNLV/Maryland corridor will do the same. The Boulevard Mall (Las Vegas' oldest real mall) is in that area, and just announced a major upgrade. It appears that sooner or later, UNLV will get a 50,000 seat stadium. How cool to be able to walk to major sporting events!
Note: Toward the end of last year, after strongly considering the UNLV area for a home purchase, I decided on a more of a downtown-centric location near Oakey and Valley View. I'm 3.5 miles from downtown and 3.2 miles from the dead center of The Strip. But… consider the business I'm in.
Living closer in means looking at an older home (unless you want to scope out some still-available empty lots and build on one). For some of you, that is a plus and remodeling and fixing it up to be exactly what you want can be a great project. And frankly, you're getting a home that was probably build much better than some of the properties thrown up during the boom. I know numerous people who had warranty repairs on homes bought in the 2000's.
The downside? Neighborhoods can still be a little hit and miss as the general downtown area gentrifies. By the way, "downtown" living usually refers to everything north of Sahara Avenue to US-95, and from Valley View to Eastern Avenue.
Who should you turn to (if/when you become serious about the move)? "Uncle" Jack Lavine. This isn't a paid endorsement. (Nothing in this section ever is). Jack has lived in Las Vegas since the 80's, and has been a long-time downtown resident. He doesn't just try to shove you into a house ASAP to collect his commission. He's quick to point out plusses and negatives of various neighborhoods and properties. And, he can give you an honest assessment of what living in the REAL Vegas is all about. Check him out at Very Vintage Vegas. If you contact him, tell him that Ted says hello!
Best Of Voting Launches Sunday – As promised, we're about to unleash a super-fun way to vote for the best hotel in Las Vegas. (Voting on other categories will commence soon). We'll have a special email sent to you Sunday with the details and the link so that you can make your voice heard.
Hope you are enjoying this issue!

Associate Editor / News Researcher: Rick Ziegler
Concerts, Headliners, Special Events: Amy Rayner-Cooley
---
What We're Watching!
Vegas Videos You'll Enjoy
---
Members Mania – We Love Our Readers!
Normally, this is the area we feature reader email and feedback and answer lots of questions and give plenty of helpful advice. Which generates even more email with people telling us how much they enjoyed the advice and how much fun they had on their trip!
Over the past couple of years, I've noted that sooner or later, we were going to have to move to a paid subscription model. The response was generally very supportive. Most of you feel that between just the time you save knowing what is really going on in Vegas (without having to spend 50 hours a week online researching it all yourself) and the money saved from the various deals we point you to, paying a membership fee to help us along is a no-brainer.
Answers to questions:
Why Now? – This newsletter started out as a two page publication. Those days are long gone, and Vegas continues to grow year after year. We've gotten to the point that publishing this is infringing on our ability to do an amazing job with our main AccessVegas.com. We don't have the budget to continue to subsidize the newsletter properly.
What Will You Do With The Membership Money? – Buy really expensive sports cars for all of our staff! (Sorry staff… April Fools). We're going to add staffing so that we can not only continue what we're doing with the newsletter, but create a members-only web area where we post more tips and more deals and more specials in a better organized fashion. More staff will allow that. Doing research and web development is not cheap.
How Much Will The Membership Cost? – We plan to launch July 1, asking $23.95 per year. Or… essentially, we're asking you to buy us and our staff (and the added staff) one cup of decent coffee per month. Just like you'd be happy to do if we met, talked Vegas and shared advice with you over a cup of coffee. Consider the newsletter our "virtual coffee meet-up"!
How sure are we that it will be worth it to you? Check out our…
Double For Nothing Guarantee – If during the first year of membership, you absolutely don't think that the time and money our information saves you is worth more than the membership fee we're asking, we'll EXTEND your subscription for a year at no additional cost. This includes those of you who subscribe but don't visit during the first year. Second year on us. We want you to get the value you pay for.
What Happens If I Don't Purchase A Membership? – You will continue to receive the newsletter. However…
It will have much more advertising* and we'll have the save the really good insider info and tips and deals for the paid members who are helping us afford the staffing to hunt them down and list them in an easy-to-use manner. Newkirk's Notes and Members Mania will also mostly move to the membership newsletter only. Having more staffing will allow me the time to continue to do those and do an even better job!
* Paid subscribers will see a reduction in advertising promotion featured in their version of the newsletter.
Early Enrollment Discount – – While we launch July 1, We're going to offer $19.95 enrollment through July 1 (for memberships starting July 1) to our current loyal readers. That is a saving of over 16%.
This is for the people who say "Ted, you and your staff's info has been incredible, it has been so helpful in the past, we know it will be so helpful in the future, and we're happy to take advantage of the $19.95 early membership deal" (which happens to be 16% off, and your membership won't start until July 1, giving you a full year of enjoyment).
This will "kick start" our hiring and membership projects and I will send a personal "thank you" email to every single contributor for those who sign-up before July 1.
NOTE: You do not need to be a PayPal member to sign up! PayPal is simply our merchant account through publisher Ted Newkirk.
Thank you so much for your support! I'm so looking forward to the great fun we're going to have in the future and all of the amazing, improved information that we'll be able to source and sort for you, assuring that every single Las Vegas trip you take is the absolute best, most informed and enjoyable possible.

We love to hear from you, and value your feedback! Here's how to participate:
Want to comment on a current reader post? Use the comment box on that particular web page. Many of the stories we post also have comment boxes at the end of the story. Make your voice heard!
Drop us an email at AccessVegas@AccessVegas.com – We read them all!
Call our recorded comment line at 702-507-0055. We listen to every call.
---
No related links found