Serving Las Vegas Visitors and Residents Since 1999
Welcome to the Insider Vibe! This is the official newsletter of AccessVegas.Com. We talk about the Las Vegas activities you really care about.
Need to contact us? Send feedback to
AccessVegas@AccessVegas.com
Missed an issue? Click to Read Back Issues Online.
---
---
AccessVegas.com Quick Info Menu:
| | |
| --- | --- |
| Las Vegas Essentials | Featured Shows |
---
Hot Hotel Happenings – Save Big Now!
Click To View ALL Las Vegas Hotel Deals
Print Too Small? (Deals – Large Print)
---
This Week's Top Tours
---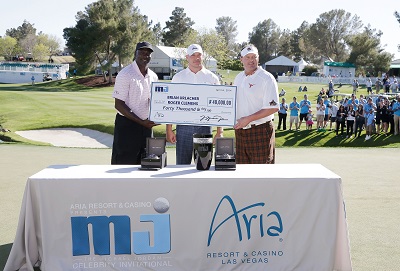 Brian Urlacher And Roger Clemens Team Up To Win 13th Annual Michael Jordan Invitational At Shadow Creek – Former Chicago Bears All-Pro Linebacker Brian Urlacher and former All-Star New York Yankees & Houston Astros Pitcher Roger Clemens ran away from the 19-team field on Sunday to win the 13th Annual Michael Jordan Celebrity Invitational (MJCI) hosted by ARIA Resort & Casino.
---
Linq Las Vegas
---
Shows, Concerts, And Headliners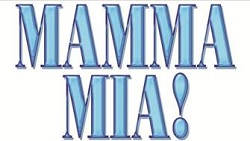 Las Vegas Casting Announced For MAMMA MIA! – Tickets On Sale Now – After a nationwide search, full casting has been announced for the highly anticipated Las Vegas production of MAMMA MIA!
, which begins performances at The New Tropicana resort in Las Vegas May 8, 2014. The talented cast features MAMMA MIA! alumni, including all three Dynamos as well as several Las Vegas locals who will join the company.
The Las Vegas cast will be led by Christine Sherrill as Donna Sheridan, Kimbre Lancaster as Sophie Sheridan, Mary Callanan as Rosie, Alison Ewing as Tanya, Trey Ellett as Harry Bright, Steve Judkins as Bill Austin, Sean Allan Krill as Sam Carmichael and Jordan Bondurant as Sky.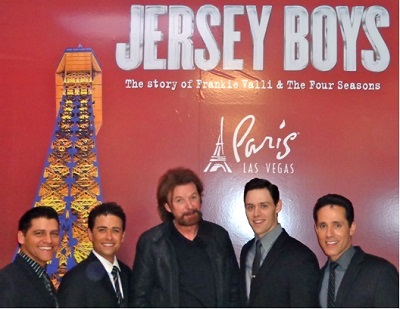 Country Music Star Ronnie Dunn Attends Jersey Boys At Paris Las Vegas – Country music star Ronnie Dunn, of legendary duo Brooks & Dunn, attended Las Vegas' #1 show Jersey Boys
at Paris Las Vegas on April 3, 2014. In town for the Academy of Country Music Awards festivities, Dunn stopped by to see the show and to meet the cast following the performance.
---
Las Vegas Economy And Real Estate
---
Dining, Drinking, And
Other Recreational Activities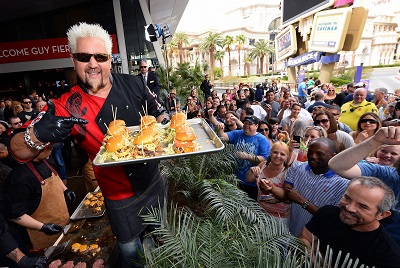 Guy Fieri Makes Official Las Vegas Arrival At The Quad To Launch "Guy Fieri's Vegas Kitchen And Bar" – Chef, restaurateur, New York Times Best-Selling author and Emmy Award-winning TV host Guy Fieri made a grand entrance at his first Las Vegas restaurant, Guy Fieri's Vegas Kitchen & Bar.
Fans of Fieri were in attendance as Guy manned the grill cooking up his signature Bacon Mac-N-Cheese Burger.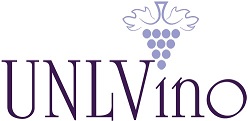 UNLVino Celebrates Founders With Re-Imagined Grand Tasting Event – Hundreds Of Premium Beverages, Top Vegas Restaurants, Live Entertainment! – To celebrate its 40th anniversary and pioneering visionaries, UNLVino, Nevada's original wine festival, will host the largest Grand Tasting celebration in its history. The event will introduce a completely re-imagined, immersive culinary experience that brings together the best of the Las Vegas community.
---
Gambling And Gaming
---
Las Vegas Hotels
Riviera Continues April 2014 Food, Beverage, And Gaming Promotions – Guests and Riviera Rewards members of the iconic Riviera Hotel & Casino are invited to take advantage of the great food, beverage and gaming promotions available in March including $3 drinks, $2 beers, and $1 blackjack.
---
More Las Vegas News
---
Upcoming Las Vegas Events And Holidays
---
Newkirk's Notes: The Boss Speaks…
Newkirk's Notes are comments and insight from AccessVegas.Com publisher and 20+ year Las Vegas resident Ted Newkirk:
Hello From Las Vegas! – Hello from a very "summery" Las Vegas, where daytime highs have gotten just a bit into the 90's F (32C) this week. We have a couple more days of this unusually warm weather before we settle back into the 80's (26-31C). I feel that it is safe to tell you to leave the jacket and home and pack a swimsuit if pool time is part of your Las Vegas adventure.
Best Of Voting In Progress – Last Sunday, you should have received an email noting that our Best Of Las Vegas "Best Hotel" voting is now open. We're in the first round of the Play-In Round round. The Play-In Round is where second tier hotels are vying to win a chance to be one of the 64 properties which go up against each other once we get to the main round.
Here are the brackets for current match-ups:
If you have not voted yet, what are you waiting for? Head over and vote now!
We'll soon be adding more categories like buffets, steakhouses, attractions, and more. If you have any suggestions for categories you'd like to see us do a "Best Of" on, please drop us a note at AccessVegas@AccessVegas.com
Important Note: We will not be doing a "Best Show" category. Five of the absolute very best shows in Las Vegas help support us with advertising: Absinthe, Jersey Boys
, Mamma Mia!
, Rock Of Ages, and Terry Fator (Mamma Mia! was a smash hit here before, and we know it will be once again). We would not want to be accused of rigging the voting. One of the things we're very proud of with our "playoff system" way of voting is that YOU decide. We're not pulling strings behind the scenes.
by
Alaskan Dude
Virgin River Gorge Update – Last year, we suggested that those of you with access to a car (or who were willing to rent one), drive north of town through Arizona's stunningly beautiful Virgin River Gorge. It is truly one of the most scenic parts of the U.S. interstate highway system and less than two hours north of us. Make a morning of it, and you can grab lunch at do some gambling in Mesquite (a very friendly three-casino town about 80 miles to our north) on your way back and, still arrive in Vegas with plenty of time for a nap, dinner, and a full evening.
Except um… don't for the next 2-3 years. The seven sets of aging bridges in the gorge are getting replaced, and traffic will be one lane each way in sections, clogging up that stretch of interstate. (Read more at Long waits are here for travelers using I-15 through Virgin River Canyon gorge).
For our friends from Utah, Colorado and other points north and east who use I-15 to visit us? Here's the little secret: Before I-15 was built through the gorge, Highway 91 was the main road from L.A. to Salt Lake City. (The Vegas Strip was once part of it). And… Highway 91 still exists as a well maintained road, bypassing the gorge!
Let everybody else blindly get stuck in the construction mess. A detour over old 91 around the construction mess is only 9 miles longer, but you'll have plenty of clear sailing. It will most likely just be you and some savvy locals. Here's the Google Map for the suggested detour.
Not Renting a car and still want to spend a morning (or afternoon) checking out the amazing scenery here in the southwest? Hop on over to our AccessVegas.com Tours Page and you'll find tours to Red Rock Canyon (just outside of town), Valley Of Fire (you'll think you are on another planet) and The Grand Canyon!
Membership Update – Last week, we opened up a special pre-enrollment for our paid newsletter membership program launching July 1, 2014. Since some tend to let our newsletters build up and then read through them all as their trip date gets closer, this will be news to some of you. Each week, we'll be running this info until we launch.
Paid subscribers will get the newsletter with less advertising, a special members area of well-organized deals (which will make it pay for itself), and exclusive notes, tips, and inside scoops for having a great vacation here which will not be made available to those on the free subscriber list.
We are limiting the early pre-enrollment price of $14.95 to the first 1000 people. You can find all the details in the Members Mania section of our April 2, 2014 issue (link to click).
IMPORTANT NOTE: The $14.95 price will be available until we let you know in a future newsletter. Some were worried about paying if they didn't know whether they'd be among the first 1000. Bottom line: Grab it while we're still making it available. We'll let you know right here when it ends, and modify the April 2 issue to remove the option once no longer available.
Hope you are enjoying this issue!

Associate Editor / News Researcher: Rick Ziegler
Concerts, Headliners, Special Events: Amy Rayner-Cooley
---
What We're Watching!
Vegas Videos You'll Enjoy
---
Members Mania – We Love Our Readers!
Regarding your article about the changing face of Vegas:
So true, my first experience was in the late 80s and it left an great impression on me. But it was another 20 odd years for my second visit, again it was great, a lot of buzz, hummer giveaways at every corner, loose slots, huge and varied buffets and generally everybody was laughing and having a great time.
Now over the last ten years have been back every second year and there is no comparison of 10 years. Have stayed at the Luxor when it was a Egyptian themed casino and it was great, now well it doesn't know what it wants to be, terrible. Yes, accommodations are cheaper, but a lot of the glitz and spirit has left town.
Now I stay at a varied accommodation throughout Vegas and one is Circus Circus for nostalgia value! I went to "Slots-O-Fun"… My god, has it changed. It used to be full of people playing the table games now it is automated, hardly anybody in there, dead and boring.
The buffets have shrunk, food is still good and I suppose the price is still good. Shows are great, no doubt about that. Coming from Australia, there is no comparison on the quality.
Last but not least, it is hard to win or even break even, and no what people say, a huge reason people travel from all over the world is to say they have gambled and had a great time in Vegas.
Will be coming over next year, but with more of an emphasis on sightseeing, more shows and less gambling. Comps aren't really worth it.
Cheers,
Manny
Ted Responds:
The various rewards cards (especially by the two big boys) are finally tuned machines that psychologically really get people chasing comps. No doubt about that. If one is going to do some serious gambling, and don't get me wrong: Soak up all the comps you can. But never lose sight of the fact that comps are based on a percentage of what you lose over time. Except for a few video poker pros, there is no way to overcome that percentage. Gamble for fun, take what they offer.
Gaming revenue continues to become a smaller and smaller part of the revenue stream here. It will be interesting if we reach a tipping point where enough people have reduced their gambling budget to where we see the intense competition for the gaming dollar like we used to. Where did all of those "We Have Loose Slots" neon signs from the past go? For now, everyone is being sucked into the themed games with the rumbling chairs, special bonus rounds, and the like. They are no doubt entertaining, just so long as you know that you are paying (sometimes dearly) for the entertainment!
We do feel that your dollar is better spent on shows, tours, attractions, and the like. Do you want to go home and tell people about all the money you lost in the slots, or tell them how you flew down into the Grand Canyon! When you get a ticket to a top show, you KNOW that you are going to get a set amount of value and enjoyment (and plenty to tell your friends about).
It will be interesting to watch the changing face of Las Vegas, and see how people respond. I wish the boring corporate suits running the town would glitz it back up again also!

---
Just love the story about home values in Las Vegas. Thanks for telling it like it is. I was wondering if you know what happened to Johnny Carson's home? It is at 3333 Seminole Circle. Last I heard, it was not occupied. Not too far from The Sahara, where Johhny was king in the 60's and 70's.
Thanks for the good stuff.
Jim from San Diego
Ted Responds:
We noted it a couple months ago (maybe a little more). It does not appear to be for sale, although lots of empty homes in Las Vegas are still pre-foreclosure. (The bank simply has not started foreclosure proceedings yet, but nobody lives there and no one is paying a mortgage).
It sits right in that sweet spot along the east side of Maryland Parkway that I talked about recently. Super close to tons of shopping and day-to-day living needs, about 3 miles from the center of The Strip by car, and along Desert Inn which gives easy non-stop access to the west side of town (The Strip is a tough dividing line to cross because of traffic), and in an area of some very attractive mid-century modern homes.
I go right by it on the way to my chiropractor, so I will make it a point to stop by and have a look-see next time. Google Maps image of the properly is from 2011, so who knows what it looks like now?

We love to hear from you, and value your feedback! Here's how to participate:
Want to comment on a current reader post? Use the comment box on that particular web page. Many of the stories we post also have comment boxes at the end of the story. Make your voice heard!
Drop us an email at AccessVegas@AccessVegas.com – We read them all!
Call our recorded comment line at 702-507-0055. We listen to every call.
---
No related links found