Serving Las Vegas Visitors and Residents Since 1999
Welcome to the Insider Vibe! This is the official newsletter of AccessVegas.Com. We talk about the Las Vegas activities you really care about.
Need to contact us? Send feedback to
AccessVegas@AccessVegas.com
Missed an issue? Click to Read Back Issues Online.
---
AccessVegas.com Quick Info Menu:
| | |
| --- | --- |
| Las Vegas Essentials | Featured Shows |
---
Las Vegas Hotels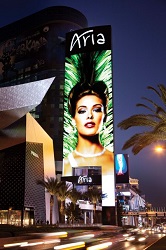 Aria Hotel Finally Has A Marquee On The Strip – At 250 feet tall, the new Aria marquee is the tallest on the Las Vegas Strip. The majority of its surface area is comprised of LED display with nearly 11,000 square-feet of LED on each side. Designed by YESCO, the marquee stands at 65-feet wide as the unique design allows pedestrians to walk through its legs. The screens burst more than 11 million pixels as customized messaging featuring ARIAÆs amenities and experiences plays to the millions of visitors exploring The Strip.
---
Las Vegas Shows, Headliners, And Concerts
---
Party, Drink, Smoke, and Swim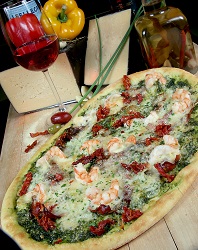 Trevi Heats Up Summer With New Specials And Gelato Happy Hour – Trevi inside The Forum Shops at Caesars Palace will introduce tasty new $10 summer entrÚe specials and a gelato happy hour throughout the months of June, July and August.
To kick off the warmer season, Executive Chef Peter Scaturro will prepare a different $10 brick-oven-fired pizza each day throughout the entire month of June. The specialty pizzas of the day will include Chicken Marinato made with roasted chicken, pancetta, roasted garlic, spinach and mozzarella; Shrimp and Pesto made with Gulf shrimp, prosciutto, pesto sun-dried tomatoes, mozzarella and Asiago cheese; Italian Sausage made with peppers, roasted garlic and mozzarella; Margherita made with Roma tomatoes, mozzarella and fresh basil or more. Photo Credit: Peter Scatturo
---
Dining In Las Vegas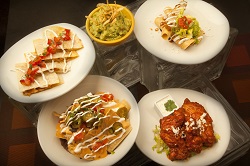 Tacos & Tequila Inside The Luxor Stays Up All Night With New Late Night Menu – Tacos & Tequila (T&T) at Luxor Hotel and Casino will introduce a late night menu available 11 p.m. to close* throughout the summer. Night owls may enjoy late night specialty drinks and eats created by Corporate Executive Chef Saul Ortiz. The menu features mouthwatering items such as guacamole, queso fundido, flautas, nachos, cheese or chicken quesadillas, haba±ero chicken wings and a three-taco combo including shredded beef, shredded chicken and pork carnitas, priced at $6 each.
---
Gambling And Gaming
Las Vegas Live TV – Great Casino Slots – Megabucks – Episode 4 – Season 1
This week, "Vegas Vic" tells you about the ever popular Megabucks slots with jackpots starting at $10,000,000!
---
More Las Vegas News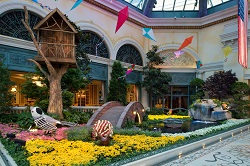 Summer Arrives Early At BellagioÆs Conservatory & Botanical Gardens – The first official day of summer isnÆt until June 21, but the hottest season of the year has already arrived at BellagioÆs Conservatory & Botanical Gardens. The lush summer floral exhibition is filled with oversized sunflowers, polychromatic kites and live birds for guestsÆ enjoyment through September 8.
---
Upcoming Las Vegas Events And Holidays
---
Newkirk's Notes – comments on Las Vegas from AccessVegas.Com publisher Ted Newkirk:
Hello From Las Vegas! – I'm back in the saddle after dealing with some medical issues last week (nothing fatal!) and also dealing with a computer data loss that may happen to you, so I'll fill you in on that in a minute. Summer is in full swing, as is the construction of both the Park and Linq projects we've detailed in the past. Next week, we'll have updates on that including new photos. For those worried about noise, we continue to advise NOT staying at New York-New York, Monte Carlo, Quad and Flamingo.
Priscilla – Queen Of The Desert – This outrageous, feel-good show is here in Las Vegas for a limited run and if you are coming this summer, you'll want to put this on your "to see" list. Everybody is raving about it! Click on the Priscilla button (toward the top of this issue) and you'll be able to not only watch a free preview video, but also get a code to save you $30 per ticket, just for our readers. That isn't loose change!
Getting A Little Warm – After an incredible spring of "summertime" weather, we are into our three hot months. June average is 99F, July is 104F, and August is 102F before we get to fall where Sept. is in the 90's and October barely peeks into the 80's.
Every year, visitors say "How can anybody live here" (in reference to the heat) but at the end of the day, if weather keeps me indoors much of the time, I'd rather walk out into the heat than the cold. My jackets collect dust in my closet all but the coldest months of the year!
On The Train To Flavortown – UNLV graduate Guy Fieri has announced plans to open a restaurant at the Imperial Palace Quad. Right out front with a great view of The Strip. I was a big fan of Guy back from when he competed on the Food Network series to find their next big star and both of his shows are on my DVR subscribed list. Food snobs hate him, but isn't food supposed to be fun? Full details next issue!
Real Live "Hangover" Movie Scene – A Los Angeles attorney and his friends did nearly $100,000 worth of damage to two-story suite at Wynn's Encore hotel. According to reports, the furniture was in disarray, broken glass abound, and it appears they had a food fight! More details here: Lawyer trashes Las Vegas luxury suite 'Hangover' style
Homeless Wayne Newton – Well, not quite. But with the failure of the plans to turn his long-time, famed Casa De Shenandoah sprawling estate into the western Graceland, Wayne Newton and family are being forced to relocate. He'll still be living in style in a mansion in the same general area, but losing your lifetime domicile in this manner has to hurt no matter who you are. Wayne is playing Birchmere Music Hall in Alexandria, VA in June 12 and a few tickets are still available: Wayne Newton Tickets
If It Is Listed, It Is Playing – If you'll look to your left, you'll see our concert and headliner calendar running down the page. From time-to-time we get questions about who is playing in such-and-such a month (usually many months down the road). If we have the info, we post it. If you aren't seeing much listed for your month, just keep checking back every issue as your trip gets closer and you'll see more and more information appear as events are scheduled!
Don't Lose Your Data – This isn't Vegas related, but may be important to some of you. (If not, just keep scrolling).
I've been using Mozy online data back-up for about three years, thinking my data was safe. This includes my email, as I use the very popular Thunderbird email client for business. (I'm not 100% comfortable with Google having access to every aspect of my business via Gmail. I'm sure they don't peek, but still…). Using Mozy, I checked the appropriate folder containing my entire email program and went on my merry way, thinking that all was fine. After all, that is the way Mozy works. You check a folder and everything in that folder is automatically backed up by them twice per day. Perfect, right?
Not so fast. A Mozy glitch — one I learned that they have been aware of since 2010 — causes Mozy to NOT back up many any email subfolder files in Thunderbird. Despite those files being in a folder that was specifically check-marked by me for back-up! Some of my email files corrupted on my computer recently, and I couldn't retrieve the data from Mozy because of this glitch. Both important business emails and irreplaceable personal files that had sentimental value. Gone forever
Mozy was completely unapologetic, claiming that it was my responsibility to go double-check that every single file in every single folder — including folders checked for complete inclusion — are checked. That means that if you are a Mozy user, you had better go manually check every single file (even if you have hundreds or thousands of files backed up through them) to make sure there is a check mark by each and every single file indicating back-up. You can't just check a folder and assume they will back up the entire folder (even though that is how the service purports to work).
Bottom Line: If you are using Mozy, I'd switch to another service TODAY. Don't get screwed like I did where their glitch lost me a ton of data, only to have them shrug their shoulders at it. They did not protect my data and when they failed, they did not care.
Correction: We mislinked the story regarding the attorney who filed a complaint about being long-hauled and was not happy with the response. Here is the correct link: Attorney alleges runaround after long haul
Hope you are enjoying this issue!

Associate Editor / News Researcher: Rick Ziegler
Concerts and Headliners: Amy Rayner-Cooley
---
What We're Watching – Vegas Videos You'll Enjoy
Fremont Street Downtown Las Vegas 1992

– Before the canopy of the Fremont Street Experience, cars actually drove down this famous casino corridor. Enjoy this look back in time!

Pub Crawl #110 On The Video Vegas Network: A Detour Through Downtown Las Vegas

– David and Alicia Ivy invent a delicious Cocktail of the Week by accident. Our downtown Pub Crawl Adventure is inspired by a viewer email. Alicia leaves David speechless and the live studio audience calls shenanigans! Bars covered: Heart Attack Grill, Beauty Bar, The Parlour at El Cortez, La Comida, Downtown Cocktail Room, The Griffin, Insert Coin(s), Vanguard Lounge, Las Vegas Country Saloon, Hogs & Heifers, Triple George Grill, Mob Bar, and Red Sushi.
---
Members Mania – We Love Our Readers!
This is regarding the cabs overcharging from the airport to the hotels. The only time we took the shuttles was the first couple of times going to Vegas, we have been taking cabs for close to 20 years and never had a problem before, plus having taken cabs so often, we know the approximate cost to most of the hotels.
Last October we took a cab from the airport to the Paris. Immediately we knew something was wrong as he was going a way that we had never been, my husband and I kept looking at each other and then we finally asked him where we were going. He said that this way was faster. Bare in mind this was at 10 a.m.
When we got to the Paris he said that we owed him $25.00. My husband told him that we knew he was screwing us, that it should have been approximately $12-13.00. The driver offered to give the money back but we said to keep it and that was his tip too!
When we got home I complained to the Nevada Taxi Cab Authority, It took them 2 months to reply but they said they would forward the complaint on to the cab company. 3 months after the incident we heard from the cab company wanting our correct address to send us a refund cheque, which we received a couple of weeks later…in full. It was Nellis Cab #626.
I would advise anyone heading to Vegas to Google the cost of the cab from the airport to the hotel that they are staying at. We really did appreciate receiving the refund, at least they were admitting that what the driver did was wrong.
Grant and Ronni from Essex, Ontario, Canada
We started renting a car in Vegas many years ago so itÆs been awhile since weÆve had to take a taxi, but we were long hauled once too. IÆm so tired of reading about it and even more tired of not seeing anything done about it. I think the Taxi Authority is an absolute joke.
I believe the solution to this problem is, if you are long hauled û donÆt pay!! (Wait until you get to your destination before you announce this). DonÆt just withhold their tip, donÆt pay them what you think the fare should have been û simply DONÆT PAY AT ALL!!
Sure the taxi driver will get angry and maybe threaten to call the cops. Yes, LetÆs call the cops û IÆll dial!!!
Thanks for letting me vent!
Linda in Texas
Ted Responds:
Lots of great points, and this is certainly a hot-button issue that we're going to do as much as we can about. When we go to a paid subscriber situation (which I'll discuss after the next letter), we've got some ideas on how to protect our subscribers from getting long-hauled and walking people through the situation of what to do. I know that by the time one gets to their hotel, they last thing they want to do is fill out paperwork, and when they get home, they just forget about it and let it go.
The Nevada Taxicab Authority has two great resources that you all should print out. At the very least, print out the first brief one, but the second one is really nice and detailed:
Approximate Minimum Rates – McCarran Airport To General Locations
Approximate Minimum Rates – McCarran Airport To Specific Hotels
Note: Do keep in mind that no matter what the route, if you are here while a big convention arrives or you fly in on a Friday night, the traffic is going to cause the fare to be higher.
Also, the "simply don't pay" advice is great. I realize that some people don't want to bring up any issues while they are in the cab. You don't know the town and don't want to create a fuss. However, once you arrive at your hotel, your ride is done and that is a great time to raise some hell. The cabbie is stuck, because to call in the police or taxi authority means that they will ask what the fare you owed was. And since you were long-hauled, it will be obvious that the fare was too high.
They cabbie will probably express his displeasure, but he'll be on his way eating the cost of the ride. In fact, for you real cheapskates out there, you may want to catch a cab, keep your mouth shut, and HOPE that you get long-hauled so that your ride is FREE!

---
I absolutely love your newsletter and thoroughly enjoy reading it! My husband and I will be visiting Las Vegas during the 4th of July – and bringing some friends along!
I am opting for the economical route of taking the shuttle to and from the airport and was wondering if you can recommend any particular shuttle companies that may be better than others. The reviews typically are not very good, but in retrospect, I realize that people with good experiences don't always take the time to write a review. Any suggestions would be greatly appreciated!
Cheers,
Sonja
Ted Responds:
I wish I could! Living here, I confess that this is one area I've not experienced. This is another subject that we're going to delve into deeper and do some "field testing" for once we go to a paid subscriber option.
At the end of the day, we've never heard (nor experienced) any horror stories. The only downside is that you'll be on a shuttle with people going to various hotels and you may not be the first to be dropped off. BUT, to know you are getting a flat rate and not dealing with a questionable cab driver is worth it.
Plus, if you are not the first to be dropped off, consider the extra few minutes a free tour of The Strip!
A general note to everyone: We WILL be going to a paid subscriber model around the end of summer. As things stand right now, we can't begin to answer every question, every email, or provide you 1/20'th of the kinds of helpful information that you often request (and that you'd find even more valuable in saving you time, money, and simply making your every stay a better one).
As per the cost, I noticed that a cup of coffee or soft drink at a convenience store costs $1.50 – $2.00 (sometimes a little more). For those who wish to "buy us a cup of coffee" just once per month, we'll use that money to provide information, and do research on the many, many additional things that you all have indicated you want. This helpful, bonus information will only be available to paid subscribers.
In addition, we will GUARANTEE a response to paid-subscriber questions. We either KNOW the info or we know where to get it. We live and work in the shadow of the Las Vegas Strip (almost literally) and if push comes to shove, we'll get someone in their car and get them to check out something first-hand if that's what it takes. With everyone pitching in to help us with a cup of coffee each month, we'll be able to help you in return!
Couple of notes: 1. We know that some of you don't visit every year. If you don't visit during your first year as a paid subscriber, we'll give you another year on us to give you a chance to get the value you deserve. 2. For those of you who patronize our sponsors and partners, you're membership will be comped if you spend $500 or more in a single year. Since our partners/sponsors include hotels, shows, concert tickets and the like, hitting that number could prove to be very easy!

We love to hear from you, and value your feedback! Here's how to participate:
Want to comment on a current reader post? Use the comment box on that particular web page. Many of the stories we post also have comment boxes at the end of the story. Make your voice heard!
Drop us an email at AccessVegas@AccessVegas.com – We read them all!
Call our recorded comment line at 702-507-0055. We listen to every call.
---
No related links found