Serving Las Vegas Visitors and Residents Since 1999
Welcome to the Insider Vibe! This is the official newsletter of AccessVegas.Com. We talk about the Las Vegas activities you really care about.
Need to contact us? Send feedback to
AccessVegas@AccessVegas.com
Missed an issue? Click to Read Back Issues Online.
---
AccessVegas.com Quick Info Menu:
| | |
| --- | --- |
| Las Vegas Essentials | Featured Shows |
---
Air Force Captain Returns From Active Duty And Boards Pirate Ship At Treasure Island To Surprise Family – United States Air Force Captain John ôArrowö Costa surprised his family earlier this evening by walking onto the pirate ship at the conclusion of the Sirens of TI show at Treasure Island. Captain Costa was not scheduled to return from his one-year deployment in Qatar for another week.
His wife, Lori, helped coordinate the surprise for the coupleÆs daughters, Ally, 10 and Tally, 6.
After the surprise, the family was treated to dinner at GilleyÆs Saloon, Dance Hall & Bar-B-Que and the evening performance of Cirque du SoleilÆs Mystere.
---
Las Vegas Shows, Headliners, And Concerts
---
Wine And Cocktails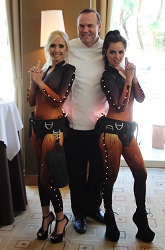 CharlieÆs Wine Angels Light Up Aureole With New LED Designer Outfits – The wine angels of Chef Charlie PalmerÆs Aureole at Mandalay Bay Resort and Casino recently unveiled a new designer outfit during an exclusive Las Vegas Fashion Week event. Created by eco-friendly fashion designer Bunker Hill Bradley, the bold, fashion-forward attire is adorned with 20 feet of LED ôangelicö lights each displaying more than 100 shining bulbs.
The striking uniform ensures that guests can easily spot the wine angels as they gracefully ascend and descend the iconic four-story wine tower for which Aureole is renowned. Photo: @BillyWardPhotography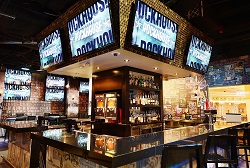 Rockhouse Serves Up Electrified Specials June 21-23 With Open Bar And Food Specials – Flower-power partygoers and all Las Vegas visitors will enjoy psychedelic drink specials at Rockhouse, located at Grand Canal Shoppes at The Venetian | The Palazzo, throughout the Electric Daisy Carnival, from Friday, June 21, until Sunday, June 23.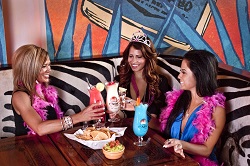 Cabo Wabo Cantina Rocks National Daiquiri Day With Buy-One-Get-One – Cabo Wabo Cantina inside Miracle Mile Shops at Planet Hollywood Resort & Casino will host a rockinÆ National Daiquiri Day fiesta on Friday, July 19.
The Strip-side cantina will raise a toast to the date dedicated to the festive drink by serving up buy-one-get-one frozen daiquiris all day. Refreshing frozen daiquiri selections include Pi±a Colada, Strawberry, Margarita and Cherry Lemonade.
---
I like Las Vegas In June
---
Dining In Las Vegas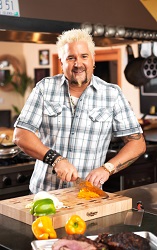 Chef Guy Fieri Opens First Las Vegas Restaurant At The Quad Later This Year – Restaurateur, Chef, Author and TV host Guy Fieri expects to open his first Las Vegas restaurant in late 2013 at the entrance of The Quad Resort & Casino. Located in the heart of the famous Las Vegas Strip, the 7,000 sq. foot restaurant will be a new restaurant concept from Fieri developed as part of The LINQ, Caesars EntertainmentÆs $500 million dining, retail and entertainment development next to The Quad.
ôThis is a true homecoming for me,ö said Guy Fieri, a University of Nevada Las Vegas (UNLV) alumnus having graduated in 1990 with a bachelorÆs degree in hospitality management. ôI remember the beginning of the food revolution in Las Vegas, in the early 90Æs as a college student, and now I am finally opening my very own restaurant right in the heart of the Las Vegas Strip. I am stoked.ö
---
Gambling And Gaming
Las Vegas Live TV – Great Casino Slots – Wheel of Fortune – Episode 5 – Season 1
From Live in front of The Flamino Las Vegas, "Vegas" Vic Royer give you an overview of the latest version of the ever-popular Wheel Of Fortune, what's been added, and how to play!
---
More Las Vegas News
---
Upcoming Las Vegas Events And Holidays
---
Newkirk's Notes – comments on Las Vegas from AccessVegas.Com publisher Ted Newkirk:
Hello From Las Vegas! – The old saying is "If you don't like the heat, get out of the kitchen" and we've been on the warm side the past week, no doubt about it. One record-setting day of 111 and another nearly record-setting day of 109 is quite the change from the really nice, moderate, flawless spring. And above the June average of 99 F.
Now… I'm used to it. Was out on my back deck a few nights ago, 96 degrees. Warm? Sure. But soothingly for a desert rat like me. Same with a Monday evening trip to Fremont Street. For the rest of you who don't live here and aren't used to it:
Everybody talks about sunscreen (and do use plenty of it), but I rarely — if ever — read articles and such about visiting Las Vegas that talk about hydration. Water is extremely essential. Because our climate is so dry, you do perspire but often don't feel it. Then you wake up the next day wondering why you have such a bad hangover, when a huge part of a hangover is dehydration!
Solution – Order an ice water with every booze drink (there will be no charge). In fact, I prefer to ask for it in a beer pint, easy on the ice so I get plenty of water. Even if I'm moving on, I can down quite a bit of the water and stay hydrated as I move to my next location. At the games and slots, you can usually ask for a bottled water in addition to your cocktail.áAnd yes, even beer can dehydrate you because of the alcohol content.
Also, there is some kind of rumor out there that our tap water isn't safe. Not so (or I'd be dead)! It simply tastes a bit like well water (high mineral content) because it comes from the Colorado River — just east of town — and the river has a high mineral content. As a side note, this high mineral content is what creates the "bathtub line" around Lake Mead.
If you have partied a bit too much and ignored my advice, at least guzzle yourself a glass (or two) of tap water when you get back to your room. Trust me, the so-so taste is a small price to pay for helping reduce your morning hangover level.
PS I follow my own advice. My friends have been surprised over the years that I rarely get a bad hangover, simply because I hydrate all through the evening, down some water before bed, and some more when I wake up in the middle of the night.
Hotel Oversupply Will Continue – Visitation looks to remain steady for the foreseeable future, which means that hotel rates should remain pretty much unchanged. We still have more rooms than visitors, which means the law of supply and demand is keeping rates in check. The caliber of a Las Vegas room compared to what you'll pay in any other city is night and day. (Even with the dreaded resort fee added in).
Within a couple of years, the new Resort World (old Stardust property) and SLS (old Sahara) will bring thousands more rooms online. Unless visitor counts really jump over the next couple of years (highly unlikely in my book), Las Vegas rooms should continue to remain a relative bargain.
Let's Blow Up The Harmon – CityCenter's Harmon Tower (the stubby looking, half-finished one next to Cosmo) has been deemed to be beyond repair regarding the construction defects which halted the project. This brings us one step closer to seeing it imploded.
I'm completely in favor. Bringing it down would give The Strip some visual "breathing room" which is getting to be in short supply. Many of you have written suggesting that they blow up all of CityCenter, which with its cold blue color looks and feels so out-of-place on The Strip. Unfortunately, that isn't in the cards.
Regular visitors know that it wasn't that long ago you had a block or two here and there between resorts. The Strip felt less boxed in, and you could enjoy the views of the surrounding mountains that make the Southwest U.S. so special.
Unhappy Living Here – I always advise people to really do their research before moving here. If at all possible, come visit for a couple of weeks and live like a local. Stay off the strip at a locals hotel (or better yet, an extended stay non-casino hotel). Rent a car for the entire stay. Drive the entire area (including during rush hour). Stop in at local bars, restaurants, stores and the like in the area you are considering living in. Why?
If I had a dollar for every person I've met who lives here and doesn't really like it, I'd have a pretty hefty roll of cash.
What is the #1 determination of whether you'll be happy here or not? How you handle really hot weather. The happiest people I know who live in Las Vegas, Phoenix, Tucson, Palm Springs and other areas of our Desert Southwest are people who actually like/enjoy the heat.
I'm one of them. Our average Dec./Jan. high of 57 is chilly for my blood. Don't get me wrong: I wouldn't want to stand out in 100+ weather for hour at a time or be digging ditches in it. But when it comes to lounging around, most who love it here think that 90 degrees feels great.
Final Note: Between all of the cities I mentioned above (plus smaller ones like Yuma, Laughlin/Bullhead and others), around 10 million people live in our Desert Southwest where summer temps average above 100. It is our trade-off for a spring and fall that feels like much of the nation's summer, warm nights much of the year, and not owning heavy jackets or snow equipment. But, it isn't for everyone.
International Air Traffic Up – We're seeing a small uptick (year over year) in visitors from beyond our borders, which is good news for Las Vegas. We realize that many of you (especially those crossing oceans to get here) could spend your holiday in many other places around the world, and appreciate you choosing Las Vegas.
While the visitors authority hopes that someday Las Vegas visitation may be comprised of 25% international visitors, I'm continually proud to note that right around 25% of our readers are already from outside the U.S. and we're happy to help you make the best of those precious vacation time and budget!

Associate Editor / News Researcher: Rick Ziegler
Concerts and Headliners: Amy Rayner-Cooley
---
What We're Watching – Vegas Videos You'll Enjoy
---
Members Mania – We Love Our Readers!
I'm taking a first timer to Vegas. Have been reading up on the place since I last visited two years ago and am a bit disappointed that I'll not be showing him the Strip at it's best.
I understand that the front of the Monte Carlo is a building site, the front of NYNY is also under construction. Bill's is closed, the former Imperial is also being worked on.
Some how feel short changed that the stroll up and down the Strip is going to be more hassle than relaxation……
Dave Kendall from UK
Ted Responds:
The Las Vegas Strip is four miles long, and only a couple of spots (New York-New York/Monte Carlo and Bill's to Quad) are construction areas. So, the vast majority of The Strip is intact. For those who worry about possible construction noise, I'd simply stay away from booking New York-New York, Monte Carlo, Flamingo or The Quad. You'll be fine!
Having said that, the lack of construction you saw two years ago was an anomaly. In the 20 years I've been here, seldom has there NOT been something major under construction. Most of The Strip will be pretty quiet once Linq (Harrah's) and Park (New York-New York) are done, sans the construction of the new arena behind New York, New York. The major action will be on the north end of The Strip with SLS (former Sahara) and Resorts World (former Stardust property).
---
Regarding our story Terrible's Hotel & Casino Begins Transition To Silver Sevens With Removal Of Iconic Sign:
With the change over to the Silver Sevens, will your points with Terrible's still be in effect or will they be lost.
Mary Ann Petit
Ted Responds:
This is simply a name change, not an ownership change. Back in the 90's, Terrible's used to be called The Continental. (In fact, as The Continental it was my first locals hotel, within walking distance of my first apartment here. Their lounge act? Cook E. Jarr, who still performs at Harrah's piano bar Saturdays and Sundays at 4 PM).
It was bought out by the local Herbst family, who owns a significant number of "Terrible Herbst" convenience stores all over town. They simply renamed it Terrible's because of the local name recognition. However, realizing that the name probably wasn't a good marketing strategy, the present owners have given it the new Silver Sevens moniker.
By the way, for those driving in (or renting a car) and on a budget, absolutely nothing wrong with this property. As one that caters to locals, you'll find much better food and drink prices, looser slots, lower limits, and we've always experienced a friendly staff. You are literally 3 minutes from The Strip by car (although probably a bit farther away than most of you would want to walk).
One more thing: The only time you need to really worry about your points is when two properties with two different sets of reward criteria merge. That's when they have to figure out how to integrate them!

We love to hear from you, and value your feedback! Here's how to participate:
Want to comment on a current reader post? Use the comment box on that particular web page. Many of the stories we post also have comment boxes at the end of the story. Make your voice heard!
Drop us an email at AccessVegas@AccessVegas.com – We read them all!
Call our recorded comment line at 702-507-0055. We listen to every call.
---
No related links found