Serving Las Vegas Visitors and Residents Since 1999
Welcome to the Insider Vibe! This is the official newsletter of AccessVegas.Com. We talk about the Las Vegas activities you really care about.
Need to contact us? Send feedback to
AccessVegas@AccessVegas.com
Missed an issue? Click to Read Back Issues Online.
---
AccessVegas.com Quick Info Menu:
Las Vegas Essentials

Access Vegas on Facebook
Las Vegas Photos

Featured Shows
---

---
Hot Hotel Happenings – Save Big Now!

Stay at Bally's Las Vegas and get choice of One Day SPA Treatments

Save up to 15% Off at Harrah's Palace Las Vegas

Caesars Palace Las Vegas Buffet of Buffets Deal! Stay 2 Nights From $134/Night & Get 2 All-Day, All Access Buffet Passes to 8 Buffets in Sin City!

Special Offers at The Palms – Entertainment Packages and Resort Packages
Click To View ALL Las Vegas Hotel Deals
Print Too Small? (Deals – Large Print)
---
This Week's Top Tours
---
Las Vegas Shows, Concerts, And Headliners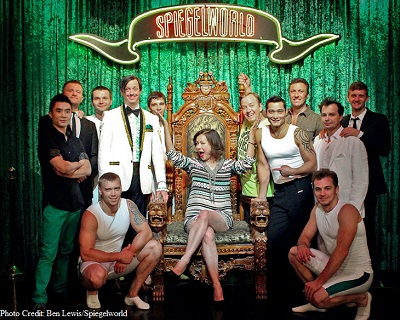 Film And Television Star Jennifer Tilly Attends Absinthe At Caesars Palace – Film and television star Jennifer Tilly was spotted attending Absinthe at Caesars Palace on May 30, 2014. Following the performance, Tilly met with cast to share words of enthusiasm for the show. Tilly also tweeted about her experience at ABSINTHE following the performance, mentioning "With the cast of @AbsintheVegas. What a fabulous show! It made me want to run away and join the circus!"
Def Jam Co-Founder Russell Simmons Attends Rock Of Ages – Def Jam co-founder, Russell Simmons, was sighted attending Rock Of Ages on, May 30, 2014 at The Venetian Las Vegas. Following the performance, Simmons joined the cast backstage for a photo and to share his enthusiasm for the show.
Set in L.A.'s infamous Sunset Strip in 1987, ROCK OF AGES tells the story of Drew, a boy from South Detroit and Sherrie, a small-town girl, both in L.A. to chase their dreams of making it big and falling in love. ROCK OF AGES takes you back to the times of big bands with big egos playing big guitar solos and sporting even bigger hair! This hilarious, feel-good love story celebrates the great rock songs of the æ80s including such sing-out-loud songs as "Every Rose Has Its Thorn," "I Wanna Know What Love Is," "Here I Go Again," "Don't Stop Believin'" and more.

Book Brooklyn Bowl At The Linq Las Vegas Tickets Now

Book Men The Experience Las Vegas Tickets Now


Book Crazy Girls Las Vegas Tickets Now
---
Drink, Dance, Swim!
Miller Lite Presents Miller Lite Go Fridays At The Flamingo Go Pool
---
Dining In Las Vegas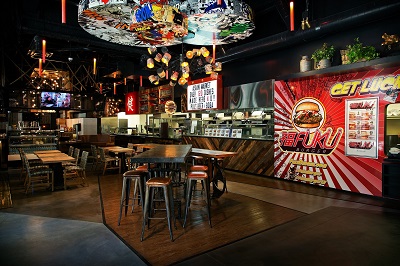 FAME – Food-Art-Music-Entertainment Now Open At Linq Las Vegas – FAME – Food-Art-Music-Entertainment is now open at Caesars Entertainment's, The LINQ, and has introduced a new concept blending a high-energy Chinatown Food Market serving authentic street fare combined with live entertainment.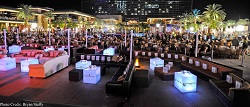 Epicurean Charitable Foundation To Host 13th Annual M.E.N.U.S. Gala At MGM Grand Las Vegas – Epicurean Charitable Foundation of Las Vegas (ECF) will host its 13th annual M.E.N.U.S. (Mentoring & Educating Nevada's Upcoming Students) gala on Saturday, Sept. 27, 2014, at MGM Grand.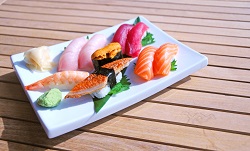 Jayde Fuzion M Resort Las Vegas Adds All-You-Can-Eat Sushi To Its Menu – Jayde Fuzion at M Resort Spa Casino proudly offers all-you-can-eat sushi Sunday through Thursday at the sushi bar. Guests will enjoy unlimited sushi, nigiri and hand rolls, along with complimentary sake, for $24.95 per person (pre-tax). "What sets our all-you-can-eat sushi menu apart from the rest is our premium selection of fresh fish, flown in daily," says Chef Mark Sandoval.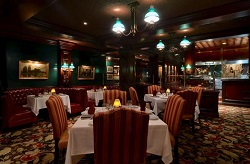 The Steak House At Circus Circus Celebrates 32 Years With Supreme Anniversary Dinner Special – In Las Vegas' ever-changing culinary landscape, THE Steak House at Circus Circus is one restaurant that has remained a crowd favorite. This year, the award-winning restaurant celebrates 32 years of mouth-watering cuisine and impeccable service. To mark the occasion, guests can indulge in a $32 Petite Filet dinner special through the month of June 2014.
---
Las Vegas Tours And Attractions

Book Your Valley Of Fire Buggy Tour Today
---
More Las Vegas News
---
Upcoming Las Vegas Events And Holidays
---
Newkirk's Notes: The Boss Speaks…
Newkirk's Notes are comments and insight from AccessVegas.Com publisher and 20+ year Las Vegas resident Ted Newkirk:
Hello From Las Vegas! – World Cup fever is in full force in Las Vegas. This is the one time every four years when American's actually act like they care about soccer, and that isn't a bad thing. For our international visitors coming here the next few weeks, rest assured that you'll be able to watch (and bet on) the games.
While always huge around the world, we're seeing unprecedented interest in the World Cup in the US this year! We have a growing list of restaurants and bars that are specifically catering to World Cup fans with various specials and more. Check out World Cup Las Vegas 2014
Not Sure If It Is April Or June – Our weather has been fantastic. Highs in the high 90's (35-37c), super-pleasant evenings in the low 80's (26-29c), making for perfect nights out on The Strip. Granted, those temps will bump up for our two hottest months of July and August. But for now, the only complaint has been the crazy wind. We expect it in April, and our little slice of desert is always on the windy side. However, it has been "hold on to your hat" windy the past week!
Las Vegas Is Heating Up (Literally) – Las Vegas has heated up around 4 degrees in the past couple of decades. Before everyone cries "global warming", the phenomenon is shared by other fast-growing cities. The more you pave over everything, the more heat from the day (especially here where the sun shines daily, cooking all of our pavement and concrete) stays around and radiates back into the air throughout the night. I encounter that phenomenon on my covered back patio, which says warmer than the other outdoor areas well into the late night during the summer. Welcome to desert living! Full story is here: Analysis: Las Vegas getting hotter faster than most other cities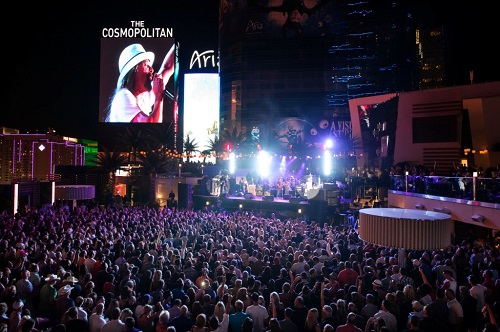 What A Concert Venue! – One of the great places to see a concert in Las Vegas is no doubt at the Cosmopolitan's Boulevard Pool. The above photo is from the recent Kid Rock concert. You are outdoors and overlooking The Strip as the show is broadcast up on their huge marquee to boot. If you want to see if one of your favorite artists is playing Boulevard pool this summer or fall, check out Concerts And Headliners At The Boulevard Pool Cosmopolitan Las Vegas
If You Like Jazz And Lounge Instead – For those whose idea of fun isn't particularly a rock or pop act, Las Vegas super-photographer Ira Kuzma (a friend and reader) gave us these suggestions:
* Kenny Davidsen's Friday night gig at the Tuscany in the T Spot lounge 10:30 pm-2am. Kenny has a great band and a different vocalist each week, along with a merry band of backup singers, who jump in to grab the mic for a tune. You never know who you will see onstage or in the audience as stars from the Las Vegas show and entertainment scene pop in.
Tuscany is a pretty nice, all-suite hotel and casino just 1/2 mile west of Bally's on Flamingo Road. To put it in perspective, the same distance from Bally's to Mirage. A quick, cheap cab ride. Video highlight:
* The Dispensary – Jazz on the weekends, late into the evening. This is for those of you who rent a car as the 2451 East Tropicana Avenue location is too far to walk. The Dispensary — which happened to be my local bar some 10 years go — is a great old-school Vegas bar and famous for their $5.95 half-pound burger and fries. Video from Dispensary:
* The Bootlegger – Kelly Clinton-Holmes (wife of long-time Las Vegas headliner Clint Holmes, and a talent in her own right) hosts what can best be described as an all-star jam session Monday nights at 9 PM. You are very likely to see more than one local celebrity in the audience enjoying some of Las Vegas' best musical talent. Here's Clint Holmes himself vocally jamming with Elisa Fiorillo (Prince & The NPG, Michale Buble, etc):
You can see Ira's work and follow him on his Ira Kuzma Photography Facebook page. While you are at it, head over to VegasFacebook.com and follow us as well!
Move Over, San Antonio Riverwalk – A busted water pipe turned the brand new Linq Las Vegas into a muddy river of water, closing the mall and many of the stores! Video:
We understand all has pretty much returned to normal. BTW, readers are continuing to love The Linq (although I don't think we've heard from anyone yet who has taken the ride on the Linq-Mobile, AKA High Roller).
Vote, Vote, Vote! – Make your voice heard as our Best Las Vegas Hotel Playoffs continues. Click over to Best.AccessVegas.com and click away! You'll be given two hotels at a time, and simply pick the one you like better or feel is the better property.
Hope you are enjoying this issue!

Associate Editor / News Researcher: Rick Ziegler
Concerts, Headliners, Special Events: Amy Rayner-Cooley
---
What We're Watching!
Vegas Videos You'll Enjoy
Las Vegas To Crack Down On Aggressive Panhandlers And Performers At Fremont Street Experience

– Downtown Las Vegas is enjoying a business and arts rebirth, drawing tourists back to the original heart of the city. However, with the return of tourists, the number of street performers and panhandlers has increased in places like Fremont Street Experience. Some tourists have complained that they are occasionally aggressive, demanding tips and handouts. Those complaints have not escaped city leaders
Valley Of Fire State Park

– Just a ways north of Las Vegas sits an area of rugged, weathered, stark rock formations spread across the land which look more like the surface of Mars then they do earth. Enjoy this spectacular pictorial show and then plan to go enjoy seeing it for yourself. This is one you'll be talking about for a long time and easy to fit into your Las Vegas visit.


MegaCities Las Vegas Documentary

– Find out what makes Las Vegas work behind the scenes from how all of the casinos are powered through electricity to the 7000 employees that make a hotel casino hum. Well-produced, interesting 45 minute show.
---
Members Mania – We Love Our Readers!
Sorry guys, my fingers are in countless, very cool new projects that we'll be bringing you over the next couple of months and I slammed nose-first into deadline on the newsletter this week! However, you know that read everything you send and appreciate hearing your questions, comments and trip reports!

We love to hear from you, and value your feedback! Here's how to participate:
Want to comment on a current reader post? Use the comment box on that particular web page. Many of the stories we post also have comment boxes at the end of the story. Make your voice heard!
Drop us an email at AccessVegas@AccessVegas.com – We read them all!
Call our recorded comment line at 702-507-0055. We listen to every call.
---
No related links found