Serving Las Vegas Visitors and Residents Since 1999
Welcome to the Insider Vibe! This is the official newsletter of AccessVegas.Com. We talk about the Las Vegas activities you really care about.
Need to contact us? Send feedback to
AccessVegas@AccessVegas.com
Missed an issue? Click to Read Back Issues Online.
---
AccessVegas.com Quick Info Menu:
---

---
Hot Hotel Happenings – Save Big Now!

Stay at Bally's Las Vegas and get choice of One Day SPA Treatments

Save up to 15% Off at Harrah's Palace Las Vegas

Caesars Palace Las Vegas Buffet of Buffets Deal! Stay 2 Nights From $134/Night & Get 2 All-Day, All Access Buffet Passes to 8 Buffets in Sin City!

Special Offers at The Palms – Entertainment Packages and Resort Packages
Click To View ALL Las Vegas Hotel Deals
Print Too Small? (Deals – Large Print)
---
This Week's Top Tours
---
The Cromwell Las Vegas Hotel And Casino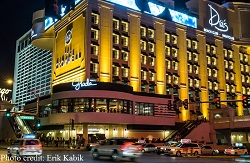 Giada De Laurentiis' First-Ever Restaurant, GIADA, Is Now Open At The Cromwell Las Vegas – The most anticipated restaurant opening of 2014, Giada De Laurentiis' first restaurant, GIADA, is now open at The Cromwell Las Vegas. The cornerstone of the boutique hotel and casino, GIADA boasts priceless views, signature dishes and a warm and inviting atmosphere, all a reflection of De Laurentiis' vision.
Clairol Natural Instincts sponsored the grand opening celebration for brand spokesperson De Laurentiis, who changed her Natural Instincts shade to Amber Shimmer for the occasion, offering invited guests a first look at the space in advance of the restaurant's official opening day today.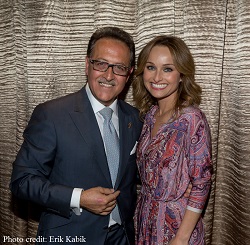 Elevating The Lobby Bar Experience, Bound By Salvatore Is Now Open At The Cromwell – Now open, the newest addition to The Cromwell Las Vegas' luxurious lineup, Bound by Salvatore, brings a new meaning to the lobby bar experience. Salvatore's more than thirty years of experience shines with perfectly executed classic cocktails, never-before-seen espresso cocktails, elegant champagne cocktails and signature creations.
Featured on the carefully-curated menu are Salvatore's signature cocktails, many of which are iconic and are synonymous with the famous bartender. The Breakfast Martini comes from Salvatore's wife insisting he eat breakfast, to which he replied with a gin cocktail mixed with the finest orange marmalade, the same topping he uses for his toast. Also featured is the Spicy Fifty, which combines the best of sweet and sour on the palate with a warm finish.
Full story/details/info: Bound By Salvatore Is Now Open At The Cromwell
---
Las Vegas And Grand Canyon Tours
Walls of petroglyphs, rainbow-colored rocks showcased at Valley of Fire
---
What's Happening At Las Vegas Hotels?
---
Father's Day Las Vegas 2014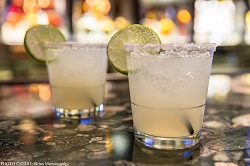 Chayo Mexican Kitchen + Tequila Bar Honors Padres With A Macho Meal For Father's Day – Chayo Mexican Kitchen + Tequila Bar at The LINQ will treat dads this Father's Day to a complimentary Don Margarita with the purchase of the De La Tierra platter on Sunday, June 15.
Satisfy dad's cravings with the De La Tierra platter. The family-shared meal is served with New York strip steak; pork tenderloin and Spanish chorizo, paired with sides of grilled cactus leaves, Mexican street corn, spring onions, cilantro rice, black beans and flour tortillas, priced at $55.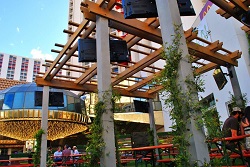 Bier Garten At The Plaza Hotel Downtown Las Vegas Offers Father's Day Dad's 2-1 Beer – For Father's Day on Sunday, June 15, Bier Garten is celebrating dads. Sons and daughters can treat their dads to a beer at downtown's back yard beer garden with Bier Garten's buy one get one free beer offer on Father's Day.

Book Absinthe Las Vegas Tickets Now
---
Dining, Drinking, And Dancing
---
More Las Vegas News
---
Upcoming Las Vegas Events And Holidays
---
Newkirk's Notes: The Boss Speaks…
Newkirk's Notes are comments and insight from AccessVegas.Com publisher and 20+ year Las Vegas resident Ted Newkirk:
Hello From Las Vegas! – I hate to start on a down note, but our thoughts and prayers go out to the families and friends of Las Vegas (aka Metro) Police officers Alyn Beck and Igor Soldo. Those of you who follow the national U.S. news know that their senseless slaying while on duty was one of the top news stories of the week. That area of East Las Vegas up against Sunrise Mountain was my neighborhood and stomping grounds from about 1998 to 2003, so it particularly hits home with me. Both were the fathers of very young children.
The Real Weather – This past weekend, I read an out-of-town Vegas source say that it was going to be 113 degrees (45c) this week. Huh? We have had a couple of days running 4-5 degrees above our 99 F (37c) June average, but the 10 day outlook has us pegged right at average. We were suffering through a string of 115+ (46+ c) days about this time last year, but not this year (so far). While there are people from out-of-town who report on Vegas who do good work, I am occasionally troubled by reports that are that far off-base. If we were facing 113 this week, it would be the talk of the town!
áábyá
á
aresauburnÔäó
á
Rock And Roll All Nite, Party (At The Hard Rock) Every Day – I still remember opening night of the Hard Rock Hotel Las Vegas very well. Passing actress Sherilyn Fenn (who I had the hots for at the time) on the way to the crowded bar. Playing craps right next to (then) Guns 'N' Roses drummer Matt Sorum. It was 1995 and the Hard Rock was rockin'.
However, it would take nearly two decades before the property really started living up to its name with residencies by Def Leppard and Axl Rose instead of a more general "rock 'n roll" theme that encompassed just about everything.áNote: I have a real problem calling Axl and the current assorted sidemen Guns 'N' Roses. Vince Neil is a solo act — and bills himself as such — without Motley Crue bandmates Tommy, Nikki, and Mick at his side. Axl, bring back Slash and we'll talk.
Hot on the heels of rumors that Guns 'N' Roses will probably be doing residencies at the Hard Rock for quite some time is word that the legendary band KISS is getting ready for a line-up of shows this fall. (I have another connection there as current KISS guitarist Tommy Thayer and I used to run in some of the same musical circles in my hometown or Portland, Oregon when his band Black 'N Blue had a few major label albums and a brush with rock stardom. Somewhere, I still have a photo of he and I together backstage at a show).
No word on the dates, but if you read this newsletter each and every week, you know we always have the section where we show you the latest concerts we've added. So, stay subscribed and stay tuned!
We're Now On Flipboard – For those of you who prefer reading internet content magazine-style on your tablet, the free Flipboard app (for Android and iThingys) has most of the stories that we feature and link to available. Get on Flipboard, do a search for AccessVegas.com and hit the subscribe button. Very important: For some reason, you need to hit the little refresh circular arrow at the bottom left-side of our magazine cover to make sure you are reading the latest additions we make each time you open the app.
For those of you who prefer the traditional newsletter style (which has more info), we are getting ready to do a complete redesign to make it easier to use, and with a modern "easy on the eyes" design. We're also exploring a digital magazine that can be viewed on any device, but one thing at a time!
Click, Click, Click, Click, Click – We get a surprising number of emails asking for details about something we blurbed out or noted here in the newsletter. Info which is usually contained in a link that accompanied the story! I love all of our readers to death, but we are not equipped to be able to handle questions on information where we've posted and linked to the info in question. Please click over to read an article/story before asking. Having said that…
Our premium paid membership program subscribers will have the promise that we'll answer anything we can (within reason) to help you figure something out or plan for your next trip. Your contribution helps us keep appropriate staffing levels up, and that allows us to return the favor! (We do read every email to AccessVegas@AccessVegas.com and do appreciate them, but can't reply to them all due to time constraints).
Been out-of-the-loop and unfamiliar with our pending premium membership? There is still time to save by purchasing before July 1! Click on over to:
Best Las Vegas Hotel Voting – We had a little IT glitch that erased all the votes in our most recent round of voting. Regular readers know that we're conducting a playoffs of all major Las Vegas hotels to let you decide which is the best! No "Editor's Picks" or nominations here. This is about "We The People" who visit Las Vegas! Check out the bracket then click to vote. It is fun and easy:
Say Goodbye To The Harmon – The giant, curved building that has been Las Vegas' most expensive billboard for the past number of years is finally being dismantled. Due to construction defects, the building was essentially deemed structurally unfit before it was finished. While rare, we do have seismic activity here in Las Vegas and "the big one" could bring it tumbling down. No implosion for this one. The proximity to the (recently sold for $1.75 billion) Cosmo could make a misfire extremely expensive.
No word on a replacement. One can hope for a park-like area of nice scenery and maybe a couple of restaurants to make up for the greenery that has been destroyed by the shopping mall construction in front of Bally's just up the street. But with the way things are going, it will probably end up a Walgreens or CVS.
Here's some video of the spectacular New Years Eve implosion of the Hacienda Hotel to make way for Mandalay Bay:
Want more Las Vegas implosion action? Check out our YouTube channel for Las Vegas Implosions!
Hope You Are Enjoying This Issue!

Associate Editor / News Researcher: Rick Ziegler
Concerts, Headliners, Special Events: Amy Rayner-Cooley
---
What We're Watching!
Vegas Videos You'll Enjoy
Kaskade At Encore Beach Club

– If you are like us, you are probably scratching your head at how a guy who looks more like a investment banker or CEO earns millions per year performing to club-goers and pool partiers worldwide. If you've ever wanted a quick taste of what these pool events are like and either didn't want to fight the long waits (or parade around in a swimsuit in front of a bunch of 22 year olds), this video will give you a little taste of what all the "excitement" is about.
---
Members Mania – We Love Our Readers!
We have just returned to the UK after our 10th trip to Vegas after five years absence, and have noticed a great many changes, not all good ones. The CityCenter area was being constructed when we where last there and it now looks great. The Aria, Cosmopolitan and Crystals especially so. Went on the high roller at night, the best time to see the lights of the city. Slots a bit tighter, but still enjoyed playing them.
Now a few negatives. We stayed at the Excalibur and were constantly harassed by folks trying to get us to book shows. If we wanted to book a show we are quite capable of doing this ourselves. Complained to the front desk but the guy did not seem interested.
We knew about the sex card pushers on the strip, but were surprised to see many beggars and costumed people on the sidewalks and bridges. I don't mind giving money to buskers but how many of these beggars were really starving- as some of their placards said. They looked quite well fed to me.
However we will be back next year.
Harry Cadman from the U.K.
I am a huge fan of your news letter and a long term Vegas visitor. I like to stay at the north end of the strip @ Circus Circus. Although there are better hotels to stay at, I just like the vibe of Circus Circus. I feel like Vegas is my second home as I visit each year and have done for the past 10 years.
I too have noticed the changes in Hotels and atmosphere when visiting them. They seem confused as to what they are trying to be. Some say we are Hotel/Casino's but in fact they feel more like shopping malls. The Quad is just terrible it has no atmosphere at all and the casino is all over the place. You have small parts of a casino here and there it's poorly planned out and a complete waste of someone's money in my opinion.
I visited a week or so ago and even the ticket slappers on the strip were few and far between and the street entertainers were all but gone too. I visited Fremont and that too looked like a building site, LOL.áI am sure it will look great when it's finished but the Golden Nugget was full of atmosphere and I enjoyed my time in there. Don't get me wrong there are of course still Casino's worth visiting and will leave you amazed by there beauty, like the Venetian, Bellagio etc ….
I will continue to visit Vegas for as long as I am able but as each year passes the vibe of the town get more and more confused.
Vegas Pete
I want to thank both Harry and Pete for their great reports. Las Vegas certainly still deals with some negatives, and being an independent publication, we can (and do) speak out about them here. The slots are still too tight, and for some reason the calculator-driven CEO's of these major gaming companies can't grasp the concept that you are OK with losing your $200 for the day, but you'd like to have it take much of the day to do it so you get some entertainment out of it.
The continued growth of restaurants and the fact that over 70% of visitors go see a show just proves that you are finding better ways to spend your money than on the tight slots and bad-rules blackjack.
I agree with Pete in that I have yet to warm up to The Quad. Having said that, I'll give it another try soon and see if it has grown on me. They wanted/needed to dump the Imperial Palace name (my understanding is that they did not own it), but they could have simply changed it to IP. Just like Treasure Island became TI and Las Vegas Hilton became LVH. The same amount of money dumped into Imperial Palace could have made it amazing, while keeping the cool theme.
Having said that, The Linq is being more favorably received than I originally thought it might. People are indeed wandering down this new "side street" for a relaxing stroll.
I do think that in the future, this will be looked back on as Las Vegas' "lost period" when it wasn't sure what it wanted to be next. Do you try to hold the gamblers? Do you cater to the clubbers who can't go 3 seconds without posting a social media selfie (which, BTW, is free publicity for the city), and will this onslaught of shopping succeed? A possible Caesars Entertainment bankruptcy (which we'll discuss next issue) could play a major roll in shaking things up!

We love to hear from you, and value your feedback! Here's how to participate:
Want to comment on a current reader post? Use the comment box on that particular web page. Many of the stories we post also have comment boxes at the end of the story. Make your voice heard!
Drop us an email at AccessVegas@AccessVegas.com – We read them all!
Call our recorded comment line at 702-507-0055. We listen to every call.
---
No related links found