Serving Las Vegas Visitors and Residents Since 1999
Welcome to the Insider Vibe! This is the official newsletter of AccessVegas.Com. We talk about the Las Vegas activities you really care about.
Need to contact us? Send feedback to
AccessVegas@AccessVegas.com
Did someone forward this to you and you'd like to be on our list? Sign up at AccessVegas.com
Missed an issue? Click to Read Back Issues Online.
---
AccessVegas.com Quick Info Menu:
| | |
| --- | --- |
| Las Vegas Essentials | Featured Shows |
---

---
Hot Hotel Happenings – Save Big Now!

Stay at Bally's Las Vegas and get choice of One Day SPA Treatments

Save up to 15% Off at Harrah's Palace Las Vegas

Caesars Palace Las Vegas Buffet of Buffets Deal! Stay 2 Nights From $134/Night & Get 2 All-Day, All Access Buffet Passes to 8 Buffets in Sin City!

Special Offers at The Palms – Entertainment Packages and Resort Packages
Click To View ALL Las Vegas Hotel Deals
Print Too Small? (Deals – Large Print)
---
This Week's Top Tours
---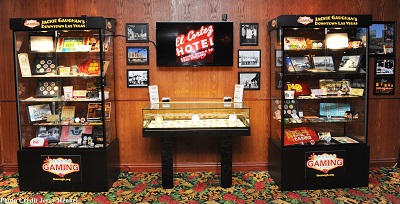 New Exhibit Honoring Jackie Gaughan Now On Display At El Cortez Hotel & Casino – In conjunction with the Museum of Gaming History, the El Cortez Hotel & Casino unveiled a new mobile exhibit today honoring downtown gaming legend Jackie Gaughan.
"Working with the Museum of Gaming History to commemorate the legacy of Jackie Gaughan has been an incredible honor," said Alex Epstein, executive vice president of El Cortez Hotel & Casino. "To be able to see the impact Jackie made on the history of Las Vegas and share that with the community is very inspiring." Photo: Jerry Henkel
---
Las Vegas Tours And Attractions
---
Celebrate The Fourth Of July In Las Vegas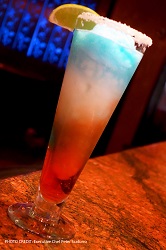 Trevi To Celebrate Fourth Of July Weekend With Festive Cocktail And Burger Specials – Trevi Italian Restaurant inside The Forum Shops at Caesars Palace will toast America by offering an Italian Stuffed Burger and a Red, White and BOOM cocktail available exclusively throughout Independence Day weekend from Thursday, July 3, through Sunday, July 6.
Executive Chef Peter Scaturro will introduce a twist on an American favorite with the Italian Stuffed Burger, loaded with gorgonzola and fontina cheeses and topped with red and yellow tomatoes. The burger, accompanied by steak fries, will be priced at $12.95. PHOTO CREDIT: Executive Chef Peter Scaturro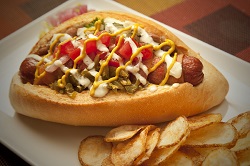 Celebrate Independence Day At Tacos & Tequila With Food And Drink Specials – Tacos & Tequila (T&T) at Luxor Hotel and Casino will celebrate Independence Day with fiestas featuring food and drink specials Friday, July 4 through Sunday, July 6.
Party all weekend long with the Americano Combo, priced at $15 per person, and includes a choice of the Matador Burger or Sonoran Hot Dog, served with Chorizo Cheese Fries and a Coors Light.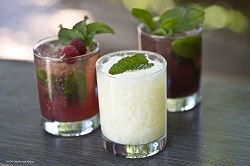 Rhumbar Celebrates The USA With Red, White And Blue Patriotic Mojitos – The Mirage Hotel & Casino Strip-side oasis bar, will celebrate Fourth of July with red, white and blue mojitos all weekend from Friday, July 4, through Sunday, July 6.
Each patriotic mojito is handcrafted with a unique flavor profile and priced at $12 each. The red blends Montecristo Platinum rum, raspberry demerara sugar, St. Germain, lemon juice and mint. The white is a concoction of Montecristo Platinum rum, Thai coconut honey syrup and fresh lime juice and the blue combines Montecristo Platinum rum, Velvet Falernum, spiced blueberry demerara sugar, fresh lime and mint.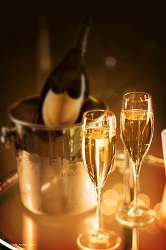 Fizz To Celebrate Champagne And Fashion On Fourth Of July Weekend With ôPop & Shopö – FIZZ, the lavish champagne lounge inside Caesars Palace, will bring back its popular "Pop & Shop" champagne and shopping experience, from 2 to 6 p.m. on Friday, July 4 and Saturday, July 5 in celebration of Independence Day.
Each "Pop & Shop" package will include a signature FIZZ champagne flute complete with endless refills, along with a FIZZ gift bag containing special offers, discounts and samples from various retailers inside The Forum Shops at Caesars. Shoppers can feel free to fill up their glasses at FIZZ before perusing the latest fashions, and are welcome to return for refills throughout their shopping sprees. The Pop & Shop packages are priced at $50 per person, and available for purchase at FIZZ.

Book UFC Las Vegas Tickets Now
---
Downtown Las Vegas / Fremont Street
---
Watching The World Cup From Las Vegas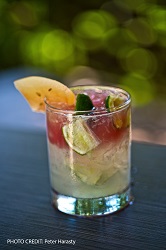 Score Big At RhumbarÆs World Cup Kick Off Parties – RHUMBAR, located at The Mirage Hotel & Casino, will celebrate the World Cup with viewing parties and new hand-crafted cocktails for most games from the first match on Thursday, June 12 through the final game on Sunday, July 13.
The new World Cup cocktails, made by RHUMBAR's mixologist, Lillian Hargrove, include the Brazilian Barbeque cocktail, a smoky, sweet rendition of the traditional caipirinha, made with a touch of sea salt to elevate the layers of flavor; and the Leblon Cachaca, made with Lagavulin single malt rinse, rock candy syrup, lime cubes and fresh watermelon juice.
---
Las Vegas Hotels
After years of going big, Vegas hotels go boutique
---
Las Vegas Shows, Concerts, And Headliners

Book Jersey Boys Las Vegas Tickets Now

Book Celine Dion Las Vegas Tickets Now

Book Country Superstarts Las Vegas Tickets Now
---
Dining In Las Vegas
---
Medical Marijuana
---
More Las Vegas News
Secret Las Vegas: Where the locals go to party
---
Upcoming Las Vegas Events And Holidays
---
Newkirk's Notes: The Boss Speaks…
Newkirk's Notes are comments and insight from AccessVegas.Com publisher and 20+ year Las Vegas resident Ted Newkirk:
Hello From Las Vegas! – So much to get to this week, including my in-depth look at the new, more restrictive liquor laws downtown on Fremont Street.
A reminder that next week, this newsletter splits into paid subscriber and free subscriber versions. The free version will not have the insider articles from me, and will start having more advertising to help pay for the vast amount of work it takes to put this together.
The paid subscribers will continue to receive the insider content, see fewer ads, have guaranteed response to their questions at AccessVegas@AccessVegas.com, and our (still in development) Super Secret Spreadsheet of Vegas Deals. Which we'll explain to paid subscribers next week.
Best Las Vegas Hotels Voting Down To "Sweet 16" – We tossed just about every Las Vegas hotel into the pool with a big playoff to whittle down what you — our readers — feel is the best hotel in Las Vegas. Check out the Hotel Playoff Bracket and you'll see we had a couple of upsets:
Treasure Island beat Vdara, and Tropicana beat Aria (both by very slim margins). I chalk up the Vdara loss simply to unfamiliarity. This non-gaming, non-smoking luxury property simply isn't on the radar of many.
The remodeled Tropicana retains its popularity and is no slouch after the remodel a couple years ago. Factor in the fact that our readers just don't seem to like CityCenter, and I'm not overly surprised about theáupset. (Attention MGM Resorts: Please don't shoot the messenger on this one)!
The other perhaps minor upset of note was MGM Grand beating Cosmo. I was very sure that Cosmo would make it to the Final Four. The rooms and views are amazing. The mixology program is among the best in town. However, MGM is no slouch and when you toss in The Signature towers, strong dining line-up, and the concerts at the Gardens, it is a strong contender.
Time to vote again and this Sweet 16 round, with all new match-ups!
Making Sense Of The New Fremont Street Liquor Laws – The Las Vegas City Council has banned consumption of liquor from cans and bottles (any glass container) on Fremont Street. No longer can you take that ice cold bottle of beer and walk it from one casino to the other. You must pour it in plastic (cups are now provided at casino exits) or face a $250 fine.
This was primarily done as a first step to stop people from buying liquor at the gift shops and convenience stores which line the Fremont Street Experience. That is correct: While still legal to walk into the one of the gift shops and buy a bottle or can of beer (or pint of spirits), the mere act of opening it on Fremont Street — even if just opening it to pour it in a plastic cup — is now illegal and a fineable offense.
So what gives? Hang tight and as always, I'll walk you through the entire inside skinny. Including what this means to you, to downtown, and to Las Vegas. You'll need to follow the bouncing ball pretty closely here (and with our extremely literate readership, that won't be a problem):
Our area has always had a rule that prohibits one from opening and drinking liquor outside of a grocery or convenience store within 1000 feet of where you purchase it. This is to keep your local 7-11 from (somewhat) turning into a bar.
Having said that, the ordinance is seldom enforced. I've lived within walking distance of convenience stores at a number of my residences here during the past 21 years. If I wanted a cold one, I'd go down to the store, buy it, pop it open as soon as I hit the sidewalk and sip it on the walk home. I've had police drive by me while having an open container on the street without so much as a second glance. This is Las Vegas. Drinking. Yawn.
Keep that in mind as we move along.
The Fremont Street Experience has been getting more crazy and more rowdy and more crowded now that its popularity has exploded (something we were well ahead of the curve on, suggesting that everyone spend an evening down there as part of their Vegas visit for a number of years now). We've even reversed course and gone from telling you to go down on the weekend nights when there was some action (back in the days when Fremont Street was more sedate) to telling you to avoid it on Friday and Saturday nights as of a this spring.
Between all of the stages and the new permanent bars outside the casinos and the kiosks (which were always there) and the buskers (costumed characters, musicians, beggars, etc.) that over-populate the mall, it is crowded. The new Slotzilla zipline has ruined the iconic site lines and now makes the Fremont Street Experience feel even more claustrophobic. Add in drunk trouble-makers and problems are brewing.
The casinos along with the city council came up with a "solution" to deal with the drunken troublemakers. Add more police and arrest the perpetrators, right? Um… no. Their solution to stopping the drunk crazies is to enforce the prohibition of consumption of convenience store liquor in the Fremont Street Experience. Remember that 1000 foot rule I mentioned earlier? Yes, that one.
However, there is no way to tell if someone bought that bottle of Bud from a casino bar or from the ABC store. The solution? Ban all "original containers" of alcohol from the Fremont Street Experience. Bottles/glass and cans. This effectively eliminates the sale from convenience stores for consumption on the mall because the minute you walk out of the store, if you open the container even just to put it in a plastic cup, you are immediately in violation of the law.
The end result? 1. You MUST purchase alcohol to be consumed on the mall from a casino and 2. You MUST put it in a plastic cup upon exiting a casino. You know… kind of like those strict alcohol rules in your city. The ones you come here to get away from!
So, the rowdy, trouble-making drunks (which includes a fair amount of locals just going down there to cause trouble) can still buy a zillion-ounce high octane slushy drink and get plastered and still cause trouble. However, you can't duck into the ABC store and buy a nice cold "oil can" of Fosters and walk the street with it.
Does this affect The Strip? NO. I want to emphasize that, because any rumor that Las Vegas is parting with decades of being libation-friendly won't be good PR for the city in general. This story already made news in papers around the nation (which is why I'm giving you an in-depth, real look at it, unlike others who are simply repeating the story). On The Strip, you can still waltz right out of the casino with a glass drink in your hand and go as you please. Buy that $1 bottle of beer at Casino Royale and head over to The Mirage.
So what's up with the future of Fremont Street? Good question. Some of you have found it enjoyable and have done entire trips down there. However, we're hearing from more and more of you who are basically saying "Did it, OK for a night, but The Strip is for me".
Add to that the undressed problem with the buskers, these new liquor laws, casinos starting to charge for parking unless you are a guest or gambler (Strip casinos parking is FREE and unencumbered), the reduced sightliness because of Slotzilla and similar, and we may see that migration back to The Strip. We'll be on top of it!
Oh Say Can You See… – Fireworks on the Las Vegas Strip this July 4? Yes you can! At 9 PM, Mandalay Bay, Stratosphere, and Caesars Palace will shoot them off. If you are center-Strip, you can then walk down the Linq to the High Roller, where fireworks are slated to go off at 9:30 PM.
Mandalay Bay is hosting a pool party with a classic rock band for $20. Stratosphere will feature two parties: Level 107 atop the tower (adults only) and a pool party (all ages) featuring Las Vegas legend (in his own mind) Zowie Bowie (Chris, we kid because we love) for only a $10 admission. Plus, food and drink specials. And, the fireworks are by Grucci (the Hallmark of fireworks shows). Here's a taste of Zowie Bowie:
Hopefully, this is getting us one step closer to something I've been suggesting for a long time: A July 4'th "close the strip" fireworks spectacular like we do for New Years Eve! Coordinated fireworks going off the roofs of a number of hotels at 9 PM and closure one side of The Strip from 8-10 PM so everyone can enjoy it with some elbow room. We're already the best spot in the U.S. to do New Years Eve (I'll put our fireworks show and celebration up against that little ball drop in New York any time). Let's become the country's place to be on July 4 as well!
Here's last years New Years Eve Las Vegas Fireworks:
Hope you are enjoying this issue!

Associate Editor / News Researcher: Rick Ziegler
Concerts, Headliners, Special Events: Amy Rayner-Cooley
---
What We're Watching!
Vegas Videos You'll Enjoy
Absinthe Las Vegas Preview

– You've heard how crazy Absinthe is. You've heard that it is a must-see Vegas show (as long as you aren't easily offended). You've thought about going. Enjoy this great video preview, then grab a ticket and enjoy it for yourself on your next visit!
Celebrity Chefs Doing It Right

– Local Food critic John Curtis talks about the new offerings by Giada, Guy Fieri, Daniel Boulud, and Kerry Simon and breaks it all down for you.
---
Members Mania – We Love Our Readers!
Could you recommend a 1.0-2.5 mile jogging route that is safe downtown? Or maybe a park with a jogging path or an athletic field with a track in the area? Not many downtown hotels have fitness centers. Not staying at Plaza this time.
Thanks for any ideas!
Gina from Belen, NM
Unfortunately, no parks or schools close to downtown with jogging paths.
This route http://goo.gl/maps/7t6Mf is just shy of 2 miles. Will take you by our new Smith Center, the Clark County Government Center, the Furniture Convention area, and our new city hall. It is plenty safe during the day (and reasonably safe at night if you are not alone as a female).
This route http://goo.gl/maps/DtXKV is the most "tourist scenic" You'll go up Ogden past The Cal, Downtown Grand, revamped Gold Spike, loop around the El Cortez, Container Park, and back down Fremont Street.
However… this route has lots of stoplights. The first route will let you run, run, run with only 4 intersections you'd have to wait on if you stick with the inside loop.
I would otherwise not get off the beaten path downtown as some areas are still hit and miss.
Just a note to readers: This is the kind of help we guarantee (within reason) to offer personally to our paid subscribers in the future. Answers to questions that may be too specific to be featured in the newsletter, or may simply take some extra time and local knowledge on our part.
In fact, we've already had some paying members starting to take advantage of this help via email. And for those who support us (and help us pay the light bill and our employees pay the rent), we're happy to help!

---
Just want to let you all know I took a ride on the high roller last week. Totally an awesome view and is reasonably priced. Will definitely do night ride next time out.
Ed
We love to hear from you, and value your feedback! Here's how to participate:
Want to comment on a current reader post? Use the comment box on that particular web page. Many of the stories we post also have comment boxes at the end of the story. Make your voice heard!
Drop us an email at AccessVegas@AccessVegas.com – We read them all!
Call our recorded comment line at 702-507-0055. We listen to every call.
---
No related links found