Serving Las Vegas Visitors and Residents Since 1999
Welcome to the Insider Vibe! This is the official newsletter of AccessVegas.Com. We talk about the Las Vegas activities you really care about.
Need to contact us? Send feedback to
AccessVegas@AccessVegas.com
Missed an issue? Click to Read Back Issues Online.
---
AccessVegas.com Quick Info Menu:
| | |
| --- | --- |
| Las Vegas Essentials | Featured Shows |
Las Vegas Events
---
Las Vegas Shows, Headliners, And Concerts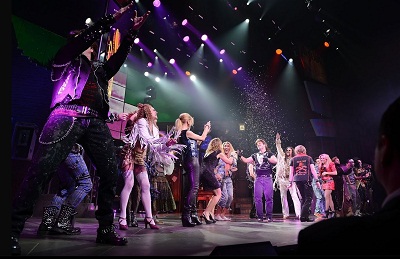 Vegas' Best Party Rock Of Ages Celebrates Opening Night At The Venetian – January 5, 2013, the high-octane musical Rock Of Ages opened at The Venetian Las Vegas to an enthusiastic, full house at the Rock of Ages Theatre. The production is a hilarious, feel-good love story that celebrates the great rock songs of the '80s including "Here I Go Again," "Don't Stop Believin'," "We Built This City," "Wanted Dead or Alive," and more.
The high-energy performance had the crowd rockin' out all night long with the audience waving hundreds of LED lighters in the air during the heartfelt ballads and singing and dancing on their feet during the finale. Director Kristin Hanggi and Choreographer Kelly Devine were also in the theater supporting the cast and at curtain call they joined the cast on stage to celebrate opening night. The talented cast includes Kyle Lowder as Stacee Jaxx, Carrie St. Louis as Sherrie, Justin Mortelliti as Drew, Mark Shunock as Lonny, Troy Burgess as Dennis, and Robert Torti as Hertz.
---
Celebrating The Holidays and 2012 In Las Vegas
---
Las Vegas Restaurants And Dining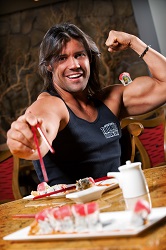 Rice & Company Debuts Thunder Roll In Honor Of Australia Day – Rice & Company at Luxor Hotel and Casino celebrates Australia Day on Saturday, Jan. 26 with the debut of the Thunder Roll, a sushi roll created in honor of the handsome blokes of Australia's Thunder From Down Under at Excalibur Hotel & Casino.
Available throughout the month of January, the tantalizing Thunder Roll, priced at $18, is made with a delicious blend of soft shell crab, tuna, avocado and cucumber, wrapped in seaweed and topped with spicy mayo and kabayaki sauce. In honor of Australia Day, the restaurant will offer the celebratory roll half-off at the special price of $9 on Saturday, Jan. 26.
Inglenook And Chef Jean-Georges Vongerichten Kick Off Bellagio's 2013 Epicurean Epicenter Series – Heralded as the home of a wide range of award-winning dining experiences including two AAA Five Diamond restaurants, Julian Serrano's Picasso and Le Cirque from the renowned Maccioni family, Bellagio's 2013 Epicurean Epicenter series continues its tradition of innovative and immersive experiences. On Saturday, Jan. 26, guests can taste five wines from the legendary Inglenook estate, paired with the critically acclaimed cuisine of James Beard award-winning chef Jean-Georges Vongerichten of Bellagio's Prime Steakhouse.
---
Las Vegas Sports And Sportsbook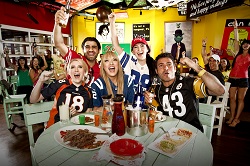 Se±or Frog's Kicks Off Football Specials For Playoffs And The Big Game – Se±or Frog's Las Vegas at Treasure Island Hotel & Casino will host a football fiesta for playoffs from Saturday, Jan. 5 through Sunday, Jan. 20 and for Super Sunday on Feb. 3.
Football fanatics will touch down at the famous party bar with big game eats and drinks while the big games play on all of the restaurant's high-definition televisions and huge projection screens. Sports fans will have guaranteed seating by purchasing any of the restaurant's signature football packages: The Rookie, The Veteran or The MVP.
---
Drinking, Gambling, And Partying in Las Vegas
Las Vegas' Ultra Dive Bar Rockhouse Moves From Imperial Palace To Venetian – This late January, the Sin City's iconic party bar will bring back the same let-loose attitude at The Grand Canal Shoppes at The Venetian Resort-Hotel-Casino. The new 9,000-square-foot location can be directly accessed from Las Vegas Boulevard providing convenience for hotels guests nearby and for those passing by. The original Rockhouse becomes the most famous party spots in the Las Vegas Strip.
---
Valentine's Day Las Vegas 2013
Cabo Wabo Cantina Hosts 'Love Stinks, Let's Drink' Anti-Valentine's Party – Amor is a bore, so the drinks will pour at Cabo Wabo Cantina at Miracle Mile Shops inside Planet Hollywood Resort & Casino with a "Love Stinks, Let's Drink" party on Thursday, Feb. 14.
The hard-rockin' cantina will celebrate the independent and fabulous life with Sangarita, a combination of margarita and sangria, for $10 a glass and $30 per pitcher. Partygoers may toast to lovers past with $5 anti-Valentine's shots including the Ex-Boyfriend, a stout blend of Patr¾n XO CafÚ and Bailey's Irish Cream; and the Ex-Girlfriend, a hard-hitting mix of tequila and Tabasco.
---
Las Vegas Economy And Real Estate
---
Las Vegas Attractions
---
Downtown / Fremont Street Experience
---
Miss America
---
More Las Vegas News
---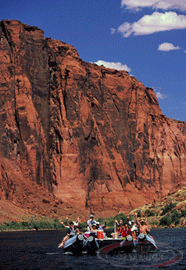 Maverick Helicopter Combo Adventure with River Rafting Tour – One of the most amazing ways to experience the Grand Canyon is with a landing tour and the added bonus of river rafting through the scenic Black Canyon on the Colorado River. You will enjoy a helicopter adventure through the Grand Canyon and see awe-inspiring scenery at one of the greatest natural wonders of the world. Following the helicopter tour through the Grand Canyon, you will land at the Boulder City Airport and meet up with the rafting crew. Your fully motorized and narrated river rafting voyage will depart from the base of Hoover Dam and float 12 miles down the grand Colorado River. The Colorado River rafting tour includes several stops along the river and lunch served upon reaching Willow Beach, Arizona. The rafting crew will transport you to your hotel at the conclusion of the tour.
---
Anthony Cools by Sarah Jane Woodall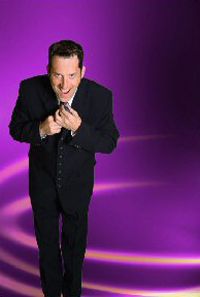 Anthony Cools – Good, clean dirty fun like nothing you've ever seen – Hypnotism – it's not just for quitting smoking anymore! Long recognized as an effective way to tap into the human subconscious for practical reasons, the art of hypnotism has lately been co-opted by pranksters. Some devilish genius figured out that it's just as easy (and much more fun) to hypnotize people for impractical reasons – and the next thing you know, a cottage industry was born. These days, there are several comedy hypnotists playing their trade on the Vegas Strip…the best-known of which is Anthony Cools.
What sets Cools apart from the competition? His rakishly smarmy charm, of course! Other comedy hypnotists might be more family-friendly or wholesome in appearance, but…come on! Did you really come to Vegas to see family friendly?! I didn't think so!
---
Newkirk's Notes – comments on Las Vegas from AccessVegas.Com publisher Ted Newkirk:
Hello From Las Vegas! – Happy New Year to all, and we hope that 2013 turns out to be a great (and lucky) year for each and all. It is turning out to be a colder-than-usual immersion for us. Midnight temps on New Years Eve were just above freezing, and we're looking at below-freezing overnight temps now through Tuesday night. Not funny.
What A Bang! – New Years Eve was still more spectacular than ever. This year's show featured over 8 minutes of fireworks and revelers enjoyed roaming over four miles of The Strip (it was closed to traffic) from around 6 PM until well past midnight.
To give you a comparison of the enormity of our celebration, we've created a Google Map of New York City with the length of The Strip superimposed on New York with Times Square in the middle. Those of you who took our advice and tuned into 8NewsNow.com we're able to see their entire 2.5 hours show streaming live and culminating with the fireworks. For those who missed it, the fireworks-only portion of the broadcast is available online: Las Vegas New Years 2013 Fireworks
A New Record! – As we've told you all year, we've been staying pretty close to being on track to break the 40 million mark in visitors this year. What we know is that we're going to beak the 2007 "boom era" record of 39.2 million. Estimates have us brushing up against the 40 million mark, but we won't officially know until a couple months into the year once all the numbers are finally crunched. Having said that…
A Soft 2013 – Airline capacity into McCarran is going to be off a couple of percentage points in 2013, which means no relief on the airfare front. This will obviously affect some of you more than others. It will keep hotel rates pretty steady, which means those spending longer stretches of time here can amortize the airfare over more days. However, if you are the average 3 day visitor, you'll be dinged harder as the cost to get here for those 3 days is likely to rise.
We continue to suggest visiting a little less often and staying longer. You won't feel as rushed (trying to cram so much into so little time), you can take that tour or day trip and see some of our spectacular high desert and grand parks, and have time to get out of the "things we do every visit" rut.
Return Of The $8 Dinner Buffet – About a year before it closed, The Sahara shut down their buffet. It wasn't anything special, but for $8 (if memory serves me correct), it was OK grub. That was the end of the cheap Las Vegas dinner buffet. Until now.
One mile west of The Sahara, Palace Station has brought back the $8 (actually $7.99 plus tax with players card) all-you-can-eat dinner buffet. We've had it and while certainly not that new fancy spread at Caesars, it is WELL worth the money. Heads above Circus Circus (located in the same general neighborhood and pretty much twice the price).
Fresh salads and fruits, carving station, hamburgers and pasta (including seafood pasta) prepped to order, grilled and fried fish, decent deserts, all-you-can-drink non-alcoholic drinks. You know, the standard Vegas buffet drill.
So, if you have some wheels while you are in town and you like bargains, check it out. If you are cabbing it downtown and back for a night, it is a very quick detour to grab dinner and then catch another cab for the rest of your ride to Fremont Street.
Stadium Updates – Every few months, we keep you up on the various stadium/arena proposals which keep floating around. Here's the latest:
UNLV – This one has turned into the front-runner and is garnering a lot of community support. An approximately 60,000 seat stadium would host UNLV football, major sporting events which we're not currently in the running for (no venue that size in town), and additionally concerts and similar.
South Strip – The proposal to build a stadium south of the M Resort seems dead. Long story and lots of finger pointing and really not worth going into.
Downtown – No new news although some of the long time movers-and-shakers still would like to place a basketball/hockey arena downtown.

I'm really dubious of having a Las Vegas NBA team. Most people living here come from elsewhere and already have strong ties to their "home" team. The Los Angeles Lakers have always had a very strong following in Las Vegas. Sure, the arena would fill up with people from out-of-town visiting here to root for their team (which would be good for tourism), but how well is a team going to do that has to play in front of a mixed-allegiance crowd every single home game? Especially in the NBA where home court advantage is huge.
Free Wi-Fi At Most MGM Properties! – Well… someone woke up and figured it is 2013 and more and more of us are connected everywhere we go. Bellagio, MGM Grand, Mandalay Bay and The Mirage have rolled out free wi-fi in their public areas (casino, restaurants, pool, etc.) Monte Carlo, New York-New York, Luxor and Excalibur will be on-board around the time of Spring Break/March Madness.
Springtime is set to also bring free wi-fi to all the rooms at these resorts. They aren't promising blazing fast speed for free, but if you really want to sit by the pool or in your room and watch Netflix on your tablet, you'll be able to purchase more speed as an add-on. Prices were not yet available.
Help Us Help You – One of the ways that we've been able to keep this newsletter complimentary despite the tremendous amount of research to put it together is because our hotel partner i4Vegas has been a consistent partner. When you book through the hotel links or booking box in this newsletter or at AccessVegas.com, we get the credit.
Unfortunately, despite our ever increasing readership, the number of readers booking with us has started to decline. To those that have and continue to do so, we thank you. You are the ones responsible for assuring we have the revenue to do what we do and can keep this newsletter significantly more ad-free than most online travel information.
For those of you that don't, we're asking that you take just a few seconds out of your life next time you book a Vegas room and plug in your dates and see what our partner can do for you.
"But Ted, XYZ hotel sends me really good deals". Unless that deal is FREE (and more power to you if it is), you might be surprised just how good their deal ISN'T. And… how much more flexibility you have in your price range by seeing a quick comparison of everything that is available.
Our hotel partner is Vegas-centric and you're not going to find them on the major comparison websites. Vegas is what they've been doing for years and years, and they've developed a special relationship with our hotels, buying rooms in volume and passing the savings on to you. (The hotels are happy because they don't have to market or sell the room).
If every single reader (that means YOU… not the next guy) would be kind enough to just take a few seconds to compare our rates and book with our hotel partner (through our booking box or links so we get credit) if we're comparable, we'll be able to keep the information flowing in its present form. And, you just might find some hotel deals you didn't know about!
Members Mania Ooops – We're not exactly sure how we pulled this one off, but last issue I did a full, special, year-end section of reader feedback and well-wishes. Which still appears in my copy on my computer, but for some reason vanished as the file was passed along to be placed online. If at first, you don't succeed… We're reposting it all in its entirety this week. (I can see it now: Sherlock Holmes in the case of the Missing Letters).
Hope that you are enjoying this issue!

Associate Editor / News Researcher: Rick Ziegler
Concerts and Headliners: Amy Rayner-Cooley
---
What We're Watching – Vegas Videos You'll Enjoy
---
Members Mania – We Love Our Readers!
As the year ends, I wanted to post a sampling of the great thoughts and wishes that were sent our way. We appreciate it, they mean much to us, and it is always exciting to think that we have so many amazing readers from around the globe!

---
Having been to Las Vegas 10 times in previous years, I have always purchased a calendar. However we did not go this year and have been unable to obtain one.

Could you let me know how I can obtain a calendar for 2013?

Thank you!

Lorna Richards

Ted Responds:

For our friends in the United States, you can get this one direct from Amazon. (Hint: Order two and you get the free shipping option). For our friends from other countries, you can perhaps do a search on your own area's Amazon site for similar. Hope this helps!
---
Hi from South Texas. The changes to the site are awesome well done sir. All this information you and your staff put out is priceless and very very much appreciated.
God bless you and have a great day.
Noe Alaniz
---
I enjoy getting all the Vegas updates from your newsletter. I will be back in February for my 36th birthday & I cannot wait! This will be the 3rd time in 10 months that I'm returning to Vegas. Keep those newsletter coming!
Sincerely,
Mandy from Nazareth, PA
---
Thanks again for a wonderful newsletter year. They are so helpful for every visit to LV since I have subscribed.
Greetings from Germany and Frohe Weihnachten (Season Greetings) to you and your family.
Ollie and Diana
---
Just a letter of thanks for all the info you have provided over the last few years. My wife and I have loved our annual visits to LV for the last 16 years but regrettably due to our age and the escalating air fares from the UK we are reconsidering "annual".
Hopefully we may make it again some time but meantime thanks and we hope you all have a great holiday and 2013.
Best wishes
Pam and Geoff Smithson
---
Merry Christmas and Happy New Year TO you and your staff. I love hearing about the city I love to visit.
Thanks for doing what you do!
The Kinloch's in Philadelphia
---
We love to hear from you, and value your feedback! Here's how to participate:
Want to comment on a current reader post? Use the comment box on that particular web page. Many of the stories we post also have comment boxes at the end of the story. Make your voice heard!
Drop us an email at AccessVegas@AccessVegas.com – We read them all!
Call our recorded comment line at 702-507-0055. We listen to every call.
---
No related links found