Serving Las Vegas Visitors and Residents Since 1999
Welcome to the Insider Vibe! This is the official newsletter of AccessVegas.Com. We talk about the Las Vegas activities you really care about.
Need to contact us? Send feedback to
AccessVegas@AccessVegas.com
Missed an issue? Click to Read Back Issues Online.
---
AccessVegas.com Quick Info Menu:
| | |
| --- | --- |
| Las Vegas Essentials | Featured Shows |
Las Vegas Events
---
Las Vegas Shows, Headliners, And Concerts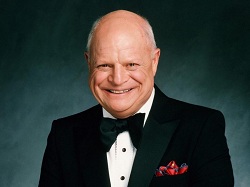 Don Rickles Headlines Las Vegas For Record-Smashing 54th Straight Year – One of the most established names in Hollywood and Las Vegas û internationally renowned comedian, actor and entertainer Don Rickles û has signed for a sixth consecutive year at The Orleans Hotel and Casino in Las Vegas. Rickles will make two weekend appearances at The Orleans in 2013: April 13-14 and September 28-29.
Rickles will be headlining in the Entertainment Capital of the World for the 54th consecutive year, an all-time Las Vegas record.
---
Pawn Stars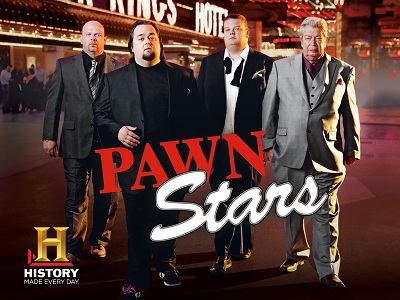 Pawn Stars Experts Featuring Autograph Sessions At Gold & Silver Pawn In 2013 – Pawn Stars along with the Gold & Silver Pawn team announced the autograph sessions of the star of the show as well as the experts that will be held this 2013 as filming allows.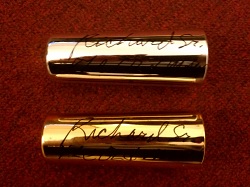 Owner of Gold & Silver Pawn and star of Pawn Stars Rick Harrison said, "It took some serious planning and trial runs but we think we now have a system that works to allow more fans to meet us and the experts on the show. That was the one piece missing to a great experience when visiting Gold & Silver Pawn." Located at 713 South Las Vegas Blvd., the small store is visited with over 4,000 people every day and film taking also takes place starting at 7 a.m. and ends at 5 p.m. every weekday year-round. The busy schedule and space are the challenges that one team at Gold & Silver Pawn have overcome.
---
Las Vegas Attractions
---
2012 – Las Vegas – 2013
---
Valentine's Day Las Vegas 2013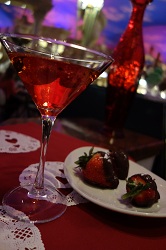 Romance Fills The Forum Shops Las Vegas With TreviÆs æThatÆs AmoreÆ – To celebrate the day of romance, Chef Peter Scaturro has created a special æThatÆs AmoreÆ couples menu for lovers to enjoy on Thursday, Feb. 14, at Trevi inside The Forum Shops at Caesars Palace.
Priced at $70 per couple, the prix fixe menu will feature a light starter, the option to choose between three classic Italian entrÚes and a delectable dessert to share. Guests will have the choice of pairing their meal with TreviÆs signature ValentineÆs Day cocktail, Lotion Potion Number 9, priced at $9. Other pairing options include a bottle of 14 Hands Chardonnay or 14 Hands Cabernet, priced at $30 per bottle.
---
Las Vegas Restaurants And Dining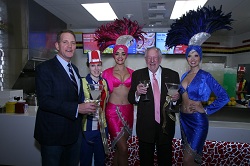 Castle Walk Food Court At Excalibur Hotel & Casino Celebrates Grand Opening With Former Mayor, Oscar Goodman – Castle Walk Food Court at Excalibur Hotel & Casino kicked off its grand opening in style with Former Mayor, Oscar Goodman, and dozens of Strip entertainers on Tuesday morning. Accompanied by two stunning showgirls, Goodman congratulated his long-time friend, Lincoln Spoor, CEO of Feel Good Brands, LLC, for developing the innovative new food court which brings the first Cinnabon, Hot Dog on a Stick, Popeyes Louisiana Kitchen, Pick Up Stix and SchlotzskyÆs to the Las Vegas Strip.
Gordon Ramsay Pub & Grill At Caesars Palace And Gordon Ramsay BurGR At Planet Hollywood Resort & Casino Now Open For Lunch And Dinner – Chef Gordon Ramsay makes history in Las Vegas opening two different restaurants in two different locations within a week of each other on the famed Las Vegas Strip û the celebrated chef has opened three different restaurants in three locations all in one year.
Following the highly successful opening of Gordon Ramsay Steak at Paris Las Vegas in May, the Dec. 18 opening of Gordon Ramsay Pub & Grill at Caesars Palace and Dec. 22 opening of Gordon Ramsay BurGR at Planet Hollywood Resort & Casino marks three Gordon Ramsay restaurants to open in Las Vegas in less than a year, expanding the relationship with Caesars Entertainment Corp. Gordon Ramsay Pub & Grill, the neighborhood restaurant at Caesars Palace conceptualized by the award-winning chef offers a lively English pub experience, while Gordon Ramsay BurGR brings Planet Hollywood the first gourmet burger concept from the celebrated chef.
---
Las Vegas Hotels
---
Las Vegas Sports, Sportsbook, And The Superbowl
---
Las Vegas Economy And Real Estate
---
More Las Vegas News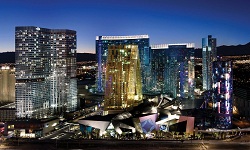 Take The Aria ôIndoor Hikeö With Steve ôRocketö Rosen, Fitness Guru – With health and wellness being an important topic for many in 2013, Rocket offers some insight on the Indoor Hike at The Spa at ARIA and how to stay committed to your New Year's resolutions, even while on vacation:
What can guests expect during the Indoor Hike at ARIA? Once weÆve done some light stretching, we carry our yoga mats over the shoulder and begin to tour the beautiful ARIA resort. At various points of interest, including the Fine Art Collection, we conduct a brief orientation of the location followed by a few exercises. For example, at Jenny HolzerÆs ôVegas,ö weÆll do lunges, squats and step-ups on the nearby benches. The Hike then makes its way through the resort including a stop outside to learn about the amazing architecture and to climb stairs, of course. The entire experience consists of a great overall workout and can be modified for any fitness level.
New Year, New You! – Just because youÆre in Las Vegas on vacation doesnÆt mean you canÆt keep your New YearsÆ resolution of getting fit and staying in shape. Maintain personal goals while easing the guilt from that late-night cocktail by experiencing a unique workout guaranteed to help you break a sweat.
The Spa at The Mirage

offers a one-of-a-kind experience, Yoga Among the Dolphins, taking place in a serene, underwater viewing area within Siegfried & RoyÆs Secret Garden and Dolphin Habitat. The underwater location features multiple windows, providing an intimate opportunity to view the resortÆs family of bottlenose dolphins while flowing from pose to pose. The instructor-led class is open to the public and can be customized to accommodate all skill levels. Cost: $50 Time Length: 60 minutes; Friday û Sunday at 8:30 a.m. Reservations/Information: (702) 791-7472

Spa & Salon Bellagio

offers its very own version of Boot Camp that is sure to leave you sweating. Using FitDeck exercise cards, instructors of Bellagio Boot Camp take you through an exercise circuit that is different with every class. Combining cardiovascular and resistance training methods, your entire body will be challenged. DonÆt worry; you can recuperate and restore within the award-winning Spa Bellagio afterwards. Cost: $40 per person Time Length: 50 minutes; daily at 9 a.m. Reservations/Information: (702) 693-7472
Take part in an insightful tour of CityCenterÆs Fine Art Collection with

The Spa & Salon at ARIA

Æs Indoor Hike (featured elsewhere in this issue), which takes participants through some of the most scenic and heart-rate-raising areas of the expansive CityCenter campus. This heart-pumping workout focuses on the whole body as guests perform yoga and various exercises along the way. Cost: $50 Time Length: 60 minutes; as reserved Reservations/Information: (702) 590-9600
---
Maverick Grand Canyon Western Territory Tour By Plane û Experience the thrill of the Grand Canyon, one of the seven natural wonders of the world, on a flight with Maverick Airlines. Fly in Maverick style on a Beechcraft 1900D aircraft to Grand Canyon West as you enjoy spectacular views along Eagle Point.
At the Indian Village you will receive a brief introduction to the Hualapai Indian legends and culture, and then proceed to Guano Point, where you'll observe a breathtaking view of the canyon. Optional Activity: Don't miss out on the Grand Canyon Skywalk, the new glass bridge attraction suspended more than 4,000 feet above the Colorado River on the very edge of the Grand Canyon's West Rim. A meal will be served while you sit back and admire the awe-inspiring beauty of the Grand Canyon as you conclude your journey. Operator Maverick Airlines a division of the Maverick Aviation Group.
---
Frankie Moreno by Terri DÆRichards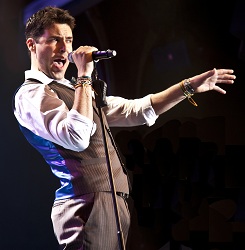 Entertainer Frankie Moreno – A Steady Momentum Of Talent – Welcome to FrankieÆs house! Kick back, relax, have a drink and rock the experience where old Vegas Rat Pack retro collides with modern swagger style. Voted Best Strip Headliner by Las Vegas Weekly and Best All Around Performer by the Las Vegas Review Journal, this singer-songwriter earns his titles nightly, demonstrating all-around musical virtuosity in an accessible personality package — one moment busting a Jerry Lee Lewis like move on the piano, the next moment busting out a bottle of Crown Royal to pour shots for any audience members who approach the stage with an empty glass.
---
Newkirk's Notes – comments on Las Vegas from AccessVegas.Com publisher Ted Newkirk:
Hello From Las Vegas! – Well, we just went through probably the worst/coldest 5 days in a row that I've ever experienced here in my nearly 20 years. Freezing temps would hit early evening and not let up until mid-morning. Pipes were bursting all over the valley because we do not know what a "Hard Freeze Warming" is. I left my water dripping and ran space heaters in the more vulnerable parts of my place. (Fortunately, my few outdoor pipes are already permanently wrapped).
When it gets this cold, locals stay home. A 1:00 a.m. grocery run on Sunday night found the streets unusually deserted. Staring over at The Strip on my way home — all lit up in its usual glorious glow — it was deceptively warm looking. But hey, at least for once I didn't have to worry about all my food melting before I got it home.
The good news is, that little weather glitch is in the rearview mirror and the 10 day forecast is showing seasonal temperatures in the 60's as far as the eye can see! Speaking of…
2012 Hottest On Record – Las Vegas set a new record for hottest year, but that factoid is a little bit deceiving. We didn't have any days over 114 F and only a smattering of days above 110. Averages are determined by temperature readings 24 hours a day, seven days a week and Las Vegas' true "average" temperature is just slightly above 70 degrees. Simply put, our overnight lows have continued to climb slowly but surely as more and more of the area has been developed, covering the rocky desert soil with heat-trapping asphalt and concrete.
I can't say that I view this as such a terrible thing. Summer nights are a bit toasty, but the post-sundown temperatures during the rest of the year stay in a more comfortable range. Interestingly enough, the daytime highs haven't really been increasing at all. Hot days and warm nights (or what we call spring and fall)… I'm in!
MGM Resorts To Spruce Up Rooms At Las Vegas Hotels – Hot on the heels of the rooms renovation at MGM Grand, the parent company MGM Resorts has announced that they plane to refurbish the rooms at the rest of their Las Vegas properties including Mandalay Bay, Bellagio, Monte Carlo, and even Circus Circus. Yes, even the "lowly" Circus Circus!
For those of you who keep thinking you hear rumors of the demise or closure of Circus… probably never going to happen. From what we understand, the venerable hotel (we can't really call it a resort) consistently earns money year after year. Every time we poke our head in, it seems like the parking garage is pretty full and the property is filled with foot-traffic. In related news…
Just Not The Rooms – Lost in the renaming and remodeling of the Imperial Palace (now officially The Quad) is the news that the hotel rooms apparently aren't part of this facelift. Property owner Caesars Entertainment President Gary Loveman did note last year that room remodels to various properties will be on tap, but which ones and when were not specified. Looks like MGM Resorts is eager to beat them to the punch.
This Isn't The Movie Version – Rock Of Ages has roared back into Las Vegas with a planned long-term residency at The Venetian. Yes, I say "back" into town as the show which spawned the Tom Cruise movie was tested here for a couple weeks some six years ago before heading to New York.
As the movie was an adaption of the stage show, it is very important to note that they are not identical. The show version contains some alternate music and is geared to be an audience-participation party. For those of us who lived the 80's (high school and college for me), the music obviously has a close tie to our youth. But the good time vibe is ageless! Rock Of Ages tickets are available directly by clicking the graphic near the top of our our left sidebar.
Restaurant Week(s) In 2013! – We'll have more info as it gets closer, but Restaurant Week will return twice this year. Taking part in Las Vegas Restaurant Week is simple. Diners can visit any participating restaurant during the specified dates and enjoy a multi-course, prix fixe menu. Each restaurant will create their own delicious menu offering at price points ranging from $20.13 to $50.13, with a fixed portion of the proceeds benefiting Three Square and the fight against hunger in Southern Nevada. Last year, you helped raise more than $610,000!
Hope you are enjoying this issue!

Associate Editor / News Researcher: Rick Ziegler
Concerts and Headliners: Amy Rayner-Cooley
---
What We're Watching – Vegas Videos You'll Enjoy
Hoover Dam Inside Out

– The chief whiz of human invention around here was built long before anybody had even imagined the fabled Strip and was named for a sober President who probably never shook hands with a one-armed bandit. Herbert Hoover was President when construction began on the legendary dam that now bears his name. Note: Shot before the current drought when the lake was quite full.

Rock Candy Sticky Sweet performs at the Fremont Street Experience in Las Vegas

– Get your dose of downtown! Clips from two performances of Rock Candy Sticky Sweet on Fremont Street in Las Vegas. Includes "I Love Rock n Roll", We're Not Gonna Take It", "Just Like Paradise", "Nuthin' But a Good Time", "Cult of Personality", "Hit Me With Your Best Shot" and "Wanted Dead or Alive".

Las Vegas Strip street drive from 1988

– Taped from a car window in real time on January 11, 1988. Starting from the Landmark casino on Convention Center drive, turning unto Paradise going north to Sahara avenue, then heading south on the Las Vegas Strip, u-turn at the Hacienda casino then going north on the Strip to just past Sahara. See numerous hotels which are no longer with us.
---
Members Mania – We Love Our Readers!
Love your newsletter! I noted your comments regarding the Themed Hotels making the city popular. My sentiments exactly! Been visiting Vegas since 1996 (from the U.K.) often more than once a year (next visit in April).
We have seen Vegas change over the years, some great improvements (The Venetian, Paris, Bellagio, Caesar's expansion to name a few); others not so. The City Center (for us) has not only spoiled the Vegas skyline but looks out of place on the strip and as previously mentioned, is too far off the strip to entice us inside (we will go and see the new Cirque show though).
With Imperial Palace changing to Quad and the planned project where Bill's Gambling Hall is now, in the pipeline, we hope they don't change Vegas too much. The 'special' hotels are what make Vegas what it is and make us yearn to visit year after year.
Greetings to you and your staff!
Marlene
Ted Responds:
I couldn't agree with you more. I've kept pretty mum on it as some people adore CityCenter (especially those who stay there, they just love it). However, in a skyline etched with so many desert-friendly colors ranging from the chocolate brown of Wynn and Encore to the gleaming gold of Mandalay Bay with plenty of other warm-looking structures up and down The Strip, CityCenter is the icy blue monolith that just feels out-of-place.
Fortunately, the Imperial Place and Bill's makeovers aren't bringing severe changes to the structures. We've featured some of the renderings in past issues, and they appear to be staying with a pretty neutral pallate.
The de-theming of hotels is going too far. What comes next? Do the bean counters take out the famed Bellagio fountains so they can put a strip-side shopping mall in? (I shouldn't even mutter those words. I can see them right now sitting there and going "call our architects…").
We're obviously a few years away from any new hotel construction (and still hoping that the Fontainebleau eyesore gets torn down, although highly unlikely because it is probably 70% finished). Having said that, the next time someone gets the bright idea to build a grand new property on our famed Las Vegas Strip, I hope they embrace the kinds of themes and colors which made our little slice of mountain-framed desert world-famous.

We love to hear from you, and value your feedback! Here's how to participate:
Want to comment on a current reader post? Use the comment box on that particular web page. Many of the stories we post also have comment boxes at the end of the story. Make your voice heard!
Drop us an email at AccessVegas@AccessVegas.com – We read them all!
Call our recorded comment line at 702-507-0055. We listen to every call.
---
No related links found