Serving Las Vegas Visitors and Residents Since 1999
Welcome to the Insider Vibe! This is the official newsletter of AccessVegas.Com. We talk about the Las Vegas activities you really care about.
Need to contact us? Send feedback to
AccessVegas@AccessVegas.com
Missed an issue? Click to Read Back Issues Online.
---
AccessVegas.com Quick Info Menu:
| | |
| --- | --- |
| Las Vegas Essentials | Featured Shows |
Las Vegas Events
---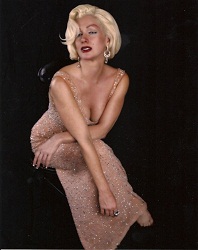 Stacey Nicole Brings Marilyn Monroe To Life In The Rat Pack Is Back At The Rio – Stacey Nicole performs as Marilyn Monroe taking the pressure off of The Rat Pack is Back! entertainers in the Crown Theater at the Rio All-Suite Hotel & Casino nightly.
She said, "I was a dancer in `Legends in Concert' for eight years. I was in Nevada Ballet Theater until I joined `Legends.' I was born in LA but grew up in Las Vegas. I was professionally trained in ballet, tap and jazz beginning at the age of 5. I majored in ballet at the University of Utah, then returned to Las Vegas to join Nevada Dance Theater."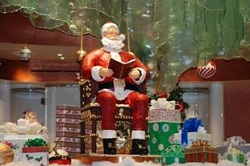 Jean Philippe Patisserie At Bellagio Chocolate Display Is Back – Jean Philippe PÔtisserie brings Santa Claus to the Bellagio that will delight naughty and nice onlookers. Jean Philippe PÔtisserie's pastry team created a five-foot 230 pounds dark chocolate Santa that will sit the entire holiday season in his favorite chair. It is also made up of 50 pounds of fondant while Santa's glistening suit is made up of sugar icing. Gifts in different shapes and sizes, with festive fondant ribbons on top, surround Santa's chair. The team uses pure gold powder and cacao butter for the hand details of the intricate display.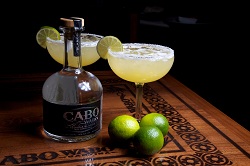 Cabo Wabo Celebrates 12/12/12 With $12 Food And Drink Specials – Cabo Wabo Cantina inside Miracle Mile Shops at Planet Hollywood Resort & Casino will toast to the number 12 with $12 food and drinks specials on Wednesday, December 12, 2012.
Guests may celebrate the once-in-a-lifetime date with $12 pitchers of Dos Equis Amber or Lager, 12 for $12 chicken wings with mix-and-match sauces including Hot & Spicy, BBQ or Mexiyaki and two house margaritas for $12. Patrons can fuel up for the festivities with Cabo Wabo's signature Baja Mex dishes including Bacon Wrapped Shrimp, stuffed with goat cheese and cilantro pesto; and Chicken Taquitos made with shredded chicken, house cheese blend, pico de gallo, sour cream and guacamole.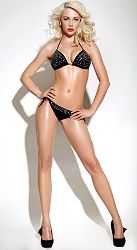 Fantasy's Charming Chloe Is December's Showgirl Of The Month – Fantasy's British bombshell ChloÚ will keep Las Vegas hot throughout December as this month's sizzling "Showgirl of the Month."
A captivating performer in Fantasy, the seductive revue at Luxor Hotel and Casino, the Portsmouth, England native enjoys her favorite British cuisine including Cadbury chocolate and bangers and mash.
When she is not expressing her creativity through choreography or gardening, ChloÚ loves to relax at home in her hot tub and cuddle with her chihuahuas, Ella and Kahlua. The knockout loves animals and hopes to get involved with PETA and the Nevada SPCA in the near future.
---
Movie Recommendations
Deciding what to watch next? What are your friends watching?
Get movie recommendations based on your personal viewing style!
---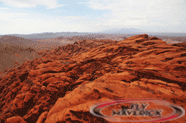 Maverick Dream Catcher Sunset Grand Canyon Tour – Landing tour with beverages, snacks and Extra Flight Time in the Grand Canyon! Experience the journey of a lifetime. Your journey begins with a flight out of Las Vegas to Hidden Valley to see the arches. Continue your journey to the Valley of Fire, were you will see red rock formations and some of the most remote, desolate, and fascinating desert landscape.
---
Penn & Teller by DW Grant
Penn & Teller – Telling Lies and Revealing Secrets – "Magic is not really about the mechanics of your senses. Magic is about understanding-and then manipulating-how viewers digest sensory information," says Raymond Joseph Teller in a recent issue of Smithsonian Magazine. And nobody manipulates the senses better than Jillette Penn and this Teller guy.
Their show, still drawing large audiences The Rio after 10 plus years, is a fun evening of manipulating and explaining and revealing and manipulating again, but you have to watch and listen carefully because they share secrets quickly and only once. To the duo's credit, however, the tricks are still amazing and the show is lots of fun, especially when the secrets are outted.
---
Newkirk's Notes – comments on Las Vegas from AccessVegas.Com publisher Ted Newkirk:
Hello From Las Vegas! A great big thank you to our Canadian friends who have been holding on to that bitterly cold air mass and letting us have highs around 70F (21C) the past week or so. Evenings have still been jacket weather (although shorts are a thing of the past for this time of the year).
You talked, I Listened – As previously noted, we're about to make some changes to this newsletter for the first time in quite some time. I worked my way thought the significant amount of email which resulted from my request for feedback. I want to thank everyone who wrote, and within days we'll be drawing a winner at random from the group who wrote for the promised goody from our prize closet.
Even though it took awhile, I read and responded to every single one. Plenty of great insight! I'd like to share some of the more common sentiments and fill you in on where we're headed.
More Of This, More Of That – We had plenty of suggestions regarding the kind of information to you would like added. All good suggestions. So, I looked at them all and did the math and figured out that I'd have to contract out research, writing, and web help to the tune of about $200,000 per year.
I wish I was a zillionaire, but I'm not. Nor are we run, or funded, by a bigger entity.
I wish that I could get a grant from the Visitors Authority, but over the years they have been completely non-responsive. (Probably worried that if we had the money, we could do it better and cheaper than they could do it). For some reason, we're persona non grata to them. Even basic emails have never been returned.
By the way, no one is doing much of the kind of information requested for the very same (financial) reasons. Which is sad… there is so much to know about Las Vegas and everyone has such varied interests. Unless one of you have an extra $200,000 per year that you simply have nothing else to do with, we have our limits!
Moving on…
Organization – We are going to start organizing the newsletter into sections. Dining, Shows, etc. Also, the link list at the bottom will be moved up and put into the appropriate sections as well. This way, you'll have a much easier time skimming past what you don't like and a much better time spotting the stories and links you'll want to click on to learn more.
Social Media – This caused a LOT of confusion. We're not changing to cater to social media. We are moving Newkirk's Notes and Members Mania segments onto blog format so that people can click and read it, enjoy it, and comment on it regardless of where they are coming from. Whether from the newsletter or social media.
Shopping– We'll look to cover more of it as many like to shop here! At the end of the day, we just don't get fed much info on it and we don't have the manpower to hunt it down. But we will contact all the shopping venues and tell them to better keep us in the loop.
Local News – Lots of requests to keep it (including some of the real estate news), so we will. Not so much as featured material, but with links to news stories and me occasionally piping up about something.
Girls And Booze – Two different people specifically suggested that we not carry the drink/cocktail specials we've been making a point to highlight, and also less about the risque (topless) Las Vegas shows.
While we do draw a strict line in the sand that involves no strip club, escort service, or porn convention type of involvement (all of which are lucrative), Las Vegas has been synonymous with showgirls (sans top or otherwise) and imbibing since well before I was born. We simply have too much demand for this information.
Local Events – A surprising number of people are interested in some of the "better kept secret" locals events. Certainly First Friday stands out (and something we can look into talking a bit more about). Our problem is that local events usually aren't advertised that far in advance as they are targeted at locals. But, it is something we'll look into. Once again, manpower is an issue.
Tune In, Tune Out – We had suggestions that we create a "digest" of material that people can read right before they come to catch up on what has changed. With Las Vegas changing daily and people departing for here all the time, this would be a monumental task to maintain at a cost we'd have no way of recouping.
We realize that some subscribers stay subscribed but only read the few issues prior to their visit, and that is fine. But, then they write us with questions we've already covered and we don't have the time to personally coach everyone up to speed. So… they arrive and waste time attempting to visit something that is closed (or that we warned people was lousy). Simply put, not much we can do about that if you aren't reading.
If you fall in this boat, let me make a couple of suggestions:
1. It only takes a few minutes to at least skim each issue when it arrives. Far fewer minutes than being uninformed in Las Vegas is going to waste!
2. Or, you can create an email folder to put our notifications in and when your trip gets close, you can work your way through the most recent few months prior to your trip. Working back through them maybe takes an hour, which is (once again) time very well spent when you think about how much money you spend to get here and just how little time you have once you arrive.
Time spent reading us at home and learning about what is new and interesting in Vegas is time well spent. Time wasted in Vegas because you "didn't know" can't be recovered.
Hope You Are Enjoying This Issue!

Associate Editor / News Researcher: Rick Ziegler
Concerts and Headliners: Amy Rayner-Cooley
---
What We're Watching – Vegas Videos You'll Enjoy
---
Members Mania – We Love Our Readers!
Returning full force next week with our new look and feel. You'll be able to comment and interact in a much better way. We're prepping right now!

We love to hear from you, and value your feedback! Here's how to participate:
Want to comment on a current reader post? Use the comment box on that particular web page. Many of the stories we post also have comment boxes at the end of the story. Make your voice heard!
Drop us an email at AccessVegas@AccessVegas.com – We read them all!
Call our recorded comment line at 702-507-0055. We listen to every call.
---
Latest Concerts Added This Week!
There is no better place to see your favorite acts then in Las Vegas! You're relaxed, can enjoy a fine meal, have some cocktails without the worry of driving, and no alarm is going to jar you awake all too early the next morning.
---
More Las Vegas News – Shows – Events
No related links found