Serving Las Vegas Visitors and Residents Since 1999
Welcome to the Insider Vibe! This is the official newsletter of AccessVegas.Com. We talk about the Las Vegas activities you really care about.
Need to contact us? Send feedback to
AccessVegas@AccessVegas.com
Missed an issue? Click to Read Back Issues Online.
---
AccessVegas.com Quick Info Menu:
| | |
| --- | --- |
| Las Vegas Essentials | Featured Shows |
Las Vegas Events
---
Show And Entertainment News
Magician Rick Thomas Brings His Masterful Illusions To The Suncoast Showroom, January 19 & 20, 2013 – Returning to Las Vegas after a six-month tour in Asia, premier illusionist Rick Thomas will perform at the Suncoast Showroom January 19 and 20. Weaving magic, music and dance into his show, Thomas executes innovative and unique illusions that have helped make him a worldwide success.
---
December In Las Vegas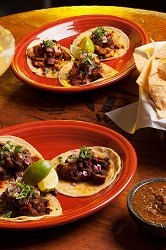 Cabo Wabo Cantina Rocks The Holidays With Food And Drink Specials On Christmas Day – Cabo Wabo Cantina inside Miracle Mile Shops at Planet Hollywood Resort & Casino will be open to rock Christmas with food and drink specials on Tuesday, Dec. 25.
The Strip- side restaurant will serve up season's greetings with $9 Sammy's Beach Bar Tailgater, a potent concoction made with Sammy's Beach Bar Rum, $5 shots of Cabo Wabo Anejo, $21 buckets of domestic beer, $5 nachos, two-for-one house margaritas and two-for-one tacos. Patrons may feast on Cabo Wabo's savory Baja Mex fare including Short Rib Enchiladas, stuffed with shredded beef, fire-roasted tomato sauce and house cheese blend; and New York Ranchero Steak made with chipotle marinated steak, grilled onions, pico de gallo, papas and chorizo.
MGM Resorts International Puts Las Vegas Twist On Holiday Traditions – MGM Resorts International is celebrating the holidays by turning its world-renowned Las Vegas resorts into seasonal spectaculars. From the Bellagio Conservatory's transformation into a winter wonderland to "Santa in the Shipwreck" at Mandalay Bay's Shark Reef Aquarium, Las Vegas is like no other destination during this magical time of year.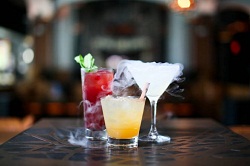 Toast To The Holiday Season At Hyde Bellagio With Four Festive Libations – In celebration of the happiest season of all, Hyde Bellagio introduces four festive cocktails available for a limited time.
The handcrafted holiday menu features unique renditions of retro cocktails alongside signature creations highlighting emerging mixology trends. Drawing inspiration from winter fruits, vegetables and spices, Hyde's holiday libations utilize the freshest ingredients while incorporating innovative additions such as custom-infused whiskeys, sparkling vodka and liquid nitrogen.
Commonwealth Celebrates End Of The World With La Fin Du Monde Party 12/21/12 – Fremont Street's newest addition, Commonwealth, will host the party to end all parties and offer a toast to say, "Goodbye," to the world during its La Fin du Monde bash on Friday, 12/21/12.
Revelers will salute the end of the Mayan calendar with the Las Vegas debut of Unibroue's stout Belgian-style tripel, La Fin du Monde, which will be on draft for the first time at Commonwealth. The only official La Fin du Monde party in Sin City (www.lafindumondeday.com) will conclude at the stroke of midnight with a toast, a balloon release and a chance for partygoers to win a year's worth of the prized brew.
---
Downtown / Fremont Street Experience
---
Las Vegas Attractions
---
Las Vegas Tourism
---
Restaurants And Dining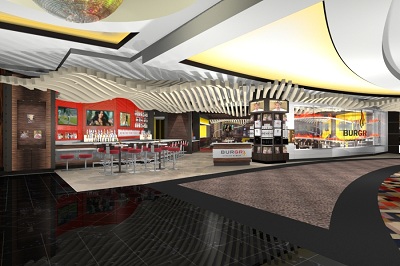 Chef Gordon Ramsay Opens Gordon Ramsay Pub & Grill and Gordon Ramsay BurGR – Gordon Ramsay and Caesars Entertainment announced today that Gordon Ramsay Pub & Grill will open at Caesars Palace Dec. 18, and that Gordon Ramsay BurGR will open at Planet Hollywood Resort & Casino Dec 22. Two restaurants from the same chef opening within one week of each other in two different casino resorts is a monumental feat never experienced on the famed Las Vegas Strip. Following the highly successful opening of Gordon Ramsay Steak at Paris Las Vegas in May, the opening of Gordon Ramsay Pub & Grill at Caesars Palace and Gordon Ramsay BurGR at Planet Hollywood Resort & Casino marks three Gordon Ramsay restaurants to open in Las Vegas in less than a year, expanding his relationship with Caesars Entertainment Corp.
F· Chinese Restaurant Now Open At Hard Rock Hotel – Hard Rock Hotel & Casino offers guests a new culinary experience with the opening of F·, an Asian dining destination bringing good fortune and great food to patrons. Meaning "luck" in English, F· features a fusion of Asian fare with authentic Chinese cuisine and regional inspirations including Korean, Vietnamese and Thai. Fit for both casual and adventurous guests, dishes evoke exotic flavors fired up by prominent Las Vegas resident and Executive Chef Ming See Woo.
Excalibur Hotel & Casino Introduces New Castle Walk Food Court – The new Castle Walk Food Court at Excalibur Hotel & Casino celebrated its grand opening in November, bringing guests a wide array of delicious new offerings.
The dynamic new food court has introduced several new favorites to the Las Vegas Strip, including Cinnabon, Hot Dog on a Stick, Popeyes Louisiana Kitchen, Pick Up Stix and Schlotzsky's (opening this spring), as well as other premiums in their categories, such as Tropical Smoothie CafÚ, Krispy Kreme Doughnuts, Auntie Anne's and Popcornopolis. Thirsty patrons will enjoy an array of takeaway cocktails and refreshments from The Big Chill, making Castle Walk one of the few food courts on the Las Vegas Strip to serve alcoholic beverages.
---
Las Vegas Economy And Real Estate
---
A Few More Stories That May Be Of Interest
---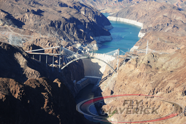 Maverick Grand Canyon Air Tour – Sit back and relax as you experience this spectacular air excursion through the Grand Canyon. Highlights of this trip include Hoover Dam, Lake Mead, Lake Las Vegas and Fortification Hill an extinct volcano. Fly through Black Canyon and on your return to the south Las Vegas valley.
---
Newkirk's Notes – comments on Las Vegas from AccessVegas.Com publisher Ted Newkirk:
Hello From Las Vegas! – Winter is threatening, the sun is setting at 4:26 PM for the next few more days, temps are in the 50's F, and we've had some serious drizzling rain. Welcome to the holiday season in Las Vegas. The rain is clearing but temps for the next couple of weeks look like they are going to check in right around our 57 F average high for December. January only averages 58, so leave the swimsuit at home.
BTW, I read a recent article noting which Vegas hotels have heated pools and the article (written by a Vegas "expert" who lives in Los Angeles) suggested that you could still leave Vegas with a tan. The writer is a nice person and generally has good advice, so I'm not going to name him. But… take it from someone living here: Even in the direct sunshine, 57 degrees is NOT warm. Especially in a bathing suit. In addition, the sun is so low in the sky and the days so short that sunny areas by many of our resort pools are limited to the very middle of the day.
Moving Toward The New Look – We asked and you responded and suggested that you'd like to see us categorize the news for easier reading. We've combined our main news section and our "More" links-only section into easy-to-browse areas. It is still a work in progress, but we agree: It makes the newsletter much nicer to navigate.
In the next week or two, Newkirk's Note and Members Mania will be moving over to their own blog areas so you can read, comment, and ask questions. I'll still have my basic column here with info and short bits, and will be linking to the new posts. You won't miss a thing. Just a slightly different presentation!
Tournament Poker: For 21st Century Casinos & Internet – This new book by our long-time gaming writer Victor H. Royer is a must for that poker player on your gift list (or just gift it to yourself). Victor has written more books on casino gaming than I have fingers and toes to count, has appeared on national radio programs, and been a gaming industry consultant (just to name a few of his accomplishments). We'll talk more about this tome in future issues, but we consider it worth every penny for even the casual player. You'll save the cover price just with the knowledge that you gain.
Megabus To Las Vegas – Hot on the heels of Greyhound Bus Line's new non-stop service from Los Angeles to Las Vegas and the announcement that the X Train will be serving the same route in about a year, Megabus has announced it is also tacking the popular route. Already popular on the east coast, their fleet consists of spacious double-decker busses with free wi-fi, power outlets, and reclining seats.
One big drawback: As a savings measure, the Las Vegas stop will be south of the airport at our local bus transfer station. From there, you'll have to catch The Deuce down The Strip or on into downtown. The upside: The Deuce originates there and will be empty when you board. You'll have your choice of seats, including those prime, front-row upstairs seats for an amazing view of The Strip!
X Train – We've been keeping you up on the luxury X Train which will start making the trip from Southern California (specifically Fullerton) non-stop to Las Vegas in about a year. With a $99 price tag (each way), I've seen much speculation that the venture will fail to draw riders. You can get advanced purchase flights a bit cheaper, and many from California enjoy having their cars while in here.
If I may, many are missing the point: X Train is not aimed at being the fastest or cheapest way to make the journey. Two trains daily will carry only about 1100 people combined each way, a fraction of the volume of people making the journey from LA to Vegas.
LV. X Train will be about the experience. The ability to stretch out, play on your tablet or phone, go to one of the lounge cars and get a drink while watching that game you bet on before leaving, sleep off 48 hours with no sleep (so you can survive work the next day), or simply enjoy the scenery and service while seeing parts of the Mojave Desert that can only be seen by rail. We think it will do OK!
Ted Recommends – Every once in a while, I'm going to suggest something non-Vegas that I've found very cool, helpful, or money-saving. Interestingly enough, though… this one has a Vegas component to it. I recently bought a Roku HD Streaming Player
device and I love it. What is Roku?
Roku is this simple little box that you hook to your TV (it literally takes 1 minute to set up) and it allows you to watch hundreds of TV and movie channels, the vast majority of which are FREE. You can additionally watch Netflix (if a Netflix paying customer already) just like you would on your computer… but right on your TV instead. If you are like me and sick of how much expanded cable TV costs, trying this out will be the best $50 you spent all year. It also makes a great gift to that person whose tight budget doesn't allow them cable.
The only "catch" is that you need to have broadband internet a wireless router in your home. If you do, the cost of the Roku is one-time only. Period. Forever.
What's the Vegas twist? If you search though the Roku selections of travel channels, you'll find our friends from the Vegas Video Network have all of their shows available for on-demand watching. On your TV, from the comfort of your couch! In the news section, you'll also find that our local CBS affiliate makes their newscasts available as well. But, that only scratched the surface. Check it out now on Amazon. I guarantee you won't regret it: Roku HD Streaming Player
Get A Free Labatt Blue Beer Downtown Las Vegas – Watch FSE Live Episode #4 as they interview "The D" Hotel Casino owner Derek Stevens and he'll tell you how to get a beer on him (just a few minutes into the show)!
Hope You Are Enjoying This Issue!

Associate Editor / News Researcher: Rick Ziegler
Concerts and Headliners: Amy Rayner-Cooley
---
What We're Watching – Vegas Videos You'll Enjoy
---
Members Mania – We Love Our Readers!
I am a 66 year old pharmacist in upstate NY and have been coming to Las Vegas since I was 18 when my college sent me as a delegate to a national convention!
I was hypnotized by the LV neon lights and still am entranced by them.
Memories of one of Elvis' final shows at the Hilton was extraordinary but the greatest thing I love about Vegas is Change! I love the old but I adore the new like CityCenter and all the new hotels!
Ted, your newsletter is Las Vegas because its in your heart. The visitors convention bureau should make you CEO. You do not market LV you breath LV for all of its changes. LV is in your blood and soul.
Thank you for making me smile every time I read your creative and enthusiastic newsletter!!!!
TED "Your the BEST of Las Vegas" and I cannot wait to return!
Sincerely,
Bill Cutro
Ted Responds:
Thanks for the great note. Wow… I can only imagine all you have seen here over the years. My first visit wasn't until I moved here in 1993. Sounds strange as most people enjoy visiting and then relocate here, but I have a life-long severe allergy to mold and fungus (it makes me ill) and living in the rainy part of Oregon wasn't helping.
Although I must confess that an interest in sports betting didn't hurt the cause of me choosing Las Vegas over Phoenix! Every Saturday night when I was out driving around Portland, I'd have my radio tuned to KDWN 720 AM (a Las Vegas station that can be heard in much of the west after dark) and get my fix of the old Stardust Line radio show.
I'm glad to hear you are embracing the constant change. Some do, some don't. Even without any new hotels on the horizon, we have "sky wheels" and The Linq and SO much new happening in "old" Vegas on Fremont. It is ironic to think that when you started coming, downtown was THE Vegas.
I must confess when I hear colleagues moan that the downside of this industry is "Vegas, Vegas, Vegas… nothing but Vegas" all the time, it makes me feel that maybe they should look for employment in another city! Every day, all of the news and information continues to excite me.
Thanks again!

---
As a regular annual visitor to Vegas from the UK since 2003 I already do both of your suggestions!
I read the newsletter when it arrives and I have an email folder for the next trip where it's filed and go back through them shortly before we come over.
We're in the process of planning our next trip at present and will probably be in Vegas in April 2013.
Keep up the good work.
Bob Byrne
Ted Responds:
April is always a great time to visit! Plenty of activities and pleasant weather… spring will be in the air.
I do appreciate you and the others who at least scan and then save our newsletter alerts for when you need them. As much as I'd like to personally answer every question that comes in, many are about things we've already previously covered and we don't have the resources to be everyone's personal travel guide.
Having said that, suggestions as to what we should cover and questions regarding things we have not covered are always welcome at AccessVegas@AccessVegas.com If you are a new reader or unsure if we've talked about something in the past (or a regular visitor looking to catch up), we invite you to visit our AccessVegas.com Insider Vibe Newsletter Archives where you can use the drop-down menu near the top to work your way through previous issues.

---
We love to hear from you, and value your feedback! Here's how to participate:
Want to comment on a current reader post? Use the comment box on that particular web page. Many of the stories we post also have comment boxes at the end of the story. Make your voice heard!
Drop us an email at AccessVegas@AccessVegas.com – We read them all!
Call our recorded comment line at 702-507-0055. We listen to every call.
---
Latest Concerts Added This Week!
There is no better place to see your favorite acts then in Las Vegas! You're relaxed, can enjoy a fine meal, have some cocktails without the worry of driving, and no alarm is going to jar you awake all too early the next morning.
---
No related links found