Serving Las Vegas Visitors and Residents Since 1999
Welcome to the Insider Vibe! This is the official newsletter of AccessVegas.Com. We talk about the Las Vegas activities you really care about.
Need to contact us? Send feedback to
AccessVegas@AccessVegas.com
Missed an issue? Click to Read Back Issues Online.
---
AccessVegas.com Quick Info Menu:
| | |
| --- | --- |
| Las Vegas Essentials | Featured Shows |
---
Caesars Entertainment Reveals "The Quad Resort & Casino" As New Name For Imperial Palace – Caesars Entertainment revealed plans today to re-name the company's center-Strip resort currently known as Imperial Palace to The Quad Resort & Casino. Although guests will begin to see the brand transformation on property as early as November, the official conversion will be completed by Dec. 21, 2012 with renovation plans scheduled for finish by late 2013.
Interior and exterior renovations to the property are already under way. The renovations are scheduled to be completed in phases and will bring improvements to the exterior faþade, porte cochere, front desk, bell desk, hotel lobby, casino floor, retail promenade and dining levels
Food & Wine All-Star Weekend Returns Bigger Than Ever Oct. 5-7 – The third annual Food & Wine All-Star Weekend returns to the Las Vegas Strip Oct. 5-7, but this time make sure to bring an even bigger appetite. Hosted by Food & Wine magazine's Gail Simmons, the year's premier culinary event has expanded its roster of resorts to include MGM Grand, Mandalay Bay and The Mirage along with original host properties ARIA and Bellagio. The three-day event invites food lovers to partake in a series of first-class interactive experiences from the country's most talented celebrity chef superstars, renowned sommeliers and creative mixologists.
Culinary masters participating in the array of events include Shawn McClain, Jean-Georges Vongerichten, Julian Serrano, Michael Mina, Masa Takayama and Rick Moonen. Here's a small taste of what's on the All-Star Weekend menu:
The Mirage's tropical paradise pool will host this year's All-Star Tasting featuring a lineup of acclaimed MGM Resorts' restaurants and their savory dishes. Mingle with celebrity chefs, sip exotic cocktails and enjoy the best eats all night long alongside host Gail Simmons.
Experience a one-of-a-kind lunch at ARIA's Sage, where world-renowned chefs including Masa Takayama, Shawn McClain, Michael Mina, Julian Serrano, Jean-Georges Vongerichten and Jean-Philippe Maury will fuse their culinary talents to create an unforgettable meal.
For those looking to experience a sustainable farm-to-table approach, executive chefs Roy Ellamar of Sensi and Brett Smith of Zolo Grill, an award-winning southwestern restaurant in Boulder, Colo. will transform the Grand Patio at Bellagio into a farmhouse and prepare a lunch featuring seasonal ingredients harvested from their favorite farms.
To reserve tickets or view a detailed event schedule visit mgmresorts.com/foodandwine/.
Flamingo and Harrah's Las Vegas Spas Support Breast Cancer Awareness With Special Offers In October – The Spa at Flamingo and Harrah's Las Vegas supports the Breast Cancer Awareness month by offering special price on signature treatments. From October 2-4, 2012, both spas will offer 50-minute signature facials or massages at the price of the 25-minute service. Every $5 on each treatment will proceed to the American Cancer Society's "Making Strides Against Breast Cancer" campaign.
Fremont Street Experience To Host Bikefest Rockfest Free Concerts To Complement The 12th Annual Las Vegas Bikefest – Fremont Street Experience gets revved up with BIKEFEST ROCKFEST, a series of free concerts that will complement the 12th Annual Las Vegas BikeFest. Beginning Thursday, September 27 through Sunday, September 30, 2012 the four days will be jam-packed with entertainment by some of the world's best tribute bands of rock superstars.
Everyone is invited downtown to enjoy the feel-good sounds of great music while surrounded by the iconic neon lights of the Fremont Street Experience. All concerts are free and open to the public.
Performance schedule for BIKEFEST ROCKFEST at Fremont Street Experience:
New Bacchanal Buffet At Caesars Features Nine Kitchens, More Than 500 items, And Extraordinarily Modern Design – The new Bacchanal Buffet at Caesars Palace change the paradigm of buffets and redefines the Roman feast by serving more than 500 dishes every day which seats 600 guests. The expansive 25,000 square foot Bacchanal Buffet, overlooking the well-known Garden of Gods pool oasis, is designed by internationally renowned firm Super Potato.
The Best Seats in the House – Fall may bring cooler temperatures, but it's also a welcome sign that heated rivalries are back in play. Major League Baseball will come to an exciting conclusion while the NFL, NBA and NHL all return after thrilling 2011-2012 seasons. How could we forget about the college gridiron, too? Enjoy all of the action at any one of these sports bars or state-of-the-art Race & Sports Books across MGM Resorts:
Casual yet stylishly contemporary, The Pub at Monte Carlo is a go-to spot for the ultimate combination of sports, food and beer. With more than 35 TV screens, three HD projectors, two bars, a horseshoe of couches and an assortment of tables, The Pub is a great place to catch the game in a comfortable yet friendly atmosphere.
A prime destination for sports fans, The Sporting House is a 33,000-square-foot sports bar and restaurant located near the Race & Sports Book at New York-New York Hotel & Casino. Boasting an unrivaled atmosphere and unbeatable access to the day's games, The Sporting House has more than 130 video monitors throughout the two-story venue including two 16-foot screens inside "The Screening Room." The menu features a wide variety of dishes including American classics and unique spins on sports favorites.
With the ability to wager on and watch all major athletic events, the Race & Sports Books across MGM Resorts offer guests an exciting game-viewing experience. The state-of-the-art Race & Sports Book at ARIA features a total of 90 HD monitors (some as large as 103 inches), plush lounge seating and two self-betting kiosks. For guests who desire a more private experience, MGM Grand is the first Race & Sports Book in the industry with Skyboxes, comfortably hosting up to 10 guests.
Golden Nugget Las Vegas Hosts Third Annual Fall Beer Festival With Brews, Brats, and More – On Friday, October 19, 2012, the Third Annual Fall Beer Festival will kick off in The Grand events center. Samuel Addams will sponsor the first event of the two-day festival with the All American Craft Beer Tasting from 7-10 p.m. Over 120 craft beer selections are available for guests to sample while enjoying chef-inspired appetizers. It is a perfect event where live music sets the mood and where guests can mingle with some of America's hottest award-winning brew masters. A commemorative glass is given as souvenir. Event's ticket costs $50* individually.
Titanic: The Artifact Exhibition Presents Haunted Tours October 21-31, 2012 – RMS Titanic's heartbreaking story is popular worldwide, but this Halloween the story of the ill-fated ship will thrill guests with a new creepy perspective. Titanic: The Artifact Exhibition at Luxor will run a Titanic Haunted Tour from October 21-31, 2012 starting at 6 p.m. giving a unique experience perfect for the whole family.
Cabo Wabo Las Vegas Offers Football Season Food And Drink Specials – Every Saturday, Sunday and Monday nights of the football season, football fans can enjoy Cabo Wabo Cantina 's food and drink specials during the games. The cantina is located inside the Miracle Mile Shops at Planet Hollywood Resort & Casino.
---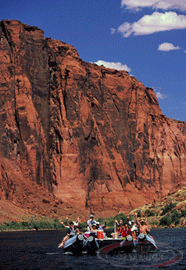 Maverick Helicopter Combo Adventure with River Rafting Tour – One of the most amazing ways to experience the Grand Canyon is with a landing tour and the added bonus of river rafting through the scenic Black Canyon on the Colorado River. You will enjoy a helicopter adventure through the Grand Canyon and see awe-inspiring scenery at one of the greatest natural wonders of the world. Following the helicopter tour through the Grand Canyon, you will land at the Boulder City Airport and meet up with the rafting crew. Your fully motorized and narrated river rafting voyage will depart from the base of Hoover Dam and float 12 miles down the grand Colorado River. The Colorado River rafting tour includes several stops along the river and lunch served upon reaching Willow Beach, Arizona. The rafting crew will transport you to your hotel at the conclusion of the tour.
---
Legends In Concert by Sarah Jane Woodall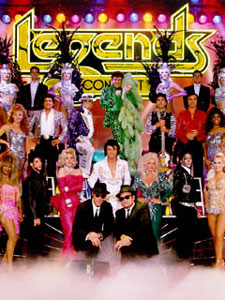 Six Nights A Week, You Can Still See The Big Names In Vegas – At some point in their careers, all the big names come through Vegas – Cher, Aretha, Tom Jones… and of course, Sinatra. You can still catch some of these headliners if you happen to be in town on the right weekend… but what about those acts that, like Elvis, have already "left the building?" It's too late to see them, right?
Wrong! Six nights a week at Harrah's, you can still experience the majesty of Elvis in his glory days… as well as witness the magic of Michael Jackson, the fireball that is Tina Turner, and the provocative teasing of Madonna – all in the same room!
---
Newkirk's Notes – comments on Las Vegas from AccessVegas.Com publisher Ted Newkirk:
Well, the days are already getting shorter, with sunset clocking on about 6:45 PM. We sit on the very edge of Pacific time (Boise, ID in Mountain Time is actually west of us) which gives us one of the few drawbacks of living here — the early sunset. On the flip side, shorter days have brought and end to 100 degree temps and evenings are unbelievably pleasant with shirtsleeve and shorts weather while you bask in the post-sunset neon-lit Las Vegas Strip. If you have a favorite outdoor restaurant or bar here, fall is a great time to enjoy it without melting!
This Episode Brought To You By The Letter Q – As noted earlier in the newsletter (and as we tweeted and put on Facebook and Google+ when the news broke), Caesars Entertainment (the company, not the hotel) announced that their Linq project will be fronted by the remodeled Imperial Palace and given the name "The Quad". (Bold type is ours). Yes, we all agree. Lousy choice. In fact, this generated the most Twitter replies and re-tweets of any topic we've ever put out there, all of them negative.
Dictionary.com defines quad as "a quadrangle, as on a college campus". However, I can't think that they want to appeal to broke college kids (many of whom are not old enough to do Vegas anyway). I've looked over the Linq drawings and plans and perhaps where Linq will meet with Quad and Harrah's will form some kind of quadrangle. Who knows?
With the amazing history of Las Vegas hotel names (both past and present), this is a disappointment. I'm still calling Bill's by The Barbary Coast and (should it ever get remodeled), I don't see how I can call The Sahara by the new proposed SLS name. What happened to names like Dunes and Stardust!
Customs Waits – Our beautiful huge new McCarran Airport Terminal 3 (T-3) has been open a couple of months now, and is a really nice change for our international guests who used to be regulated to a junky old terminal that is facing the wrecking ball. That's the good news. The bad news? Customs waiting times have been long despite T-3 having plenty of custom lanes and the most modern technology. Why? The federal government staffs the customs lines, not the airport. You can have the best tools, but you need people to be using them.
With around 30% of our readers from outside the US, this is of key interest to us. Please send us your Las Vegas airport customs experiences to AccessVegas@AccessVegas.com so we can keep tabs on this issue and help make sure it is properly addressed.
Las Vegas Makes You Feel Young – We have a nice segment of senior who enjoy reading and often write about how Las Vegas makes them feel young, which is great! Many have given thought to why one seems to have extra energy while visiting. The old myth was that hotels pumped oxygen into the casino, but alas… that would be impossible. Not only are you looking at an amazing expense, but oxygen is flammable. Any fire would immediately burn with far more intensity than normal.
Certainly, many factors come into play. The synergy of so many people doing so much activity adds a buzz to the air. The fact that most are doing so much more walking than normal really gets your blood pumping. But there is an unquantified, unexplained energy that does radiate from The Strip, no doubt about it. I live just a few minutes from The Strip and I can feel it. It's always there, radiating out. It would be interesting if there was a way to study or explain it!
Lady + Gold = Synergy? – The people rebuilding the Lady Luck (as the Downtown Grand) are taking over gaming operations at the next-door Gold Spike. A few years ago, The Spike was completely remodeled, turning it from a lovable dive (which we had a soft spot for) into a nice but pretty generic boutique hotel-casino. Downtown Grand developers are also behind the resurgence of 3rd Street (next to the Mob Museum) including numerous bars and restaurants. The entire area sits just one block off of Fremont Street and they are surely hoping to create a synergy that will get you curious enough to make the very short walk.
Vegas Video Network Surpasses 600 Live Shows – We want to congratulate our friends at the Vegas Video Network for passing the 600 show mark! We've been big fans from Day 1 of their great shows like Living In Las Vegas, Pub Crawl, and Talktails.
We're super-excited to announce their latest venture, which will be a show in conjunction with the Fremont Street Experience (the official collection of downtown hotels) filmed live on and around Fremont Street.
The initial run of 10 episodes will start in October and we'll be sure to keep you in the loop. Those of you who are having trouble getting your friends to try out (formerly) "dingy old downtown" will be able to show them all of the excitement and amazing improvements in the area.
Hope You Are Enjoying This Issue!

Associate Editor / News Researcher: Rick Ziegler
Concerts and Headliners: Amy Rayner-Cooley
---
We love to hear from you, and value your feedback! Here's how to participate:
Want to comment on a current reader post? Use the comment box on that particular web page. Many of the stories we post also have comment boxes at the end of the story. Make your voice heard!
Drop us an email at AccessVegas@AccessVegas.com – We read them all!
Call our recorded comment line at 702-507-0055. We listen to every call.
---
Latest Concerts Added This Week!
There is no better place to see your favorite acts then in Las Vegas! You're relaxed, can enjoy a fine meal, have some cocktails without the worry of driving, and no alarm is going to jar you awake all too early the next morning.
---
More Las Vegas News – Shows – Events
No related links found