Serving Las Vegas Visitors and Residents Since 1999
Welcome to the Insider Vibe! This is the official newsletter of AccessVegas.Com. We talk about the Las Vegas activities you really care about.
Need to contact us? Send feedback to
AccessVegas@AccessVegas.com
Missed an issue? Click to Read Back Issues Online.
---
AccessVegas.com Quick Info Menu:
| | |
| --- | --- |
| Las Vegas Essentials | Featured Shows |
---
Senor Frogs Las Vegas Throws A Party For Mexican Independence Day – Experience the weekend-long fiesta as Se±or Frog's Las Vegas celebrates the Mexican Independence Day from Friday, September 14 to Sunday, September 16, 2012 at Treasure Island Hotel & Casino.
Se±or Frog's offers patrons Mexican party specials including its signature flavored margaritas and two-for-one tequila shots while enjoying the live Mariachi music.
Rhumbar Las Vegas Features Drink Specials During Football Season – RHUMBAR at The Mirage Hotel & Casino will make football fanatics feel like they have 50-yard line seats as their stylish patio turns into a pigskin haven. RHUMBAR will offer drink specials and big screen television viewing for guests every weekend.
Aria Unveils Uncommon Cocktails At Sage – In-House Barrel-Aged White Spirits and Innovative Ingredients – Sage at ARIA Resort & Casino introduces 12 craft cocktails to complement Chef Shawn McClain's extraordinary flavor profiles. Master mixologists stir up rare ingredients including white spirits barrel-aged in-house, gin-compressed blueberries, atomized angostura orange bitters and elderflower dust, heightening the restaurant's innovative beverage offerings. The new cocktails available at Sage include:
Wine Spectator Honors Restaurant Guy Savoy And Renews Its Grand Award; Old Homestead Garners Its First Award Of Excellence – Restaurant Guy Savoy has been honored in Wine Spectator's 2012 Restaurant Wine List Awards along with Old Homestead at Caesars Palace. Restaurant Guy Savoy once again grabs its coveted Grand Award while Old Homestead received its first Award of Excellence.
Siegfried & Roy Kick Off Hofbrauhaus Las Vegas Oktoberfest Celebration – Hofbrõuhaus is bringing the German spirit in this year's Oktoberfest celebration in Las Vegas. The 9th Annual Oktoberfest will kick off on Saturday, September 15, 2012 at 7 p.m. with Siegfried & Roy. Six weeks of endless night German tradition at Hofbrõuhaus Las Vegas, the traditional Bavarian restaurant, will definitely delight partygoers.
Tender Steak & Seafood Luxor Las Vegas Offers Tailgate Lounge Menu During Football Season – Football fans and TENDER Steak & Seafood patrons will enjoy the tailgate lounge menu. The restaurant located at Luxor Hotel and Casino offers the menu every Sunday and Monday from 5 p.m. to 9 p.m. throughout the regular season.
Mirage Las Vegas Celebrates "Siptember" With Wine Specials – The Mirage Hotel & Casino invites guests to celebrate the joys of fine wine during Siptember, a month-long event featuring extraordinary bottle specials. From 5 p.m. – 6 p.m. daily at kokomo's, FIN, Onda Ristorante and Samba, wine novices and aficionados alike will have the opportunity to explore an abundance of varietals. Exclusive offers will be available such as half-off bottles of wine and champagne at the four restaurants plus several bars throughout the hotel.
Stratosphere Welcomes Dr. Havock's Sideshow of Curiosities Through Halloween – Dr. Havock's Sideshow of Curiosities is back at Stratosphere giving a bigger and better way for Casino players to enjoy Halloween.
The sideshow features visual illusions and dark humor that will surprise the audience with fully immersive and bizarre show experience. Dr. Havock's Sideshow of Curiosities has its inspirations through the medicine pitch men, vintage circus and carnivals sideshows of the past. The chilling scenes and characters with a hint of steampunk mystique is a "creepy-cool" supernatural experience for the Halloween minus the gore element of other haunts.
---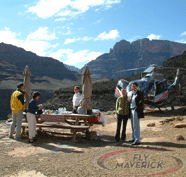 Maverick Grand Canyon Landing Tour – You will start your experience with a breathtaking flight over Hoover Dam, Lake Mead and Fortification Hill, an extinct volcano, as well as many other awe-inspiring views. After descending 3,500 feet inside the Grand Canyon on the Hualapai Indian Reservation, you will enjoy a light snack, a cool beverage and a champagne toast 300 feet above the Colorado River. Your journey will conclude with a flight through beautiful Black Canyon on your return to the South Las Vegas terminal. Operator Mustang Helicopters a division of the Maverick Aviation Group.
---
Newkirk's Notes – comments on Las Vegas from AccessVegas.Com publisher Ted Newkirk:
Hello From Las Vegas! – If you follow any the news at all, you already know that Las Vegas got hit with torrential (that is an understatement) rain on Tuesday, September 11. Within hours, the skies were clear but the damage was done. Flooded homes, cars, and dirt/sand/gravel covering streets around the valley.
I had my own personal scare. Water was coming off my roof in sheer sheets (like a waterfall — we don't have gutters here, and a gutter wouldn't have held up anyway) and ponding of the water briefly came up on the back of my house a few inches. Fortunately, the rain let up just enough for it to subside before the next storm band slammed in and did it again.
All of the local news stations pretty much focused on the high water and flooding in the suburbs (locals generally don't visit The Strip, which I've always found kind of strange… like living at the beach but never hitting the sand). However, we found a couple of good YouTube videos from The Strip and we've linked them up in the "What We're Watching" segment.
Temps for the next 10 days are generally in the low 90's with no rain in site. If you have a pending visit, you'll be fine!
Many, Many, Many Thanks – A couple of months ago, we noticed that our sites were running just a little bit slow. We didn't give it much thought at the time. Sometimes the internet is slower than others. Then… our IT guy told me that we need to upgrade to better, faster servers. I'm like "Why, what's up… the way we've been doing it the past couple of years has been fine". In fact, a couple of years ago, we upgraded to a situation that had far more capacity than we needed!
I'm going to confess something that may confound others in this field, but I don't keep track of our traffic. We're a small, privately held outfit. We just do what we do and let the chips fall where they may. Hence, I didn't realize that our website traffic has been on a pretty nice rise!
So, I very much want to thank those of you who continue to tell your friends to visit AccessVegas.com — where they can subscribe to this newsletter — and for those of you who use us to help keep you informed on what's hot and what's new in Las Vegas by clicking on all of the informational links to stories that we provide each week.
We know that many of you are able to take advantage of direct room offers from the hotels themselves and thus can't patronize our hotels partner (who helps support our efforts here). But, you can still tell people about our newsletter and AccessVegas.com on your favorite travel message boards, trip reports you make on those ratings sites, and similar.
For those of you yet to tell your friends… what are you waiting for?!? If they visit Las Vegas, you know that we'll deliver the very latest, best, and most pertinent visitor information without the stuff you don't care about. We spend countless hours sifting through Las Vegas information so you don't have to!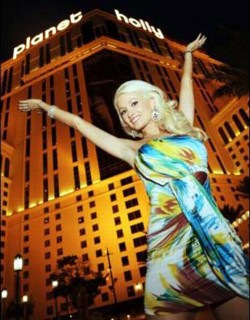 Lights Out For Holly – Peepshow mainstay Holly Madison — now in her fourth month of pregnancy — will make her last Peepshow appearance on October 21. Prior to Holly, the show had a somewhat rotating cash of lead females including Kelly Monaco, Melanie Brown, and Aubrey O'Day. Rumors that Jenny McCarthy or Carmen Electra might take over the roll have been squashed.
Madison had initially been scheduled to end her run at the end of this year in order to start a family, but evidently got started a little early! The father is her boyfriend Pasquale Rotella, the CEO of Electric Daisy Carnival.
Peepshow has been a long-time sponsor of this newsletter and we hope that the show (and our advertising relationship) continues to have a great post-Holly run. But if you want to see "Holly-Peep" version of the show and you're going to be here before October 21, Click For Peepshow Las Vegas Tickets.
Light Up Your Life With Las Vegas – You can now buy a light from the famous Las Vegas sign. The actual lights used on the sign are changed out the first Tuesday of each month, and done so sequentially. Availability permitting (first come, first served), you can buy a light related to a specific month and a specific day of that month. Which means you can get a light that was on the sign when you visited it, or simply a light that was in use on a special day in our life. Read more at Man has bright idea to sell part of Las Vegas history and you can purchase the lights at http://officiallasvegaslight.com
Don't Hold Your Breath For Interstate 11 – For the past couple of years, I've been keeping you up on the move to upgrade the Phoenix to Las Vegas portion of US Highway 93 to Interstate 11. This would involve four-laning the entire route (approximately 1/4 of the stretch is still two-lane highway), brining it all up to Interstate highway standards in terms of speed and safety, and making the entire stretch "controlled access" freeway (overpasses with onramps and offramps with no roads or driveways offshooting the route).
Sounds good, right? Certainly for those of you who visit by driving in from Arizona, New Mexico and points southeast of us.
Not so fast. Although in the planning stages, the project could take up to 20 years for completion with nearly the first decade alone being devoted simply to environmental studies of the route. Now, let me be clear on something: I don't believe in being cruel to animals. I could understand if this was a brand new highway looking to run through some kind of wildlife refuge and they want to make sure that all the animals don't get hit by cars (which could hurt the car occupants just as much as the animals). But with the exception of a new 12 mile stretch that will bypass Boulder City, what we have here is an already established route that has been in place for many, many DECADES.
Why on earth do we need a long, expensive, costly environmental study to improve an existing road is far beyond unreasonable. For more on this story, check out Interstate 11 could become an afterthought
Putting It In Perspective – During the height of the recession when the naysayers were hoping for the death of Las Vegas (how'd that work out for them), hotel occupancy was in the upper 70'th percentile and I noted that most cities would kill for those kinds of numbers.
Case and point: Occupancy in London for the Olympic Games was right around 80%. For the Olympics! And, most U.S. cities see occupancy rates of around 55-60% regularly. By last year, room occupancy was already pushing 90% here, and we expect an even better 2012!
Enjoy This Issue!

Associate Editor / News Researcher: Rick Ziegler
Concerts and Headliners: Amy Rayner-Cooley
---
What We're Watching – Vegas Videos You'll Enjoy
---
We love to hear from you, and value your feedback! Here's how to participate:
Want to comment on a current reader post? Use the comment box on that particular web page. Many of the stories we post also have comment boxes at the end of the story. Make your voice heard!
Drop us an email at AccessVegas@AccessVegas.com – We read them all!
Call our recorded comment line at 702-507-0055. We listen to every call.
---
Latest Concerts Added This Week!
There is no better place to see your favorite acts then in Las Vegas! You're relaxed, can enjoy a fine meal, have some cocktails without the worry of driving, and no alarm is going to jar you awake all too early the next morning.
---
More Las Vegas News – Shows – Events
No related links found