Serving Las Vegas Visitors and Residents Since 1999
Welcome to the Insider Vibe! This is the official newsletter of AccessVegas.Com. We talk about the Las Vegas activities you really care about.
Need to contact us? Send feedback to
AccessVegas@AccessVegas.com
Missed an issue? Click to Read Back Issues Online.
---
AccessVegas.com Quick Info Menu:
| | |
| --- | --- |
| Las Vegas Essentials | Featured Shows |
---
Bellagio Gardens Fall Display Celebrates Wine Country With Authentic Cider Mill And Vintage Wine Press – A captivating fall exhibition is on display now through November 24, 2012 at BellagioÆs Conservatory & Botanical Gardens. See the sights and smell the scents of the harvest season while falling in love in the romantic journey through wine country without leaving Las Vegas. A bevy of seasonal visuals will boast this yearÆs exhibit including a vintage wine press, authentic cider meal and aged stone face.
Da Vinci Las Vegas Exhibition Is The First To Host ôHorse And Riderö Mold And Original Bronze Cast – Art lovers must not miss the chance to get fascinated with Leonardo da VinciÆs work ôHorse and Riderö that will be displayed to the public for the first time at Da Vinci û The Genius at The Venetian in Las Vegas by Imagine Exhibitions. The exhibition will feature the original mold sculpture and the first bronze cast sculpture.
ôHorse and Riderö was a creation made by Leonard da Vinci for more than 500 years ago and it is the only known Leonardo da Vinci sculpture remaining today. It was authenticated by Dr. Carlo Pedretti, a notable authority on the life and works of Leonardo da Vinci. According to PedrettiÆs verification, the mold was originally made from a block of solid beeswax. In the intention to preserve Da VinciÆs unfinished work it was later casted in bronze.
Celebrity Chefs And Schedule Announced For Las Vegas Food & Wine All-Star Weekend – A star-studded ultimate outdoor cookout will hit the shores of Mandalay Bay Beach as Food & Wine All-Star Weekend kicks off on Friday, October 5, 2012. The MirageÆs All-Star Tasting will offer bites and sips from famous chefs along with the Surfside SoirÚe at Mandalay Bay Beach on Saturday, October 6, 2012 at 7 p.m.
Hosted by Gail Simmons, superstar chefs will be joining her including Rick Moonen, Michael Mina, Hubert Keller, Mary Sue Milliken and Susan Feniger in the all-star event. Mandalay Bay Beach, the only beach on Las Vegas Strip, creates a tropical paradise combined with a live entertainment that gives guests the chance to relax with the sand under their toes while tasting the signature dishes from some of the best chefs and cocktails from some of the mixologists in the world.
Chateau Terrace At Paris Las Vegas Now Offers Low Cover, First Drink Free, Flip-Flops OK – Chateau Nightclub & Gardens opens the Chateau Terrace every Thursday, Friday and Saturday at 10:30 p.m. The exclusive outdoor terrace provides guests a stunning setting and a vibrant atmosphere for an exciting nightlife experience.
Located in the second story of Paris Las Vegas, the Chateau Terrace overlooks the famed Las Vegas Strip and the Bellagio Fountains. Guests can easily find the place as it has direct access from Las Vegas Boulevard. Guests on stilettos or flip flops are welcome to enjoy the liveliest party or just to relax as they wrap up their day.
American Idol Winner Taylor Hicks Gets A Year-Long Extension At Bally's – The talented American Idol winner Taylor Hicks extends his contract at BallyÆs Las Vegas and will continue to perform until 2013 starting on Wednesday, October 17, 2012. Hicks became Las VegasÆ most popular acts and the first American Idol winner to secure long-term residency in the city. He is now exclusively committed to Caesars Entertainment and will showcase his talent to other Caesars properties across the country. Expect Hicks performances throughout the year and wait for further announcements of the specific dates and locations of his performances.
Crazy Girls At The Riviera Las Vegas Invites Public For Re-enactment Of Famous "Assets" Pose With Giveaways And Specials – ôShow Us Your Assetsö and recreate the iconic Crazy Girls pose as the longest running topless revue on the Strip celebrates its 25th Anniversary with Las VegasÆ Longest Butt Lineup on October 2, 2012. Arm-in-arm and hip-to-hip, women 21 years of age and older are invited to make history at the Riviera Casino & Hotel. Craig, Al and Andy from KOMP 92.3Æs morning show, who will broadcast live from the event from 1 û 3 p.m., are giving away a host of fabulous prizes, including staycations, dining and entertainment packages. All participants will receive a commemorative t-shirt as well as access to food and drink specials and entertainment passes.
Trevi At Caesars Palace Offers $9.99 Pizzas Through October For National Pizza Month – Trevi will give pizza lovers a reason to celebrate the National Pizza Month with featured pizzas valued at $9.99. Executive Chef Peter Scaturro will make a new brick oven pizza every day in the entire month of October at the famous Italian restaurant.
Mouthwatering brick oven pizza selections by Scaturro will keep guests coming back as they will be delighted with his creation. The selection includes Philly cheesesteak, carbonara and barbecue chicken.
Thrill-Seekers Wanted To Rappel From The Roof Of Planet Hollywood Las Vegas – For adrenaline junkies looking for a little adventure, PBR Rock Bar & Grill is offering the opportunity to rappel more than 300 feet from the hotelÆs rooftop for ôOver the Edge,ö a fundraising event benefiting Special Olympics Nevada.
To participate, individuals must raise or personally donate a minimum of $1,000 to Special Olympics Nevada. Fundraising is done by soliciting donations from family, friends and co-workers through the ôOver the Edgeö online giving site www.overtheedgelasvegas.com. ôRaising the money to rappel is not a challenge once you explain what you are doing and that you are raising money for Special Olympics athletes in southern Nevada. People either think you are cool or crazy, but no matter what, they recognize their donation is worth the cause it supports,ö says Maggie Schwarz, Special Olympics NevadaÆs Regional Vice President.
PBR Rock Bar Las Vegas Counts Down "End Of The World" With Weekly Drink Specials – PBR Rock Bar & Grill inside Miracle Mile Shops at Planet Hollywood Resort & Casino will count down to the end of the world with drink specials each week starting Monday, October 1, 2012.
Patrons will be invited to check-off their bucket lists with the Strip-side destinationÆs ôBeer Bucket Listö with $19 Budweiser buckets every day. To conclude the countdown, revelers can attend the ôEnd of the Worldö party in Rock Bar on Friday, December 21, 2012.
Las Vegas Motor Speedway Announces Glittering Lights Annual Drive-Through Spectacular – The largest regional holiday light show, Glittering Lights, will entertain guests nightly starting November 16, 2012 to January 6, 2013. The holiday drive-through spectacular is all LED which will brighten Las Vegas Motor Speedway with the world's largest light tunnel and over 450 animated light displays along a 2.5-mile racetrack. NASCAR scene and Avenue of Trees will be added as the Glittering LightsÆ displays expand this season.
---
Maverick Grand Canyon Western Territory Tour By Plane û Experience the thrill of the Grand Canyon, one of the seven natural wonders of the world, on a flight with Maverick Airlines. Fly in Maverick style on a Beechcraft 1900D aircraft to Grand Canyon West as you enjoy spectacular views along Eagle Point. At the Indian Village you will receive a brief introduction to the Hualapai Indian legends and culture, and then proceed to Guano Point, where you'll observe a breathtaking view of the canyon. Optional Activity: Don't miss out on the Grand Canyon Skywalk, the new glass bridge attraction suspended more than 4,000 feet above the Colorado River on the very edge of the Grand Canyon's West Rim. A meal will be served while you sit back and admire the awe-inspiring beauty of the Grand Canyon as you conclude your journey. Operator Maverick Airlines a division of the Maverick Aviation Group.
---
The Mentalist by Guy Chapman
The Mentalist – An Enjoyable Night Out Leaving Your Mind Amazed – While there is always something to see in the Las Vegas StripÆs entertainment scene, it does become difficult at times to find something past all the showgirls and elaborate stage productions. Fortunately, there are some great finds on the Strip that push the boundaries of something different. Seeing ôThe Mentalistö in the V Theater at Planet Hollywood Resort and Casino will have you trying to guess ôHow did he do thatö well past the end of the show.
Gerry McCambridge has created an evening of entertainment that is designed with full audience participation in mind, so if you have ever wanted to become part of the act, this is your opportunity.
Stripper 101 by Sarah Jane Woodall
Stripper 101 – A Light And Fun Way To Learn The Art Of Seduction – Why should guys have all the fun? Vegas used to be known as a boysÆ town, a place for men to get their secret debauch on without wifey knowing what was up. Thankfully, times have changed… these days, thereÆs plenty of opportunity for us gals to reconnect with our wilder sides, too û and now, thereÆs even a class to show you how!
---
Newkirk's Notes – comments on Las Vegas from AccessVegas.Com publisher Ted Newkirk:
Hello From Las Vegas! – Over they years of doing this, I've had nightmares that we'd have a week with little-to-no news. Obviously, those fears have been vastly unfounded. As always, we're presenting a packed issue with the Vegas news that you really care about!
From Dust To Dreams – PBS stations nationwide are playing this specially shot opening night at our new Smith Center for performing arts. Doogie Howser Neil Patrick Harris hosted with performances by Jennifer Hudson, Willie Nelson, Carole King, Emmylou Harris, Joshua Bell, Martina McBride, Arturo Sandoval, John Fogerty, and others.
This is not some "Las Vegas Strip" extravaganza like you are used to seeing on TV. Strictly a performing arts setting where the important people in town enjoyed that we now have "culture". Check your local PBS listings over the next few weeks to find when it is playing in your area. Speaking of…
"Vegas" Of To A Good Start – The new Dennis Quaid CBS TV crime Drama Vegas trounced the competition in its time slot this past week. (If you follow us on Twitter or Facebook, we reminded you a day before it aired). Part old Vegas, part crime drama, and part "modern" western, the show takes you back to the days when Las Vegas really was more of a cowboy town and Fremont Street ruled. Vegas continues weekly on Tuesday nights, check your local listings.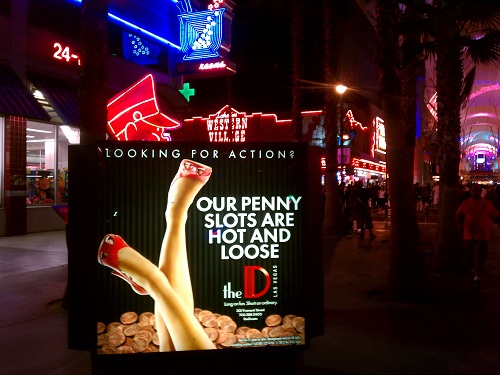 Get Your "D" On Soon! – On one of our regular sojourns downtown to stagger from East Fremont to The Plaza combine enjoying Vegas with getting some exercise in, we were pleased to see The D construction moving towards completion. With the dearth of resort construction going on here in our fair neck-of-the-woods, all eyes have been on the upgrades taking Fitzgerald's and turning it into The D. I'll tell you right now that the downstairs improvements (Longbar and a new pleasure pit) have really brought the aging property back to life.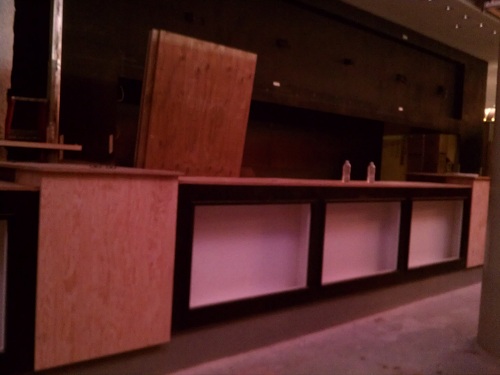 We snuck an exclusive photo of the (obviously under construction) outside bar which — while similar to the one at sister-property Golden Gate — looks to be much larger (we barely got half of it in the shot) and will surely do good business both with passer-bye and those watching the free live bands which play nightly on the adjacent 3'rd Street Stage.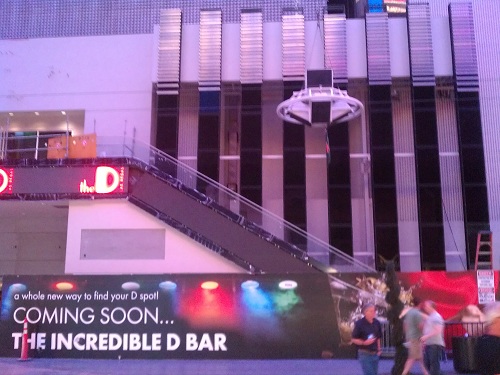 The tall black bars on the wall are actually flat-screen video monitors, and we're guessing they'll display various graphics and colors to make interesting designs.
In an effort to draw crowds up to the second floor casino (a rarity in the gaming industry), a "first of its kind" (for downtown) outdoor escalator is going to whisk people directly up to the Vue Bar and into the casino. For those who aren't into thumping music and "pleasure pit" gambling, you'll be happy to know that the second floor is old school. Classic hits music and traditional/retro slot machines, some of which even take coins! We're hoping that they don't screw with the high-payback video poker at Vue Bar.
Monorail Not Dead Yet – The people running the monorail are attempting to seriously revive the notion of running it over to the airport. Fresh out of bankruptcy reorganization, the monorail is now only carrying $13 million in debt (down from the $757 million they owed). However, investors don't appear the want to take another haircut and the only funding in sight for the beleaguered ride is the hope of federal funding (your tax money, thank you very much).
Monorail officials are citing the eventual re-opening of The Sahara (no date set) and the 2013 opening of Project Linq, and also talking about building a stop to serve Venetian/Palazzo/Sands Convention center. Personally, I think they are being a little over-optimistic about the number of people who are going to make Linq a "ride the monorail to" destination stop. However, the combination of all of the above won't hurt.
Word is that to get some federal funding, the ride would have to be taken over by a government agency (whom I imagine couldn't do much worse). The same guy has been running it for years, reportedly making a nice $300k+ income all the while ridership has dropped year after year.
They would probably have to secure the government funding before Harry Ried were to perhaps retire or be voted out of office. However, Ried is pretty much up to his neck in the funding for the "train to nowhere" (high speed train from Las Vegas to Victorville). No indication whether he'd want to take this one on as well.
Also, the fight with the cab companies would be legendary. Even though it appears like Las Vegas is served by many taxi services, they are all owned by a very small number of actual cab companies, which wield immense amounts of political power.
Steve Wynn vs. Joe Francis Defamation Lawsuit – – Some of you have been keeping up on this action where Wynn/Encore owner Steve Wynn went after the infamous Girl's Gone Wild founder Joe Francis after Francis (basically) said that Wynn was mobbed up and might kill Francis over a $2 million gambling debt. Wynn won, and Francis is appealing the verdict.
Our friend Tony Snyder — a practicing attorney in the state of Michigan — wrote a great article examining the case in layman's terms and is a must-read for anyone who has heard about the case. Read: Defamation of Steve Wynn
Hope You Are Enjoying This Issue!

Associate Editor / News Researcher: Rick Ziegler
Concerts and Headliners: Amy Rayner-Cooley
---
What We're Watching – Vegas Videos You'll Enjoy
---
We love to hear from you, and value your feedback! Here's how to participate:
Want to comment on a current reader post? Use the comment box on that particular web page. Many of the stories we post also have comment boxes at the end of the story. Make your voice heard!
Drop us an email at AccessVegas@AccessVegas.com – We read them all!
Call our recorded comment line at 702-507-0055. We listen to every call.
---
Latest Concerts Added This Week!
There is no better place to see your favorite acts then in Las Vegas! You're relaxed, can enjoy a fine meal, have some cocktails without the worry of driving, and no alarm is going to jar you awake all too early the next morning.
---
More Las Vegas News – Shows – Events
No related links found