Serving Las Vegas Visitors and Residents Since 1999
Welcome to the Insider Vibe! This is the official newsletter of AccessVegas.Com. We talk about the Las Vegas activities you really care about.
Need to contact us? Send feedback to
AccessVegas@AccessVegas.com
Missed an issue? Click to Read Back Issues Online.
---
AccessVegas.com Quick Info Menu:
| | |
| --- | --- |
| Las Vegas Essentials | Featured Shows |
Las Vegas Events
---
American Coney Island Brings A Taste Of Detroit To the D Las Vegas – DetroitÆs favorite American Coney Island opened on the Fremont Street Experience in October 2012 as part of the dramatic transformation in downtown Las Vegas. Known as a high-quality restaurant, it offers specially seasoned Dearborn sausage brand hotdog topped with sweet chopped onions, fine mustard and the Keros family secret recipe Coney Island Chili Sauce served in a warm steamed bun.
---
Rice & Company Bewitches This Halloween With Sushi And Sake Duo – Rice & Company at Luxor Hotel and Casino will celebrate Halloween with the spooktacular Demon Slayer sake paired with the Wicked Roll of the West for the entire month of October.
Adult Halloween enthusiasts, who are interested in more treats than tricks, will dine festively with a celebratory sushi and sake pairing, created just for the holiday. The Demon Slayer sake, with a clean, subtle and dry taste, will complement the Wicked Roll, made with spicy tuna, yellowtail, cucumber and avocado and topped with a spicy mayo. The sushi and sake duo will be offered at the bewitching price of $30.
---
Las Vegas Halloween Parade Invades Downtown On October 31 With Free After-Party – The Las Vegas Halloween Parade is back for its third annual event on October 31 at 7 p.m. The parade will start on Garces and Fourth Street, just North of Charleston Blvd. The parade will end on Third Street between Ogden and Stewart where a huge free after-party will conclude the event. The parade will include music, art cars, mobile artworks, giant puppets, fire performances, a costume contest and the unexpected by the wonderful and creative people of Las Vegas. The North or South of Fremont Street on Fourth Street are the best places to watch the parade. The parade is free and for all ages.
---
Cabo Wabo Las Vegas Celebrates æHappy Halloween HourÆ With Drink Specials – Cabo Wabo Cantina inside Miracle Mile Shops at Planet Hollywood Resort & Casino invites all ghouls, goblins and ghosts to start the night with the Strip-side restaurant and drink up on Wednesday, October 31, with discounted cocktails for customers in costume.
---
Fremont Street Experience Taps Into Fear During the Fourth Annual OktoberFrightFest – Scream, party and drink this October at the Fourth Annual OktoberFrightFest at Fremont Street Experience. Guests who love Halloween and Oktoberfest can find the best place to enjoy the events especially on its nationally ranked haunted house Asylum located at the 3rd Street North area.
---
PBR Rock Bar To Be Official Headquarters For Professional Bull Riders World Finals – Professional Bull Riders World Finals find its home as Pabst Blue Ribbon partners with PBR Rock Bar & Grill at Planet Hollywood Resort & Casino. The event will begin on October 24 and will end on October 28.
---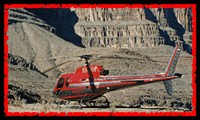 Maverick Indian Territory Grand Canyon Tour – This exciting tour begins by flying over the beautiful Lake Las Vegas, Lake Mead, the world famous Hoover dam and Fortification Hill, an extinct volcano. View the breathtaking scenery and wildlife of the southwest along the way. Maverick Helicopters will descend and land in the Hualapai Indian Territorym 3,500 feet into the Grand Canyon.
---
The Rat Pack Is Back by Sarah Jane Woodall
The Rat Pack Is Back, Swinging Live In Las Vegas! – Vintage Vegas has never been hotter – the days of swanky lounges, classic cocktails and sharply tailored tuxedos are back en vogue, thanks to shows like Mad Men and the resurgence of mid-century modern style. And what better ambassadors could old-school Vegas have than those iconic bad boys of yesteryear… the Rat Pack?
Mac King Comedy Magic by DW Grant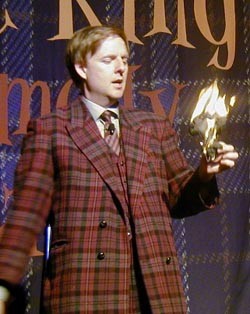 Mac King Comedy Magic – King of the Afternoon – If I had a little brother who was a magician, he would be Mac King. Clever, silly, a bit naughty and annoying, but totally loveable and entertaining, this is the man (boy) I laughed and cheered for in Harrah's show room this afternoon. Maybe that's why he's called "The King of the Afternoon" and why his show is rated one of the 7 best in Las Vegas.
His gift shop offers a "Lunch Box O' Magic," so you know he's not Criss Angel, and there's plaid fabric everywhere, on his posters, on stage, and on his double breasted suit, so you know he's not going to be the regal Lance Burton.
---
Newkirk's Notes – comments on Las Vegas from AccessVegas.Com publisher Ted Newkirk:
Hello From Las Vegas! – A cloudy, rainy, 65-degrees-for-a-high Las Vegas as a cold snap plows through our little plot of high-desert paradise. If you are visiting soon, have no fear. Next week, we bounce back into slightly unseasonable highs in the 80's. However, we are bidding a tearful farewell to summer soon as November days barely make it into the upper 60's (on average) and our December average is 57. Fortunately, just about every day is sunny, so even the cooler days feel pretty good when you are out and about in the daytime!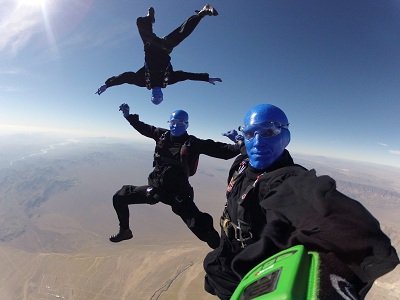 Photo Credit: Jeff Provenzano
It's A Bird, It's A Plane, It's… Very Blue! – We're super-happy to have Blue Man Group back as a sponsor, and they are super-happy to be at the Monte Carlo, where they've built a "must see" theatre customized just the way they wanted it. Very flashy and… blue. Even if you've seen them before, you'll want to strongly consider seeing this new version in the new venue.
The day of their first Monte Carlo performance, they joined the Red Bull skydivers and jumped out of a perfectly good airplane high above the Las Vegas Strip, nailing the landing right at Monte Carlo. We'll have video of this amazing jump for you next week.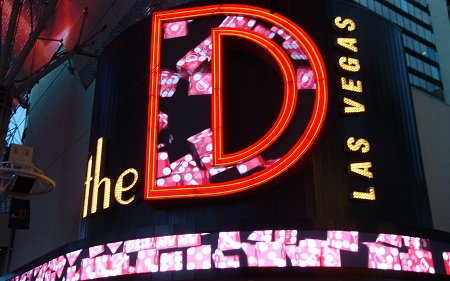 Getting All Of The F's Out – Wednesday, we joined some of our media colleagues for a personal tour of the new D Casino & Hotel from owner Derek (who often goes by simply "D") Stevens, the proud papa of this $15 makeover of what was formerly Fitzgeralds.
One of the first things Derek noted before the tour got underway was that he couldn't believe how many "F's" (for Fitzgerald's) were all over the casino and had to be removed! (The name Fitzgerald's was only licensed to the property, and since the Las Vegas hotel had no relation to other Fitzgerald's around the country, they wanted a clean break)
Plenty of general news coverage exists (some of which we'll be linking to next week), and we've covered the renovation news on a regular basis (including being the first ones to tell the public of the concept of a party casino downstairs and retro casino upstairs). So, just some thoughts and notes:
The outside of the hotel is by far the most modern, sleek looking of any downtown. Thousands of LED lights and a whole bunch (easily 50, probably more) plasma TV screens make an unending array of patters across the entire facade. Former Cirque du Soleil guru Roger Perry was involved in the design. (We'll be getting night photos of it to share with you soon).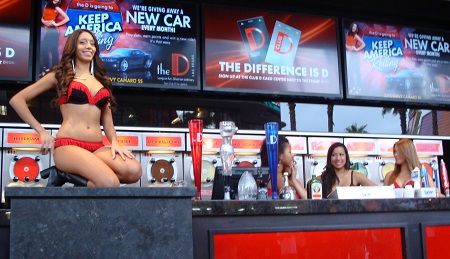 If the above bar and dancing bartenders look familiar, the idea was "stolen" from sister-property Golden Gate. Except that this bar is twice as big, with one end featuring the dancers and a myriad of frozen cocktail flavors, and the other end showcasing flair bartenders who will pour you some serious spirits.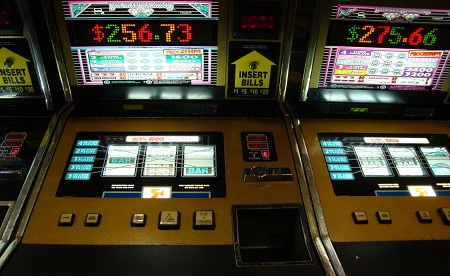 The conversion of the downstairs casino was done first, and immediately both crowds and energy went through the roof. Upstairs, improvements were nice but reasonably nominal and they have left most of the old-school (including many coin operated — pictured above) games on the floor. We're already reported (and were the first with pics) of the Sigma Derby game they salvaged from the old Frontier hotel, and it is a runaway hit.

Stevens describes — in musical terms — the downstairs as more "Black-Eyed Peas" and the upstairs as more "Frank Sinatra". IE, downstairs is modern party music and upstairs you'll hear hits from decades gone by (generally 60's and 70's). So, for all of you who chronically complain that Vegas is only for the young and rich, get your butt to The D upstairs.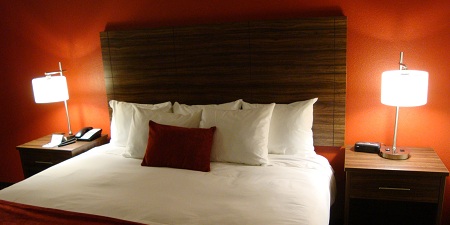 Made In The USA: The D is very pro-American manufacturing (their car giveaways will only feature domestic brands) and were extremely proud of the fact that all of the furniture used in the remodel of the rooms and suites was made in the U.S.A. Standard room pictured above.
American Coney Island Chilly Dogs, a 95 year old company that holds a respectable claim to the invention of the Coney Island Hot Dog, has opened their first non-Michigan location at the property. They also feature a small selection of meal-type salads and gyros and figure to do well as a quick food pit-stop right on Fremont Street (under the new escalator leading up to Vue Bar and the Vintage Casino).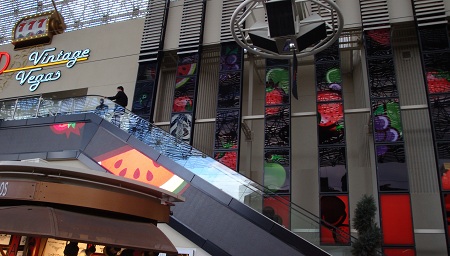 Change I don't like: The Vue Bar upstairs used to have tables and chairs, and cocktail service so you could enjoy a drink sitting down overlooking Fremont Street. I noticed that the tables and chairs were gone, and pressed Derek on this very popular issue. I was left with the impression that they weren't planning to replace them, but might revisit the idea.
Easter Egg: Those of you who play computer games may be familiar with this term. It is a special, unadvertised surprise. For example, go down a hidden hall, turn a certain way, touch a wall in a special place, and an unknown part of the game opens up.

The D has its own Easter egg, and one you have to be looking for. As you ascend the escalator to the second floor, your natural inclination will be to look down out at Fremont Street. Instead, stand on the right side of the escalator and look at the plasma screens directly in front of you. As you pass many of the screens, you'll be surprised by the people you "meet". That's all we're going to say. You'll have to try this one out for yourself!
Hope You Are Enjoying This Issue!

Associate Editor / News Researcher: Rick Ziegler
Concerts and Headliners: Amy Rayner-Cooley
---
What We're Watching – Vegas Videos You'll Enjoy
F.A.M.E. Las Vegas

– F.A.M.E. (food, art, music and entertainment) Night Market and Lounge is one of the lauded new tenants at Project Linq Las Vegas, debuting late 2013. Get a taste of what Caesars Entertainment is bringing to the former O'Sheas (and beyond) area.

Legends In Concert Las Vegas Show

– Internationally acclaimed Legends In Concert is known as the pioneer of live celebrity tribute artist shows and possesses the greatest collection of celebrity tribute artists ever assembled featuring live concert shows of famous musicians and celebrities of yesterday and today.

Rao's at Caesars Palace Las Vegas Seafood Salad

– Get the inside peak at how Rao's prepares their famous and popular Seafood Salad.
---
We love to hear from you, and value your feedback! Here's how to participate:
Want to comment on a current reader post? Use the comment box on that particular web page. Many of the stories we post also have comment boxes at the end of the story. Make your voice heard!
Drop us an email at AccessVegas@AccessVegas.com – We read them all!
Call our recorded comment line at 702-507-0055. We listen to every call.
---
Latest Concerts Added This Week!
There is no better place to see your favorite acts then in Las Vegas! You're relaxed, can enjoy a fine meal, have some cocktails without the worry of driving, and no alarm is going to jar you awake all too early the next morning.
---
More Las Vegas News – Shows – Events
No related links found