Serving Las Vegas Visitors and Residents Since 1999
Welcome to the Insider Vibe! This is the official newsletter of AccessVegas.Com. We talk about the Las Vegas activities you really care about.
Need to contact us? Send feedback to
AccessVegas@AccessVegas.com
Missed an issue? Click to Read Back Issues Online.
---
AccessVegas.com Quick Info Menu:
| | |
| --- | --- |
| Las Vegas Essentials | Featured Shows |
Las Vegas Events
---
Palms Casino ResortÆs Ultra-Chic Renovated Rooms Now Available – $50 Million Transformation Continues – Palms Casino Resort is changing its look with a lavish redesign of all 428 rooms in the Palms Tower. The $50 million renovation includes the remodeled ultra-chic rooms, re-imagined gaming spaces and new culinary options. Guest booking is now available.
Flamingo Wildlife Habitat Welcomes Rescued Brown Pelicans – Two brown pelicans were introduced into their new home at the Wildlife Habitat at Flamingo Las Vegas by the Pacific Wildlife Project. Flamingo adopted the pelicans ôBugsyö and ôVirginia,ö one male and one female, after being entangled by fishing lines which made the birds injured and flightless.
The new inhabitantÆs home has undergone renovations including repairing and repainting as well as installing a dock structure which will serve as a perching area for the pelicans. The Wildlife Habitat was originally home to a colony of penguins and replanting of lush greenery is on its way. It has two presentations every day at 8:30 a.m. and 2 p.m. and the free attraction is open 24 hours a day.
MGM Grand Marks Completion Of $160 Million Room And Suite Remodel – MGM Grand marks its major milestone as it announced today the completion of the resortÆs ôGrand Renovation.ö The $160 million room and suite remodel, which began in October 2011, includes 3,570 Grand King and Queen guest rooms as well as 642 suites of varying types.
Join Bon App╔tit for an incredible wine pairing menu at Bellagio Epicurean Epicenter Dinner Saturday – The BellagioÆs 2012 Epicurean Epicenter Series will conclude on Saturday, November 10, 2012 at 6:30 p.m. in Tuscany Kitchen with the single-vineyard Chardonnay and Pinot Noir Wines from Patz & Hall Winery accompanied by the decadent cuisine of Bellagio Executive Chef Edmund Wong. Bon AppÚtit magazine showcases the Patz & Hall wine dinner featuring single-vineyard Chardonnay and Pinot Noir wines along with the menu created by Bellagio Executive Chef Edmund Wong and Director of Wine and Master Sommelier Jason Smith.
Hubert Keller Unveils New Cookbook At Special Dinner November 2, 2012 – Celebrity Chef Hubert Keller invites guests to immerse themselves in the personal stories and recipes of his culinary journey through his new cookbook, ôSouvenirs: Stories & Recipes From My Life.ö The book follows Keller as he navigates the culinary waters of France, South America, the United States and beyond through fun anecdotes and stunning photography.
Trevi Las Vegas Offers Italian Pasta Trio Special Price On October 25, 2012 – Pasta lovers will unite on World Pasta Day as TREVI inside The Forum Shops at Caesars honors the special day with a delicious Italian pasta trio entrÚe exclusively on Thursday, Oct. 25.
Chef Peter Scaturro will prepare a pasta trio complete with some of TREVIÆs most popular selections, priced at just $10 for the hearty holiday.
Garth Brooks Concludes A Three Year Run at Wynn Las Vegas November 17, 2012 – The final performance date of Garth Brooks at Wynn Las Vegas will be Nov. 17, 2012. The show called by Las Vegas Weekly as "the best thing on any Vegas stageà EVER," has been running since Dec 2009.
"I have thoroughly enjoyed my time at Wynn," said Garth Brooks. "Mr. Wynn told me that the Wynn audiences were some of the best in the world and he was right. As for Steve Wynn, he is one of the smartest guys I have ever had the pleasure of talking to or listening to. He does everything top notch and is the easiest and best boss I have ever worked forà..I just love him!"
Senor Frog's Celebrates Football Season With Food And Drink Specials – Se±or FrogÆs Las Vegas inside Treasure Island Hotel & Casino will make football fans ôfroggyö in the season long game with food and drink specials. Every Thursday, Saturday, Sunday and Monday tailgate eats and $25 tubs of Sol beer ponies are featured on the upper level of the hoppinÆ restaurant and party bar.
Guns And Ammo Garage And The Mob Museum Create The Ultimate Mobster Adventure – æVegas Mob TourÆ package lets guests shoot high-powered guns and experience the history inside The Mob Museum. Guns and Ammo Garage has partnered with The Mob Museum in downtown Las Vegas to create the Vegas Mob Tour package, an adrenaline- and history-based adventure where guests can be a wiseguy for a day. The package includes shooting a variety of guns from the 1920s in Guns and Ammo GarageÆs state-of-the-art, indoor shooting range, followed by an in-depth look at the history between law enforcement and organized crime with a tour at The Mob Museum.
Hash House A Go Go Creates A Cake For The Cure Pancake To Benefit Susan G. Komen 3-Day Walk Team – Hash House A Go Go supports many Las Vegans who will be participating in Susan G. Komen 3-Day Walk in honor of Breast Cancer Awareness Month. For every ÆCake for the Cure pancake sold in the entire month of October, the restaurants will be donating $1 to the fundraising efforts.
Javier's Joins Aria Restaurant Line-Up With Authentic Mexican Fare And Atmosphere – JavierÆs, Southern California hotspot, is now open at ARIA Resort & Casino. JavierÆs will definitely fulfill the culinary niche for the Las Vegas guests with its regionally inspired cuisine. Its intriguing and warm design provides CityCenter a spirit of Mexican grandeur.
Co-Founder Javier Sosa said, ôThe dishes we present at JavierÆs are derived from generations upon generations of my familyÆs recipes. You will not find Mexican flavor like this anywhere else in Vegas." A testament to JavierÆs commitment to tradition and excellence, nearly 200 restaurantÆs employees underwent extensive training overseen by Sosa himself.
Rice & Company Celebrates Sushi During November Special With Prix-Fixe Menu – Rice & Company at Luxor Hotel and Casino will celebrate National Sushi Day, Thursday, November 1, 2012 by offering a month-long prix-fixe menu. For $38 per person sushi enthusiasts can enjoy four-course menu throughout the month of November.
ôDa Vinci û The Geniusö Extends Las Vegas Engagement Through January 2013 – Da Vinci û The Genius is extending its Las Vegas Engagement, by popular demand, until January 2013. The exhibition has brought a new life in the emerging arts scene of Las Vegas since the world debut of Leonardo da VinciÆs new work and the enlightening ôSecrets of Mona Lisa.ö Da Vinci û The Genius is presented by Imagine Exhibitions at The Venetian.
Comme Ãa Offers A French Twist to Happy Hour – Comme Ãa patrons will experience daily happy hour available exclusively in the French brasserieÆs bar and lounge. Specialty dishes are 50% off as well as the cocktails from the happy hour menu. Comme Ãa is located inside The Cosmopolitan of Las Vegas. Guests can enjoy the happy hour from Monday to Thursday from 5:30 p.m. to 7 p.m. and from Friday to Saturday from 5 p.m. to 7 p.m.
Legends In Concert Las Vegas Showcases Magical Holiday Lineup – Legends in Concert is back once again for its annual holiday performances starting Nov. 23. The concert will fill Las Vegas strip the holly jolly spirit until Dec. 25.
The 90-minute holiday performance features superstar tribute artists including Adele, Justin Timberlake, Barry White, Whitney Houston, the Blues Brothers and Elvis. Audience will enjoy the chart-topping hits of the celebrities that lead to their stardom. Few heart-warming holiday favorites will be performed including ôOh Holy Night,ö ôWhite Christmas,ö ôThe Grinchö and more. Audience will bring home the spirit of the season with the final performance nightly with the grand cast finale. A stunning tribute to the Trans-Siberian OrchestraÆs ôChristmas Eve in Sarajevoö (ôCarol of the Bellsö) will also conclude the holiday spectacular.
Sugar Factory Chocolate Lounge And Wine Bar Unveils Fall Selections – The Chocolate Lounge & Wine Bar reveals new chocolate selections for fall featuring an array of distinctive wine and chocolate varieties from around the world. The Chocolate Lounge & Wine Bar is located inside Sugar Factory American Brasserie at Paris Las Vegas.
Hyde At Bellagio Presents New Small Plate Early Evening Menu – Hyde Bellagio presents new gourmet small plates to its early evening menu from 5 p.m. to 10 p.m. served at fountain-side. The new menu sustains HydeÆs exclusive culinary partnership with neighboring Circo, keeping the popular favorites with the appetizing new bites.
---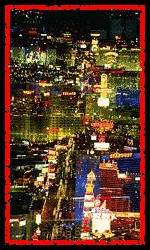 Las Vegas Strip Helicopter Tours (Day or Night) by Maverick û A Flight Over The Las Vegas Strip. Save time and money. Our Maverick Lights tour with out the Transportation. Spend more time seeing Las Vegas and arrive at our terminal 30 minutes prior to departure time. Reserve your seats today!
---
George Wallace by Guy Chapman
George Wallace – Pure Comedy Plus Topical Content Makes You "Be Thinkin' " – George Wallace has long been known as ôMr. Las Vegasö, as his comedy act has graced the Las Vegas Strip since 2004. Headlining at the Flamingo Resort and Casino, Wallace has delighted packed houses full of fans every night with his interactive audience banter and real world observations. It is for this reason that showgoers will be guaranteed an entertaining and full evening of insightful humor that only ôThe George Wallace Showö can deliver. The pre-show begins inside the spacious Flamingo showroom with a number of clips from WallaceÆs television appearances that help to set the overall tone for the show.
Vegas! The Show by DW Grant
Vegas! The Show! – Step Back In Time To Real Entertainment – From the Neon Grave Yard to The Copa Room to The Planet Hollywood, Vegas! The Show delivers Las Vegas the way it should be.
Vegas! The Show begins appropriately in the Neon Grave Yard and is introduced by Ernie, the janitor, played by the musicalÆs best performer, Eric Jordan Young, rightly called by the critics ôa one man force of natureö and an ôoutsized talent.ö He is definitely more than a force and has the talent to carry this show to its conclusion.
---
Newkirk's Notes – comments on Las Vegas from AccessVegas.Compublisher Ted Newkirk:
Hello From Las Vegas! – We're continuing to bask in ouráIndian Summer although next week we return to our seasonable 70's with overnights in the 50's. For many of you from cool weather places, it will feel great. If you are from a warm weather spot and your blood is still a little thin (like mine), long pants and even a light jacket might not be bad to pack for the night.
Two Wheels Battle On – Both the "High Roller and "Sky Vue" observation wheels claim to be moving forward with construction. This among various rumors and questions to the contrary (more so with the Sky Vue). Right now, there isn't much to look at on either project, but both are saying that construction on key components is underway at spots around the US and around the world. We'll keep you in the loop, although don't hold your breath. Completion for both appears to be a good year away.
Sports Bettors, Listen Up! – Our friends at the Vegas Video Network have launched the show "The Odds Couple" airing live at Noon Pacific time on Fridays and then available on demand. Hosted by professional sports bettor Scott Pritchard and headlining comedian Anthony Padilla, this is NOT your typical "give us $50 for our pick of the week" show.
Both are funny guys, but serious about sports, the show originates just steps from the Las Vegas Strip, these guys really do bet the games, and there is no charge to enjoy the show.áCatch it live at noon (Pacific Time) on Vegas Video Network or on-demand at The Odds Couple
Wayne Newton Project Dead – Finger pointing and intensive legal wrangling has forced the attempt to turn Wayne Newton's Casa de Shenendoah into a "Western Gracelend" where visitors can tour the historic house and ranch into a dead end. Full details at Entity that purchased Wayne Newton's property placed in bankruptcy
Flamingo Wildlife Habitat Bird Killing – Earlier in this issue, we noted (with photo) how The Flamingo had adopted two rescue birds and how the habitat had been recently upgraded. Unfortunately, this was followed by some very unfortunate news. Two college students visiting the habitatáallegedly went after an exotic African guineafowl, beheaded it, and tossed it around like a frisbee.
We posted this both on our Twitter and Facebook pages and I think this Facebook comment response from one of our readers T J Mecomber Russi summed it up best:
Honestly I hope they fry the little bastards. These are the kind of people who become serial killers. No wonder they're going to law school, trying to figure out how to get away with it no doubt. Perhaps with a felony conviction they can explain to their families why the phrase "do you want fries with that" is going to become so important to their futures.
Vegas For (Marital) Cheaters – An adult dating site (which we won't bother to give publicity to) polled their members and found out that over half of them had cheated in a Las Vegas hotel. They claimed that Las Vegas is economically dependent on suffering marriages and are happy to overlook infidelity. Really? Like no one has ever cheated in any hotel anywhere else?
No question Las Vegas is a great place for romance (and to rekindle one if things are lagging). However, I've pretty much had it with people and companies trying to connect themselves with our fair city just to make a splash. I'm sure that if you want to have an illicit tryst, you'll have no shortage of hotels just about everywhere looking to take your business. Speaking of romance…
12-12-12 Looking To Be Hot Wedding Day – Never one to miss a marketing opportunity, Las Vegas wedding chapels are going nuts with bookings for December 12, 2012. This will be the final of 12 years of this type of number sequence this century (started with January 1, 2001 — 01-01-01). If you or someone you know is thinking about taking the "leap of love in Las Vegas" before the end of this year, book soon. Starting next year, you'll have to stick to those "mundane" popular wedding days such as New Years Eve, Christmas, and Valentine's Day.
Members Mania – I believe we're finally going to bring Members Mania (reader questions and comments) back next issue. I've been dealing with getting projects rolling that have their genesis (of the ideas) dating back to the mid-2000's and we're finally in a position to move so many things forward. Everything takes time, and we're a small, independent company. Only so many hours in the day to do so much.
Hope You Are Enjoying This Issue!

Associate Editor / News Researcher: Rick Ziegler
Concerts and Headliners: Amy Rayner-Cooley
---
What We're Watching – Vegas Videos You'll Enjoy
---
We love to hear from you, and value your feedback! Here's how to participate:
Want to comment on a current reader post? Use the comment box on that particular web page. Many of the stories we post also have comment boxes at the end of the story. Make your voice heard!
Drop us an email at AccessVegas@AccessVegas.com – We read them all!
Call our recorded comment line at 702-507-0055. We listen to every call.
---
Latest Concerts Added This Week!
There is no better place to see your favorite acts then in Las Vegas! You're relaxed, can enjoy a fine meal, have some cocktails without the worry of driving, and no alarm is going to jar you awake all too early the next morning.
---
More Las Vegas News – Shows – Events
No related links found