Serving Las Vegas Visitors and Residents Since 1999
Welcome to the Insider Vibe! This is the official newsletter of AccessVegas.Com. We talk about the Las Vegas activities you really care about.
---
AccessVegas.com Quick Info Menu:
Las Vegas Essentials

Seasonal Vegas Information

Featured Shows

Photos and Wallpaper
Newkirk's Notes – comments on Las Vegas from AccessVegas.Com publisher Ted Newkirk:
Hello From Las Vegas! Rain and clouds are blowing through the weekend, and bringing a stark transition with it. Last week's highs? Around 100 (F). This coming week? In the 80's. Still plenty of action around the pools (once the rain clears up) and no sweater or jacket needed. We get "summer" (nice and warm, but not too hot nor cold) twice a year: Spring and Fall. This fall is shaping up nicely.
Las Vegas Death Ray – Many of you have seen recent stories about how the sun's reflection off Vdara (CityCenter) at this time of year has been heating certain areas of their pool deck to uncomfortable (and possibly unsafe) levels. If you are new to the story or have only heard bits and pieces, we've posted a couple of video stories at Vdara Las Vegas Death Ray Videos
This is not necessarily a new phenomenon here in Las Vegas. With sun virtually every day and glass covered hotels, we mostly get used to it. Last week while at Rhumbar (Mirage) the sun's rays beaming off of Wynn honed directly onto where I was sitting. While I didn't feel extra heat, the result was blinding (literally). Sunglasses were of no use and I had to reposition myself for about 20 minutes. Drive the I-15 certain times of day, and the reflection off of Mandalay Bay can be distracting.
Although CityCenter designers planned for this and used a special type of glass coating, it obviously didn't quite do the job. They have vowed to find a fix. Those who lived or visited in the mid-90's may remember that both The Rio and Las Vegas Hilton had green lasers that could be seen for miles from each property. They were really cool, and I regret having no photos. They were turned off because of concerns of interference with air traffic and complaints that the beams were an annoyance to homeowners in the foothills when the beams passed their way.
R.I.P Tony Curtis – We morn the loss of Las Vegas resident and film legend Tony Curtis this past week. Curtis always considered Las Vegas his second home, and officially moved here in 2000. Many celebs quietly have a home here, or even make it their full-time place of residence. No income taxes, lots of sun, and plenty of non-stop flights to major destinations around the globe make this an attractive home. But you never really hear about them or see them (very little community involvement).
Not so for Curtis. He was often out-and-about (until stints of heath issues more recently), universally friendly, and active in community events. Even to the point of a couple of local library appearances during the past two years which drew notable crowds. Vegas-based journalist Steve Friess did what is probably the final extensive interview of Curtis' career in 2008 which we'll link to below. Curtis' funeral is open to the public at Palm Mortuary (Eastern Ave) with a reception to follow at The Luxor. Turner Classic Movies will play a full day (24 hours) of Curtis' films on Oct. 10.
A Blip Of Good Job News? – The Cosmopolitan (of Las Vegas, the new hotel between CityCenter and Bellagio) is currently in the process of hiring 5000 people to staff the property. Also the Review-Journal is hosting their 2010 Career Fair October 19 at The Orleans. Details:
An extremely important note about applying for new hotel jobs: New properties typically over-hire and then quietly trim staff during the first few months. Everyone is new, no one has seniority, and this lets them trim down to the group of people they want working at the property. Not everyone ends up being the perfect fit for any given position. If you live out of the area and are fortunate enough to land a job at a new hotel, work really hard at your new job. But I'd consider the job temporary (IE, don't go house hunting or sell your place in your home city) for the first 6 months.
Enjoy This Issue!

Associate Editor: Amy Rayner-Cooley
News Researcher/Editor: Mark Jacobs
---
---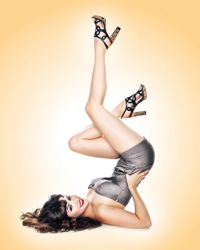 MGM Grand's Crazy Horse Paris To Feature Playboy's Miss October 2010 Playmate Claire Sinclair For A Series Of Exclusive Performances
–
MGM Grand's
Crazy Horse Paris, Las Vegas' sensual French burlesque show, is excited to welcome their stunning guest star Claire Sinclair, Playboy Playmate Miss October 2010, for a series of exclusive performances October 21 – 28. Sinclair will perform three unique acts alongside the beautiful dancers of MGM Grand's Crazy Horse Paris. The special performances will mark Sinclair's first appearance in front of a live audience.
Rock And Roll Hall Of Famer And Grammy Award Winner Rod Stewart To Play Eight Shows At The Colosseum At Caesars Palace In November – Rock icon Rod Stewart announced today that he will play eight performances at The Colosseum at Caesars Palace November 6-21.
Football Heats Up Rhumbar's Patio – Tailgate On The Patio Saturday Through Monday At Rhumbar – Let's get ready to RHUMBAR! This football season, as the weather cools down RHUMBAR's spacious outdoor patio heats up with football fever. Saturdays, Sundays and Monday nights, pigskin fans will enjoy football tailgating on the patio with an enticing roster of power plays, munchies and drink specials.
Hard Rock Hotel & Casino Guests Can Hit The Jackpot On 10-10-10 – Who says 7 is the only lucky number in Vegas? Hard Rock Hotel & Casino is giving Vegas goers more than 10 reasons to visit the property on 10-10-10 (October 10, 2010).The 10-10-10 promotion will be available throughout the property and will allow guests to experience exclusive deals all day long. 10,000 WAYS TO ROCK PROMOTION.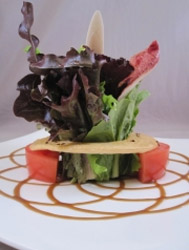 Alize At The Top Of The Palms Celebrates October's National Vegetarian Month With Special Tasting Menu – Legendary Las Vegas Chef AndrÚ Rochat Showcases Palette-Pleasing Meatless Menu to Benefit Nevada Cancer Institute – National Vegetarian Month kicks off October 1. To mark this occasion and increase awareness of the variety of delicious meat-free options, AlizÚ at the Top of the Palms is offering a special, six-course vegetarian tasting menu. Featuring mouth-watering meat- alternatives that are both tasting and fulfilling, the special menu is priced at $55 per person. Even more appetizing is $5 of every vegetarian tasting menu purchased will be donated to Nevada Cancer Institute.
Entertainment Legend Donny Osmond To Host 10/10/10 AT 10:10am Wedding Engagement Event Forum Shops At Caesars In Las Vegas – Show business icon Donny Osmond has been married to his wife Debbie for more than 30 years. So on Oct. 10, 2010, 10:10 a.m., he will be there as 10 couples not only begin their own path to matrimony, but simultaneously get engaged in front of The Trevi Fountain at The Forum Shops at Caesars in Las Vegas.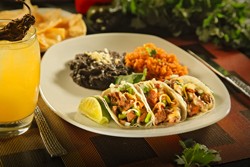 Tacos & Tequila Las Vegas Celebrates 'National Taco Day' With Flavor – Every day is "Taco Day" at Tacos & Tequila (T&T), but Monday, October 4, T&T at Luxor will celebrate "National Taco Day" with free tacos and tasty specials that will make anyone want to shout "Ole!" Patrons will want to get their hands on six signature tacos available for just $12 and a bucket of six Sol beers for just $6 more. Guests can team up to tackle this amazing deal or take on the seis pairs for their own tasty tasting.
Celebrate Oktoberfest At The Rocktoberfest Block Party With Live Music And Festive Food & Drink Specials – Locals and visitors alike are encouraged to tap into their German roots and celebrate Rocktoberfest at O'Sheas Casino block party. The celebration will include unbeatable drink specials hand-delivered by lederhosen-clad bar maids, traditional festive German cuisine and games. Local Favorites, Sick Puppies Perform Live at O'Sheas on Saturday, October 9 for Rocktoberfest.
The David Perrico Group Featuring Marley Taylor To Perform Wednesdays At Tropicana Las Vegas – Complimentary Admission – The David Perrico Group featuring Marley Taylor bring a unique blend of contemporary Pop and Jazz to Tropicana Las Vegas. Guests can enjoy this dynamic ensemble at the Celebration Lounge every Wednesday at 10 p.m.
---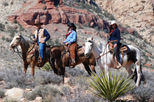 Morning Maverick Horseback Ride with Breakfast Tour
û Wake up bright and early for a horseback ride through the Wild West! Leave the Las Vegas Strip behind for a day on a working ranch – where you will dine on a hearty cowboy breakfast before saddling up for scenic and leisurely horseback ride.
---
More Las Vegas News – Concerts – Events
---
Coming Hot Holidays
– The following dates are huge times to be in Las Vegas, and rooms are in high demand. Booking in advance is the best way to save. Visit our friends at
Las Vegas Hotel Deals
and spend one of the following hot dates having fun in Las Vegas:
Halloween October 31
Veteran's Day November 11
Thanksgiving Day, U.S November 25-28 (4 day weekend)
Hanukkah Dec. 2 – Dec. 9
Christmas December 25
New Year's Eve-Day December 31 – January 2 (3 day weekend)
Martin Luther King, Jr., Day, U.S (Observed) January 15-17 (3 day weekend)
Chinese/Lunar New Year February 3
Super Bowl Sunday February 6
Lincoln's Birthday, U.S February 12
Valentine's Day February 14
President's Day, U.S (Observed) February 19-21 (3 day weekend)
Washington's Birthday, U.S February 22
Mardi Gras March 8
St. Patrick's Day March 17
Easter Sunday April 24
Cinco de Mayo May 5
Mother's Day May 8
Memorial Day, U.S May 28-30 (3 day weekend)
Father's Day June 19
Independence Day July 4
Civic Holiday, Canada July 30-August 1 (3 day weekend)
Labor Day, U.S September 3-5 (3 day weekend)
Labour Day, Canada September 3-5 (3 day weekend)
Jewish New Year September 28
Link To Us! – Have a home page, web page, or blog? Link to us, and give yourself and your friends a quick link to find us from your site. Simply link to http://www.accessvegas.com and name the link Access Vegas!
RSS Feed – We now have an RSS/XML feed! Most RSS programs let you visit AccessVegas.com and automatically pull the feed. For those who want to enter it manually, the feed is:
http://www.accessvegas.com/xml/whats-hot.xml
No related links found