Serving Las Vegas Visitors and Residents Since 1999
---
AccessVegas.com Quick Info Menu:
Las Vegas Essentials

Seasonal Vegas Information

Featured Shows

Photos and Wallpaper
Newkirk's Notes – comments on Las Vegas from AccessVegas.Com publisher Ted Newkirk:
Hello From Las Vegas! Just when we thought that the triple-digit temperatures were gone, they decided to come back for a curtain call this week. The good news? Temps are barely brushing 100 (F) and the nights cool off very, very quickly with overnight lows in the 60. Sun and fun days, no jacket or pullover needed at night.
Victor H. Royer Book Giveaway – Finally, finally, finally we got the bugs out of our custom contest software system. (We had to upgrade our server/hosting a while back to keep up with demand and a few things had a rough transition from one system to the next). For those of you who are new to our newsletter and AccessVegas.com, Victor H. Royer is a top gaming author who has written more books on casino gambling than I have fingers and toes to count. He is also a regular contributor of gaming articles to our site. Check out the Victor H. Royer Casino Gaming Articles archive.
His latest book (pictured right) will give you the lowdown on all the new slots so you can have the upper hand. Nothing is worse than walking up to many of these new machines and not being able to figure out anything about them. Victor will get you informed! Click over to our Victor H. Royer Book Giveaway page and enter to win one of four signed copies of his latest.
Did you know that 86% of people who visit Las Vegas actually win? But simply don't hold on to it? Need tips on how to win at the new generation of casino slots you'll find today? Did you know that you can cash a personal check at the cage of Las Vegas casinos and save on ATM fees? When is the best time to come to Las Vegas?
Las Vegas television personality Alan Mendelson (Sunday Mornings at 8 AM on KCOP Channel 13 in LA, AlanBestBuys.com, MoreDeals.com, VegasBestBuys.com) interviews renowned Las Vegas gaming writer Victor H. Royer about his new book New Casino Slots – How To Play, Have Fun and Win! (Purchase: Amazon book link) and delves into many Las Vegas secrets you need to know:
Video Interview: Renowned Las Vegas Gaming Author About Winning At Casino Slots plus Las Vegas Secrets
P.S. How much does Alan love Las Vegas? He got married at a craps table at Caesars Palace a few years ago!
Transportation Security Screwup Administration – The TSA is at it again. As if flying isn't getting to be a bigger, more expensive hassle, they are trying a new type of search in both Boston and Las Vegas: This search is described by the Boston Herald as a more aggressive palms-first, slide-down body search technique. The TSA is calling it an "enhanced patdown". Fortunately (from what I'm understanding), this is only for passengers who choose not to use the newer full-body scanners.
Look… I don't want to alarm anybody, but airfields are not the most secure places on the face of the earth. Hundreds of employees and vendors come and go. If someone wanted to infiltrate and do something bad to an airplane, it could be done. And yet the TSA screens kids, elderly people, and even the pilots who will be flying the airplane (I'm not joking… the on-board crew for each plane is screened just like you are. The very guys who are going to be at the controls of the plane).
If terrorists are going to strike, they are going to strike. And the don't need an airplane. The very fact that they've caused billions of dollars and billions of hours of time/inconvenience to us almost makes it seem as they have won. áI flew just a few weeks after (the original) 9/11, and then on the anniversary of it the following two years. On purpose. (Great days to fly… the airplanes were almost empty).
We can only be defeated if we allow our lives to be altered by others. I personally refuse to run around scared. I wish our leaders felt the same way instead of treating us like children in the name of "security".
Mac King Show Extended Through 2015 – Our favorite comedy magician Mac King celebrates his 10'th year at Harrah's Las Vegas with a five year extension. His show has performed for more than one million people in over 5,200 shows since opening in 2000. This is a great afternoon show, the price is right, good for all ages. I highly recommend it.
Enjoy This Issue!

Associate Editor: Amy Rayner-Cooley
News Researcher/Editor: Mark Jacobs
---
---
Legendary Songstress Diana Ross To Serenade The Colosseum At Caesars Palace Las Vegas Two Nights Only
– The incomparable Diana Ross is bringing her "MORE TODAY THAN YESTERDAY" tour to The Colosseum at
Caesars Palace
for a two night engagement Friday, November 12 and Saturday November 13. The legendary icon will perform her greatest hits in this spectacular live show which features breathtaking costumes and stage designs, along with a live string and horn section. The show is jointly presented by Caesars Palace and AEG Live.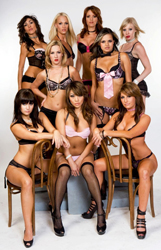 "X" Burlesque Celebrates 3rd Anniversary At Flamingo Las Vegas – Sultry Burlesque Revue Reveals Enhanced Version – "X" Burlesque is celebrating its third anniversary at Flamingo Las Vegas by unveiling an "enhanced" version of the sexy revue featuring new dancers, new numbers, new costumes and new temptations. Performed in the intimate setting inside Bugsy's Cabaret, the "X" Girls strip away their inhibitions to such new numbers as Britney Spears' energetic "3" in honor of their three years at Flamingo and kick off the show in style to a new pulse-pounding opening set to Metallica's "Roam," where the girls come to life through a picture frame. Snow, pole tricks and a hot hip-hop medley are just some of the other additions to the show while fan favorites such as the bathtub and the bungee-ballet number remain in the line-up.
ALEX At Wynn Las Vegas Receives 2010 Wine Spectator Grand Award – ALEX, the namesake restaurant of chef Alessandro Stratta at Wynn Las Vegas, has received the coveted 2010 Grand Award from Wine Spectator magazine. ALEX joins an elite group of 75 dining establishments around the world to receive the Grand Award, the magazine's highest honor.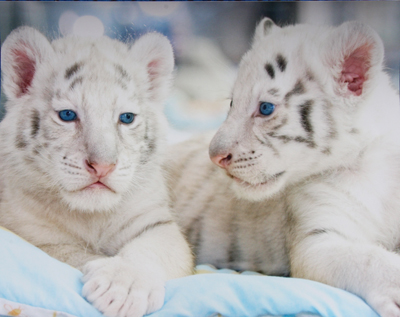 The Mirage Las Vegas Welcomes 7-Week-Old Tiger Cubs To Siegfried & Roy's Secret Garden And Dolphin Habitat – The Mirage introduced its newest additions, two 7-week-old, white-striped tiger cubs, to Siegfried & Roy's Secret Garden and Dolphin Habitat this summer. Guests can see these rare and adorable cubs in a special nursery created just for them. The sibling brothers, Mohan and Majestic, were born June 22 and weighed approximately two pounds each at birth.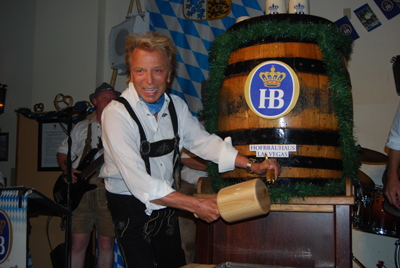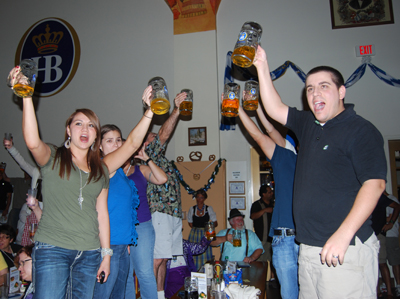 Siegfried From Siegfried & Roy Kicks Off Oktoberfest At Hofbrõuhaus Las Vegas – In his 8th year as host of Oktoberfest, magician of the century, Siegfried, kicked off the first of a six-week celebration as an honorary keg tapper! Hofbrõuhaus Las Vegas offered guests the chance to party like in Munich, Germany for a night as the beer never ceased to flow, merriness filled the halls, and jagermeister spankings were dished out as quickly as the drinks. The beer hall was so packed with Oktoberfest enthusiasts, countless people were turned away at the door.
American Superstars Show At Stratosphere Announces New Lineup Featuring Lady Gaga Tribute – New Carrie Underwood And Charlie Daniels Artists Also Revealed – American Superstars Producer Donny Lee Moore and Executive Producer Mark Callas proudly announce the newest artists to their Las Vegas show at the Stratosphere Casino Hotel and Tower. Autumn Belanger & Katie Dix, two talented young singers are joining the cast as Lady Gaga and Carrie Underwood respectively. Also returning to the lineup is Johnny Potash as Charlie Daniels.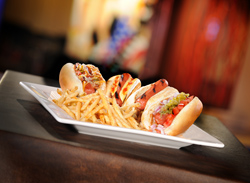 Rock & Rita's Las Vegas Launches Late Night Happy Hour – $5 Late Night Treats And Two-For-One Drinks All Night Long – Because hunger can strike at any time of the night, Rock & Rita's at Circus Circus has launched a delicious all-night menu, with reverse happy hour specials to satisfy any midnight craving. Night owls can flock to Rock & Rita's for great deals on food and drinks any time of night.
***Deal Alert*** New Las Vegas Happy Hour Specials – StripSteak at Mandalay Bay – The first steakhouse by acclaimed chef Michael Mina, StripSteak's classic yet modern menu offers corn-fed, all-natural meat, line-caught seafood and fresh, seasonal produce. Join StripSteak for the perfect after beach or pre-dinner Treat 4 – 6 p.m. daily. Happy hour includes $3 bottled beer, $7 cocktails and half off lounge menu items.
Cabo Wabo Adds Two Nights To Its Karaoke Lineup – Three Nights Of "Cabo Wabo Karaoke" Is Better Than One – Sammy Hagar is giving his fans even more to sing about as his Strip-side Mexican cantina adds two additional nights of karaoke to its popular of "Cabo Wabo Karaoke" lineup. Cabo Wabo Karaoke kicks off Tuesday and Wednesday nights with live sing-along sessions starting at 9 p.m. The mid-week sessions will give Red Rockers-in-training all the practice they'll need prior to their live rock band karaoke debut.
Renowned Grammy Award Winner Michito Sanchez Brings "Salsero" To Tropicana Las Vegas – Tropicana Las Vegas will be vibrating with the sounds of Latin beats as DEFTAL presents "SALSERO Saturdays" with Michito Sanchez Salsa Orchestra at Tropicana's Tiffany Theatre, beginning September 25. Guests can dance to tropical Latin music such as salsa, merengue, cumbia and bachata from 10:30 p.m. to 3:30 a.m. every Saturday.
---

Silver Cloud Grand Canyon Sunset Air Tour
û Catch a one-of-a-kind sunset aboard the air-only Silver Cloud Sunset Tour flight and return to Las Vegas as the stunning lights of The Strip come to life and transform the city into the "Entertainment Capital of the World."
---
Members Mania – We Love Our Readers!
As always, I continue to enjoy reading your newsletter. It's interesting, informative and lively. We are coming to Las Vegas this weekend. Can you help in providing info on where is a good place to buy Halloween costumes?
Thanks,
Edith
Ted Responds:
Halloweenmart has been around for some time. Their web address is http://www.halloweenmart.com and street address is 6230 South Decatur Boulevard (map).
We've also been starting to list Las Vegas Halloween events as we get them. For those who are going to be in town that weekend, keep checking back at Las Vegas Halloween Events and Parties 2010. If past years are any indication, plenty of people will be walking the Las Vegas Strip in costume! Oh… one thing: Masks are prohibited in casinos. Best to choose a costume that does not require one.

---
I was wondering if Las Vegas Brochures are sent out in the mail.
I was informed that they don't send them out anymore. I am planning in taking my son to Vegas his first time and in having the brochure would give me a lot of planning. Would love to hear from you.
Thanks,
Liz McAllister
Ted Responds:
The internet has really made brochures obsolete. It would take a brochure the size of the phone book to cover everything there is to do and see in Las Vegas. If you go to our site http://www.AccessVegas.com and look along the top menu bar, you'll see numerous categories (many with a number of sub-categories) for you to use in your research. Also, this newsletter certainly keeps you up on all that is new, recent, and happening.
I appreciate where you are coming from. I still subscribe to a number of magazines I could probably read online, and there is something nice about sitting on the back porch with something to leaf through. But when it comes to researching something as vast as Las Vegas, there is no substitute for the ability to do so online. Brochures simply could not begin to hold all of the information!

---
Just got home from my annual 5 day LV trip. Stayed at the Fitz (Fitzgerald's downtown), again and for the price it was fine. We rented a car and saw the new bridge at Hoover Dam. The traffic on the strip was very little and we actually went 4 blocks before stopping.
Ate at Chicago Joe's (downtown near Fremont Experience). It is a favorite of mine. Excellent food and not too expensive. Frozen drinks at Fremont Hotel are a good size and cost $1.00.
The lines getting our car at the airport were bad and having a reservation didn't help a bit. We got to see a lot of Nevada and I'm glad we rented but don't think I'll do it again.
Downtown is the place for me. Prices are better, gambling better and the crowds are smaller. My favorite was entertaining downtown: Carl "Safe Sax" Ferris…very talented.
Cant wait to return to Vegas next year!
Barb from Massillon, Ohio
Ted Responds:
I really continue to enjoy downtown and if someone is on their second or third visit and hasn't made it downtown yet for an evening, shame on you!
Some important advice: The best time to go is between dusk and midnight. The excitement is in the air and the free light show plays overhead at the top of each hour. Another important hint: Downtown is slowest on Monday and Tuesday. Wed. – Sat. are best as the free bands, music, DJ's and other events tend to be on those nights.
Renting a car at the airport is here is a terrible hassle. As we've suggested before, rent from one of the rental counters available at many of the hotels. We know for a fact that Flamingo has a rental car counter and cars on site. Rent it for the day and bring it back. No question that if you are a regular visitor, it is fun to get out and see Hoover Dam, Red Rock Canyon, the Valley of Fire or buzz on down to Primm to hit the outlet mall and enjoy the rides. (Oh… and some great golf in a course that isn't over-crowded with players).
We also enjoy Carl "Safe Sax" Ferris and we're slated to do a CD giveaway with him in a few weeks (stay tuned/subscribed). We've posted a sample video of his show here: Carl ôSafe Saxö Ferris Free Perfomances At Las VegasÆ Fremont Street Experience
We highlighted Chicago Joe's as part of our "Of Interest To Guys" (guys tour of downtown) in our Access Vegas Insider Vibe û October 28, 2009 issue, but it is a restaurant everyone will enjoy.
Thanks for the great report!

We love to hear from you, and value your feedback! Here's how to participate:
---
---
More Las Vegas News – Concerts – Events