Serving Las Vegas Visitors and Residents Since 1999
Welcome to the Insider Vibe! This is the official newsletter of AccessVegas.Com. We talk about the Las Vegas activities you really care about.
---
AccessVegas.com Quick Info Menu:
Las Vegas Essentials

Seasonal Vegas Information

Featured Shows

Photos and Wallpaper
Newkirk's Notes – comments on Las Vegas from AccessVegas.Com publisher Ted Newkirk:
Hello From Las Vegas! Wow, has it been nice. highs in the 80's, lows in the 60's, plenty of sunshine, very little wind… loving it!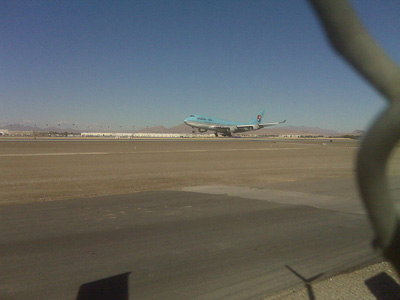 Monday I grabbed a sandwich and had lunch at the airport viewing area (view on map) on Sunset Road. Just before getting ready to leave, lo-and-behold I spotted this Korean Air 747 on final approach. Flipped my Blackberry to camera mode and caught this shot through the fence (those on our AccessVegas.com Twitter Feed already got a peek minutes after the shot).
The last time that plane had been on the ground was in Korea. Pretty intense thought. I continue to be completely awestruck (and very grateful) that so many of you travel such long distances to come experience Las Vegas!
Best Things To Do in Las Vegas – AOL Travel recently came out with a list of their editors picks of the best things to do in Las Vegas. We agree that each item is worth seeing, but picking out the 10 very best things is extremely subjective. The great thing about Las Vegas is that there is truly something for just about every adult (even if testing you luck holds no interest to you). When you get journalists in from out-of-town, they hit what they have time to write about and what interests them. Here's the list:
Full Article: Best Things To Do in Las Vegas
Final Call For Cher Tickets – Cher ends her Las Vegas run the first week of February, 2011. Head to Cher Las Vegas Tickets if you want to catch the show before it is gone.
Bay Essentials Opens at Shoppes At Mandalay Place – Now open at The Shoppes at Mandalay Place, bay essentials offers an array of assorted snacks, sundries, liquors, non-alcoholic beverages and souvenir retail items. The store is located adjacent to Shoe Obsession (perfect, your wife or girlfriend will have no problem finding it)! Another good opportunity to remind you of one of our best Vegas tips: Buy your beer and liquor at the sundry stores. You'll save a bunch over hitting the bar and you don't have to tip the clerk (unless you want to).
We Love Rehab!!! (Or Maybe Not) – Over the past few years, pool parties have grown in popularity. Everything from Rehab (Hard Rock) and Wet Republic (MGM) to more low key affairs put on by locals joints. This summer, the trend mushroomed and it seems that nearly every major property designated at least one day as a pool party event day. (Luxor even promoted a weekly party catering to gays and lesbians).
Is daylife supplanting nightlife or is this a trend that will soon die down? What do you think? Love it? Hate it? Click to watch this story Las Vegas Pool Party Popularity Unrivaled Even During A Recession (video on page) and then feel free to post your comments and thoughts below the video.
Members Mania – I fielded some complaints/concerns that we had no Members Mania last week. I do apologize. I enjoy doing it immensely as I get to share my nearly 18 years of knowledge as a Las Vegas resident (I've writing about Las Vegas tourism since 1995). We're temporarily shorthanded right now. Since I'm the jack-of-all-trades around here, I'm spread pretty thin. Former staffer Rick Ziegler is returning to Las Vegas (and the AccessVegas.com fold) in just about a month. Once he's up to speed, expect all the regular things we do to be back on track, and many new, fun, informative features to be launched (like the long-awaited relaunch of All Vegas TV and hopefully our podcast).
Don't Forget Halloween – Halloween has grown bigger and bigger here, and with it falling on a Sunday this year you'll be sure to see a Halloween weekend up and down the Las Vegas Strip. We're still adding tons of Halloween event and party info at http://www.accessvegas.com/halloween-2010 and I know we have more coming later this week. Make sure to check that page often as we continue to update it through Halloween weekend.
Only 2 days left to enter out latest contest. Win gaming author Victor Royer's brand new book and have the edge next time you are in town! Click to enter: http://bit.ly/aU3MmP
Enjoy This Issue!

Associate Editor: Amy Rayner-Cooley
News Researcher/Editor: Mark Jacobs
---
---
Phantom The Las Vegas Spectacular – Be Seducedà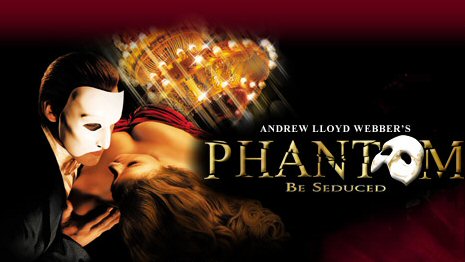 "Phantom", which is Vegas' presentation of the timeless "Phantom of the Opera" musical by Andrew Lloyd Webber, weaves a dark and evocative tale of jealousy, drama, horror and romance. Set in 1911 at the auction of the dilapidated remains of the Paris Opera house, a broken chandelier sets the stage for the mysterious circumstances of the events that befell the venue thirty years earlier. A beautiful girl is trained to sing by an unseen benefactor who resides within the very walls of the opera house. But is he a man? Or monster? Or perhaps both?
---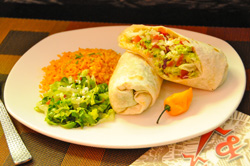 Tacos And Tequila Las Vegas Introduces Mahi Mahi Burrito (With Recipe)
– Tacos and Tequila (T&T) has added a delicious and nutritious seafood selection to its mouthwatering Mexican menu. The delectable mahi mahi burrito will provoke a fiesta for the taste buds featuring grilled mahi mahi wrapped in a flour tortilla, topped with napa cabbage, pico de gallo, fresh guacamole, a blend of Oaxaca and Gouda cheeses and served with a side of jalapeno-infused tartar sauce, for dipping. A good source of protein and essential nutrients, the mahi mahi burrito will surely please both seafood and Mexican food fanatics alike.
See the recipe in the link below and bring a little Vegas to your dinner at your place!
Forum Shops Las Vegas Shopping Fall News And Fashion Tips
Las Vegas Forum Shops Fashion Tips – Must Have Fall Items
Brighton Breast Cancer Awareness Bracelet
Tourneau Time Dome Watches Exclusive To The Forum Shops
Designer Spotlight – Marc Jacobs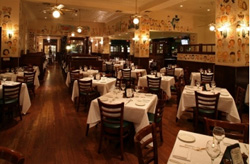 The Palm Las Vegas' Special Four Course Prix Fixe Dinner – Enjoy a special four-course steak and lobster tail meal this autumn for just $49 at The Palm-Las Vegas where the philosophy is simple: treat guests like family, serve great food and always exceed expectations. The popular four-course meal features a nine-ounce, aged filet mignon and Nova Scotia lobster tail with drawn butter and lemon.
Fright Dome At Circus Circus Partners With Lionsgate And Twisted Pictures For Second Year – Two all new haunted houses themed after the legendary SAW horror franchise and popular horror film MY BLOODY VALENTINE. It's time to play a game… Fright Dome takes over The Adventuredome at Circus Circus beginning Friday, Oct. 1. For the second year, Fright Dome will partner with Lionsgate and Twisted Pictures to theme SAW, one of its five haunted houses. Additionally, Lionsgate's MY BLOODY VALENTINE will reveal its horror house this fall. This season Fright Dome is guaranteed to terrify even the bravest of visitors with all new themes and scare zones.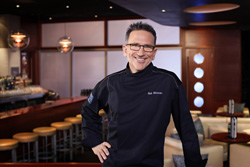 Celebrity Chef Rick Moonen Hosts Free – Event Feasting On Words, The Literature & Food Fair – Literature, food and great chefs of Las Vegas come together on Sunday, Nov. 7, at the Vegas Valley Book Festival. Celebrity chef Rick Moonen will host "Feasting on Words û The Literature & Food Fair" from 11 a.m. to 4 p.m. downtown at the Historic Fifth Street School. Moonen, of Rick Moonen's rm seafood at Mandalay Bay and author of "Fish Without a Doubt," is one of the country's top culinary advocates for sustainable seafood. The day will offer a wide variety of programs and special events related to food, cooking traditions, literature and books. All events are free and open to the public.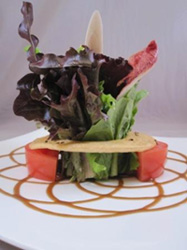 Alize At The Top Of The Palms Celebrates October's National Vegetarian Month With Special Tasting Menu – Legendary Las Vegas Chef AndrÚ Rochat Showcases Palette-Pleasing Meatless Menu to Benefit Nevada Cancer Institute. National Vegetarian Month kicks off October 1. To mark this occasion and increase awareness of the variety of delicious meat-free options, AlizÚ at the Top of the Palms is offering a special, six-course vegetarian tasting menu. Featuring mouth-watering meat- alternatives that are both tasty and fulfilling, the special menu is priced at $55 per person. Even more appetizing is $5 of every vegetarian tasting menu purchased will be donated to Nevada Cancer Institute.
---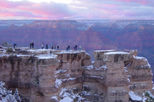 Grand Canyon South Rim by Tour Trekker Tour
û Journey through the Mojave Desert along historic Route 66 en route to the Grand Canyon South Rim. At the South Rim you will have a three-hour guided tour of the Grand Canyon making stops at a variety of viewing areas for panoramic views of the canyon.
---
Members Mania – We Love Our Readers!
I love your newsletter and always read it as soon as it arrives in my email box to see whats new or what shows are being featured in what month.
I am a single woman who goes to Vegas several times a year and have all my favorite places to go. I have made good friends in hotels and restaurants because of how much I frequent them when I am there. I have never been afraid to walk alone day or night because my eyes are always open and I am always aware of my surroundings. I think Vegas is very safe if you stay on the strip and don't get off on the side streets (especially at night).
I would tell anyone who is single or traveling alone that there are so many things to do and places to eat and things to see that you can go by yourself and never feel bored or lonely.
And – you don't have to worry about the person you're with complaining their feet hurt, or their hungry, or they just cant walk anymore, etc. I love Vegas and I love going there alone. And I truly love your newsletter. Its the best!!!
Rose from Colorado
Ted Responds:
Thanks for the kind words! It really makes us feel good to be of help (and don't forget to buy from the newsletter sponsor who keep it complimentary and keep our lights on).
The subject of coming to Las Vegas alone (especially if you are female) came up some time ago, but we continue to receive feedback similar to yours. I must confess that I too am partial to hitting the Las Vegas Strip solo. With so many incredible choices of what to do, see, and eat (and so little time to do it all), it is nice to have the luxury of just going where you want. Also, you don't go through that painful issue where you are gambling with someone and you are winning (and want to stay) but they are losing and broke and want to move on.
We occasionally get the questionáA group of us are coming to Las Vegas, what should we do? My answer? Split Up!!! Cell phone service is pretty consistent now even in the hotels (which used to be notorious for dead spots). Arrange a meeting time (perhaps dinner somewhere) or time for everybody to check in with a designated person who can coordinate meeting up. And remember the Vegas rule pertaining to meeting someone: It is acceptable to be late or be a no-show, but only if you are winning and on a hot streak!

---
I heard that Nevada voters oppose Harry Reid by a larger percentage than those who support him. Can you explain the rationale behind the Las Vegas Mayor's support for the senator? I was of the impression Reid is not good for Nevada. I also understand the mayor is popular. Am I wrong on this?
Thanks,
RW Milaca from Minnesota
Ted Responds:
The Mayor is a former Democrat (now an independent) who held out quite a while on giving any endorsement and endorsed Reid when specifically asked at a joint appearance by the two at a non-related event (the event wasn't to announce the endorsement). At the time, Mayor Goodman was standing next to Reid.
So… I'd call it a pretty soft endorsement. At this point, it does not appear that the mayor has campaigned for Reid. Plus, they are longtime friends (and one time adversaries as Reid was on the gaming control board when Goodman was defending some pretty interesting characters — reference the movie Casino in which Goodman played himself).
Politics makes very strange bedfellows. Staunch conservative Wayne Newton has also endorsed Reid. As has the Mayor of Reno (a Republican). As has Palms owner George Maloof. In fact, Reid has listed Republicans who support him at http://www.harryreid.com/ee/index.php/republicans/members/
When it comes to the power structure, Las Vegas is a very, very small city. Reid wields a huge amount of power. And, he knows many of these people by name/face. Reid is someone who you don't want to cross. He didn't get to his current position of power by being the nicest guy in the Senate. I understand that he can move and shake and wield power behind the scenes like nobody's business.
Sharon Angle has always been a bit of a political enigma. But she doesn't seem to have a long record of being power-hungry or keeping an enemies list. So… if she beats Reid, the Republicans who endorsed him really aren't out anything.
As I have done from the start, I continue to predict a race that will go down to the wire. It currently is a toss-up. Although somewhere upwards of 40% of Nevadans simply do not like Reid at all (according to polls), he's been especially successful as painting Angle as wacky and possibly unstable.
Reid can raise nearly unlimited funds to pound away at her. And he has. Since many voters do little research before hitting the polls, the race will likely come down to who can saturate TV, radio, and the internet best to get their message out. Angle is on a nationwide hunt for donations (as evidenced by the Retire Harry Countdown Clock on her site) from those who dislike Reid and recent reports note that she's gaining significant financial momentum.
Going to be interesting to watch this one play out!

We love to hear from you, and value your feedback! Here's how to participate:
Drop us an email at allvegastv@aol.com – We read them all!
Call our recorded comment line at 702-507-0055. We listen to every call.
---
More Las Vegas News – Concerts – Events
No related links found