Serving Las Vegas Visitors and Residents Since 1999
Welcome to the Insider Vibe! This is the official newsletter of AccessVegas.Com. We talk about the Las Vegas activities you really care about.
Can't see all the great photos and graphics? Click to Read This Issue Online! Need to contact us? Send feedback to AllVegasTV@aol.com

Share the info: Click to Email this newsletter to a friend! Missed an issue? Click to Read Back Issues Online.
This newsletter is published exclusively for visitors to AccessVegas.Com and can only be signed up for there. We do not buy or rent lists, and this information is only for our members and guests. If you feel you have received it in error, click the unsubscribe link at the bottom. To subscribe, visit our Newsletter Site.
---
AccessVegas.com Quick Info Menu:
Las Vegas Essentials

Seasonal Vegas Information

Featured Shows

Photos and Wallpaper
Newkirk's Notes – comments on Las Vegas from AccessVegas.Com publisher Ted Newkirk:
Hello From Las Vegas! Fall stormed in… literally. The past few days have seen massive thunderstorms with serious showers and the temps have dropped from the 80's to the 70's (F). With November temps averaging 66 degrees, I'm hoping we hold on to the 70's as long as possible.
Correction – Last issue I noted that upwards of 40% of Nevadans simply do not like Reid at all (according to polls). The day after I published that issue, local news sources put Reid's disapproval rating in Nevada at 52%. "But Ted, that can't be" you say. "Anyone with those unfavorables is not electable". Normally, this is true. Which is why the Reid campaign has used most of their advertising budget to paint challenger Sharon Angle as a lunatic. Frame this as a race between someone that people don't like and a lunatic and Reid is hoping people see him as the lesser of evils.
I know we're not a political newsletter but with so many reader inquiries, I figure a few of you want to know about the race.
In My Place (Kind Of) – My parents have been in town the past week. I wasn't going to publish this week (we are only obligated to our advertisers for three issues per month). But… with so much Vegas news coming out, I said let's do it.
However, since I didn't have the substantial amount of time I put into Newkirk's Notes, I decided to point you to the following videos from Norm Clarke. He's one of the absolute best-informed guys in Las Vegas, he's a super cool guy, down-to-earth, and gets to go out and see and do more stuff than I get to do! (Lucky Norm… he's a columnist, I have business-related responsibilities as publisher of Access Vegas). Enjoy!
Norm Clarke's Vegas Picks – Here at AccessVegas.com, we are unabashed fans of celebrity/gossip/insider scoop Las Vegas Review-Journal writer Norm Clarke. He's been covering Las Vegas for well over a decade. He goes out of his way to be accurate. And, he's literally one of the most attitude-free in a city where everybody thinks that they are important.
Norm recently sat down for an interview with Vegas Chatter and spilled the beans on his favorites regarding just about everything Las Vegas. Norm has seen and done just about everything, and these three videos are well worth watching. Click to view Las Vegas' Top Insider Norm Clarke Shares His Sin City Suggestions and feel free to add your own thoughts at the bottom of that page!
For those of you who are active in various Vegas message boards, forums, and similar, here's the shortened URL to the videos which you can copy and post elsewhere: http://x.co/JLmF
Another Reminder – We've added a whole bunch more stuff to our Las Vegas Halloween Section and continue to add information as we get it.
Enjoy This Issue!

Associate Editor: Amy Rayner-Cooley
News Researcher/Editor: Mark Jacobs
---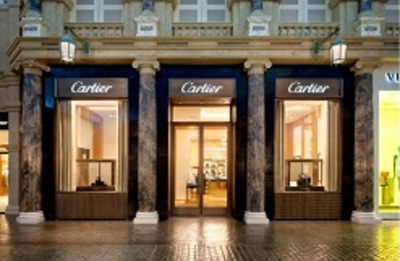 Cartier Relocates To A Prominent New Location In The Forum Shops At Caesars Las Vegas – Cartier, one of the world's most esteemed luxury houses, is excited to announce the relocation and re-opening of Cartier in The Forum Shops at Caesars in Las Vegas. Located in a new, significantly more sizable space in The Forum Shops, the boutique design combines traditional and modern elements to create an alluring and inviting retail space. The new boutique opened July 29 at the entrance of the mall in front of the Fountain of the Gods.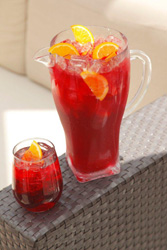 Rhumbar Las Vegas Stirs Up An Endless Summer With New Cocktails And Pitchers – Summer may be nearing its end but Rhumbar will keep the solstice-vibe in full effect with the addition of three new cocktails and five delicious pitchers to its already appealing menu. Now guests can continue to relax on the patio while enjoying Rhumbar's endless summer nightlife featuring lively entertainment and the season's most inspired cocktails. Rhumbar's classic cocktails are now available in pitchers. Now partygoers can enjoy pitchers of red or white sangria, hurricane, mai tai or margarita served Strip-side, starting at $40.

Bravo's Top Chef: Just Desserts Host Gail Simmons Headlines Food & Wine's All-Star Weekend In Las Vegas – The inaugural FOOD & WINE All-Star Weekend, hosted by FOOD & WINE's Gail Simmons and an array of culinary all-stars, will take place in Las Vegas at luxury resorts Bellagio, ARIA, and Vdara November 5 -7. "FOOD & WINE All-Star Weekend brings together all of the elements that make Las Vegas a top epicurean destination: talented chefs and wine experts, world-class luxury resorts; and lavish dining experiences at some of the leading restaurants in the country," said FOOD & WINE VP/Publisher Christina Grdovic. "We are thrilled to partner with MGM Resorts International on this dynamic event."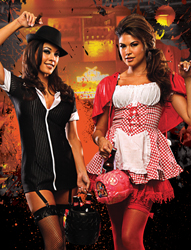 "True Bud" Is Back With A Vengeance At Rockhouse – Sink Your Teeth In To Rockhouse's Halloween Weekend Lineup – "True Bud" Halloween weekend is back and thirsty for more. This Halloween, Rockhouse Bar & Nightclub will celebrate with four nights of costume contests and satisfying drink specials for partygoers to sink their teeth in to. Beginning Thursday, October 28, through Sunday, October 31, patrons will be thirsting to "suck your Bud" with two-for-one Budweiser bottled beers all weekend long. To put partygoers in the spooky spirit, DJ Joey Da Juice will spin party-inducing mash-ups on the ones and twos while Rockhouse gears up for a weekend full of costume contests and Halloween havoc.
Rock & Rita's Las Vegas Gets Extreme With MXB Flair Competition At Circus Circus – Rock & Rita's, the "Great American Party" restaurant and bar will go extreme in search of the world's "Most Xtreme Bartender" (MXB), Wednesday nights at Circus Circus. The MXB flair bartending competition will push the boundaries as the industry's top competitors stake their claim for the championship title, extreme prizes and cash. Kicking off Wednesday nights at 8 p.m., the six-week flair bartending competition will conclude with final rounds on Wednesday, November 10. Each night will showcase the thrilling talents of ten bartenders as they perform their most extreme tricks to win extreme prizes. The top two competitors of each night will advance to the final rounds, held at Rock & Rita's.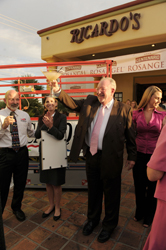 Ricardo's Mexican Restaurant Las Vegas And Rosangel Tequila Break Guinness World Records For The "World's Largest Pink Margarita" – Ricardo's Mexican Restaurant and Rosangel Tequila broke the Guinness World Records for "World's Largest Pink Margarita" today. In honor of Breast Cancer Awareness month, Rosangel, the world's premier hibiscus-infused tequila, gave the margarita a pink hue. A portion of the event's proceeds benefitted Susan G. Komen for the Cure of Southern Nevada. (Photo Courtesy by Denise Truscello)
---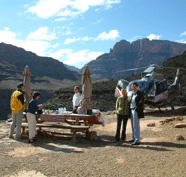 Maverick Grand Canyon Landing Tour û This spectacular helicopter air excursion lands at the Grand Canyon and flies over Hoover Dam, Lake Mead and Fortification Hill. Fly through Black Canyon and on your return to the south Las Vegas valley.
---
Members Mania – We Love Our Readers!
I'm hoping that you can suggest some possible alternatives to the Strip for our annual family reunion in the Vegas area.

For the last 16 years, we siblings along with our parents have gathered from all around the country to meet at the Flamingo for Dad's birthday in May.

It has been a great run, but unfortunately, age and mobility issues are catching up with us. We are now in mid-40's to late-80's age range. The crowds of noisy 20-somethings and the hotels that cater to them are getting extremely annoying, and the huge casinos are getting too hard to navigate. We don't come to party as much as to socialize and shop. So we are searching for another venue for next year that meets our requirements. Vegas is perfect for the weather and the convenience of air flights. We also need:
a pool for sunning – preferably without blasting music
a poker room
relatively quiet casino/public areas (it is the constantly blaring noise we object to)
a bonus would be shuttle/taxi distance to Strip shopping/shows
Can you offer some suggestions?

———-

On another topic – When I arrived last trip and got a cab from the airport to Flamingo, I was long-hauled. My fault – I was tired, and when the driver said he'd go on the freeway, ok?, I stupidly said "sure". Too late, I remembered you writing about just that scenario. $26 fare – and obviously no tip.

For the rest of our stay, though, the cab drivers and restaurant and hotel service people we met were friendly, helpful, and professional.

I would offer a recommendation to anyone looking for a special group dinner venue. At Canaletto at the Venetian, we had 10 people in a small, private room upstairs overlooking St Mark's Square. The food was incredible, the staff was extremely accommodating, the venue was very classy, and the prices fair.

Thanks for your help –

Judy

Ted Responds:

Thanks for the input from your last stay. Trip reports help other readers!

I'm glad that you brought this up because just recently we were noting around the office as to how many readers are regular visitors who are very amiable to staying off-strip if they knew more about the various properties.

M is really nice and reasonable rates, but they have a pretty active pool area (they invite locals, sell cabanas, have a DJ) and next May will be pool weather, so maybe too much noise/activity.

Offhand, Orleans and Sam's Town would both be good picks. More subdued crowd, both nice/decent properties, plenty to do (movies, bowling), poker rooms, tons of on-site dining options, free shuttles to Strip. Sam's Town is just a two block walk from The Cannery Hotel/Casino for a change of pace. Also, with a free shuttle, the South Point has the advantage of being a new property and just a couple of miles from the huge outlet mall at the way south end of The Strip.

If you love shopping, make sure you check out Town Square (1/2 mile south of Mandalay Bay). Upscale but worth browsing even if you don't buy. Really a best kept secret as you feel you are walking around a few blocks of a prefect little town.

And keep in mind that the new express bus route runs from Town Square all the way downtown (Fremont Street Experience) and on to the the downtown outlet mall!

Primm Valley Resorts is a great day trip (and a proud sponsor of this newsletter, helping to keep it complimentary to our 41,000 readers). The shuttle from The Strip (shuttle schedule) is $15 round-trip and comes with more than $800 in savings at their huge outlet mall. The guys can gamble or play poker while the ladies shop or hit the spa.

Plus, they have two golf courses with tee times as low as $35 weekdays. No, the courses don't suck — both are Tom Fazio courses and have won numerous awards! They just don't experience the high demand because they are down the road a ways from Las Vegas. Go see for yourself: Primm Valley Golf Club Course Information. If you were driving in, I'd actually suggest Primm for the stay. It is one of the last places you're going to run into the noisy twenty-something crowd!

Except for the lack of a poker room, Tuscany Suites is a best-kept secret. Downside is the very short taxi ride (no shuttle) or leg-stretching walk to The Strip.

Hope this helps and thanks for the input!

---
I am a soon-to-be retired railroad worker from NY state. Go to Vegas approximately twice a year for the last 8 or nine years. I must commend you on your honesty regarding the state's economy and confess that I am putting off moving until maybe 2013 or so. It seems the bottom has not yet been reached as far as real estate prices go.

My wife and I decided we want to live there and with my railroad and local pensions I think I can manage rather nicely. Haven't decided whether to buy or rent, probably rent at first so if I don't like it I can always just split.

My question to you is do you think it is wise for us to wait a little while before moving out there or should we wait it out and possibly get a better home purchase bargain in the future? I know it is hard to predict but I would like a local, learned opinion.

Thanks,

Ruben Riesgo

Ted Responds:

I have been renting for a number of years, having saw the bust coming long before it happened. (I was rolling my eyes at both the prices of Las Vegas homes during the boom, and at how no one could see that the frenzied growth was a pyramid scheme, a house-of-cards waiting to fall). While I decide my next move, I've been following the market very closely. My advice (which I'm following for myself):

1. The market has basically bottomed. You'll see fluctuations but at the end of the day, prices are at the point where they are low enough that investors and those gainfully employed (who could not afford the home they wanted during the boom) are buying at a pace that is keeping the market from tanking further.

2. All indications are that we'll see the market scrape along the bottom for the next 18 months. After that, the people who are going to lose their homes, walk away from their mortgages, and/or just leave town will have done so. After that, maybe a small price upswing but absolutely nothing I see in the next 4-5 years that could contribute to a hard climb in prices.

3. Because you have the advantage of time, I'd very strongly consider renting a home or apartment for the first year (or at least 6 months — you can put your stuff in storage). The Las Vegas Valley is upwards of 20 miles wide and 25 miles long. You can spend the first three months just getting familiar with the area and where you'd really like to end up living instead of having some area-biased real estate agent do it. And the next three months house hunting and closing on a place.

4. Since you'll be living on retirement, the state of the local economy matters not to you. The worse it is, the cheaper the cost of living. And the economy does not affect our sunshine or (normally) dry weather!

5. Before making the move, I'd strongly suggest coming out for 2 or 3 weeks (perhaps staying in a nicer extended stay property) and renting a car and living a little more like a local. Perhaps in the summer you so can familiarize yourself with our worst 3 months (regarding weather). Going to the grocery store and drug store. Driving around the area a bit. Make sure you are 100% happy about the decision to move here.

Bottom line: If you wait all the way until 2013, you risk slightly higher home prices. (My guess, 10% above current prices). So if you have a number of factors that bring the 2013 date into play, you can weigh that risk against those factors.

My best advice to anyone looking to make this move? Arrive later summer of 2011 for a 6 month renting period. This will allow you to buy during the holidays when the real estate market is dead and buyers are the most eager to bargain.

Once again, these are just my thoughts based on extensive research. Everyone should make the decisions that best suit their situation.

Hope this helps!

We love to hear from you, and value your feedback! Here's how to participate:
Drop us an email at allvegastv@aol.com – We read them all!
Call our recorded comment line at 702-507-0055. We listen to every call.
---
More Las Vegas News – Concerts – Events
Cirque du Soleil – Mystere Show Tickets
Information
Holding an existing reservation? Use customer service contact information given on your email receipt for proper service. You may have booked through an advertiser or travel partner.
AccessVegas@AccessVegas.com
3565 Las Vegas Blvd. South #411
Las Vegas, NV 89109
About and Contact
Las Vegas Sites
Copyright © 1995-2016 Newkirk/AccessVegas.Com - All Rights Reserved