Serving Las Vegas Visitors and Residents Since 1999
Welcome to the Insider Vibe! This is the official newsletter of AccessVegas.Com. We talk about the Las Vegas activities you really care about.
---
AccessVegas.com Quick Info Menu:
Las Vegas Essentials

Seasonal Vegas Information

Featured Shows

Photos and Wallpaper
Newkirk's Notes – comments on Las Vegas from AccessVegas.Com publisher Ted Newkirk:
Ted is under the weather this week. His sections will return next week. Please enjoy the news and information gathered by staff. Ted encourages all of our U.S. readers to study your local and national issues and get out and vote.
Associate Editor: Amy Rayner-Cooley
News Researcher/Editor: Mark Jacobs
---
Lakeside Grill Opens At Wynn Las Vegas – Award-Winning Chef David Walzog Introduces Updated American Classics In A Vibrant Setting On The Lake Of Dreams
– Opening this November, Lakeside Grill will bring a lively new dining destination to
Wynn Las Vegas
. Situated on the picturesque Lake of Dreams, Executive Chef David Walzog offers modern twists on classic American dishes in a striking and stylish setting. Lakeside Grill is the second restaurant at Wynn helmed by Walzog, who has garnered critical acclaim for his cuisine at SW, the resort's signature steakhouse.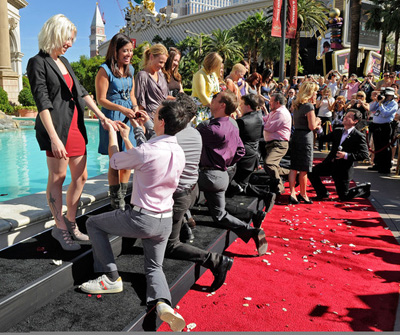 (Photo by Ethan Miller/Getty Images for Harrah's Entertainment)
Entertainer Donny Osmond drops to his knee in front of his wife Debbie Osmond as they join 10 couples simultaneously get engaged at 10:10 am at The Forum Shops at Caesars on October 10, 2010 in Las Vegas, Nevada.
Filled With Tears, Emotions, Ten Couples Get Engaged In Las Vegas At 10:10 A.M. On Oct. 10, 2010 At The Forum Shops At Caesars – On a sunny morning, crowds swelled around the Trevi Fountain at The Forum Shops at Caesars as 10 men simultaneously dropped to one knee to propose to the loves of their life at 10:10 a.m. on the auspicious date of Oct. 10, 2010. With entertainment legend Donny Osmond as host, sharing anecdotes about his incredible 30-year marriage to wife Debbie, the iconic Caesars Palace marquee counted down to the momentous event. The couples were then showered with rose petals as the crowd witnessed this incredible moment.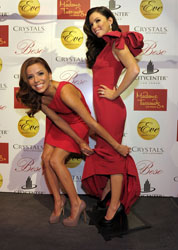 Eva Longoria Parker Unveils Madame Tussauds Wax Figure At Eve Nightclub In CityCenter Las Vegas – Madame Tussauds Las Vegas presented Eva Longoria Parker with a $300,000 wax figure replica last night at her nightclub, Eve, in Crystals at CityCenter Las Vegas. Longoria Parker was joined by her husband, Tony Parker, and parents, Ella and Enrique Longoria. The Hollywood starlet was chosen to be inducted into Madame Tussauds Las Vegas during National Hispanic Heritage Month, where she was honored for her outstanding success and philanthropic efforts. The statue is now on display at Madame Tussauds Las Vegas.
The Cosmopolitan Of Las Vegas Announces An Eclecticline-Up Of Boutiques And Stores – With the opening of The Cosmopolitan of Las Vegas on December 15, 2010, the resort will unveil a boutique collection, a thoughtfully curated line-up of avant-garde boutiques and youthful brands known for their singular personality and fresh sense of style.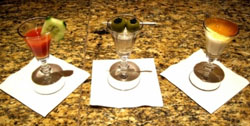 The 3-Martini "Lunch" Returns For Dinner – Now Available At Andre's At Monte Carlo Las Vegas – This is the lunch menu to save for dinner. A play on words, Andre's at Monte Carlo Resort and Casino now offers the 3-Martini "Lunch"à for dinner. Served nightly beginning at 5 p.m., the 3-martini lunch is $22 per person.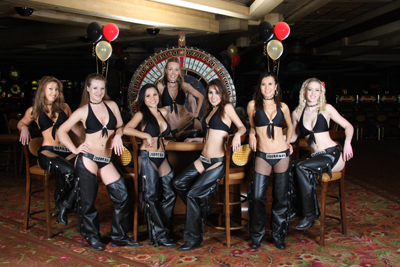 Gilley's pit on the Treasure Island casino floor. Located across from Gilley's store. Gilley's Girl dealers take care of blackjack, big six, war and three-card poker patrons as country music plays from overhead LCD monitors. Hours: Thursday 9pm-5am Friday 9pm-5am Saturday 1pm-5am Sunday 1pm-9pm
Blue Man Group Performs During Roland V-Drums Contest Finals Free In Las Vegas – Roland, the world leader in electronic percussion, will host the Roland V-Drums« Contest National Finals at Sam Ash Music in Las Vegas. The event will feature an opening performance by Blue Man Group and is co-sponsored by Blue Man Group, REMO, Drum Workshop and DRUM! magazine.
Rockhouse Rocks With College Wednesdays – Students Celebrate With Open Bar Wednesday Nights – Because hard working college co-eds need equal play, Rockhouse will introduce "College Wednesdays." Starting Wednesday, October 27, Rockhouse will open the doors to book worms and keg standers every Wednesday night with an open bar from 9 p.m. until midnight. The only ultra-dive bar on the Strip will prove to be the premier party destination for all college students û and even those that still wish they were. Co-eds with a college ID will enjoy all-they-can-drink, priced at just $5 for ladies and $10 for guys along with VIP bottle service starting at just $100. College years have come and gone? Or left that student ID at home? All wannabe students can still drink cheap with a $10 open bar for ladies and $20 for guys.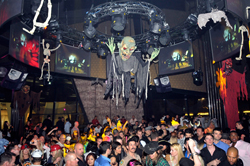 Eve Nightclub To Host Frightfully Sexy 'Halloweve' Parties October 27, 29 And 30 – Eva Longoria Parker's glamorous nightclub Eve will host Vegas' hottest 'HallowEve' parties with the Strip's skimpiest costume contest Wednesday, October 27, a sexy Halloween bash hosted by Maxim's Colleen Kennedy Friday, October 29, and a frightful Halloween extravaganza hosted by Mickey Avalon Saturday, October 30.
---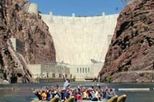 Hoover Dam Top to Bottom by Luxury SUV with Colorado River Float
û Travel to Hoover Dam in style and comfort aboard a luxury SUV. You'll have ample time to explore the National landmark. Then enjoy a guided Colorado River float tour by raft which offers you close-up views of Hoover Dam, mighty power plants, and Black Canyon.
---
We love to hear from you, and value your feedback! Here's how to participate:
---
More Las Vegas News – Concerts – Events