Hot Hotel Happenings- Save Big Now!

Save Big As A Premium AccessVegas.com Insider!

You're enjoying our complimentary Insider Vibe Newsletter. Did you know we offer more? More Vegas Savings? More Vegas Help? More Vegas Advantage?
Join Our Premium Insider Advantage Club!
For about the price of a cup of coffee each month, you have full access to:
Vegas Super Secret Specials Spreadsheet (list) of hundreds of "No Coupon Needed" Vegas casino food and drink specials. Want a sample? See just a few of the deals we've added in the past week:
Hot New Vegas Food/Drink Specials Just Added
Our "Your Guy In Vegas" Feature – Got a Vegas question? Instead of spending too much time looking up information you might not be certain about, fire it to us! We live here, we know Las Vegas, and we'll give you a professional answer. (Some restrictions apply).
Members Mania! – We share the answers to great Vegas questions with all of our Premium Members, helping everyone who pitches in with a premium membership. Plus great visitor feedback that you can learn from.
Newkirk's Notes (AKA The True Inside Vegas Scoop) – AccessVegas.com CEO Ted Newkirk has been writing "Newkirk's Notes" for upwards of two decades, giving members the true inside guide to everything that is going on in Las Vegas. Valuable information from someone in the know to save you time and money!
Find Out More and Sign Up Now!
This Week's Top Tours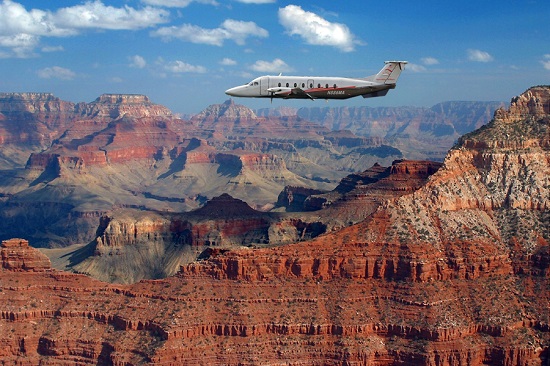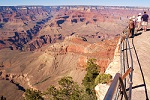 See the Grand Canyon, Route 66, Mojave Desert, and more direct from Las Vegas. The Full day tour is only $229 including snacks, lunch, and fees!
Featured Tour Video From Las Vegas

You can book this amazing flight now and save $21! Neon Nights Air Tour
ALL tours listed on our AccessVegas.com tour page (link above) have been hand-selected. We only work with the top, most professional companies and operators who vow to give our readers a great experience! We can not recommend nor vouch for tours not listed on here in the newsletter or on our tour page. Questions? Our tour page lists phone contacts where tour experts are available for live help!
Las Vegas Shows,
Concerts, And Headliners
Absinthe Is Setting Up For Second Touring Production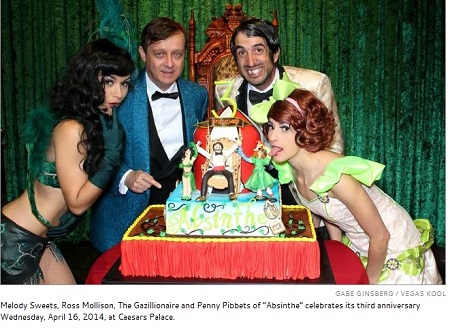 "Absinthe" is going global. The hit show at Caesars PalaceÆs Roman Plaza has announced a second production, setting up for an international tour, and will be holding auditions in Las Vegas, home of the original "Absinthe" at the companyÆs headquarters.
"Given the ever-growing demand for the production and its lauded reputation globally, we decided to engage in discussions with promoters in Europe, Canada, Australia and Japan about the 'Absinthe' tour," Spiegelworld founder Ross Mollison said in a news release.
Las Vegas Hotels
Photo Tour Of Delano Las Vegas On Opening Day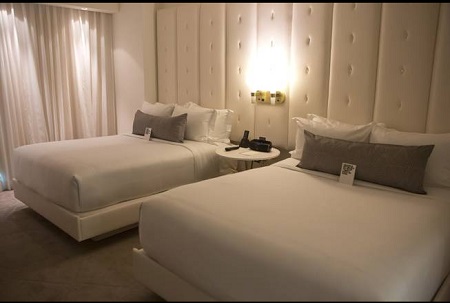 MGM Resorts International and Morgans Hotel Group executives exclaimed, "WeÆre open!"- and Delano Las Vegas officially opened with a ribbon cutting on September 3, 2014 at the former site of 'The Hotel' at Mandalay Bay.
Dining In Las Vegas
db Brasserie Succeeds On All Counts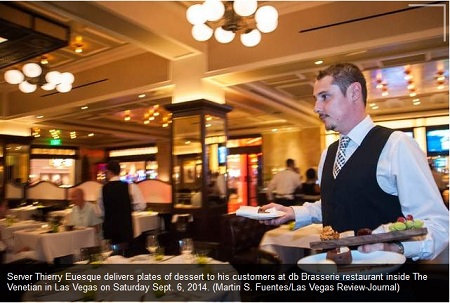 db Brasserie, Daniel BouludÆs newish restaurant at The Venetian (and his only Las Vegas presence since the demise of his outpost at Wynn Las Vegas) is, true to its name, a fairly casual spot, all dark wood and frosted glass and leather banquettes, and an example of the slightly more downscale ethos that has become the norm for new restaurants in Las Vegas. Slightly more downscale, maybe, but thatÆs not to mean theyÆre lacking in quality, and db Brasserie is a shining example of that.
Service, for example, was excellent. Our server was polished and experienced, and he was assisted by at least two others, plus a runner or two, all of them professional but clearly possessed of healthy senses of humor, which I always consider laudable.
Delmonico Steakhouse to Host One Night Pork Dinner Featuring Templeton Rye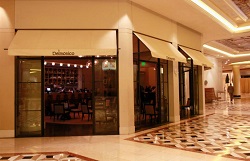 Delmonico Steakhouse and Templeton Rye join forces to host the ultimate evening of pork and whiskey on Saturday, September 27, 2014. For one night only, Delmonico will offer five special menu items created by Chef de Cuisine Ronnie Rainwater and Culinary Director Sean Roe in participation with The Templeton Rye Heritage Pork Project. The program raises Duroc pigs with superior pedigrees on a specially formulated diet of the spent grain from making Templeton Rye Whiskey. Mixologist Max Solano conducted a fat-washing process utilizing the porkÆs belly with Templeton Rye Whiskey to create two unique libations highlighting the savory infusion.
More Las Vegas News
Visit The Vegas That Never Happened: A Look Back At Projects That Fizzled
Entertainment designer Gary Goddard revealed he submitted a proposal in 1992 to build a full-scale version of the USS Enterprise from "Star Trek" in downtown Las Vegas to help lure tourists away from the Strip. According to lore, downtown developers opted instead to build the Fremont Street Experience. The $150 million Enterprise project, which Goddard said he created as an entry for a contest about how to revitalize downtown, was to be about 1,000 feet long.
Latest Concerts Added This Week!
There is no better place to see your favorite acts then in Las Vegas! You're relaxed, can enjoy a fine meal, have some cocktails without the worry of driving, and no alarm is going to jar you awake all too early the next morning.
Las Vegas Holidays And Events
Top Tickets For All United States Events
Did you know that we not only sell premium concert and event tickets for Las Vegas, but also for the entire United States as well? If you can't make it to Vegas, treat yourself to some great seats for something near you:
Newkirk's Notes
Hello From Las Vegas! – Newkirk's Notes is now part of our Premium Insider Advantage program. This week, premium members learned an incredibly valuable tip for almost guaranteeing you'll get anything you leave in a cab back within minutes, a new free museum open in the heart of The Strip, and much more. The Premium Membership pays for itself in no time flat:
AccessVegas.com Premium Insiders Advantage
Members Mania!
Hello from already Fall-like Virginia!
My girlfriends and I are preparing for our annual trip to Las Vegasà this will be our 14th year in a row!
As there is so much to do out there, we always try to find something different to try. This year we are planning to venture further south on the strip to the M Resort and Southpoint and then north to SLS. We will be staying at the Palazzo… what would you recommend as the best option for transportation? We know we can take a cab, but often we enjoy walking and bus rides can be their own source of entertainment! Not sure if the monorail would be worth the cost.
Hope to hear back from you soonà we are leaving on September 26th.
Thanks!
Missy Royal
Ted Responds:
Still summer-like here in Las Vegas! I've heard your area is beautiful in the fall. And, we always get back to our premium subscribers…
____________________________________________________________________
Our full answer to Missy is available to our Premium Insider Advantage Members, whom we always help with Vegas questions! Join the many others who are getting Vegas help, hundreds of "no coupon needed" Las Vegas casino food and drink specials, and tons more. Sign Up Here:
AccessVegas.com Premium Insiders Advantage
What We're Watching!
Vegas Videos You'll Enjoy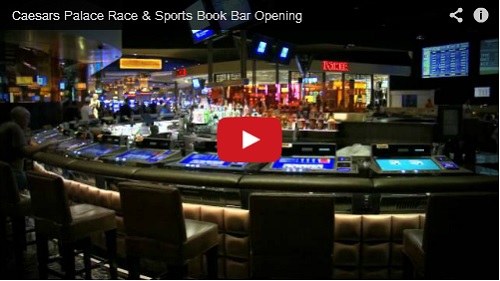 Caesars Palace Race & Sports Book Bar Opening – The all-new Race and Sports Book Bar at Caesars Palace brings a new meaning to "Home of the Champions" with its extensive gaming bar and lounge experience, including 31 video poker machines, plush lounge that seats 50 people, special beer packages and sports themed cocktails.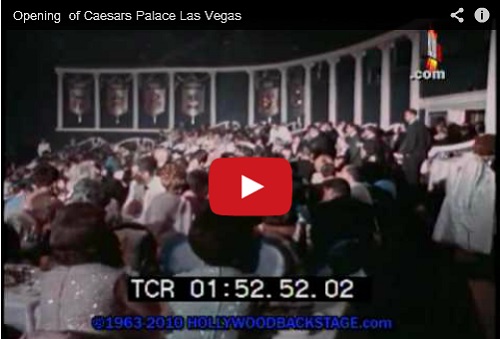 We love to hear from you, and value your feedback!
Here's how to participate:
Want to comment on a current reader post? Use the comment box on that particular web page. Many of the stories we post also have comment boxes at the end of the story. Make your voice heard!
Drop us an email at AccessVegas@AccessVegas.com – We read them all!
Call our recorded comment line at 702-507-0055. We listen to every call.
Link To Us! – Have a home page, web page, or blog? Link to us, and give yourself and your friends a quick link to find us from your site. Simply link to http://www.accessvegas.com and name the link Access Vegas!
RSS Feed – We now have an RSS/XML feed! Most RSS programs let you visit AccessVegas.com and automatically pull the feed. For those who want to enter it manually, the feed is:
http://www.accessvegas.com/xml/whats-hot.xml
Share the info: Click to Email this newsletter to a friend!
For comments or questions regarding our content or this newsletter write us at AccessVegas@AccessVegas.com
New to the list? See our Newsletter Archives for back issues and subscription info. Don't hesitate to forward this newsletter to friends and associates.
All contents copyright 2014 Ted Newkirk. All Rights Reserved.
Hotel Rates Published Accurate At Time Of Publication
August 27, 2014 ISSN: 1529-2770 About Us Privacy Policy
Physical Address: 3565 Las Vegas Blvd. South #411, Las Vegas, NV 89109
No related links found