Hot Hotel Happenings- Save Big Now!
Save Big As A Premium AccessVegas.com Insider!

You're enjoying our complimentary Insider Vibe Newsletter. Did you know we offer more? More Vegas Savings? More Vegas Help? More Vegas Advantage?

Join Our Premium Insider Advantage Club!
For about the price of a cup of coffee each month, you have full access to:
Vegas Super Secret Specials Spreadsheet (list) of hundreds of "No Coupon Needed" Vegas casino food and drink specials. Want a sample? See just a few of the deals we've added in the past week:
Hot New Vegas Food/Drink Specials Just Added
Our "Your Guy In Vegas" Feature – Got a Vegas question? Instead of spending too much time looking up information you might not be certain about, fire it to us! We live here, we know Las Vegas, and we'll give you a professional answer. (Some restrictions apply).
Members Mania! – We share the answers to great Vegas questions with all of our Premium Members, helping everyone who pitches in with a premium membership. Plus great visitor feedback that you can learn from.
The True Inside Scoop – AccessVegas.com CEO Ted Newkirk has been writing "Newkirk's Notes" for upwards of two decades, giving members the true inside guide to everything that is going on in Las Vegas. Valuable information from someone in the know to save you time and money!
Find Out More and Sign Up Now!
This Week's Top Tours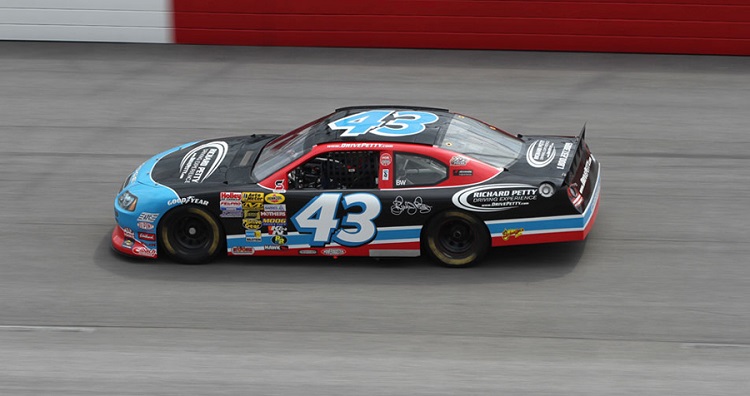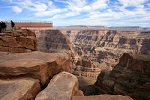 See the Grand Canyon and experience the Skywalk without eating up your entire day by flying over and back
Featured Tour Video From Las Vegas

You can book this amazing flight now and save $21! Neon Nights Air Tour
ALL tours listed on our AccessVegas.com tour page (link above) have been hand-selected. We only work with the top, most professional companies and operators who vow to give our readers a great experience! We can not recommend nor vouch for tours not listed on here in the newsletter or on our tour page. Questions? Our tour page lists phone contacts where tour experts are available for live help!
FOOTBALL!
Rhumbar To Score During Football Season Viewing Parties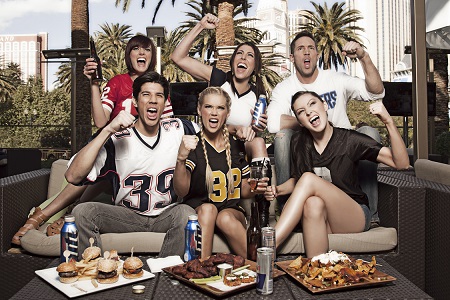 RHUMBAR at The Mirage Hotel & Casino has become a pigskin haven at the start of the 2014 football season.
New to the lineup for football fans is the Liquid Pigskin cocktail, specially created for the football season by RHUMBAR's resident mixologist, Lillian Hargrove. Priced at $12, the Liquid Pigskin is a rum and beer cocktail combining Sailor Jerry Spiced Rum, Blue Moon, Cointreau, fresh lemon juice and vanilla syrup, topped off with spiced rum foam. This sporty beverage is served with a side of pork rinds for a pairing even the toughest linebacker can appreciate.
The Linq Promenade Cheers On Football Season With 248 TVs And More Than 660 Beer Options Spanning 300,000 Square Feet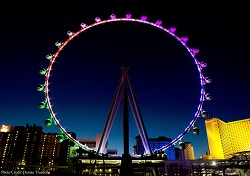 Football: the sport that gives people a reason to spend their Sundays glued to the TV, cheering on their favorite team with their best comrades. With the sports' triumphant return, here is the low down on where to see your favorite teams in action while in Vegas because we know you don't want to miss a play.
The LINQ Promenade, Caesars Entertainment's open-air shopping, dining and entertainment district, offers football fans 12 unique locations ideal for watching the game, from the first outpost of New York's infamous Brooklyn Bowl boasting more than 75 TVs, to the Yard House, which features 160 draft beer options on its menu, the options are endless. Guests at The LINQ have a choice of more than 248 TVs to view the game, so no matter what team you're rooting for- we are betting the game is on.
Las Vegas Shows, Concerts, And Headliners
Actor Joe P. Harris From New CBS Sitcom The McCarthys Attends ABSINTHE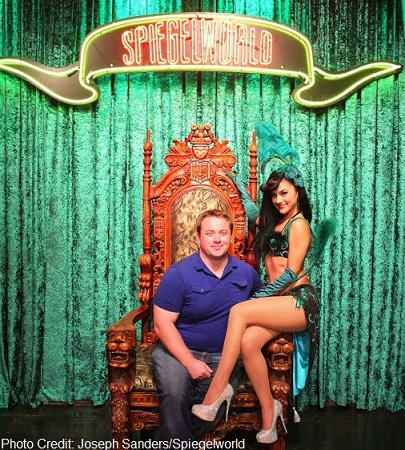 Actor Joe P. Harris, who can be seen starring in the new CBS sitcom The McCarthys premiering this October, was spotted attending ABSINTHE at Caesars Palace on Friday, September 5, 2014. Following the performance, Harris posed for a photo with ABSINTHE's "Green Fairy" Melody Sweets and shared his enthusiasm for the show.
Jersey Boys Star Brings Together All-Star Performers For Fourth Annual "NF Hope Concert" At Venetian Las Vegas
Jeff Leibow of Jersey Boys will once again bring The Strip's most notable headliners together under one roof in the fight against Neurofibromatosis (NF) for the fourth annual benefit "NF Hope Concert," set to take place 1 p.m. Sunday, Oct. 19 in the Sands Showroom at The Venetian Las Vegas. Proceeds from the event will benefit NF Network, an organization serving families and individuals suffering with NF. A portion of the proceeds will also benefit the Nevada Childhood Cancer Foundation in the support of Las Vegas families touch by this common, yet seldom supported disorder.
Dining In Las Vegas
Aria And Bodega Catena Zapata Collaborate For Wine Pairing Dinner At Jean Georges Steakhouse

Jean Georges Steakhouse at ARIA Resort & Casino will unite with Bodega Catena Zapata winery for an unforgettable wine pairing dinner Thursday, Sept. 25 at 7:30 p.m. The event will tantalize taste buds with a five-course menu created by Executive Chef Robert Moore. Each course will be paired with exquisite selections from the winery, as selected by the evening's hosts, ARIA Director of Wine Kim Wood and Bodega Catena Zapata General Director Laura Catena.
Delano Las Vegas Hotel And NOT Casino
Delano Las Vegas: South Beach meets Mojave Desert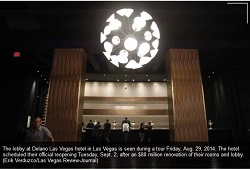 The Delano Las Vegas is best described as South Beach meets the Mojave Desert. MGM Resorts International completed the summer-long $80 million renovation of The Hotel, an 1,100-room nongaming property on the south Strip attached to Mandalay Bay. The remake resulted in redesigned entry and lobby areas with new restaurants and public spaces. Floor access was increased for improved traffic flow, and all the rooms and suites have been given a fresh look. The rebranding was a partnership between MGM Resorts and Morgans Hotel Group, which operates the Delano brand.
More Las Vegas News
Grand Bazaar Shopping Mall Continues to Take Shape at BallyÆs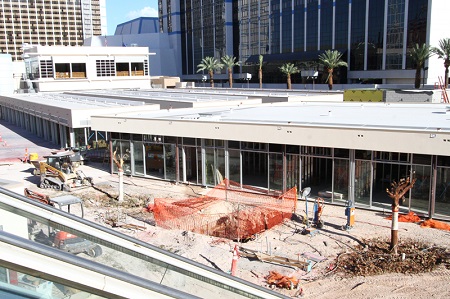 Grand Bazaar Shops at BallyÆs Las Vegas is looking more and more like a thing with each passing day.
Latest Concerts Added This Week!
There is no better place to see your favorite acts then in Las Vegas! You're relaxed, can enjoy a fine meal, have some cocktails without the worry of driving, and no alarm is going to jar you awake all too early the next morning.
Las Vegas Holidays And Events
Top Tickets For All United States Events
Did you know that we not only sell premium concert and event tickets for Las Vegas, but also for the entire United States as well? If you can't make it to Vegas, treat yourself to some great seats for something near you:
What We're Watching!
Vegas Videos You'll Enjoy
Monday's Flash Flood Destroying I-15 North Of Las Vegas – A guy sitting in his truck captured raging floodwaters turning the median of I-15 into a destructive river. A car caught up in the flooding resulted in an impromptu rescue attempt before going over and down into an underpass.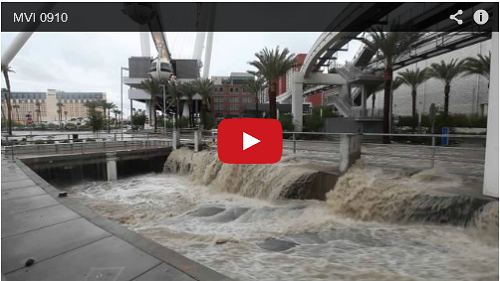 Imperial Palace Floods (As Usual) – Anytime we get really good rains here in the Las Vegas valley, the bottom floor of the Imperial Palace/Quad/Linq has always flooded (as seen in this video). Few understand that this is actually by design. A wash (normally dry creek bed) visible from the air just south of The Rio makes its way under the I-15, under Caesars Palace, under The Strip, and emerges on the bottom of The Quad Hotel parking garage.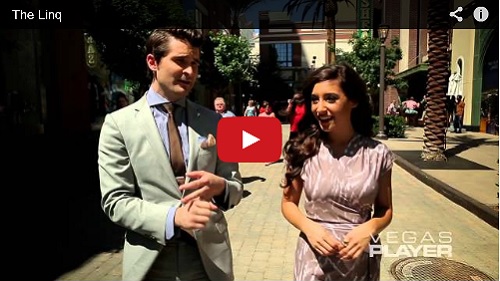 Vegas Player Tour Of The Linq – For those who have yet to visit since The Linq fully opened this spring, you can get a little tour from Linq Vice President Jon Gray (often referred to as the "Mayor" of Linq). Check out the Polaroid Photo Bar, a cupcake ATM, High Roller, and more!
We love to hear from you, and value your feedback! Here's how to participate:
Want to comment on a current reader post? Use the comment box on that particular web page. Many of the stories we post also have comment boxes at the end of the story. Make your voice heard!
Drop us an email at AccessVegas@AccessVegas.com – We read them all!
Call our recorded comment line at 702-507-0055. We listen to every call.
Link To Us! – Have a home page, web page, or blog? Link to us, and give yourself and your friends a quick link to find us from your site. Simply link to http://www.accessvegas.com and name the link Access Vegas!
RSS Feed – We now have an RSS/XML feed! Most RSS programs let you visit AccessVegas.com and automatically pull the feed. For those who want to enter it manually, the feed is:
http://www.accessvegas.com/xml/whats-hot.xml
Share the info: Click to Email this newsletter to a friend!
For comments or questions regarding our content or this newsletter write us at AccessVegas@AccessVegas.com
New to the list? See our Newsletter Archives for back issues and subscription info. Don't hesitate to forward this newsletter to friends and associates.
All contents copyright 2014 Ted Newkirk. All Rights Reserved.
Hotel Rates Published Accurate At Time Of Publication
August 27, 2014 ISSN: 1529-2770 About Us Privacy Policy
Physical Address: 3565 Las Vegas Blvd. South #411, Las Vegas, NV 89109
No related links found