Serving Las Vegas Visitors and Residents Since 1999
Welcome to the Insider Vibe! This is the official newsletter of AccessVegas.Com. We talk about the Las Vegas activities you really care about.
---
AccessVegas.com Quick Info Menu:
| | |
| --- | --- |
| Las Vegas Essentials | Featured Shows |
Newkirk's Notes – comments on Las Vegas from AccessVegas.Com publisher Ted Newkirk:
Hello From Las Vegas! I have my parents flying in from Portland, Oregon to enjoy some warmth and sunshine. Our overnight low is right around their afternoon high temperature. Our forcast is sunshine, theirs is rain. Every summer I tell those of you in cooler regions to plan a fall trip to Las Vegas to "extend" your summer. I'm sure some of you are wishing you had taken my advice right about now!
Two Great Complimentary Shows – Sometimes we get so used to some of the regular, complimentary things to see and do that we overlook the fact that our readership is growing and Las Vegas always has first-timers! Hence, a couple of long-running performers worth seeing on your next visit:
Big Elvis – Big Elvis performs all the hits of the King of Rock & Roll, as well as other popular tunes in the genres of rock, country, gospel, R&B and pop spanning six decades of music. He interacts with his audience, invites them to participate in his show and performs requests, including both popular and obscure songs.

Showtimes: Monday through Friday; 3, 5 and 6:30 p.m. in BillÆs Lounge. Pricing: Complimentary.

Cook E. Jarr – Cook E. JarrÆs show is a mixture of booming, booty-shaking music and plentiful patter from the motor mouth musician, punctuated by the CooksterÆs dog barks, imitation engine-revving (which comes in handy during 'Born to Be Wild') and other trademark sound effects. While Jarr sings along to pre-recorded tracks of funky hits old and new, red and blue lights revolve, police car style atop speakers pumping out a nonstop beat. A strobe light fires up at random intervals, while a mirrored disco ball twirls overhead.

I've seen Cook E. Jarr since his days at The Continental (now Terribles) in the early 90's and he's still putting on a great show.

Showtimes: Saturday and Sunday; 6 p.m. to 8 p.m. in BillÆs Lounge Pricing: Complimentary.
Daylife Comes Indoors – For better or worse, Las Vegas has become infamous for the plethora of pool parties (known as daylife… a take on nightlife). While we're still having great weather, our fair city is not warm and sunny all year long. (Sunny, yes but the average high temperature in December and January is a very chilly — for us — 57 degrees and you can't even fake a pool party in that kind of weather). Both Ghostbar at The Palms and Lavo at Palazzo are going to attempt to bring the beach indoors. Lavo with their Saturday Champaign brunch (think bikini brunch) and Ghostbar with a champaign-fueled all-afternoon party.
Vegas SportsDay – Las Vegas is the sports betting capital of the world. Even before moving here (nearly 20 years ago), I remember syndicated sports betting shows on TV Saturdays and Sundays with screaming "wise guys" trying to sell their "lock of the year" sports picks. Fortunately for me, the Las Vegas based Stardust Line radio show reached my hometown of Portland, OR (because of the night signal strength of KDWN 720 AM) and I continued to listen once I moved here. This was a no-nonsense sports wagering show hosted by professionals who knew their stuff.
Unfortunately for me, the show ended when the blew up The Stardust. Fortunately for myself and all of us who enjoy sports wagering action, two former Stardust Line co-hosts Dave Malinsky and Ted Sevransky have launched a similar new daily show which airs live at 11 AM Pacific weekdays and is also available for archived viewing and on iTunes. More info at Vegas SportsDay home page.
Unemployment And Foreclosures Still Bad News – As I predicted a few months ago, home foreclosures in Las Vegas are way up again. While some of it is attributed to the "robo signing" (real estate stuff that we won't delve into), one can't overlook workers in the construction industry who have lost their jobs since the end of the boom. (I've heard estimates ranging from 40,000 to 100,000). CityCenter is done, Cosmopolitan is up, the new performing arts center is wrapping up, and the new Las Vegas City Hall is moving right along. Although Project Linq (the outdoor plaza between Imperial Palace and Flamingo) will provide employment, it won't put a dent in construction jobs.
Meanwhile, Las Vegas unemployment is on the rise again to over 14%. Why don't people (especially those in construction) leave town for work? They are "underwater" on their home and simply can't sell it and make up the difference. Which is eventually going to lead to even more forelclosures as people give up and walk away to start over elsewhere. Optamists are saying that the market will bottom out and start to recover in 2012. I'm saying maybe spring of 2013.
We cover this type of news because of a strong demand among our readers for Las Vegas real estate information. For those of you who are seriously looking at buying here, something very important to keep in mind: The homes are historically cheap, but (as someone who is in the market), I've rarely come across a house that didn't need some real work done to it.
Worst case are homes that were basically stripped and/or beaten up (missing or broken cabinents, etc.) But at the very least, people who are out of work and struggling to make ends meet generally don't maintain their homes. So expect to find everything from old carpet to badly neglected landscape to roofing issues. Me? I'm actually looking at that as a positive. I'm going to buy a beat-up place and then put the exact touches (choice of flooring, landscaping, appliances) that I want into it.
Limos Are Back – We're started running advertising for airport limos again to a really nice response. (Click on the link below). Over the years, we've recieved great feedback from people who have taken this option. You skip the taxi lines, you have a driver waiting for you, it is much more affordible than many people imagine, and you just look so cool pulling up to your hotel with a driver.
Enjoy This Issue!

Associate Editor: Amy Rayner-Cooley
News Researcher/Editor: Rick Ziegler
---
---
MGM Grand Unveils New Guest Room and Suite Designs – Remodel Begins, First Rooms Complete by Late November – Recognized worldwide as the ultimate Las Vegas entertainment destination, MGM Grand today revealed designs for its new rooms and suites.
Underway this week, the $160 million remodel includes all 3,570 guest rooms and 642 suites in the hotel's main tower and is expected to conclude by September 2012. The initial set of redesigned rooms will be complete by the end of November 2011.
"Our new rooms complement MGM Grand's incredible collection of accommodations," said Scott Sibella, president and COO for MGM Grand. "This is one of many exciting announcements on the horizon, all of which will solidify MGM Grand's position not only as an entertainment destination, but as a premier hospitality experience."
Hyde Lounge Bellagio – First Look – Hyde Lounge Bellagio is the first nightlife venture in Las Vegas by renowned hospitality leader sbe and visionary design icon Philippe Starck with Gulla Jonsdottir of G+ Design. Boasting a seamless 12,000-square-foot indoor/outdoor space and floor-to-ceiling windows, Hyde features an expansive terrace that showcases Las Vegas' most celebrated landmark, the Fountains of Bellagio.
McFadden's Hosts A Game Watch For Pivitoal Big Ten Football Game Saturday, Oct. 29 – Watch the Buckeyes Take on the Badgers at the Official 2011 Ohio State Football Bar – A sea of red will flood the high-definition TVs as McFadden's Restaurant and Saloon at Rio All Suite Hotel & Casino hosts a viewing party for the Ohio State vs. Wisconsin game on Saturday, Oct. 29. The powerhouse programs, both wearing red, are knee-deep in the conference schedule as they look to push ahead of each other in the standings. An hour prior to kickoff, the party bar will become the pregame place to be as all Ohio State fans enjoy 25 cent Coors Light drafts. Throughout the game, guests will knock back $5 mimosas, bloody Marys and Buckeye Bombs as they watch every pass, play and tackle. Additional Buckeye specials will be available. Click link below for more details.
Fantasy Las Vegas Announces November Showgirl Of The Month Kristin – Kristin, a gorgeous dancer with an edge, is FANTASY's (click link to book) November "Showgirl of the Month." The sexy adult revue at Luxor Hotel and Casino celebrates a dancer each month. Kristin is a Wisconsin native who loves to paint and travel. When this bombshell isn't dancing, she enjoys catching up on her favorite television shows and eating sushi. This bella ragazza also has a strong affection for Venice, Italy. Las Vegas locals can catch Kristin hanging out with friends at her favorite local hot spot Artisan Hotel Boutique.
---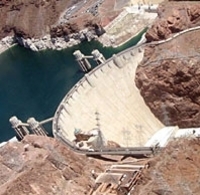 Hoover Dam Tour from Las Vegas û Your trip to Las Vegas won't be complete without a tour of the mighty Hoover Dam! Built during the Depression, thousands of men came to Black Canyon to tame the Colorado River, and it took them less than 5 years to build the largest dam of its time.
---
What We're Watching – Vegas Videos You'll Enjoy
---
Members Mania – We Love Our Readers!
I just turned 50 in September. I am planning a trip to Vegas in December. I know there are alot casinos with 50 plus clubs. Can you please let me know which ones and what they offer. I know alot of them are off the strip, that's fine we always rent a car.
Thank you
Cathy P. from Chicago, IL
Ted Responds:
Wish I had better news for you, but the dearth of live entertainment resulting from hotel budget cutbacks hasn't left much out there. Especially aimed at the 50+ crowd (which is upwards of half Vegas visitors, so go figure). Chris Phillips of Zowie Bowie was doing a "Vintage Vegas" show at Green Valley ranch ( http://www.youtube.com/watch?v=15E8brNiCRg and http://www.youtube.com/watch?v=wlbf8aWrFG0 ), but even that wasn't a nightlife experience.
A best kept secret you may wish to check out: Just about every Monday evening, The Bootlegger (a Las Vegas institution with upscale Italian dining around the clock) hosts karaoke starting at 9 PM. Yawn… so what? This isn't your average karaoke. Hosted by Kelly Clinton (wife of long-time Harrah's headliner Clint Holmes), many of the stars of Las Vegas shows stop by. Some to sing, some to just hang out. It has a true "old Vegas" feel and people in your (and my) age range will be very commfortable. Oh, and did I mention the band is LIVE?!?
The Bootlegger is located on Las Vegas Blvd. (The Strip) just 4.5 miles south of Bellagio at 7700 Las Vegas Blvd, So. I'd call ahead to confirm the event and ask if you need reservations, any questions regarding enjoying a late dinner, etc. at (702) 736-4939
Hope this helps!

We love to hear from you, and value your feedback! Here's how to participate:
---
More Las Vegas News – Shows – Events