Serving Las Vegas Visitors and Residents Since 1999
Welcome to the Insider Vibe! This is the official newsletter of AccessVegas.Com. We talk about the Las Vegas activities you really care about.
Need to contact us? Send feedback to
AccessVegas@AccessVegas.com
Missed an issue? Click to Read Back Issues Online.
---
AccessVegas.com Quick Info Menu:
| | |
| --- | --- |
| Las Vegas Essentials | Featured Shows |
---
So Much To Do In November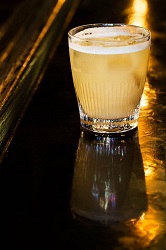 Commonwealth Giving Thanks With November's Cocktail Of The Month – Commonwealth will show its gratitude to guests with November's featured cocktail, "Gone 'til November." The delicious drink will be offered all month, priced at $10.
The seasonal concoction mixes Stoli Peach Vodka, St. Elizabeth All Spice Dram, egg whites, lemon juice and honey syrup. Partygoers will stay warm while sipping on the sweet selection on the Downtown venue's 2,000-square-foot rooftop bar.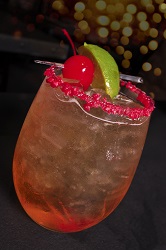 Rockhouse Parties For A Cure During Rock 'N' Roll Marathon – Rockhouse, located at Grand Canal Shoppes at The Venetian | The Palazzo, will team up with the Rock 'n' Roll Marathon Series Friday, Nov. 15, through Sunday, Nov. 17, to benefit the Crohn's & Colitis Foundation of America (CCFA), the leading organization dedicated to finding cures for Crohn's disease and ulcerative colitis.
Starting at 9 p.m. on Sunday, Nov. 17, the ultra-dive bar will donate 15 percent of its total sales to the CCFA. Athletes and supporters can celebrate a successful race and donate to a great cause with drinks such as the American Woman, a fusion of Whipped Vodka, Chambord, Grand Marnier and La Marca Champagne; or the Burning Ring of Fire, a mixture Johnny Walker Black, Red Bull and lime.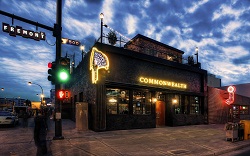 Commonwealth Celebrates One Year In Downtown Las Vegas With Celebration – Downtown cocktail bar, Commonwealth, will celebrate one year of innovative cocktails, music and art on Wednesday, Nov. 13. Starting at 9 p.m., the anniversary celebration will feature an extensive list of DJs, live acts and cocktail specials lasting late into the night.
---
Las Vegas Shows, Headliners, And Concerts
---
LAST Vegas – The Movie
---
Thanksgiving Las Vegas 2013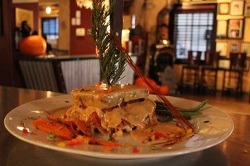 Hash House A Go Go Las Vegas Announces Thanksgiving 2013 Specials – Hash House A Go Go celebrates Thanksgiving Day with a special holiday menu, offering a twisted take on traditional favorites. The restaurants will feature specials ranging in price from $5.95 to $21.95 in addition to their mouthwatering regular menu items.
Thanksgiving specials include: Stuffed Turkey Meatloaf
---
Las Vegas Shopping And Attractions
---
Las Vegas Hotels And Housing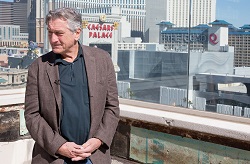 Robert De Niro Announces Nobu Hotel Caesars Palace Villa – Robert De Niro, actor and partner in Nobu Hospitality, recently visited the rooftop of his Nobu Hotel Caesars Palace where construction for the opulent Nobu Villa is well underway. The 10,300-square-foot villa is expected to open early 2014 offering an expansive 4,700 square-foot outdoor terrace overlooking the center of the Las Vegas Strip.
De Niro takes in the breathtaking views from the terrace of the soon-to-open Nobu Nobu Hotel Villa at Caesars Palace, 150 feet above the Las Vegas Strip. When it opens early 2014, the Nobu Villa will showcase the best views on the Las Vegas Strip. Photo Credit: Erik Kabik
---
More Las Vegas News
---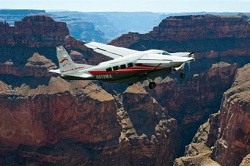 The Navigator Airplane + Heli Tour – Get an authentic taste of the Southwest during scenic Grand Canyon air tours with VegasDaze. Learn about the Hualapai Native Americans – a historic tribe dating back to as early as 600 A.D. During your Grand Canyon aerial experience you'll understand why the name "Hualapai" means, "people of the tall pine." This special Grand Canyon West Rim tour is experienced by both plane and helicopter.
---
Upcoming Las Vegas Events And Holidays
---
Latest Las Vegas Concerts Added This Week!
There is no better place to see your favorite acts then in Las Vegas! You're relaxed, can enjoy a fine meal, have some cocktails without the worry of driving, and no alarm is going to jar you awake all too early the next morning.
Top Tickets For All United States Events
Did you know that we not only sell premium concert and event tickets for Las Vegas, but also for the entire United States as well? If you can't make it to Vegas, treat yourself to some great seats for something near you:
---
Newkirk's Notes: The Boss Speaks…
Newkirk's Notes are comments and insight from AccessVegas.Com publisher and 20+ year Las Vegas resident Ted Newkirk:
Hello From Las Vegas! – MGM Resorts has given us more details on their massive new arena, which will give us 3 full-sized sports/concert arenas all within comfortable walking distance (Mandalay Bay and MGM Grand Gardens being the other two), and 5 pretty good sized arenas within short radius (Thomas and Mack plus Orleans).
As we noted last spring, at one time we had three NCAA men's basketball tournaments taking place here in town, all nationally televised, and all within a 3 mile stretch of Tropicana Avenue. With this move, MGM Resorts — who will now own this new arena plus the MGM Grand Gardens – are helping assure that no major event will be beyond our reach by eliminating any booking conflicts.
Daylight Savings Time Done – Just a reminder for those visiting, as fall moves along and winter is just around the corner: It gets dark here early. We're on the very eastern edge of Pacific time, so we lose the sun first.
If you've considered taking my advice to watch our brilliant desert sunsets from the top of the Stratosphere Tower or Paris Las Vegas Eiffel Tower, plan to be up there about 4 PM. While the Eiffel Tower is more convenient for many with the center-Strip location, The Stratosphere is obviously more comfortable. Get up and enjoy a drink at their Air Bar while you wait for the sun to do its vanishing act.
The Best Taxi Route McCarran To Downtown – I want to thank Stan Lee over on our Vegas Facebook page (VegasFacebook.com) for bringing up something very important to remember for those of you staying downtown. Most of you think of Las Vegas as a tourist city, but we do have 2 million people here and indeed get rush hour. From around 3:30 PM to 6 PM, the I-15 is seriously backed up and slow from Tropicana pretty much all the way downtown.
If you fly in and take a taxi during this time, the cab fare can easily be $40. And truth be told, the freeway is NOT the best/cheapest way from the airport to downtown no matter how you slice it. Some savvy visitors will go "Oh, you are right… Paradise is best". Close but no cigar. Paradise Road can get really busy as well, and you do NOT want to be on Paradise Road anytime a big convention is in town. The locals secret? Swenson! Click to see the map.
Swenson Street is actually the very street you use to exit the airport (if you don't use the tunnel) and is pretty much a direct shot to The Sahara through apartment-filled neighborhoods, around the back of the Las Vegas Country Club, and few stoplights. You avoid The Strip and the convention center completely! Short of bringing our map with you, here's the easy instructions to tell your cabbie: Take Swenson north all the way to Sahara. From there, take The (Las Vegas) Blvd to (name of downtown hotel). You're welcome!
New Arena Details Finally Announced – MGM Resorts has issued renderings about what their lavish new arena — located behind New York-New York and Monte Carlo will look like. Of interest is that it is NOT being built in an attempt to attract a major-league sports franchise, which is fine by me. I've been on record over the years as noting that other cities may need big-league sports to brand them as a "big league city". We don't.
In addition, half the crowd would be rooting for the opponent on any given night. Not very conducive to building local team spirit. While it will never fly, I do really like the thought which has been floating around for quite some time, and that is to build an NFL-caliber stadium and simply host every Monday Night Football game here. That would be awesome, and turn Monday Night Football back into the major event that it was years ago (before we got saturated with either college or pro football 4-5 days per week). Plus, give many of you yet another excuse to plan a Vegas trip!
For those interested in more about the new arena: AEG, MGM Resorts International offer first look at arena on Las Vegas Strip
Heeeerrrreeee's Johnny! – Recent focus on the Johnny Carson biography simply titled "Johnny Carson" brought to light the home Carson owned here while he headlined The Sahara long ago. Located at 3333 Seminole Circle, the home is in the now-gentrifying Paradise Palms area of Las Vegas: http://goo.gl/maps/2y9Mb
According to records, the 3500 sq. ft. home was last sold in 1996 for $300,000. It is hard to tell if it is currently occupied. For someone looking to grab a historic piece of Las Vegas (both due to the Carson connection and in a historic near-Strip neighborhood), it probably wouldn't hurt to make them an offer and bring the place back to its former glory.
Outside of the recent purchase of Liberace's home (by someone who is also planning the same), not many shots at truly historic Las Vegas homes exist in a city where so much has been junked or rebuilt.

Associate Editor / News Researcher: Rick Ziegler
Concerts and Headliners: Amy Rayner-Cooley
---
What We're Watching – Vegas Videos You'll Enjoy
The 1997 Opening Of New York-New York Hotel & Casino In Las Vegas

– From January of 1997, here is a Channel 13 news story from Las Vegas TV about the opening of the famed New York-New York hotel & casino!

Aria Las Vegas: The Food at Sirio Maccioni Restaurant

– At Sirio's inside Aria, traditional and contemporary Italian dishes inspired by the Tuscan standards of Maccioni's youth are served in a beautiful and engaging environment. The menu offers a myriad of pastas and appetizers to simple and robust entrees. With its Fellini-esque dÚcor, an emphasis on hospitality and one of the most impressive selections of Italian vintages in Las Vegas, Sirio Ristorante brings old-time Italy to you.

The Wedding Salons at Wynn Las Vegas Hotel & Casino

– The Wedding Salon at Wynn Las Vegas is the ultimate celebration destination. With everything in one exquisite setting, once you arrive you can just leave the rest to us. From a dedicated wedding consultant, DJ and lighting technician for your ceremony to custom floral arrangements and private use of the Lake of Dreams Terrace. Tour the Salons now to see how we can make your celebration perfect.
---
Members Mania – We Love Our Readers!
We go to Las Vegas twice a year and are finding it harder to win or get a lot of play. We don't mind losing if we get a lot of play. September, when we were there, we never went to the strip for the first time ever. You just don't get any play. We spent more time at South Point, downtown, and the M Resort. We rented a car, and stayed a week in a time share. It's not just Vegas, it's also local casinos in Illinois and other nearby states. We seniors just might have to find another outlet.
Ron Blake
Ted Repsonds:
While the slot machines don't differentiate regarding age, always make sure to stop by the players card booth, and ask if there are any seniors promotion going on while you are at their casino. Also keep in mind that many Las Vegas properties consider you a "senior" at 50 for gaming and discount purposes.
Obviously in the Las Vegas area, you are maximizing your chances to win by playing at the "locals" casinos like you are doing. The Strip is a great place to see a show, and a lousy place to gamble! In fact, when you see a show or enjoy a tour, you know what you are getting for your hard earned money, and often it is a memory that will last a long time. That same amount in a slot machine can go up in smoke in no time flat.
Game selection is very important. The penny machines have a high "hold" (which is the amount of money — on average — the machine holds and never gives back). And look… unless you are literally playing 2 cents at a time, you have to play a fair amount per hand to light up enough lines to hit anything. To some extent, many feel that the same is true for any of the newer, more fancy machines with lots of video screens, rumbling seats, and the rest. You are not so much gambling as paying for the entertainment.
To the extent you can find them, think about playing the older-school, basic slots that do NOT have a progressive. They don't tend to hold as much back on a given session. Better yet, do some homework on learning the basics of video poker. As long as you halfway know what you are doing, the hold on video poker over time is pretty small!

We love to hear from you, and value your feedback! Here's how to participate:
Want to comment on a current reader post? Use the comment box on that particular web page. Many of the stories we post also have comment boxes at the end of the story. Make your voice heard!
Drop us an email at AccessVegas@AccessVegas.com – We read them all!
Call our recorded comment line at 702-507-0055. We listen to every call.
---
No related links found