Serving Las Vegas Visitors and Residents Since 1999
Welcome to the Insider Vibe! This is the official newsletter of AccessVegas.Com. We talk about the Las Vegas activities you really care about.
Need to contact us? Send feedback to
AccessVegas@AccessVegas.com
Missed an issue? Click to Read Back Issues Online.
---
AccessVegas.com Quick Info Menu:
| | |
| --- | --- |
| Las Vegas Essentials | Featured Shows |
Las Vegas Events
---
Fremont Street Experience Rocks In The New Year With Downtown Countdown Featuring Buckcherry And Queensryche – Rock in the new year with Fremont Street Experience's Downtown Countdown New Year's Eve 2013 celebration filled with nonstop entertainment. On Monday, Dec. 31 from 6 p.m. to 3 a.m. the ultimate New Year's Eve street party will feature co-headliners Buckcherry and Queensryche, plus special guests Quiet Riot, Pop Evil and Otherwise. The party lasts all night with performances from six other incredible bands, including local favorites Yellow Brick Road and Zowie Bowie as well as Jizzy Pearl, Rok of Ages, Party Rockers and Brazen.
Holly Madison and Laura Croft Enjoy the New Meatball Spot at Town Square – Reality TV stars Holly Madison and Laura Croft dropped in to dine at the new Meatball Spot at Town Square on November 15th.
The mom-to-be and her sidekick started their feast with the new hot spot's Kitchen Sink Salad and the Tomato Cucumber Salad, followed by a large, 'Roman Style' pizza with artichokes, mushrooms and extra ricotta cheese, chicken meatballs with classic sauce and pork meatballs with spicy meat sauce. To finish off their decadent meal, Madison and Croft indulged in Meatball Spot's popular Birthday Cake milkshake.
Golden Gate Casino New Vintage Cocktail Menu With Jazz Age, Prohibition And Rat Pack Era Inspired Libations – Founded on whiskey, poker and wild women, liquor has always been an integral part of the Golden Gate. The historic property in downtown Las Vegas has witnessed the rise of the Sin City liquor trade, its retreat underground during Prohibition and its ultimate embrace by a modern city void of open container laws. Paying tribute to its notable past, Las Vegas' original hotel and casino introduces a vintage cocktail menu inspired by the Jazz Age and Prohibition and Rat Pack eras.
Trevi Welcomes The Holidays With New Festive Martini – Trevi inside The Forum Shops at Caesars Palace will bring the season's greetings with a festive new holiday cocktail, the Happy Hollytini. Pastry Chef Hank Sbraccia will also introduce his twist to a traditional Christmas treat with eggnog gelato.
The frosty candy cane-inspired martini is an irresistible blend of vanilla vodka, Peppermint schnapps and Bailey's, priced at $9. The Christmas cocktail is swirled with a red stripe made of white chocolate and rimmed with crushed peppermint candy. Prepared with bourbon, dark rum and a hint of freshly grated nutmeg, the rich and creamy eggnog gelato will be priced at $4.50 per scoop. The sweet concoctions will delight holiday revelers while they take a break from the holiday shopping.
Las Vegas Ski & Snowboard Resort Opens For Its 50th Anniversary Season Friday – Las Vegas Ski & Snowboard Resort (LVSSR) opens for the 2012/13 season on Friday, Nov. 23. Lifts and lift ticket offices, located at the base lodge, open at 9 a.m. Skiers and snowboarders can enjoy the 30 trails as well as The Strip, the area's freestyle terrain park, until 4 p.m. Amenities such as Lee Canyon Sports and The Bighorn Grill will be open from 8:30 a.m. to 4 p.m. with Bristlecone Bar open from 8:30 a.m. to 6 p.m.
Rhumbar Celebrates 12/12/12 With $12 Drink Specials – Rhumbar at The Mirage Hotel & Casino will make 12 the luckiest number in Las Vegas by offering $12 drink specials for 12 hours from 12 p.m. to 12 a.m. on Wednesday, Dec. 12.
Guests may celebrate the once-in-a-lifetime day of 12's with buy-one-get-one $12 signature and house cocktails. Selections include the sweet and spicy Latin Manhattan, made with Cruzan Single Barrel Rum, lime, Falernum Liqueur, bitters and Jamaican ginger beer; and the Zombie, a smooth blend of Ron Zacapa aged rum, and apricot, pineapple, passion fruit and lime juices.
---
Movie Recommendations
Deciding what to watch next? What are your friends watching?
Get movie recommendations based on your personal viewing style!
---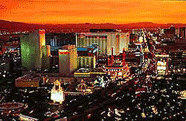 Maverick Wind Dancer Sunset Landing Tour – Landing tour with Hors d'oeuvres on the Canyon Floor. Birds eye view of Lake Mead and Hoover Dam. Get a close look at the extinct volcano Fortification Hill. Keep an eye out for wildlife along the way. Descend deep into the Grand Canyon and land on the Hualapai Indian territory on the canyon floor for a champagne toast, beverages and hors d' oeuvres in the heart of this spectacular wonder of the world.
---
Blue Man Group by Guy Chapman
Blue Man Group Begins Anew While Keeping Fan Favorites – Now that The Blue Man Group has settled into its new home at the Monte Carlo Casino and Resort, fans of the popular blue hued trio can look forward to an all new show full of surprises and wonderful toys. During a sneak preview event during the month of November, invited guests got the chance to see these newest additions during a 45 minute version of the show.
---
Newkirk's Notes – comments on Las Vegas from AccessVegas.Com publisher Ted Newkirk:
Hello From Las Vegas! – We often skip publishing on holiday weeks as readership drops dramatically with so many traveling and celebrating, but we wanted to get something out this week. We want to wish all of our U.S. readers a Happy Thanksgiving. I'm staying here in Las Vegas, so if you are also not spending it with family, rest assured you aren't the only one.
It reminds me of one of my most infamous Thanksgiving meals, but not for the reasons you'd suspect. Myself and a radio personality friend were somewhat in the same boat in the late 90's. No family around and pretty much everyone else we knew was working. (Las Vegas was much more an "industry town" back then and it seemed like almost everybody worked in gaming and hospitality). Palace Station was offering free champagne with their Thanksgiving buffet. I'm not much of a champagne guy, but complimentary booze was complimentary booze (especially with what I was making back then). Rest assured we put a pretty good dent in their profit/loss margin in bubbly! (Palace no longer offers this. Go figure).
Instead of a normal Newkirk's Notes and Members Mania, I'm making the following announcement and asking for your input. In December, we're going to debut a completely revamped newsletter. It will be better blended and better organized by topic.
We're also going to slightly prune down the amount of information we include, which is where you come in. Las Vegas has turned into information overload. Zillions of blogs and social media accounts chasing so many tidbits of information that much of it is starting to fall in the "who cares" category.
Now… for those of you who live/eat/breath Las Vegas (you check Vegas info all day at work, then come home and spend hours more on message boards, blogs, social media, etc), more power to you. Knock yourselves out. We all need a hobby. And, I have high respect for many of my colleagues who dispense much of that information.
However, our target audience is the person who really, really wants to be informed about Las Vegas, but in reality maybe only wants to devote 30 minutes a week to it. Just the facts, just the "must know" stuff. You really don't care if some hotel coffee shop is changing the kind of coffee they serve, and you expect us to spend the countless hours sifting through the more trivial info so you don't have to.
Having said that, we don't want to pare down the kind of features, articles, and links you enjoy. So, it is up to you to give us some constructive criticism and suggestions. Tell us what you like, tell us what you'd like to see changed. With just a couple of notes ahead of time:
1. Coupons have gone the way of the dodo bird. Don't ask. Do you really want to take a $20 round-trip cab ride to save $15? Instead, we do usually publish a number of "no coupon needed" deals each week and we'll do a better job of highlighting them for you. We get it: Deals are important!
2. Newkirk's Notes and Members Mania will resume in full-force. However, we will be moving both of them to blog format online so that we can also invite our Twitter and Facebook fans to read and comment as well. The world is changing, and not everyone wants their info solely in newsletter form. The links to those will be highlighted in each issue.
Regarding anything else, we're all ears! Drop us a note at AccessVegas@AccessVegas.com and get your two cents in before we finalize some major changes to this publication.
Just for being kind enough to give us your thoughts, we'll put every note into a random drawing (in a couple of weeks) for something cool and unique from our closet of Vegas stuff. We get lots of limited-edition promotional items (not usually available to the public) and someone will win something cool.
Thanks for your help and Happy Thanksgiving.
Hope You Are Enjoying This Issue!

Associate Editor / News Researcher: Rick Ziegler
Concerts and Headliners: Amy Rayner-Cooley
---
We love to hear from you, and value your feedback! Here's how to participate:
Want to comment on a current reader post? Use the comment box on that particular web page. Many of the stories we post also have comment boxes at the end of the story. Make your voice heard!
Drop us an email at AccessVegas@AccessVegas.com – We read them all!
Call our recorded comment line at 702-507-0055. We listen to every call.
---
Latest Concerts Added This Week!
There is no better place to see your favorite acts then in Las Vegas! You're relaxed, can enjoy a fine meal, have some cocktails without the worry of driving, and no alarm is going to jar you awake all too early the next morning.
---
More Las Vegas News – Shows – Events
No related links found